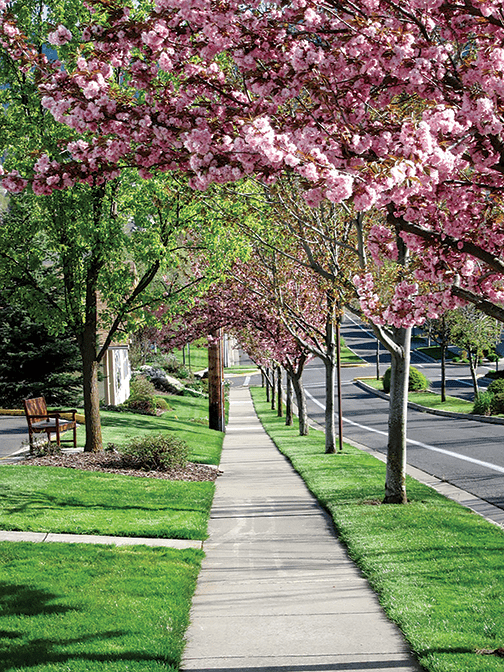 On a hill overlooking the city of Ashland and Mt. Ashland sits a special 55+ community known as Mountain Meadows. Situated on 27 beautiful, treed acres, this community has approximately 290 residents occupying 65 single family homes and 161 condominiums. The residents take a great deal of pride in owning and operating the community. There are so many opportunities for residents to get involved – committees, music events, exercise and wellness classes, serving as a member of a board of directors or helping -out in the community garden.
There is a slogan in Mountain Meadows – "We Own It, We Run It, We Love It". "Ownership" is one of the key components of Mountain Meadows. You can own a piece of real property and be a part of a vital 55+ group of people. "Running or Governing" is important to so many of the residents and they take it very seriously. "Loving" the community is the truly amazing part. The residents (both owners and renters) want to see that things are sustained into the future. So much so that they came up with a plan to expand the clubhouse so that more events could be held and accommodate more people as the community grows. Not wanting to create a special assessment, the residents developed a capital campaign to raise money from a variety of events. A design was born with help of resident input and some fabulous local vendors/architects and contractors. The actual work began late summer/early fall of 2018 and was completed in time for the January 2019 – Happy New Year's celebration!
The Mount Ashland room was beautifully expanded to allow room for more events and meetings where more residents could attend. It has large windows to take in the amazing views of Ashland which added much needed light to this incredible room. The Meadowlark Dining Room was a masterpiece when completed. It always had amazing views but now has more room and is much easier for the dining staff to take care of the residents. The expansion turned out so incredible and the outside of the building looks even better than it did before.
If you have not been to Mountain Meadows in awhile, or perhaps never visited this one-of-a-kind community, you owe it to yourself to call us or come by for a tour. Come by and see us and see why the residents truly …Love It.
Happy Valentine's Day to everyone from the Mountain Meadows 55+ Community.