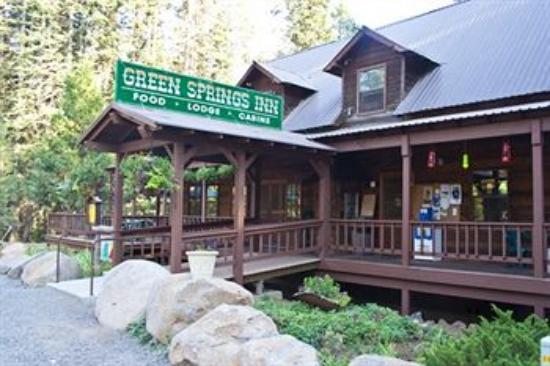 For Sale.
Yes, it's true. Green Springs Inn is listed for sale. You can find us on Loopnet.
If you are among our many longtime friends, please don't be alarmed. Change will happen but probably not tomorrow. On the other hand, if you have been putting off that adventure burger, don't wait forever.
When change does happen, we all hope the Inn of the future will continue to incorporate the values of the present: family, community, healthy food, music, clear running waters, ancient forests, intact ecosystems. But nothing is accidental. We need to let the right sort of people know that the future of this unique niche in the Southern Cascades is up for grabs. Tell your friends. Opportunity knocks.
For anyone who is interested, the next question is "why GSI?" We make a compelling case, starting with lifestyle. Ownership of a small business is an excellent way to stay grounded. Unlike, say, a hedge fund, a rural destination restaurant with lodging is unlikely to burden an owner with vast wealth. It is increasingly obvious that billionaires can feel entitled to powers and privileges that are not available to the rest of us. Private jets and models can appear at the tips of their moral icebergs. Most often owners of family hospitality businesses do not risk a perilous slide down the slippery slope of over-abundance.
Then there is the chance to live in harmony with wolves. Restauranteurs and wolves are live distinctly different ecosystems. The restaurant food chain involves butchers, bakers, farms and beverage distributors. For wolves, the web of life includes elk, meadow grasses, shrubs and springs. Urbanization can result in conflicts between these ecologies, but on the Green Springs canid and hospitality ecologies coincide peacefully for the most part. Unlike ranchers, who sometimes lose cattle to wolfpacks, we rarely lose customers to wolf depredation.
Finally, rural living is an invitation to experience the closest thing to pure democracy since ancient Athens. An unincorporated community has no elected officials so everyone is mayor. There are as many political parties as there are citizens. Factionalism mainly pits Coors Light against microbrews. Rural Oregonians believe that your opinions don't matter much; your skills and your heart distinguish you. (Well, no human society is perfect in practice, but at least we wish that this were so.)
Fortunately, we also have more mundane selling points. We are located in an ecological treasure chest, the Cascade-Siskiyou National Monument, protected by the vast powers of the federal government. Southern Oregon is a cultural and scenic magnet. And, thanks to our cabins and other accommodations, we are ranked #3 among 19 Ashland hotels. (Oops, we were #1 a few weeks ago. I don't know what happened. How does this internet thing work, really?)
Quickly, spread the word.