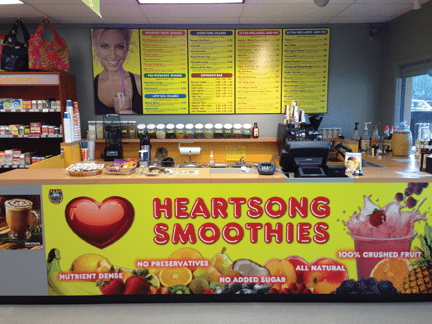 Heartsong Smoothies are made with a base of 100% crushed fruit and vegetables. No sugar, preservatives, or so-called natural flavors are added. The fruit is obtained from farms that don't spray pesticides or herbicides. It's just 100% fruit and vegetables crushed and bottled. Then, we add organic, low-temperature, spray-dried or freeze-dried vegetables, fruits, and herbs.  Your choice, we can use Thai coconut, organic almond or soy milk, or whole milk. You can custom make your shake with organic spirulina, chlorella, bee pollen, etc. or raw honey, organic yogurt or natural peanut butter. We can add super fruits, multi-vitamins, vegan or whey protein, plus a variety of health recovery or energy supplements.
Our Smoothies are a meal in an eco-cup; a healthy alternative to fast food. They are a way to get all of your daily nutrient supply at once. We make them fast and we make them creamy.
Heartsong Supplements are Carefully Selected.
Heartsong Nutrition also carries a complete selection of cutting edge vitamin supplement solutions. Our formulas are designed specifically to address your health supplement needs. The store is laid out by body system–Immunity, Heart Health, Brain Health, Sleeping Aids, Anti-Stress, Healthy Oils, and Sports Nutrition. Our staff can assist you in finding the right product that you want to solve your unique health goal. We have access to a health-line where you can speak with a natural health professional regarding any product you need to have information about. Many of our formulas are comprehensively designed. For example; our Homocysteine Formula contains the activated form of Folate and B6 which are superior to Folic Acid.
Product, Product Information, and Attentive Customer Service make your health quest meaningful.
Stop in today, and have a smoothie!