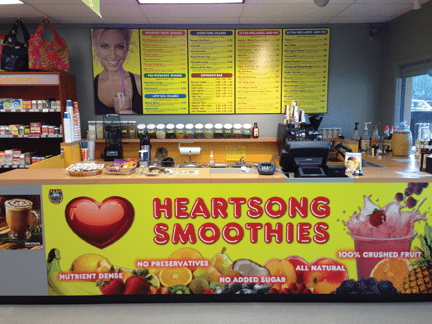 Antioxidants are molecules that sacrifice themselves to replace missing electrons in the molecules that make up our cells. Nature has intelligently placed antioxidant molecules in the fruits, vegetables, herbs, nuts and seeds of our food supply. When foods are industrially processed, their nutritional values can be diminished and even destroyed. That's why our diet should consist mostly of whole fruits and vegetables; plus a protein source and active water. Anyone that is health conscious takes nutritional supplements such as vitamins, minerals, and herbs. Nutritional supplements are the dried or extracted active molecules from the plant that help us to stay healthy. We use this principal for our smoothies.
Heartsong Smoothies use technically organic whole fruits and vegetables—the whole fruit; minimally processed and free of added sugar or preservatives. Some of our smoothies contain up to 14 different fruits and vegetables; providing a rich spectrum of antioxidants, enzymes, minerals, vitamins and other phyto-ntrients and phyto-chemicals. Antioxidants maintain cell health which leads to healthy body systems—including the immune system. Our nutritionally dense smoothies taste fantastic! You would never know that our Green Giant has the equivalent of several cups of vegetables in it. And, you can add organic dried herbs and compounds such as Maca, Chlorella, Spirulina, Raw Honey, Bee Pollen or a dozen other natural add-ins—to custom make the perfect healthy shake, just the way you want it. Because our smoothies contain the whole fruit, you get all the fiber that nature intended. And the fiber is what prevents the fruit sugars from causing blood glucose to spike.
Stop in and try our new flavors—Blueberry Banana; and Northwest Apple Orchard. Make them a part of your journey to a Pure Heart; a Clean Mind; and a Healthy Body.