Interviews
Your Source for Coins, Jewelry, Gold, Silver, Bitcoin, Diamonds and Much More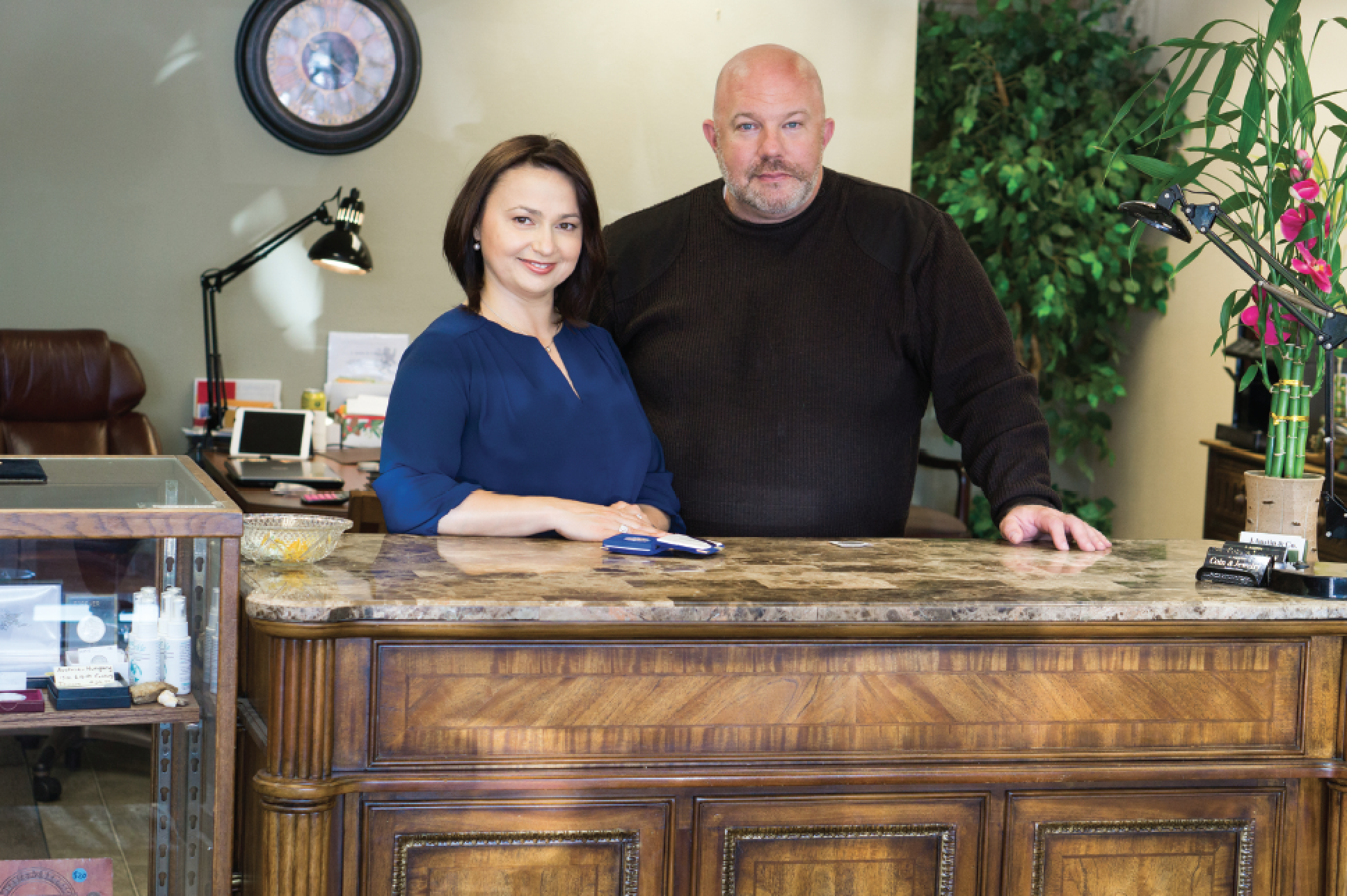 Now celebrating their 7th year in Ashland, J. Austin & Company has distinguished themselves as Ashland's Premier Gold and Silver Bullion dealers. Offering competitive pricing with a vast depth of numismatic knowledge, the company works with locals from all around the region. They are an internationally renowned diamond brokerage registered on Dun & Bradstreet and hold numerous certifications from the most prestigious organizations in both the coin and diamond industry. J. Austin & Co. also purchases scrap gold, sterling flatware sets, diamond jewelry as well as antique photos and original early American artwork. Located in the Ashland Shopping Center next to Senor Sam's the company is locally owned by Mark and Andrea Hutto.
J. Austin & Co. also specializes in crypto currency buying, selling and consulting. 
I met with Mark and Andrea to catch up and to hear more about the unique advantages and position that J. Austin has earned themselves here in the valley.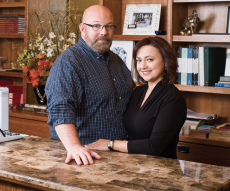 Mark and Andrea, congratulations on another great year here in Ashland, Oregon!
Thank you Shields we love being in Ashland and are so glad to be part of this community.
After seven years in business Mark, how are you seeing the market grow and change here in Southern Oregon?
Mark: When we first opened to the public in Ashland, most of our customers were coming from out of town. We were a destination store out on the edge of a map of metals buyers and sellers. Over 60% were driving from Medford or Grants Pass. This was of course before we opened our shop in Grants Pass. Only about 20% of the clients were from Ashland and the remaining 20% were coming up from California. They were testing us. In fact, most of our local clients came in not to do business, but to price inquire. We would eventually see them again after they price shopped their items and decided to come home and sell their goods. Today we have much larger foot traffic, and most of the people who come in the door are from Ashland.

Andrea: We opened because there was a need. We are fulfilling that need, and most of our financial goals that we set for ourselves back when we opened our doors have been achieved and then some. We are reaping the benefits of cultivating a long-term relationship with the Valley. We are happy with Ashland, and Grants Pass is also thriving.
Word of mouth seems to bring customers from far and wide to J. Austin. For those who do not yet know you, tell us about some of the services you are offering. 
We have many clients that come from Northern California because of our competitive prices on Gold and Silver Bullion, as well as for the prices we pay for jewelry and diamonds. Many of these customers come to Oregon to shop in Medford, but they always make time to stop in our Ashland store. We have developed many good relationships over the years. We also get many people from the other side of the valley as far away as Central Point. Most of the customers who live north of Central Point visit our Grants Pass shop. Medford has been a significant source of clients for us. They enjoy the quality of work we do, as well as the fact that we offer both Estate and Retail appraisals on coins and jewelry. We also have a strong local customer base here in Ashland that we have cultivated over the years. Ashland was at first a tough town to venture into. Even though we are long time locals that founded our company here in the 90s, breaking into this market was more difficult than expected. Time has been on our side, and many people have discovered that we have a lot to offer, plus our parking is excellent. I encourage anyone who has not come in to meet us, to do so and discover why our business is still growing.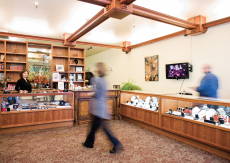 You also have a store in Grants Pass. What advantage is this giving you in being able to meet the needs of the community?

The Grants Pass shop was opened due to consumer demand and is going strong. Being on both sides of the valley is great and it's also very interesting to observe the difference between the two. The shops work very well together. Often times a customer in Grants Pass will sell 10 ounces of gold while a customer in Ashland is buying a similar amount. We are literally in two different markets and it's fantastic.
What particular niche have you seen J. Austin establish for itself here in the Rogue Valley?
Andrea: I don't think we are a niche at all. I think we are an essential. Everyone will need us at some point to start or finish a project.

Mark: Our niche is getting business done; empowering people to make positive changes. Buying and selling is more than financial, it's personal. Our clients are transferring wealth, resources from one form to another. 

Andrea: We are flexible and adaptable. If you know what you have and want access to the international market of value, we can make that possible.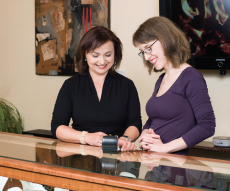 Let's talk about crypto currency.  What is the opportunity and services you are offering to your Rogue Valley clients?
Andrea: I don't actually like the term 'crypto" currency. A better description would be "digital currency". Crypto currency is a nickname focusing on the fact that this currency uses cryptography to secure transactions.

Mark: It's not a secret any more, it's been available to the public for seven plus years and is just now being seriously discussed by financial planners because it is delivering tremendous gains that can't be ignored. Bitcoin has seen enormous growth and we felt a responsibility to get involved with the decentralized currency.
So it's an investment?
There are lots of misunderstandings and nuances around bitcoin, but we believe it is the future of currency. Today only one in a thousand people own digital currency such as bitcoin, yet that one coin has a combined capitalization that is higher than Goldman Sachs. If that does not get your attention this might: If you bought a hundred dollars worth of bitcoin back in 2010 when bitcoin was new, today that investment is worth over $75,000,000. Not 75k not 750K, but 75 million dollars. Litecoin is a relatively new digital coin that has seen incredible growth as well. This year alone it has surged from $3.75 a coin up to $90 at one point. It currently trades at around $60 each. The creator says one day Litecoin will be worth $100K a coin.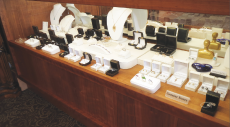 Wow that is amazing! What does it do? Why do people want it? And what really backs crypto?

That is the most common question. What backs gold? Time backs gold. Gold is the proven hedge against hard economic times. In the end the only thing that backs gold is trust in its past results. The human mind is the only thing that backs any commodity, concept, business or idea. The human mind is also the most powerful force on Earth. If people believe it will grow, it will grow. This is what we are seeing right now with decentralized digital currencies in general.
How does one actually buy crypto currency and then how is it delivered?

That is a 10-minute talk, but we have condensed it for the consumer and that is the value you get when you come to us to buy it from us. You walk in, you order, you walk out with digital assets.
I heard that the CEO of JP Morgan said that crypto currency is a bubble and it is going to bust. What are your thoughts on this?

Mark: (chuckles) Mr. Dimon of JP Morgan is who many people in the industry refer to as 'the competition' and 'the competition' is scared. Very scared. It turns out that Mr. Dimon's statements caused a quick dip in the market which JP Morgan used to acquire more bitcoin. Mr. Dimon knows what a good thing is, he just has a strange way of expressing it.
You are personally invested in digital assets. What advantages does this offer to your clients?
We want our clients to succeed, if we surround ourselves with people who are doing well, we will do better as well. If we lead people to a new way of creating wealth, our own prosperity will soar. Not only will we share with you what we are buying, but also our strategies. We will show you how to secure your currency, keep it offline and safe from hackers. You can also do the research yourself and go at it on your own, but in the process, you not only lose time, but you miss out on the value of having a network and a guiding hand. Our services have much more value than the cost. One customer alone has turned $20K into over $400K and that money is from networking with people who had good knowledge of what is happening in the market. He took those tips ran with it and in 90 days the information paid off. Those are not typical results and there are risks, but one would be hard pressed to find anyone who has owned bitcoin for 6 months or more, and is unhappy with the results they have seen.
It seems like there is a lot to learn and pay attention to. Do you offer consulting or classes?

We do offer a crypto course for those who wish to buy over $10,000 or more in bitcoin or other digital currencies. You are not required to purchase coins if you attend, but your fees for taking the course are credited towards your buying commissions. In the course we cover the basics of blockchain technology, the market growth as well as the projections. We give you insider tips on who to listen to and how to determine if you should buy a coin. We teach you how to make your own wallet and store your coins or tokens offline and provide you with an assortment of tools. The nice thing is you do not have to worry about the source of the information. It is all researched. Also, if you don't want to attend classes, you can just tell us which digital currencies you wish to purchase and we will put a package together for you.
Going back to traditional investments. How are the gold and silver markets doing right now?

Gold and silver bounced back this summer and continue to be fairly strong. There has been lots of uncertainty in the world and domestic fronts and this caused a strange combination of rising gold and silver prices and consumer sell off, but we are seeing a reverse in the trend heading into the winter with more buyers than sellers. I believe gold and silver are a mandatory part of any portfolio, not that it is an aggressive profit maker, but more as an insurance against hard times. I firmly believe if you want growth you need to get into digital currencies. Just keep in mind the risks. If you have a zero tolerance for risk, you should not buy bitcoin or alt-currencies, but then again, if you don't want any risks at all in life, I am not sure how to advise one to proceed. The market is wild and even scary at times, but also very exciting. My opinion is that this is our generation's gold rush; it's a chance for average people to create above average wealth. I would not sell off all of my gold and silver to do it, but I certainly would and have sold some. I put my money where my mouth is. We do not offer products we ourselves do not own.
Andrea, can you please tell us about your experience this year in buying and selling diamonds?
This year we have seen fewer, but larger diamonds come in. Many of our clients who moved here from metropolitan areas felt that some of their pieces were simply too ostentatious for the valley, and once they realized they no longer had a need for them, they took advantage of our services.

Mark: I buy diamonds too, Shields.
I know, but you got to update us on Crypto currency. Andrea has her thumb on the international diamond market.
Andrea: Contrary to what some might believe, we are just as close to the international diamond centers as Portland or San Francisco. This year we did more bridal, than ever before, with the input of our clients we designed some very exceptional pieces. 
Do you have any tips for coin collectors wanting to sell their collections?
Andrea: Yes, besides "PLEASE DON'T EVER CLEAN YOUR COINS" the wisdom for this year has been "Do not procrastinate with your Estate". It is important to be proactive in making sure your coins have proper evaluations so they can be distributed fairly. Often coin collections are left in shambles lacking an inventory or ledger. This makes it very difficult for heirs to understand the value of what remains.
Andrea your work with estates must be fascinating. I know you have seen a lot of unusual items over the years.
Yes, just this year alone we have purchased a Naval Officer's sword from the American revolution and a Woolly Mammoth tooth found in the '60s by an Alaskan oil worker. Since the addition of Patricia, our newest staff member, we are seeing more Native American jewelry coming in. She has over a decade of auction house experience and two decades of buying and selling collectibles. Partly due to her Blackfoot and Cherokee heritage she has a fondness and extensive experience in Native American jewelry especially Hopi, Navajo and Zuni items. But yes, we have all seen our fair share of beautiful and unusual objects.
Your shop in Ashland has a professional, very low pressure and approachable environment. I always enjoy coming in, whether it's for a couple ounces of silver, or just to say hello.
Andrea: One of our mottos is "We can't control the market, but we can control how we treat each other". We have the advantage of being locally owned. As a customer, you get to work directly with one of the owners at each of the shops. We have worked to make our Ashland showroom as comfortable as possible- it embraces an old-world business feel. While you wait you can sit in a comfortable chair, have a cup of tea or water and enjoy our virtual fireplace. We take the time to answer questions and guide you through the process, so there never has to be any remorse or lingering fears. We are here for the long haul, not the quick sale. Often if a customer has doubt, we encourage them to shop the items around or go home and think about it. We want solid transactions and the excellent references that come from those dealings.
I also know from personal experience that you have always been very competitive with your pricing. 
Mark: It is important to stay ahead of the curve when it comes to pricing. The assumption is if someone wants to buy 100 or 500 ounces of silver he or she wants the best deal he or she can get. The choice is simple from our perspective. Give them the best offer you can, or don't do business at all. There is no in-between in this business. People always price check your offers against the competition, and if you are not competitive, you do not get the transaction. On the other hand, in some of our services we do not seek to be competitive, we seek to offer a higher quality service. A good example is our digital currency class. Knowledge is not equal and you cannot price shop what you learn in these classes. We do not seek to be cheaper than the online instructional videos posted by various emerging gurus, but we do seek to give the consumer a good experience with solid information. This information we use and update regularly. Information that can save you thousands of dollars in mistakes and bad buys. Either the consumer sees the value in that or they do not. There is no convincing or competing in such a market. Those who understand the value of what we offer will come.
What are some of the benefits of buying directly versus buying online?
Mark: We spoke about the privacy issue earlier, but there is one more issue that people may not realize with online transactions. Not only is there a record of your transaction sitting on a server somewhere, but there is always the fear of bankruptcy during the transaction process. One of the largest online bullion dealers went out of business owing customers more than one hundred million dollars in undelivered bullion products. One day they were in business taking orders, the next day no one answered the phone. Because of this, you want to deal with someone local whom you know, trust and actually see in person. What happens to your personal data after you submit it online? Who has access to it? We never store customer data online and no one has access to it. There is no large, vague disclaimer to sign, the transaction is private and it will remain that way.
Mark and Andrea thanks for speaking with us today. Do you have any last thoughts or comments you would like to share with our readers?
The holidays are upon us. If you are still shopping around for that perfect gift, stop by and give us a try! We are open Monday through Friday from 10 AM to 5 PM. We also offer appointments on Saturdays.
To Learn More:
J. Austin Coin & Jewelry
1632 Ashland Street, Ashland, Oregon
Web www.JAustinBrokers.com
Phone 541-482-3715
Comments