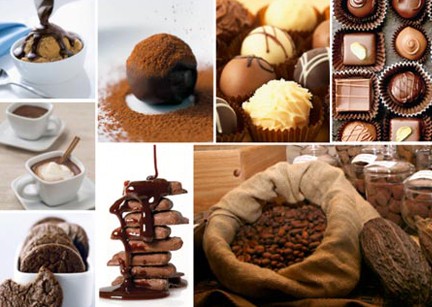 It's been already 10 years since the inception of the annual Oregon Chocolate Festival. The event is taking place at the Ashland Springs Hotel the weekend of March 7 to 9, 2014. It's open to public on Saturday and Sunday, March 8 & 9 from 11am to 4pm for only $20/day.
Meet Oregon chocolatiers who each year surprise and delight with new and unexpected flavor combinations, while competing for the title of the best chocolatier in 6 different categories!
Festival goers get to enjoy traditional hand rolled truffles, enrobed in the finest chocolates, to chocolate-filled soft pretzels, chocolate cupcakes, toffee, and hot chocolate. There is something for everyone! Get your taste buds teased with delicious baked goods dipped in or stuffed with chocolate, raw chocolate, and even chocolate inspired products, including white chocolate body butter. Learn about latest culinary trends and enjoy cooking demos by local chefs. And don't forget about beer and wine. Southern Oregon wine makers showcase their pinot, merlot, and zinfandels, that pair so well with chocolate. Learn more about beer and chocolate from the Women Enjoying Beer booth, or talk to the representatives of the Bear Creek Boutique Wineries.
Each year Ashland welcomes over 50 vendors. Mark your calendar now! Celebrate all things chocolate!
The annual OREGON CHOCOLATE FESTIVAL – a weekend-long event will take place at the Ashland Springs Hotel and many other locations throughout downtown Ashland. Festival tickets are $20 and can be purchased at the Ashland Springs Hotel. Call toll free 888-795-4545.
 Festival attractions include:
 Meet, sample & buy! – Over 50 Oregon specialty food vendors present their products and tease your palate with decadent and exciting flavors! (Saturday & Sunday 11am – 4pm at the hotel).
Chocolate – themed First Friday Art Walk organized by the Ashland Gallery Association(Friday, 5 – 8pm). Enjoy diverse forms of art, local wines and chocolates. Stop by Ashland Springs Hotel and view Chocolate Sculpture.
Chocolate Makers Dinner (Friday, 6:30 – 9pm) Larks Executive Chef, Damon Jones created a delightful four-course dinner featuring chocolate in each dish. (Price $64 inclusive per person)
Chef Demos: (Friday evening, Saturday and Sunday) – stop by Ashland Springs Hotel lobby to experience great culinary event, Chef demonstrations by local chefs.
Chocolate Facial & Martini Spa Party – Saturday, 4pm at Lithia Springs Resort – Join us for an evening of delicious cocktails and pampering. Spend time with Waterstone Spa technicians and learn about the powerful benefits of chocolate that can be applied to your skin care regiment. Call Spa for reservations (541) 488-0325.  $30/person includes one chocolate martini. Great chocolate festival night out with friends!
Hands on workshop for kids at the ScienceWorks Museum – details coming soon!
Chocolate treatments at Waterstone Spa– enjoy blissful massage, body scrub and other treatments designed to utilize beneficial antioxidants found in chocolate! 541.488.0325
 Chocolate discount at the Oregon Shakespeare Festival– Chocolate & theatre! Call OSF box office, mention 'chocolate' and receive 20% discount for the shows during the weekend of March 7-9 www.OSFAshland.org
 Chocolate Festival Overnight package at the Ashland Springs Hotel – starting at $189 – includes two tickets to the festival, overnight stay with breakfast, box of chocolate truffles, commemorative chocolate festival gift, plus hotel parking, wireless Internet access, and discounts to hotel's restaurant LARKS, and hotel's Waterstone Spa. Ultimate weekend getaway!
More information:
http://www.ashlandspringshotel.com/oregon-chocolate-festival/
Festival Twitter account: @OregonChocolate
Festival Facebook account: http://www.facebook.com/pages/Oregon-Chocolate-Festival/107264722683405