Interviews
AAA Eco-Cab – Dana Gavin – Exceptional Service in Ashland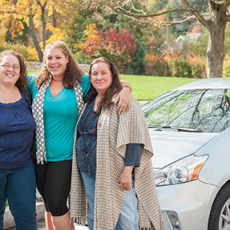 Need a lift? AAA Eco-Cab has got you covered.  With a fleet of four, brand-new Hybrid vehicles AAA Eco-Cab is Ashland's premier taxicab provider.  Owner Dana Gavin is passionate about the high quality service she and her team of experienced drivers provide local customers and she couldn't be happier. Starting with just with a single taxi, Dana has grown to a fleet of three Prius Vs and an additional VW Jetta TDI diesel.  Her commitment to utilizing environmentally friendly technology and service with a smile sets AAA Eco-Cab apart.  Whether it's a pickup at the airport, a ride home from a medical appointment or a regularly scheduled ride to work, Dana and her team are more than happy to get you there safely.  We sat down with Dana recently to learn more about how she builds relationships, one ride at a time.
Thanks so much for talking with us today Dana.  How did you first get started with your taxi service?
In September of 2011 my wonderful husband sadly passed away from cancer. He drove cab in the Rogue Valley for 25 years. We met when I got a job as a cab driver with Yellow Cab. After he died I needed to make a living so I went back to being a cab driver as the job is so much fun and I get to be of service to people which is very important to me. I remember sitting at the airport waiting for a ride when I thought about all the gas I used daily in the Crown Vic I was driving. Sometimes I put over $35 in the tank for just one day of driving. I had heard that in big cities Prius Vs were being used as taxis and thought, "Somebody needs to do that here in the valley." Much better for this planet I love and fantastic for the cab driver as it puts more money in their wallet. 6 months later I was leasing a Volkswagen Jetta TDI from my son and AAA DANA's CAB was born. The name got changed about a year later to AAA ECO CAB. Now we have 3 Prius Vs and the original Jetta. Every day I feel blessed to be able to honor my husband's memory with this business and have a less negative impact on Earth.
You are really passionate about service to your community.  Tell us more about this.
This is going to sound silly but when I was 39 years old I was working at an Adult Foster Care Home in Sam's Valley and I was watching Oprah and her guest was a noted author of some kind of self-discovery,enrichment-type best seller and this author was speaking about finding your passion in life and I had an epiphany: MY PASSION WAS SERVICE TO OTHERS; so simple. This is what I love. I receive so much personal joy in helping others; whether it was when I owned and operated three Adult Foster Care Homes or I cleaned houses for a living or waited tables at a restaurant. Driving a cab allows me to help others and I love what I do.
Please excuse me for a moment as I digress and share a story. In 1978 I was only 18 years old and I went into a Sears store to buy a gift for a loved one. I no longer remember who the gift was for nor what I was looking for but I do remember wanting some help and looking around and wandering around the store for over an hour and no sales person approached me or offered to assist me. I felt ignored and angry. My thought was that service in America was no longer a reality and it made me extremely sad. I was too young to have such a jaundiced view. I think that experience is what has fueled my lifelong passion to make sure that customer service is not a dead art.
You created this as a real family business.  Who have you got on your team?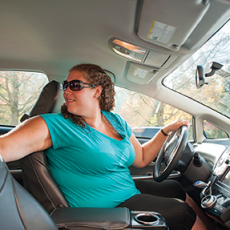 We are a family business including my son, two daughters and I. I must mention again my late husband Patrick Gavin who drove cab here for 25 years. For 26 years we lived in Ruch and all my children attended local schools. Twice I have lived in Ashland. I moved to the area over 30 years ago. We are so happy to be able to give rides to all in the Rogue Valley that need or want our services. From the parent of a 3rd grader who regularly takes their child to school and suddenly finds that their battery is dead, to a business person that lives in Ashland who needs to take a business trip, thank you for choosing an earth friendlier cab company when you need a cab. Thank you for choosing us when you do.
And your drivers pride themselves on excellent driving records and excellent service as well.
Yes the drivers for AAA ECO CAB have good driving records and must pass a criminal background check. And the courteous part is mandatory if they are going to drive for me. I know that many people think of the classic New York City cabby when they think about cab drivers but the reality is that my drivers are clean, polite, never smoke in the cabs (this is by the way, a city ordinance), are always helpful, and have had other jobs and careers. One of our drivers was an electrical engineer, another has been a caregiver and yet another was in the military for eight years. Now let's talk about the cars: 3 brand new Prius Vs. This model is the largest of the Prius family. It seats 4 adults comfortably, 5 including the driver, with plenty of luggage space. The cars receive excellent care from certified mechanics and customers have fallen in love with these cars.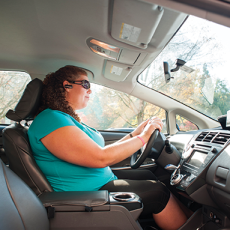 Tell us about the Eco part of your business name.
As I mentioned before, the original company name was AAA DANA's CAB but as our customer base grew and the 1st Prius V was added I wanted to emphasize that this was a green business. So the name was changed. I know that most people are concerned about the carbon footprint we are exerting on our planet. I just feel that if I can lessen that footprint I am doing my small part to ensure my grandchildren and future generations still have a beautiful, less toxic world to live in. I have 5 grandchildren all less than 3 1/2 years old and they all live in beautiful Southern Oregon so this is very personal to me. Our business cards are even made with recycled paper and we have a recycling bin at the office. Our 3 Prius' get about 42 to 48 miles per gallon and the Jetta gets 35 to 40 miles per gallon. We plan to someday to get a wheelchair van for the business and we will have it converted to propane. We are always looking for ways to be more considerate with the planet we live on.
You've been in some unusual situations. Tell us about some of your most memorable rides recently.
Yes this is a fun and exciting job. Each day is a new adventure. Just 3 or 4 months ago I got a call from a young woman requesting a cab at her Ashland address. It was about 11:30 at night and I had already worked over 15 hours so I was very tired. I asked her where was she going and she said to Ashland Hospital. I suggested that she call an ambulance if it was an emergency but she said no I just want you to take me. I asked why she needed to go to the hospital and she said she was in labor. Of course I got in my cab and drove to Ashland from Medford for this eight dollar ride. When she gets in my cab I ask her if family or the father is meeting her at the hospital. She said no. We talked a little on the way between contractions. When we got to the hospital I went in with her to the birthing area and she was alone and in active labor and I asked her if she would like me to stay. I stayed with her for about 2 hours until the doula arrived. I never got paid for the ride and that wasn't important. What was important is that no laboring woman should labor alone in a hospital. I had to stay if it helped her. I just wish I could have met her baby. Maybe she will read this and give me a call on the business line. I would like that.
Another interesting ride was two Christmases ago and I took a young father to Sacramento from Medford who's car had broken down. It was snowing most of the way and we had the most wonderful conversation throughout the ride. I felt privileged to have met this young man from Mexico and to be able to reunite him with his family on Christmas Eve.
One eventful ride happened just 2 days ago when I got a call from a trucker that was at the Volvo truck repair shop on Vilas Road. His truck developed an antifreeze leak and fumes were entering the cab and his basset hound Buddy was very sick so he wanted to know if we were a pet friendly cab company. Of course we are, so I picked him and Buddy up and got him to the vet. A couple hours later he called me again so we could get Buddy but we only had 15 minutes before the pet hospital closed. Somehow we made it and I took them back to their truck. He called me today to thank me and to let me know Buddy was almost his old self again and that he would be coming this way again tomorrow and will call me for a ride.  I could go on and on with similar stories but as you can see driving cab and helping people while making a living is just such fun and also so rewarding.
Wow.  You really go above and beyond the call of duty Dana.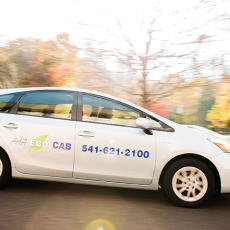 Well thank you, I really do try to. It is company policy to always load luggage and groceries for people and assist them into the taxi or out of the taxi. Sometimes a parent needs to arrange a nighttime ride for their young teenage child and we take this very seriously and are especially careful. We want to earn our customers business and be so helpful and polite that they want to use us for whatever transportation needs they may have. This is a business about building relationships with our customers one ride at a time. With customers that use our services regularly we often give price breaks or set up discounted flat rates to thank them for their loyalty. We try to arrive at least 10 minutes early when taking people to the airport. We always try to keep customers alerted to possible time delays and we will call another cab company to get them if we have a serious problem. It's all about communication. Customer service is our #1 goal.
What do your customers have to say about your service?
We have wonderful customers. Some have been using us from the beginning. I do this job not to get compliments but because I really love people. My drivers, who are wonderful themselves, tell me about how people love our cab company. I feel humbled because I treat people only the way I would like to be treated. But since you asked, here are a few testimonials:
"If I could give 10 stars I would. From the first time I meant Dana I knew I would no longer take any other taxi in Medford, she's friendly attentive and a great price with an economical vehicle. She has given my family rides on many occasions and when we were in time of need she went out of her way to help us in our own personal situation. She is truly an angel in our eyes and if you need a taxi I would definitely say she's the best choice in every way!"   -BH

"I love Dana's attitude about everything. She is so polite, funny, and a pleasure every time we need a ride. I only choose her for my riding needs. Thank you so much for all your help…even in the early mornings!"  -JH
"Dana is always on time or EARLIER :) She is always smiling and really makes you feel like you're at home :) I love it :) Thank you so much Dana, I will start using you over my old taxi company :)" – Love, Brianna And Jayden :) 
"This is the best experience I have had in a cab; very friendly and fast service. I will let everyone know."  -Melany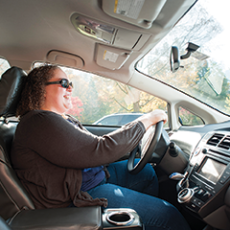 What are some of your most commonly requested trips?
There are many reasons people need to use a cab, such as pick up and drop off to the Medford Airport. I don't know if the average person knows this but it costs $9 a day to park at the airport and also you have the cost of the fuel for your car there and back. Also very early departure flights are the most common, anywhere from 4:30 am to 7 am. Yikes, that makes it hard to ask your neighbor or family member or friend to give you a ride. At least it would be for me. And the arrival flights tend to be late at night. So let's see, if a person goes to Maine to see their aging parent and the trip is 10 days long the airport parking will cost $90 and they live in Talent so fuel is $5 each way, so the total cost is $100 if they take themselves to the airport, but a taxi will cost approximately $30 to $35 each way.
Sometimes it makes sense to take a cab and other times not. Other reasons to use a cab are for around town errands; if you do not drive or your car is in the shop; medical or eye appointments; when Valley Lift stops operating; when the buses aren't running; when you plan to have a nice night out and you have a drink or two; rides for seniors who no longer drive or choose not to drive at night. Oh I need to mention that we offer a 10% senior discount if asked. So you see, people use cabs all the time.
What's the best part of your job?
Best part of my job is no two days are alike and I love to be of service. There is no better feeling then when I am able to say a kind word and make someone smile. I have always been a people person even as a very small child. I truly love my job. Every morning I wake up I am excited about my work.
Do you have any specials that readers can take advantage of?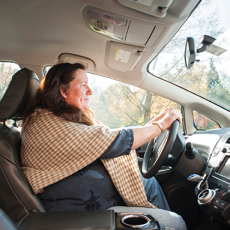 Yes I want to thank all of your readers who took the time to look at or read this interview and our company is offering a 15% discount on metered rides for new customers that mention this LocalsGuide interview.
What's the best way for readers to get in touch?
People can get in touch with us to schedule a ride or airport pick-up reservation by calling 541 621-2100 or by going to our website at service@aaaecocab.com where they can e-mail us to schedule a ride. Please include a contact # when e-mailing.
Learn More:
AAA ECO CAB
541-621-2100
service@aaaecocab.com