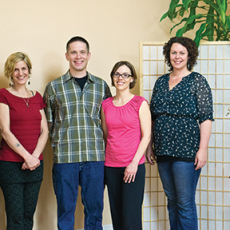 With an effective team of experienced natural health practitioners, Ashland's own Community Acupuncture & Natural Health provides the highest quality care at the most affordable rates. Adam Holtey opened the healing center 6 years ago utilizing the "community" model of care where acupuncture patients are treated in a group setting.  Private, individual massage therapy is also offered at an affordable rate, as well as nutritional counseling, hypnotherapy, meditation, life-coaching, Qigong, Reiki sessions, birth doula services and more.
When we spoke with Adam recently to learn more about this exciting new model of care we were struck by the enthusiasm Adam has for the outstanding results clients of Community Acupuncture & Natural Health are experiencing.  "The community model of care empowers both the practitioner and the patient, because each can see clear results from the consistent care that our low rates make possible.  Affordable appointments mean that clients are able to visit our practitioners regularly to address acute conditions and provide preventative care."  Read on to learn more about this exciting new hub for alternative health.
Thanks so much for taking the time to speak with us today Adam.  Tell us about your clinic.
I think people in this area generally know about the community acupuncture model.  Our practitioners see patients in a group setting, which makes the rate a lot lower than a private session.  Our model is somewhat of a hybrid, as we can provide privacy to patients who need it for one reason or another. 

Many people appreciate the community model for more than just the low rates – they also like the energy shared among the other patients in the room, which they say enhances the healing energy of the treatment.   Our model is quite different than how acupuncture has long been practiced in the West.  We're based more on an Eastern model, where community sessions of acupuncture and other modalities are quite common.  The most important difference isn't just in the price or the setting, but in how often patients receive treatment.

For the price of a private acupuncture session at another clinic, patients can visit our center 3 or 4 times.  For the price of a 1-hour massage at most spas, patients can usually receive two 1-hour massages with our therapists.     
What are the benefits of the community model?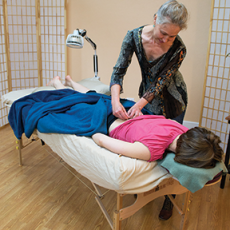 Enabling patients to see an experienced acupuncturist or massage therapist regularly is so empowering.  Patients make clear goals with the practitioners they work with, and can follow through with the treatments they need to transform their body, their energy, and their mind.  Our clients make a habit of feeling good, and of taking good care of themselves – instead of continuing to experience chronic pain, illness, anxiety, depression, or whatever it is that ails them.
How affordable are the sessions?
We sell packages of 5 acupuncture treatments for $150.  A package of three 1-hour massages is also $150, and a package of three 1.5-hour massages is only $225.
 And the services you offer are quite expansive.  What will readers find at Community Acupuncture & Natural Health?
The acupuncture and massage are the cornerstones.  Beyond those, we offer a weekly meditation and qigong class every Saturday morning.  We also offer Reiki, life-coaching and nutritional coaching, hypnotherapy, birth doula services, and a variety of regular workshops and lectures.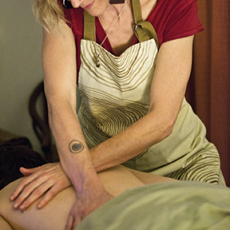 Tell us a little bit about your clients.  What do they have to say about their experiences at your clinic?
Here's a good example of what our patients experience at our center.  This is from Jim Hatfield and Amanda Iles of Ashland:
"Amanda and I have lived in Ashland for about 10 years, and one of the first things we sought out was a good massage therapist.  We went through a lot of them.  The person we stayed with the longest was about 2 months, but we both felt it wasn't worth our money in the long run.  We even went to some of the expensive spa type places and that was even worse.  Big glamour and big words, but little help with massage.
Amanda and I were both sold on the fair prices and skills of the acupuncturists at Community Acupuncture and Natural Health when we went there, so we wanted to give their massage therapists a try.  We have both been seeing therapists there now for over a year; I go more often than Amanda because I am remodeling/rebuilding our three-story house almost from the ground up.  It is physically demanding and stressful dealing with sub-contractors, deadlines and the winter weather.  I needed a massage therapist who could work my muscles back into health, and she did.  I also had an accident at the job site, and my massage treatments helped my body heal faster.
Amanda has her own business and is taking on all the work projects she can to help pay for this expensive rebuild.  As a creative writer for high tech companies she has to think deeply all day and she, too, is consumed by deadlines.  Sitting all day ties up her muscles, and the business ties them up tighter.  The therapists' massage work releases those muscles allowing Amanda to function and go "full speed ahead."  Based on our experience, we believe that no matter what your needs are for massage, you will have them met at Community Acupuncture + Natural Health."   – Jim and Amanda
You have assembled quite an accomplished staff of practitioners.  Tell us a little about them.
All of the members of our staff are driven to develop their skills as natural healers, and are committed to living a healthy life style.  It is an inspiring group of people to work with, and we feed on each other's ideas and passions, and we all believe in each other's capabilities.  In this atmosphere, we often receive treatment from one another, and so we can easily recommend each other's services based on the needs of particular clients.
Our three licensed massage therapists, Heather Helard, Holly Hutchison, and Mira Brockelman, have over 30 years of combined experience, and specialize in a combination of structural therapeutic work integrated with relaxation.  Our therapists tailor each massage session to the evolving needs of their clients with the goal of increasing mobility, releasing tension and relieving pain.  In this results oriented approach to massage therapy, our therapists utilize a variety of modalities such as neuromuscular therapy, myofascial release, reflexology, cranial-sacral therapy and Swedish massage.  Our therapists are all able to provide both deep tissue and gentle touch, tailoring each session to the needs of the client.
Our three licensed acupuncturists, Jennifer Zimmerer, Sharon Kraus, and Nhimsa Champaneri share over 35 years of combined experience!  Our acupuncturists provide herbology services, nutrition and lifestyle counseling, Flowtrition, Ayruvedic techniques, and much more.  Their sessions are effective in treating all kinds of issues, including chronic pain, stress, insomnia, allergies, respiratory and digestive imbalances, fatigue, women's health, addiction recovery, sciatica, and depression. 
Where are you located?
We are at 258 A Street, Suite 21, on the second story of the "A Street Arts Builiding," across A Street from Ace Hardware. 
You have quite an impressive vision for what this clinic will become for the Ashland community.  Tell us about your goals for the business.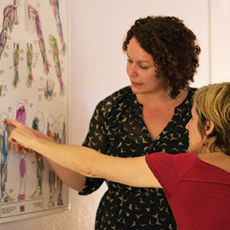 We are consciously working towards being a resource for all of the diverse healing needs of the individual.  To reach this goal we're developing more workshops for stress relief, chronic pain, and various other subjects.  We're also continuing to develop our life-coaching programs and support networks for self- growth and actualization.

We're very excited about our next workshop, "Understanding the Mind-Body Connection," which we will hold on Saturday, May 16th.  This is a workshop for managing stress and anxiety.  Several of our practitioners will be present to share information and practical tools for participants to incorporate into their daily lives.  We will be discussing the physiological affects of stress and anxiety and how to address these through stretching, breath work, meditation, journaling, qigong, acupuncture, and nutritional and herbal support. 
What can readers do today to learn more?
You can call us at 541-301-7040 to make an appointment or to find out about our meditation and qigong classes, nutritional coaching, life-coaching and other services.  You can also schedule an appointment online through our website, www.affordablenaturalhealth.com.

You can also call us to sign up for our workshop on Saturday, May 16th.  This will be a great way to get an overview of the services we offer, and to meet the practitioners at our center.  Space will be limited, so make sure to call us soon to reserve a space if you're interested.
Is there anything else you'd like readers to know about Community Acupuncture & Natural Health?
I think readers should know that we are constantly upgrading our services to provide the greatest benefit and convenience for our clients.  When you attend our qigong and meditation classes, for example, you'll receive video instructions of the techniques we practice so you can learn them quickly and accurately, and integrate them into your daily life with ease.

Furthermore, our nutritional services are enhanced by our partnership with Rogue Produce (a local CSA that I operate).  Rogue Produce provides delivery (right to your home) of organic produce grown on local farms, and even superfoods produced by amazing local companies like Bright Earth Foods in Ashland.  Local food, herbs, and superfoods are a facet of our business that we are continuing to integrate, and we are proud of the fact that these practices are so supportive of our community – in terms of health, economy and sustainability.
Learn More:
Community Acupuncture & Natural Health
258 A St, Suite 21
541-301-7040
www.affordablenaturalhealth.com