Interviews
Allen Drescher, Attorney at Law: Practicing in Ashland and Southern Oregon since 1973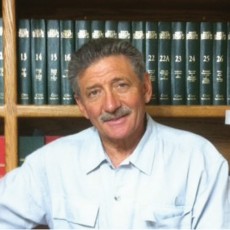 All of the other lawyers who were practicing law in Ashland when Allen began his law practice here in 1973 are either dead or retired; thank goodness Allen still has a thriving law office downtown. With expertise in real estate and business law, elder law and estate planning, Allen is still enthusiastic about the ins and outs of his profession and is able to find humor and joy in the complexity of it all.
With such a long history here in Ashland, you must have clients who have been with you a long time.

Some of my clients have been with me for 35 or 40 years, and I have worked with them and their families through the cycles of life.  This has allowed me to really get an understanding of their needs. As we age, our needs change, and we face transitions in our lives.
How did you first become interested in law?
My father was a trial lawyer in the county seat of a conservative, semi-rural community.  He primarily defended or represented Blacks and Hispanics from the lower rung of society.  When I was a child in the 1950s and saw him in the courtroom for the first time, it was a little like watching Atticus Finch.  I became a lawyer in 1972 to do civil rights litigation and later became a co-operating attorney for the ACLU of Oregon, which is pro-bono work.  When kids and a mortgage came along, I discovered that you can also make a living practicing law, but not the way that I was doing it.
And who were your mentors as you gained experience in your career?

My first mentor was my supervisor in the law reform unit of Multnomah County Legal Services, Laird Kirkpatrick, who later became the dean of the University of Oregon Law School.  My next mentor was a crusty trial lawyer in Medford, Walt Nunley.   I then had a mentorship of sorts in the courtroom from more experienced opposing counsel like Bill Deatherage and Tom Howser.  I benefitted from the shared wisdom of older lawyers, like Otto Frohnmayer, who once said that no matter what the problem is,  "This too shall pass."  Finally, I learned from the calm competence of my former law partner, Phil Arnold, who went on to become a highly respected circuit court judge.  From all of these lawyers I learned that legal problems are not to be taken lightly, that success depends on an understanding of the problem and the law and thorough preparation, but that both lawyers and clients shouldn't allow legal issues to consume their lives.
And now your daughter is practicing law as well.  You must be very proud.

Yes, Sarah practices labor law with Tedesco Law Group in Portland, and she is an exceptionally capable litigator.  She represents public employees –teachers, custodians, bus drivers, firefighters, law enforcement officers– who often face unfair odds. She has successfully argued cases in our state and federal trial and appellate courts in addition to a multitude of arbitrations.  Her grandfather would be proud.
Your ties to the community here in Ashland run deep.  Tell us about the organizations you are passionate about.
The Ashland Family YMCA is close to my heart.  My kids grew up with Y programs, and I coached their soccer and basketball teams from first grade almost until high school.  Along the way I served for a time as president of the Y, and I am currently the Y's pro bono legal counsel.   I also feel very close to the Ashland Chamber of Commerce, which does wonderful things in our community—the Fourth of July celebration, the Festival of Lights, the Halloween celebration, and a multitude of festivals, events, and programs that benefit our community in innumerable ways.  I have served on the board of directors in the past, and I am also the Chamber's pro bono legal counsel.  I also served on the board and am now legal counsel to the Ashland Community Hospital Foundation.  I am and have been the pro bono legal counsel for a number of other nonprofit organizations, including Temple Emek Shalom, and another organization that is close to my heart, Committed Alliance to Strays ("CATS").
You do love cats, don't you?  I notice that they are featured prominently in your monthly column here in the LocalsGuide.
Yes, my two cats are the heroes in my column, and they help me to explain various legal principles.  In my upcoming April column you will find that the cats, while on a ski trip, have an unfortunate encounter with an exposed fire pit at the ski lodge, and this allows me to describe the law that applies to an attractive nuisance.  In the May issue, the cats, recovering from their April injuries, have an encounter that allows me to explain the concept of comparative negligence.  In June, the cats take out their frustrations in a way that results in an opportunity for me to explain the law of conversion.
You were Ashland's municipal judge for 28 years.  What was that experience like?
At the time that I took the bench, there was no traffic diversion program. I created a traffic diversion program that allowed (and still allows) a traffic ticket to be dismissed as long as the driver pays a diversion fee and doesn't get another ticket for six months.  This has the benefit of keeping the ticket off the driver's record, and it is also an incentive for a person to be a safe driver—for six months, anyway.  That worked so well that I created a diversion program for alcohol and minor drug offenses.  I had a terrific diversion officer, Jan Janssen, who did a lot of good for a lot of people.
You mentioned a number of areas of expertise in your practice.  Can you give us an idea of the kinds of cases you take?
At this "mature" stage of my career, I work mostly in the areas of real property transactions, business law, estate planning and elder law; which include guardianships and conservatorships, wills, trusts, and probate. I have also developed sort of a sub-specialty in nonprofit organizations—their formation, obtaining tax exempt status and various problems that they encounter.  I also handle various disputes, such as disputes involving leases, boundary lines, real estate and business transactions.
What is the role of Deanna, your paralegal?

My paralegal, Deanna Costen, has about 30 years experience as a legal secretary and paralegal. She knows as much about the law, in my practice areas, as most lawyers.   She is thorough, highly competent and reliable.  We make a great team.
I understand you also find it useful to utilize the skills of other professionals in the community as well.  Tell us how that works for you.
I work with local accountants, financial advisors, realtors, lenders and insurance agents – sometimes you need a team approach – these professionals help me to address our mutual clients' concerns.
What is the best way for folks to find out if you can help them with a legal matter?
My website has a lot of information:  www.ashlandoregonlawyer.com.  People can also call my office at (541) 482-4935.  Deanna can usually tell right away if our office can assist with the caller's needs.  There is no charge for spending a few minutes on the phone with someone to see if we can be of help.
Anything else for our readers, Allen?
I think of myself as being about 27, not 67, but when I see my grandson I am reminded otherwise.  I realize, now, that my mother, who wrote poetry in Yiddish and English, had great wisdom.  A line from one of her poems reads, "We are but visitors here on earth."  How true.  Thanks, Mom.
Learn More:
Allen Drescher, Attorney at Law
21 S. Second St. Ashland
www.ashlandoregonlawyer.com
(541) 482-4935