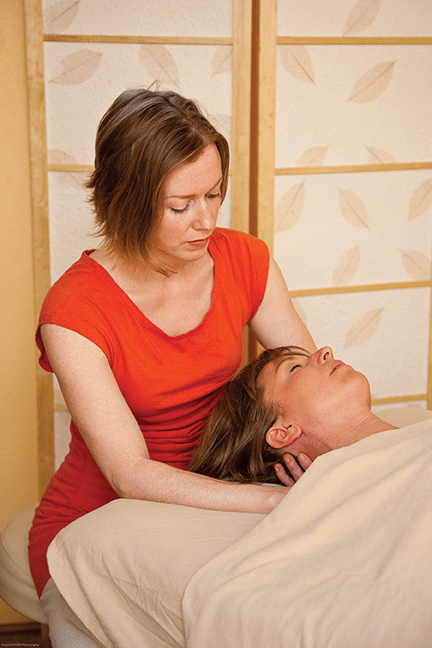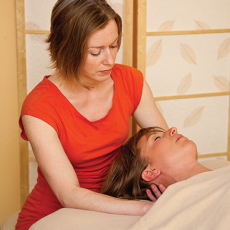 Anna Duval is the owner of Heart Waters Massage here in Ashland and is a licensed, classically trained massage therapist. Anna intuitively offers a variety of techniques in her sessions, which blend long, water-like strokes with focused points of compression to encourage deep relaxation and release.  Caring, perceptive, and keenly aware of the body, Anna invites all her clients to experience rejuvenation in a new way. When I spoke with Anna, she shared that she crafts her client's entire experience to be easy and revitalizing, from booking an appointment and finding her office to settling in for the massage and completing the session.
Anna, thanks for speaking with me today. To begin, can you please introduce us to your business, Heart Waters Massage?
I started Heart Waters Massage about two years ago and have really enjoyed the process of creating a business I'm proud of. I love working directly with my clients and am continually struck by the uniqueness of my clients' individual needs. I tailor each session, because each person shows up in a completely different way. Given how personal each session is, I have deep respect for the trust my clients have in my work.
Anna, can you share a little bit about your journey of becoming a massage therapist?
Ever since I can remember, I've been drawn to hands-on, healing work and to expressing my care for others. Looking back, this first expressed itself as a child and teen when I passionately rode and trained horses. Then in my twenties, I was a dedicated yoga practitioner who often assisted in classes. While I've loved receiving various forms of massage through the years, it wasn't until I moved to Ashland that I realized it was my calling.
Riding horses and practicing yoga have played a significant role in your life, though they are no longer a focus. Will you share about how these passions have impacted your massage practice?
It was always natural for me to relate with my horse in the present moment, while knowing that there was space to grow and develop together. Also, a rider has to make a strong intuitive connection with their horse. I found I had a gift here and this translates into my work with people. Practicing yoga, I learned a lot about physical movement and body awareness, before I knew anything about musculature and anatomy. It guides me in how I move people on the table and how I offer suggestions for stretching and self-care.
What's unique about your approach?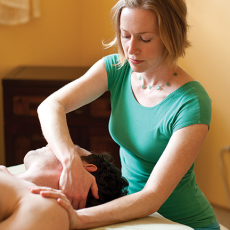 First, I strive to create a relaxing physical and energetic space for my clients. In my experience, this opens a person to deeper physical work and potential change. When someone is tense and uncomfortable for the whole session, the work I do is just not as effective. My work is deceptively deep.

I draw from a toolbox of techniques that range from Neuromuscular Therapy and muscle energy technique to Cranio Sacral and Esalen style. I always offer hydrotherapy warm towels and hot packs, as well as Aromatherapy essential oils.
Anna, what areas of massage do you particularly excel at?
A lot of people ask for special attention to their neck, shoulders, and upper back because they carry excess tension there. Approaching my clients three-dimensionally, I move them around often on the table, without exposure, and position my own body to access their deeper recesses of stored tension. My techniques are especially helpful to office workers seeking tension release in their back, shoulders, forearms, and hands.

I often have clients leave the session exclaiming about how open they feel in their upper body, circling their shoulders, and sighing with relief.
What's common feedback and praise that you get from clients?
One client told me recently, "You don't do boiler plate massages. You're completely in tune with me and want to give me exactly the massage I need. I've had a lot of massages in my life. When you work with me, I feel your constant, caring engagement with me, my body, and my unique needs. I lose tension I didn't even know I had." I often hear comments like this.
Anna, I noticed on your website you offer a wide variety of session lengths, as well as out-calls in your business.
Offering varied session lengths is one way my business has been shaped by my client's needs and I'm glad to oblige. One client requests only thirty minutes to focus on his running muscles. Another wants a full two hour immersion. For me, the ideal is ninety minutes, covering the complete body with extra attention to the tight spots. I also travel on request to my client's location to give massage because they feel safer and more comfortable in their own space.
You mentioned you enjoy taking notes and learning about your clients. Can you please tell us more?
Yes, I keep extensive notes on what I do in each session, what information I get, and what changes occur. It's all confidential, of course. This helps me to hold a context for future sessions and customize them to the person I'm working with. I also keep track of how a client responds to the environment, from their favored essential oil aromas and music they listen to in the session, to whether they become congested when face down or need the table warmer on high. Details are important to me. I provide mints in the massage room, chocolate in the waiting area, and seamless face cradle drapes to prevent creases on a person's face as they lie on their stomach.
You also offer hot stone back massage. What are some of the benefits of this type of treatment?
Hot stone massage is a real treat with therapeutic benefits as well. One of my clients cannot handle heat at all, but loves these warm, smooth basalt stones on her back. It can be helpful for those who experience recurring muscular back tension because it can boost circulation while grounding the person. Another client who works with her hands says she feels immediate relief when I leave the stones in her palms.
Tell us about some of your favorite parts of working with your clients?
My work in massage stays fresh and interesting because each session feels so different with each client. I especially enjoy building relationships with people over time. I have one client right now who I see once a week, originally because he wanted to increase his overall athletic performance by reducing painful muscle strains. After a few weeks of work with me, he found that he began to care for himself more by taking needed time off from physically demanding exercise, engaging in the passive support of stretching and salt baths, as well as asking for more focused time in his sessions.

Just last month you opened a new office. Will you please tell us about your new space?

It's a fantastic office in a beautifully kept building, just across from SOU on Siskiyou at Garfield Street. I've enjoyed sculpting this environment, which supports the relaxation that my work provides. I'm very sensitive to environments and know my massage space impacts the overall experience of a session.
Any last comments for our readers that you would like to share?
I plan to be giving talks in Ashland, focusing on the benefits of massage. In the meantime, I'm open for sessions on weekdays and on Saturdays. You can book online or call me to schedule. I look forward to meeting you!
Learn More:
 1109 Siskiyou Blvd
Ashland, OR 97520
541-743-6071