Interviews
Artisan Eyeworks – Drs. Kimberly & Michael Hoyt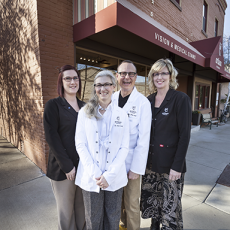 Introducing Artisan Eyeworks, Ashland's newest optometry practice located on 4th Street in the Railroad District. When husband and wife team Kimberly and Michael Hoyt conceived their practice, they had a vision of providing personalized, professional eye care, utilizing advanced technology, but practicing in a style and pace that would allow them to develop a genuine connection with each of their patients. In an era where nearly 80% of eyeglasses sold are manufactured by one company, mostly in China, they also envisioned an office that represented independent, artisanal eyeglass lines, where patients could find pieces uniquely suited to their personality and style rather than having to conform to the generic design of the day. 
With over twenty years of experience practicing in the Rogue Valley, the Hoyts are thrilled to open Artisan Eyeworks. One look in the windows of their beautiful space at the corner of 4th and B Streets and you'll want to step right in and experience the warm, artistic and inviting space they now call home. Read on to learn more about this exciting new member of our professional healthcare community. 
Thanks so much for talking with us today Michael and welcome to Ashland!
It's my pleasure. I'm delighted to have the opportunity.
Tell us more about the "artisan" part of your name.
Artisan literally means one at a time, by hand. It is a moniker that suits us well, both in the way we practice and the eyewear we represent.
You both had a real desire to do something different in the industry.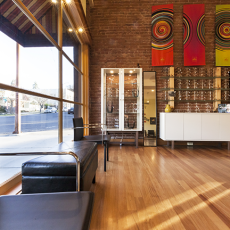 There are a lot of good eye doctors in the Valley. Some are small, very personable and patient oriented. Some are large, more institutional and very technology oriented. No one carries a significant number of exclusive, boutique eyewear lines. By blending all three, we felt we could fill a unique niche.
And how does this unique experience differ from what patients might experience elsewhere?
We, really for selfish reasons, wanted to practice at a slower pace where there was enough time built into our schedule to get to know patients beyond their diagnosis. That style of practice is personally more fulfilling for us and hopefully for our patients too. It is very different than the practice we left. Whether it's better or not depends on your perspective. It certainly suits us better at this stage of our careers and we feel like it will resonate with our patients.

What can be missing from smaller, more intimate practices though, is the latest technology in determining a patient's glasses and contact lens prescription and the health status of their eyes. We have some instruments unique in Ashland and even in all of Southern Oregon.

Lastly, we only represent independent eyewear producers that have been chosen for specific reasons. First, we stock as many frames as possible that originate in countries other than China. They've really become synonymous with a trend we don't like, designers simply selling their names and having some completely unrelated company design, manufacture and sell "their" eyewear. It's artificial. A single company today produces most "designer" frames on the market in this way.

Where we really shine is in our U.S. and European lines. We carry two from the U.S., Kala and Randolph. Both are extremely high quality and hand made. Both are very classic in design. We also carry two optician started lines, Anne et Valentin and Theo. They originated in France and Belgium, respectively, when two pairs of opticians, independently started companies twenty plus years ago. Neither was able to find the frames they wanted to fulfill what they envisioned for some of their patients, so they started making and designing glasses themselves. They both march to their own tunes, Anne tending towards modern interpretations of classics and Theo leaning towards whimsy. Both are stunning.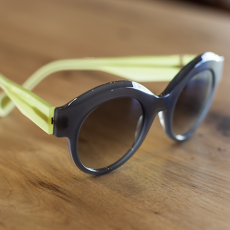 You mentioned that you "curate" your eyewear for patients.  What does that mean?
Choosing eyewear can be overwhelming. There are lots of choices, often looking quite generic. We start by placing eyewear in displays more like you might see art pieces. It's easier to see what they look like when they aren't all bunched together in neat vertical columns.

More importantly though, we sit each patient down at a dispensing table and get to know as much as we can about them, their personalities, coloration, face shapes, prescription demands, et cetera and then hand pick frames to bring to them rather than casting them adrift to fend for themselves. A few prefer to "go it alone," but most don't.

What they end up with are a series of frames from various price points as a place to start. There are always frames a patient wouldn't have picked if they were unguided. What might look wild in the cabinet often looks great when chosen for the right person. What we're searching for is a frame that will meld into a symbiotic relationship with the patient's face and personality, appearing like it was always the one that was meant to be.

Lens choice is also a big factor. Take progressives for instance. Many patients feel that they're all the same, but they aren't. Saying progressive is like saying car. There's Mercedes and there's Yugo. The heavy discounters still sell the Yugo. Professional practices like ours don't. The top quality progressives are far easier to adapt to. They cost us more and that's why they cost our patients more. They are simply far superior to the inexpensive options.

We get to know the visual needs of every individual patient and then formulate lens options to fit their needs.  In the end, our aim is for the experience to be low stress and fun, for all of us.
Tell us about some of your cutting edge technology.
The Optomap Retinal Scanner allows a doctor to examine most of a patient's retina without dilating their eyes. It is a very powerful tool for us and doesn't interfere with a patient's ability to drive after their exam. We are the first in Ashland with this technology.

We also have a Zeiss iProfiler and iTerminal. The iProfiler incorporates the same technology as the machines used for LASIK measurements to determine the very sharpest glasses prescription possible, especially for driving at night. The iTerminal is used to map eyeglass lens placement so that each is cut specifically to the patient's anatomy, chosen frame and prescription, ultimately culminating in the best lens fit possible. This is especially important for patients who wear progressives. We are the only office in all of Southern Oregon with these pieces of advanced Zeiss equipment.
It must be a unique experience for you both to have worked side by side for so long.
It's been a great pleasure working with Kim, emphasis on with. The fact that we are peers, both doing the same thing, but independently makes it easy to understand what the other is going through on a daily basis. We both like the technical aspects of eye care, but we really like the personal interaction with our patients. It might be different if one of us worked for the other one. As it is, I can't imagine it being any better. I love working with Kim.
Do you have any specialties?
Both Kimberly and I did a residency in Hospital Based Optometry and then worked over 20 years in an ophthalmology practice where we practiced the full spectrum of routine and medical eye care. I guess you could say our specialty is ocular disease. That's not really unique to us though. Ophthalmologists have been doing that for a long time and continue to do it well. Where I think we offer something somewhat unique is that we are now able to blend our vast background in ocular disease into a more traditional optometric role where we personally determine a patient's best prescription utilizing the latest Zeiss technology and formulate that into the best glasses and/or contact lenses for them. Patients don't have to sacrifice one for the other.

In particular, we are both interested in conditions that tend to get cast aside as nuisances, dry eye and ocular allergy. They are both very complex and under treated, often dismissed by patients and doctors alike as trivial. Anyone who suffers from significant dry eye can attest, it isn't.
Any eye health tips for readers?
Don't read in the dark. Eat lots of carrots. Just kidding, both are wives' tales. I think the biggest misconception that we come across, interestingly from diametrically opposed perspectives, is that glasses can either make your eyes better or that wearing them can make you actually worse. Except for rare instances, neither is true. The right glasses just make you see better when you wear them, often much better, to the point that you don't like the blur when you go without them, hence the myth that you can get "addicted" to them.

Also in the glasses realm, but bridging into health, there's mounting evidence that a narrow band of blue light is related to the advancement of macular degeneration and can disrupt our sleep cycle. It used to be that we only saw that wavelength outdoors. Now that we are looking at screens, even from a young age, we get much more exposure to the bad blues.

Although it is still relatively early in the research, there are companies that make lenses that block the harmful blues. For patients that already have macular degeneration and for people, especially teens, that will spend many more hours of their lives exposed to these wavelengths, it's probably not a bad idea to use one of the new lens technologies, even if they have minimal or no prescription.

From a pure health perspective, glaucoma is poorly understood by most of the public. People assume that if they see well and their eyes don't hurt that everything must be all right. Glaucoma doesn't have any symptoms until you are on the precipice of absolute blindness. We are an amazingly adaptive species. The problem is that is can't be reversed. One in twenty patients 50 years old will have it. By the time we reach 80 that rises to one in five. The best defense is early diagnosis and the only way to do that is to have regular comprehensive exams.
You are very proud of your excellent staff.  Can you take a moment to introduce us to your team?
We are a small but powerful team. In addition to Kim and myself, we have Megan Cook and Kate Nolte. Megan is our Office Manager and Kate is a Certified Optician. Really though they both do much more than their titles suggest. They both do so many things that I couldn't even begin to list them.

Every bit as important, maybe more, they are both an absolute joy to work with, both very competent, but also relentlessly positive and just plain fun. This doesn't feel like a job at all to me. There's no sense of drudgery and that's largely due to Megan and Kate.

As a business owner, every person you employ can make or break your customers' experience. That ultimately reflects back on the owner. We are all four vested in a common vision. From the very beginning we all had a natural affinity, a drive to be centered on creating the best patient experience possible and to do it by taking the necessary amount of time to make it so. Period. It was what we all independently wanted. We also blur the lines of traditional employer/employee roles.  As doctors, we aren't allergic to sweeping floors and emptying the garbage. As a staff, Megan and Kate interact with every patient as though Artisan Eyeworks was their business. It is a solid team effort.  On so many levels, I couldn't ask for more.
Learn More:
Artisan Eyeworks
215 4th Street, Ashland
541-708-5350