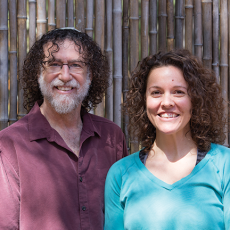 Jaye Marolla and Steven Glaser opened the Ashland Center of Asian Bodywork this spring and are sharing their years of experience in age-old methods developed over generations in both Thailand and Japan. In this unique Asian model of care, Jaye and Steven offer bodywork as medicine rather than a luxury. They aim to create opportunities for further education through classes and workshops that help to encourage a deeper understanding of the process of health.
 After just a few short months in business, the Ashland Center of Asian Bodywork is experiencing great success, attracting clients from far beyond the Rogue Valley. As Steven so beautifully says, "We are on a journey with our clients, on a path to wellness and health." Read on to learn more about this unique model of traditional bodywork found right here in Ashland, OR.
Thanks to the both of you and congratulations on the opening of the Ashland Center of Asian Bodywork! How does the Center differ from a traditional Western-style massage studio?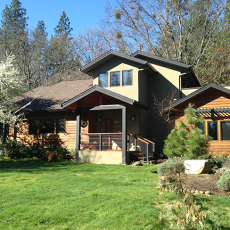 Jaye: I would say our clients are often people who are seeking a unique form of therapeutic bodywork. Often having struggled with chronic or long-standing conditions, they are looking for a high quality of work based on a deeper foundation of holistic health and understanding. Thus the dynamic we invite clients into is one of shared responsibility and positive encouragement towards definitive results. We have experienced traditional Asian medicine as an approach that moves away from the 'fix me' paradigm and towards a facilitation of awareness that brings about lasting change.

By offering classes in bodywork for both licensed massage therapists and those new to bodywork we hope to demystify the process of healing as a singular transaction and promote health and wellbeing as service towards ourselves, our families and our greater community.

We offer Thai Bodywork and Shiatsu, which are styles of bodywork performed with the client clothed on a comfortable mat on the floor. This allows for a greater ease and comfort for both the practitioner and client in relation to moving the body through passive range of motion and gentle stretching.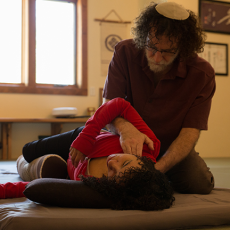 Were there specific experiences that you each had in your professional paths that led to your desire to create this unique model for bodywork and healing?
Steven: While I do believe the Center is quite unique in several ways, I think the model is common throughout Asia. In fact the framework of the Center is a blending of the experiences Jaye and I had in our studies abroad. Here, in the west, we tend to think of bodywork as a skill, you are taught various ways to touch and affect the tissues and routines to address specific issues. In our experience of Asian systems, the practitioner is the medicine. The capability of the practitioner to transmit a level of sensitivity and relaxation that allows for tension patterns to be realized and therefore released is the aim versus pure technical ability.

Jaye: I agree. Having experienced profound changes in my own body while working with masterful

practitioners (in Asia and the US), I have come to believe that exceptional changes are possible. Conversely, having received poorly facilitated bodywork, where therapists were just running through a sequence and not 'listening' attentively to the client's body response, have been just as enlightening in the development of our own practices.
Steven, you talk about a very significant connection between Asian Bodywork and Martial Arts. Can you tell us more about this?
[Ashland Center of Asian Bodywork is also home to Hakko Seishin Kan Dojo where Steven instructs the traditional martial art of Hakkoryu Jujutsu. For more information please visit www.hakkoseishinkan.org]
Steven: Well, historically the martial arts were primarily about warfare. Because of this it was important to know how to repair injuries that might occur while training or on the battlefield. Shodai Soke, the founder of Hakkoryu Jujutsu and Koho Shiatsu, had a remarkable understanding that linked martial and medical in a unique way.

If you were attacked, you could try to resist or fight back. In that case, the victory would be determined by a combination of strength, skill and tenacity. If, however, you saw the violence as a condition created by energetic imbalances, and the attack was a symptom of that condition, your response would be of a different nature. You would help them into a pinned position without challenge, resistance or injury. Shodai Soke believed all violence is the result of energetic imbalances. Since Hakkoryu jujutsu is directed towards the meridians, he saw it as curative of evil intent, therefore his intention was not destroy the attacker or even the violence, but instead create the circumstances to transform it.

The same holds true for bodywork. I had a client recently who was unable to raise his arm above his shoulder for the past several years. By working on the corresponding Shiatsu areas on the legs, and the effected meridians the client was able to let go of the tensions that were holding the shoulder in place. By addressing both the root imbalances and the fascial restrictions the client was able to lift his arm well above his head after the first treatment. After the third visit he could lift his arm straight up without any pain or restrictions.
Jaye, your education and background are very interesting as well. Tell us about it.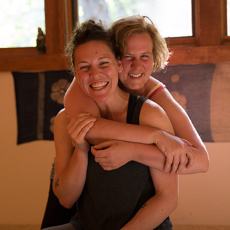 Jaye: Sure, my bodywork training began in Northern Thailand with Ajarn Pichest Boonthume where I studied for 3 years exploring the country and traditional Thai medicine. This provided an incredible foundation of self-development and a direct experience of Pichest's 'heal yourself first' approach. I returned to Oregon to gain my licensure here at the Ashland Institute of Massage, met Steve and began training Hakkoryu Jujutsu.

For me the combination of martial arts and bodywork provides a cohesive platform for keeping my own health at a consistently resilient and yet relaxed state of awareness. By exploring these arts as a way of living I'm also able to provide a different window of inquiry for my clients in relation to the study of wellness and somatic reorganizing towards greater levels of health.

Completing a Master's degree in Complimentary Medicine at the University of Westminster, London aided in my direction as a researcher, writer and advocate for the substantial benefits of Asian bodywork systems. The Ashland Center of Asian Bodywork is the synthesis of decades of research, study and experience both Steven and I have cultivated through the years, and continue to explore through the daily practice of working with clients, students, peers and the masterful teachers.
Steven, What brought you to this type of work?
Steven: I began my study of bodywork while in high school in the late 70s. My parents had a housekeeper who learned shiatsu as a child when she was in an internment camp in California during World War II. She would clean her clients' homes, and then give them a treatment before leaving. She was a very sweet woman, and when she saw my interest in Japanese martial arts, she offered to take me on as an apprentice. I would meet with her weekly, she would work on me, I on her, and then we would talk over some tea.

After that I studied a variety of systems until 1982 when I was introduced to Hakkoryu Jujutsu and its healing system, Koho Shiatsu Igaku. In 1986 I went through the formal Koho Shiatsu Training under the founder's son and current head master of the art and received my Master's license (Menkyo Shihan) in 1992. I moved to Ashland and gained my massage license five years ago and have held my own practice here since then.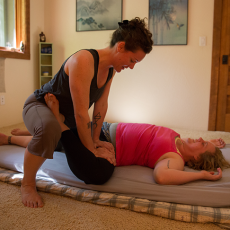 Describe what a client might experience when they initially come in for treatments.
Steven: Well, the first thing is the remarkable setting. The center is located on a private road in the foothills above SOU in a stunningly natural and welcoming environment. After a short intake process, usually over tea, we will move into one of the treatment rooms. Most sessions are conducted on a mat over clothing. All sessions are tailored to the client needs, based on their current conditions and comfort. The majority of sessions are 90 minutes, but 1 and 2 hour treatments are also available.
Testimonial:
"My husband and I have enjoyed side-by-side treatments at the Ashland Center of Asian Bodywork with Jaye and Steve. The shared experience feels magical – comfortable, easy, and connected. It's beautiful to emerge from a massage together, both equally relaxed and rejuvenated."  -Eva
I understand that you have even attracted clients who travel as far as Bend and Dunsmuir to work with you.
Jaye: Yes, this has actually been a welcomed surprise to us. We've had quite a few people seeking out specifically therapeutic bodywork and really looking for pain relief and a re-educating perspective. Just the other week we had a couple in town visiting for the weekend and they had come across our website online while researching for a specifically authentic Asian discipline. We both feel intensely thankful for our direct lineage experiences of study and we are delighted to offer this knowledge and skill to folks near and far.
Tell us about your Sliding-Scale Community Clinic.
Jaye: This is a really wonderful event that's held on the first Tuesday of every month. We offer 60 minute Thai & Shiatsu massage sessions at a reduced sliding scale rate of $30-$50.

Steve, Alison Miller (a recent addition to Ashland Center of Asian Bodywork) and I, work simultaneously in a shared space treatment room, very similar to how sessions are delivered in both Thailand and Japan. It's a great opportunity to receive bodywork at a more affordable rate, and you can come in with friends and family and receive a treatment together.

Treatments times are 2:00pm, 3:15pm, and 4:30pm. Booking in advance is required, and the spaces get filled quickly. Please call 541-708-1690 or email info@ashlandcenterofasianbodywork.com for reservations.
You offer a number of classes and community events at the Ashland Center of Asian Bodywork. Tell us more about these offerings.
Jaye: In addition to the Sliding-Scale Community Clinic we offer classes in both Thai and Shiatsu at both introductory and advanced levels. These classes are open to both licensed massage therapists and those new to massage. They are excellent if you are an LMT looking for CEU credits and the techniques utilized on the floor and theory of Thai and Shiatsu are easily transferrable to table massage work.
Are there any specific health issues that you find are particularly well suited to this type of bodywork?
Steven: Yes, there are issues that can be resolved very quickly. Things like waking up with neck or shoulder pain, or the residue of an illness or cold. We often have clients who come in with these types of discomforts, which we are able to address in one session.

More chronic conditions such as, SI joint dysfunction, lower back pain, sciatic nerve symptoms, migraine patterns and neuropathies typically require a series of treatments. In most cases these chronic issues persist because of unconscious tensions and habits. By providing appropriate somatic feedback and possibly some exercises and/or stretches we are able to aid in the facilitation of re-training the body towards a new posture of equilibrium and internal balance.

I am working with a client who has neuropathy in her legs that was so severe that even the lightest touch on her soles was unbearable. By applying pressure on a corresponding area of the arm, the sensitivity all but vanished, and then with the symptoms managed, we were able to work together to in the process of restoring balance to the body.
What should readers do next?
Book a treatment to gain the experience and insight of our work for yourself. In addition to individual treatments, the community clinic is a fabulous option, as well as our side-by-side treatments for couples, friends or family.
Learn More:
Ashland Center of Asian Bodywork
1101 Paradise Lane, Ashland
www.ashlandcenterofasianbodywork.com
541-708-1690
Treatments by appointment only