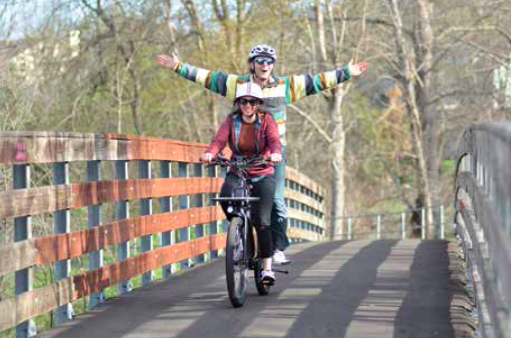 It´s that time of year again when the weather is perfect for riding your bike. The feel of a fresh breeze blowing across your face and the smooth sensation of gliding brings back childhood memories. For the young and the old bicycles bring a smile to one's face and joy to your heart. Achieving all this on an electric bicycle provides a bigger sense of wellbeing, because you know you are playing a part in a larger cultural movement that is moving us forward into the future of renewable energy. In today´s interview, I speak with Ashland Electric Bikes owner Samantha Smith about her love for electric bikes, sustainability, and going above and beyond to make sure that all her customers are thrilled with any purchase they make at her shop.
Hi, Samantha thanks for speaking with me today. 
Thanks for taking this time, Shields. It's great to be here and I'm looking forward to connecting with the readers about all the wonderful advantages of electric bikes.
Samantha, I imagine things are starting to get very busy at Ashland Electric bikes how are things going?
Things are going well; the flowers are popping and on cue things are starting to pick up at the shop. Even with the late season snow fall we've seen a steady stream of people coming in for their tune-ups and new people are test riding e-bikes to pick out their perfect bike for this upcoming season.
This must be one of the best times of year for riding. Where's your favorite places to ride?
I enjoy riding around town. This time of year, the flowers are in bloom, and that means every week mother nature graces us with a new kaleidoscope of color, as she awakens from her winters rest. I also love the historical architecture of the buildings and the eclectic artistry on display in peoples landscaping, the parks, and small businesses in Ashland.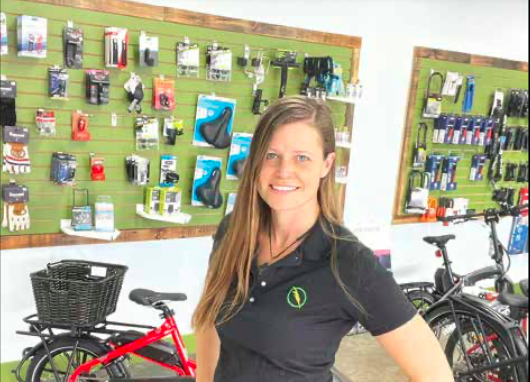 Samantha, many of us have never ridden an electric bike before what is it like?
In my experience it's so much fun and like being 20 years younger. I think a recent experience can help people understand what it's like.
Last week, a friend was helping me take photos and his friends volunteered to be bike models. Neither of them had ever ridden an electric bike. The smiles and enthusiasm on their faces was almost instantaneous. During the photo shoot the one remarked to the other that it was like being on a date. There were so many great pictures from that photo shoot, but for this article I've chose one of that young couple on our Magnum cargo bike. He's standing up in good "Titanic" fashion. For those that remember Jack yelling "I'm the King of the World" from the 2008 movie starring Leonardo DiCaprio. That's the type of joy these bikes bring.
About how fast can an electric bike go, and can you just pedal it like a normal bike and turn on the electric part as needed?
At our shop the bikes fall into two categories. Ones that go up to 20mph and those that will go to 28mph. Anything over 28mphs is considered a moped and must follow those applicable laws. All our e-bikes can be pedaled without turning on the power, however, just like with a regular bike; weight, tire pressure and other factors will determine how easy it is to pedal. We took the Montague E-bikes out to get pictures for this month's ad. I turned to my mechanic at one point and asked what level he was in. He said he was in high. We were on a long flat section of the bike path, but I had been keeping pace with him for 3-4 minutes with my bike turned off. It rode smooth and easily. You can still pedal a 72lb fat tire bike without power, but it won't feel so easy. 
On average how long does it take to charge an electric bike?
It takes 4-6hrs for a fully depleted battery to recharge. Some bike companies sell rapid chargers, that can cut that in half down to 2-3hrs. 
Samantha, can you please tell us about the inventory you have on hand for us?
With ten different brands, we have the largest selection of e-bikes anywhere in the valley, and we have a bike for just about everyone. Fat tire, beach cruisers, full suspension mountain, cargo, folding, road and gravel bikes. We've even found some bikes for those shorter folks that can't find another e-bike to fit their stature. We've got high end bikes costing thousands of dollars, and those that come in at or just under $2000 for those folks that are on a budget, but still want good quality and local service. We really try to make sure that everyone can feel the joy of riding an e-bike.
What is your personal favorite and why?
That's a hard one, because we carry so many great bikes. I talk about my bike all the time, so I'll go with the Tern cargo bikes.  These bikes look small, but they have some serious hauling potential. The highest end GSD line has a max capacity of 440lbs. But even the entry level Tern cargos are rated for 330lbs. This often shocks our customers, as many of the regular sized e-bikes max out in the mid to upper 200lb range. 
The high-end components that Tern uses on its bikes make for one comfortable and smooth ride. Then there is the full line up of accessories to fit everyone's needs; from customized racks to support a family camping trip or delivery business, to those meant for joy rides with your kids or your furry best friend. Plus, these bikes are small and compact, and when stored upright with their integrated stands, take up a footprint of only 2sqft for those small home and apartment dwellers.
There is just so much versatility with these bikes, and my not-so-secret hope is to see our community embracing them in unique sustainable ways. In Europe and bigger cities these bikes are already being used for last mile package delivery drop offs, fully replacing family vehicles, and as an alternative for parks and recreations that need to get landscaping tools around. Last week I was blocked by a semi, in downtown Ashland, parked in the middle of the road to make a delivery. After I waited for oncoming traffic to pass, I had to cross a double yellow line which isn't safe, but what's the alternative? Wait 20 minutes and cause a bigger traffic issue? I think electric bikes generally, but the Terns specifically with their broad range of business applications, really could be a game changer in our community.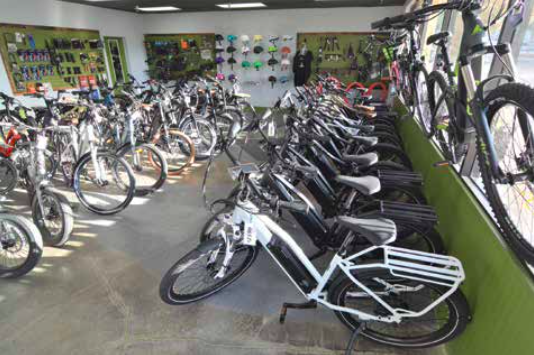 Samantha you are joined by an amazing team, please introduce them to us.
We have the same amazing team from last year and one new trainee. Nikolas is the veteran with almost 8yrs at the shop. He converted his first e-bike back in 2008 and is a wealth of knowledge on all things e-bike and green energy related.  
Marty, is our semi-retired bike enthusiast, starting his 3rd year here. He retired from his electrical engineering career, and works 2-3 days/week, because he loves to stay busy and loves bikes. 
Alex joined last summer, and with his wide variety of skillsets, has proved invaluable to me as a new owner. Outside of customer service and working on bikes he's helped with a wide range of projects including implementing our new payment, work order and inventory system.
Calido is the newest member. They're a Computer Science major here at SOU. Starting out they will be supporting us in the sales and marketing aspects of the business, but we expect that as their knowledge and experience grows, so will their role.
In our last interview, we highlighted your dog Andre and you were in the middle of constructing a 5-foot long travel trailer for him. How is Andre and how did the trailer turn out?
Andre is doing great, and he is as spoiled as ever. We have people stop by the shop sometimes just to come say hi to him. He is chill in his trailer, and as you can imagine we are quite the spectacle when we are out riding around. The trailer turned out amazing. So much gratitude to my team. I couldn't find anybody to help me weld this thing, so my team really stepped up to make it happen. As is usually the case for me, this trailer serves multiple purposes. I tow my best friend, but we also use it to shuttle bikes from our storage to the shop, run errands around town, or haul recyclables down to Recology.
Samantha, what tips or advice do you have for customers when shopping for an electric bike?
Do your research, and I don't just mean on the internet. Too many pop-up brands nail the marketing and fail miserably on the execution of a good electric bike. Additionally, there is a lot of misinformation on the internet and electric bikes are complicated.  I highly recommend that you talk to a local bike shop, and take your bike for a test ride, before purchasing. 
Another reason I encourage test rides is because people often come to me certain they're going to buy a specific e-bike based on their internet research. However, after a test ride they realize it's not going to work for them. We are all unique individuals and there are a lot of different components that make up an e-bike. It's complicated, and that's why we're here to help you make sense of it all. If you can tell us what your electric bike needs to do for you and how you intend to use it, then the helpful and knowledgeable staff at your local shop will be able to help you find the best bike for you.
How do you continue to see electric bikes continuing to change our lives and the communities around us?
I really hope they are a path to better health and part of the larger role we can all play in a healthier planet. The health effects of being active are well documented, and several studies show that e-bike riders log more miles and get more exercise than traditional bike riders. E-bikes also make riding accessible to those that may not be able to ride a regular bike. As more e-bikes are ridden instead of cars, we'll reduce the toxins we put into the air we breathe, which benefits everyone, allowing us all to be a little healthier. 
I think most people today are overwhelmed by the world around them. Increased natural disasters from climate change, 24-hour news reporting on global conflicts, rising prices of everyday cost of goods, on top of all the normal challenges we experience as humans. It's easy to feel hopeless. E-bikes are a medicine to all that. You can reduce your carbon footprint by riding instead of driving. You can keep more of that green in your pocket. E-bikes require less energy, than does your average two-ton vehicle. I've read articles that say fully charging your e-bike battery can be anywhere from $0.03 -$0.11 cents. See how far your car will get you on so little money. Then add in that when you're riding, you're not being pummeled by all that bad news in the media. Instead, you're out there getting exercise, reducing stress, laughing with friends a significant other or both, and having a good time. I don't think there are many things that you can do for the planet that feel so good.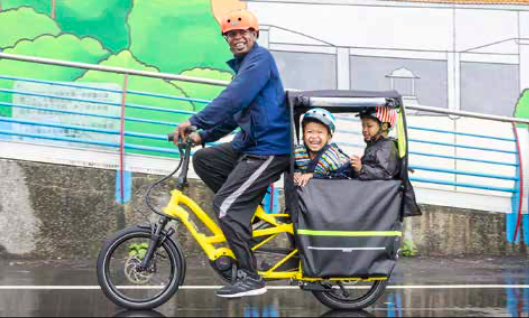 Finally, when is the best day to come in and try out an electric bike and should I bring my partner?
Any time Tuesday through Saturday from 11-5pm. We don't require an appointment, so people are welcome to stop by anytime that's best for them. We always have bikes on the floor, but sometimes all of a certain type will fly off the floor in a day, and we need time to build more. Calling ahead ensures we have one built and in stock.
If you're thinking about an electric bike and you have a partner, know that it often happens that when one person gets an electric bike, their partner isn't far behind, either by a couple of weeks or a month or two. Save yourselves the time, gas money and just come in together.
Is there anything else you'd like to tell our readership?
Shields thanks again for taking this time with me. Before we leave here, I just want to thank the community for all the support that they have given me and let them know how much I appreciate them. Secondly, I want to make sure people know about the updated Ashland Utilities E-bike incentive. If you pay Ashland Utilities, you can get a rebate of $300 or $400 based on the type of e-bike you purchase. Additionally, the price point has been raised to $4,000 for regular e-bikes and $7000 for cargo e-bikes. With us all feeling the pinch of higher prices every bit helps. You can go to https://ashlandor.org/climate-energy/find-resources/transportation/#ebike-incentive, for the full details.

Learn More: 
Ashland Electric Bikes
1678 Ashland St., Ashland
www.ashlandelectricbikes.com
541-951-3034