If you dream of freedom, adventure and enjoyable exercise, then surely that must describe the experience of riding an electric bike! You can quickly cross town, avoid traffic, and meander through scenic neighborhoods while having the confidence to climb the steepest streets. You can enjoy a pleasant afternoon with a friend or loved one, riding and chatting while the breeze blows through your hair.
 Does this sound like fun? Then let's go on a ride! Ashland is the ideal place, the weather is perfect and the time is now! In today's interview I speak with Jerry Solomon of Ashland Electric Bikes. For the past twelve years they have served as the local authority for finding the electric bike that's just right for you.
Jerry, welcome back to LocalsGuide and thanks for taking the time to speak with us today.
Thanks, Shields. It's always great to talk with you about the joy and practicality of electric bikes.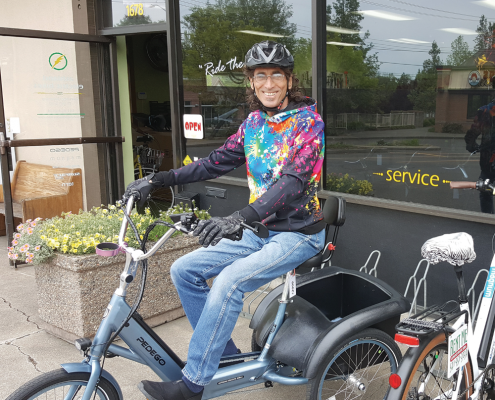 Awesome, Jerry! Everywhere I go, I see electric bikes. I see your happy customers riding all around town.

Yes, we've seeded the community with hundreds and hundreds of e-bikes through the years and the "smiles-per-mile" are spreading like a positive contagion. It's in the air on the streets and bike paths and spreading out along the country roads more each season. If you're lucky you may be the next to catch this wonderful fever!
That's really great to hear. You really have had a vision over the past twelve years of pioneering electric bikes here in Ashland. Culturally speaking, there can be no doubt electric bikes are here to stay.
You're absolutely correct; e-bikes are definitely here to stay. We, as a country, are coming later to the game than many others but that is finally changing. The momentum is picking up here in the USA. E-bikes are a sensible piece of the alternative transportation picture and they're a ton of fun as well. It's not often that a new conservation-based solution to a situation is also so enjoyable. It's a win-win scenario for everyone.
I've heard some people say it's cheating to ride an electric bike. How do you respond?
Well, I used to take a little offense to that comment, but now I just grin because I know that the truth is far greater than that small perspective. You are still exercising, pushing as hard or easy as you want, working core muscles to maintain balance, and activating all the neural pathways that are involved in all forms of bicycling. You get the opportunity to smell the flowers, feel the temperature changes as you traverse micro-climates, and see the details that are missed from inside a faster moving vehicle. It's a way to feel more alive. Where's the cheating in that?!
I agree. There is a freedom and joy that comes with riding a bike that does make one feel very alive.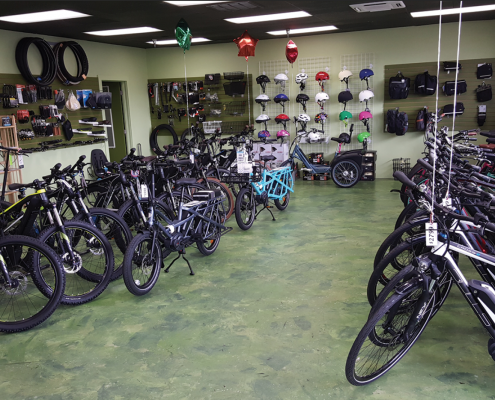 It's so very true, and there have been countless studies that show people getting as much or more exercise than they would even on a regular bike. If you're spending more time in the saddle and covering longer distances then, of course, the total benefits will be greater.
We've talked about this before – how are electric bikes taking the place of a second car for many households here in Ashland?
The reality is that many of our trips around town don't really require a multi-thousand pound car to get the job done. If you're only traveling a couple of miles and carrying a small amount of stuff, you can do that with less parking and traffic hassles, and oftentimes faster on an e-bike. One shared car along with a bike for each individual makes for a very eco-conscious household.
You have really established Ashland Electric Bikes as the place to buy electric bikes not only locally, but regionally.
It's true. Our reputation as one of the veteran shops in the industry has grown through the years. We have customers from the coast to the Klamath Basin and from Eugene to deep into California. Our bikes have gone to Hawaii, Canada, the Midwest, and just shy of the Mexican border. I love visualizing all the bikes we've sent into the world as lights on a map – moving about in their respective environments. After twelve years time it would be a lot of lights!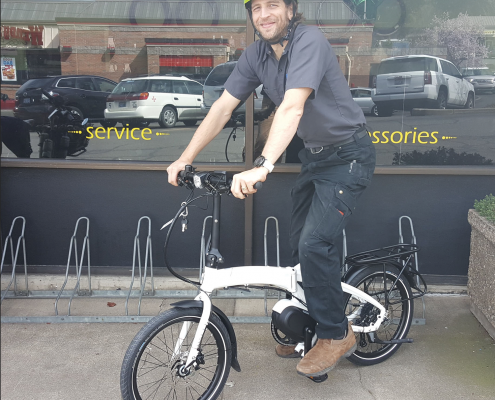 Can you share some customer testimonials with us?
"I was lucky enough to meet Jerry just by chance when he was doing a test ride with a prospective customer. He was nice enough to let me ride the bike that day… and I was hooked. Working with Ashland Electric Bikes has been a pleasure every step of the way. The e-bike was set up perfectly, accessorized smartly and delivered to me when promised. Since then the service and support I have received from AEB has been outstanding. The guys are passionate about electric bikes and are always happy to share their knowledge and experience."
EG-Ashland, OR


"My husband has bad knees which prevented him from bike riding with me, so we decided to get him an electric bike. Jerry was very knowledgeable, helping us pick the one that would work best for his needs. He told me that usually once one person gets an electric bike that it isn't that long before the other is back in wanting one. I told him I didn't think that would happen as I really liked pedaling. Well, he was right…within a week I was back. Again, AEB was super helpful (I wouldn't go anywhere else) and I LOVE my new bike!!! We went for a ride yesterday and I felt like superwoman. I thought I could ride a long time before, but now I think I could ride forever. Thanks so much Jerry!" RT-Grants Pass

"I have found many uses for my electric tricycle ranging from just plain fun to maintenance projects around the yard. My wife and I are motoring down to Arizona next week and I'm taking the trike with me. I can use it on trails, for bird watching, and even walking the dog. So, a happy customer here. Keep up the good work!" BB-Tubac, AZ

"I just wanted to send you a quick message to let you know that I love my ODK U500 V2 that you sold to me this spring! Thank you for listening to my concerns and introducing me to a bike that I would have otherwise overlooked. Know that I have been pleased with this bicycle beyond what I had originally expected. It has honestly transformed the way that I get around my city. Something that I had not anticipated was the response from other bicyclists, pedestrians and even motorists. They have all been overwhelmingly positive and they understand how practical the design of this bike is and how realistic it is to believe that one can get around town without the constant need of a car – something that gives me hope for the future."
SL-Spokane, WA

"Let's face it, electric bikes are not something you can find at an ordinary bike shop. Go into a large bike shop and you'll see a couple of electric bikes and perhaps you'll get a bit of information on the subject. Worse yet, looking online and trying to make a decision is going to leave most buyers sadly lacking in knowledge and about to make a large dollar error. Ashland Electric Bikes does one thing and does it well. Offering a select choice of a few brands of electric bikes, they have done the leg work for you weeding out the lemons and clunkers. If you're in the market for this product it's well worth a trip to Ashland."
MP-Ashland, OR

"I bought an electric bike from Jerry last year and I have to say it really improved the quality of my life more than I expected! Having lived in the hills of Ashland (for years) I found I just wasn't inspired to ride a bike to work, as going back up at the end of the day wasn't my idea of fun. The bike certainly assists with that and it makes the trip more enjoyable. There's a couple of other things I didn't expect: I'm a person who is in good shape, has no problem with riding a bike around enjoying the exercise, and thought maybe the electric boost would make me a bit lazier. Instead, the electric bike really assists in terms of my time frame. I can now get across the entire town in less than half the time and I've found myself using my car less and less because of that. Another unexpected benefit was that my 16 (now 17) -year old uses it when I don't to get to his work, school, and around town. The amount of money I've saved in deferring his want and need for a car certainly has paid for the bike by now! Jerry has been excellent to work with – always friendly, available, and reasonable when the bike has needed occasional repairs. Highest recommendations!"
KB-Ashland, OR
Jerry, what have you got in store for us for 2019?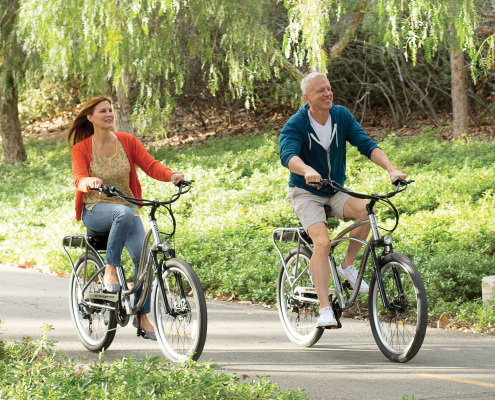 We're definitely keeping in step with the latest offerings at all levels. Town cruisers, commuters, touring, mountain, trekking, folding, cargo, fat tire, scooter, conversions, rentals, hub motors, mid-drives, pedal assist, manual throttles, accessories of all kinds – it's all here. Also, it's still in development, so keep an eye out for an adventure offering that includes e-biking (of course), local wines and food, and an edge-of-town riding route that most folks have probably never traveled before. It's time to ramp up the fun factor!
Ashland Electric Bikes has always been supported by a great team. Can you speak about that?
Yes, and thank you for asking. I would like to give a shout out to the folks who have made a lasting impression through the years and helped up-level the business in many ways: Nikolas Lidtke, Bow DeBey, Derrick Claypool, Joe Thomas, and Eliza Anstette. Their efforts live on as part of the fabric of this wild weave.
Do you see electric bike culture continuing to evolve?
Absolutely. Each season e-bikes are inching more and more into the mainstream awareness as a viable transportation alternative. As collective understanding replaces common misconceptions (its cheating, they're just the latest expensive toys, they will destroy trails, etc.) more people will embrace the idea of e-bikes, and that will in turn drive more proactive responses from municipalities to better accommodate increased e-bike ridership. One of the biggest growth potentials we see locally is the increased utilization of cargo bikes by individuals and businesses alike. There is SO much that can be done via a bike than most people ever imagine, especially with the help of the electric assist. Currently there exists a much greater cargo bike culture in Portland, Bend, and Eugene. It's time for Ashland get more on board as well and we aim to do our part to facilitate that.
Are there any last thoughts or comments you would like to share with our readers?

Yes indeed. I'd like to thank all our customers through these 11+ years – the early adopters, the way-showers – who have helped raise the awareness of electric bikes within the community. Together we're showing how simple (and very fun!) making a positive change in these environmentally challenging times can be. Will electric bikes alone save the world? Of course not, but they are definitely one part of the bigger set of actions that are called for at this time. Let's keep the wheels of change turning. Ride on, people. Ride on!
Learn More:
Ashland Electric Bikes
1678 Ashland St.
www.AshlandElectricBikes.com
541-951-3034