You see their customers cruising all around town on sleek electric bikes, beaming big grins as they zip past downtown traffic. Finding a parking space is of no concern to an ebiker. Electric bikes are not only great for the environment, they are also good clean healthy fun. Besides that, who wouldn't want to get some help up Morton Street?
Over the past nine years Ashland Electric Bikes has seeded our community with hundreds of beautiful and durable ebikes that keep folks feeling young and smiling wide. The shop is prominently located at the front corner of the Ashland Shopping Center. We visited with Jerry Solomon and his team to discover the secrets to their success!
Jerry, thanks so much for doing this interview with us today. To begin with, congratulations on your nine years of success here in Ashland!
Thanks, Shields. It's been incredibly rewarding to see what began as a hobby in my living room become the vital resource that it is now. I felt from the start that this was a technology and lifestyle enhancement that really suited Ashland, and its great to see the traction its gained in all these years. It took far longer than I anticipated, but the out-picturing of that original vision is more evident everyday as I ride around town seeing my customers on their bikes flashing that hallmark ear-to-ear grin!
Jerry, your team's depth of knowledge around all things electric bike is vast. Please talk about the lengths you have gone to achieve this expertise.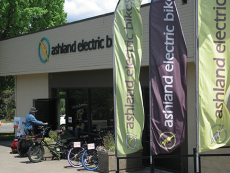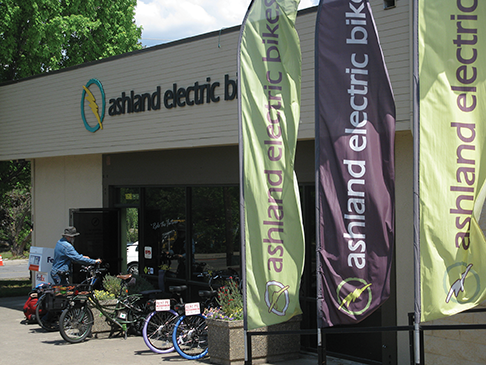 Our knowledge base is built primarily on extensive experience. I jumped into the deep end of the ebike industry over nine years ago and have been learning more and more every step of the way since then. My lead mechanic, Nikolas Lidtke, garnered extensive training in advanced military intelligence electronics while in the service. We've attended ebike technician training seminars, dealer-sponsored tech events, and had numerous in-shop brand-specific training modules. We have a wide array of diagnostic equipment in the shop that helps us navigate the complexities of ebike systems. Pretty much, if it's electric and it rolls on one or more wheels, we can probably fix it.
Not only do I see all your customers cruising around town, but I continually see you and your team riding your electric bikes as well!
Yes, it's true; we virtually eat, drink and sleep ebikes. I'm on one of my bikes whenever possible, twelve months out of the year. Nikolas doesn't even own a car, so his commitment to two-wheeled travel is 100%. Not only is this an expression of our dedication to the cycling lifestyle, but it's the way we know how these bikes respond in all seasons under all conditions. To know a thing well requires a visceral dialogue over time. We are out there doing that day after day – 'riding the talk.'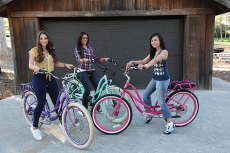 It seems that your current location has been a great fit for you guys.
Absolutely! The community's awareness of our existence is increasing exponentially. We went from hard-to-find to hard-to-miss, and it's made all the difference. We still get locals coming through the door, congratulating us on our new business, to which I love responding that we're, in fact, in our ninth season in town.
Jerry, tell us about some of the new lines and services that you have available for customers this year.
This is an exciting season here at the shop. We brought in a handful of new European brands as part of our exploration of the more refined segment of the industry. As ebikes gain popularity worldwide, more high-caliber companies are developing increasingly sophisticated, feature-laden, very durable products. Concepts from the automotive and motorcycle industries are filtering into the world of ebikes. The realization that these bikes can indeed serve as car alternatives requires them to be rugged and dependable. Higher quality sports car-like ebikes are emerging, and we're embracing them with great excitement.

At the same time, we're sourcing new entry-level options for first-time buyers on a budget. This end of the spectrum is a minefield of disappointing choices as the market is being flooded with cheap options. We're doing our due diligence to help our customers avoid all the shiny garbage that exists and still enjoy a relatively low-cost ebiking experience.
You also mentioned rentals. Tell us about that.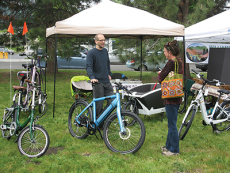 Yes, of course, I almost forgot. We've assembled a fleet of ebikes this year that we're excited to make them available for half-day, full-day, and multi-day rental. If you're considering purchasing an ebike and want to spend more time then a short test ride allows, this is that opportunity. If you have an ebike already and you have company in town, and you want to share a ride with them, now you can. Or, if you simply want to have some fun for a few hours doing something you've never done before, we've got you covered. It's just about the most fun you can have on two wheels: you'll see!
Something many of your customers have come to look forward to is riding as a group in Ashland's 4th of July Parade. Please say more about the parade this year.
Yes, plan on it! If you've got an ebike and you hanker for just a splash of the limelight, your 'fifteen minutes of fame,' this is your chance. It's an opportunity for us to gather together to show off what we ride and promote the lifestyle activity. If you haul kids or gear or whatever it is you do and enjoy with your ebike, come show the people how it's done. Come be part of the pack; its SO much fun! Just check with us ahead of time and we'll let you know where we line up this year. Oh, this is the perfect segue some other ideas that we hope to launch soon:

Keep on the lookout for info about organized ebike rides and tours. Fun rides with fellow ebike owners. Perhaps a 'foodie' tour that includes local eateries and wineries? We'll see. I'm about to bring a third person on board, a talented member of local biking culture who's ready to get electrified, and with additional hands on deck we can activate more ideas like these that have been waiting for their proper time. I feel another creative effervescence about to issue forth at the shop!
Several of your customers are now upgrading to their second bike. Please tell us about this process.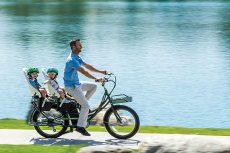 Yes. I have long lasting relationships with many of my customers and some are now upgrading to new bikes. They've enjoyed years of service from their current bike and they're ready to take it to the next level. Having a pretty good sense of their biking style and habits helps us to properly assist them toward new choices. There's a healthy market for selling quality used ebikes (the right time of the year – NOW – is key), and we help them as best we can to move their first bike. Knowing the history of the bike allows us to speak with confidence with potential buyers.
Please talk about customer education and the role Ashland Electric Bikes plays in educating the customers.
It is a big role. We're doing more than selling a product. We're beginning a relationship with somebody, so it's imperative that we help them make the best choice that we will all live with for years to come. Success in that regard depends on two things. First is our listening skills – the ability to really hear what the customer is asking for and wanting to accomplish with their ebike. The second is our experience base. We ride these bikes. We haul people and cargo, we commute, and we whoop it up on mountain trails, so we know what the customer can expect from any particular bike. Glossy brochures and slick online advertising dazzle you with impressive sounding specs and inferences. We tell you what happens out in the real world with the bikes based on firsthand, seat-of-our-pants experience. Our favorite kind of customer is a profoundly-happy-with-their-purchase customer. There's only one chance to get it right the first time and we thrive on that achievement.
What are the top 5 reasons your customers decide to purchase an electric bike, and what is the best advice that you can offer for someone in this process?
Oh this part is easy. The top five reasons – the order varies from person to person:

1) Fun. No explanation needed here, right?

2) Eco-consciousness. Folks want to 'go green' and do the right thing for our planetary home.

3) Car alternative. Folks want to eliminate the hassle and expense of a car as much as possible.

4) Exercise. Folks want a form of exercise that they can and will realistically pursue on a regular basis.

5) Fun. This one can't be emphasized enough!

My advice is to talk with knowledgeable sources and people who own and ride ebikes. Watch online reviews if you want. Definitely ride the bike you're thinking about buying; your body wisdom is essential in this process. All the best specs in the world are meaningless if the bike doesn't feel good to you. What's most important, in my opinion, is this: unless you're a skilled do-it-yourselfer, buy your new ebike from a real brick-and-mortar shop. Capable, in-person humans provide the best service and support. There's no wi-fi connection strong enough in the world that can fix your bike for you if it's needed.
Electric bikes are so much fun! How can someone wanting to get started give this a try?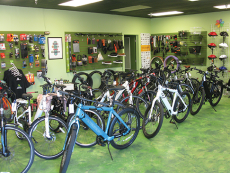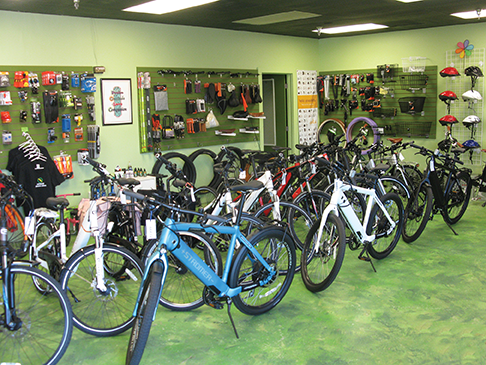 Come talk with us and see our bikes. Take a short test ride. If you need more time than that, rent a bike for a few hours. Go through whatever intellectual processes you need to and then know that your muscles, your bones, and your inner child will help you with the rest.
Do you have any last thoughts or comments you would like to share with our readers?
Life is a gift. This is a beautiful planet; let's take better care of it. Say "Yes" more often to new experiences. Get outside on a sunny day and have a bicycle adventure. Kiss somebody you love. Do it all. Now.
Learn More:
Ashland Electric Bikes
678 Ashland St.
541-951-3034