Interviews
Ashland Supportive Housing – Offering Dignity & Respect for All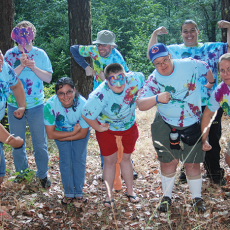 Formed in 1981 by a small group of parents looking for a better life for their adult children with intellectual and developmental disabilities, Ashland Supportive Housing and Community Outreach (ASH) was founded on the principles of respect, dignity and compassion for all people regardless of their abilities.  Now in its 33rd year of business, ASH operates three residences, a weekend B&B style respite home, and a variety of day support services, all serving developmentally disabled adults in Ashland and the Rogue Valley.
I spoke with Executive Director Sue Crader and Development Coordinator Tabitha Wolfe recently to learn more about this unique Ashland resource and the very special people that it serves. 
Tell us the story of Ashland Supportive Housing.
Ashland Supportive Housing and Community Outreach (ASH) was formed in 1981 by a group of parents and interested community members to provide community-based housing for adults with intellectual and developmental disabilities (I/DD).  The other alternative at that time was a large institution in Salem, Fairview Training Center.  It was a locked facility, sparse, understaffed, and known for the high level of abuse of its residents.  It was closed in 2002.   ASH was founded on the principles of providing quality supports that allow our residents to live, work, and participate fully in their communities.  Our homes are designed to allow residents to age in place, with trained staff to provide continuum of care throughout their life span.  Many of our residents have remained with us since our beginnings 33 years ago!  The current mission statement of ASH is: The ASH Board and Staff support persons with disabilities to live a rich, fulfilling and productive life with dignity and respect. 
Today ASH has three residential homes, a weekend, facility – based respite program, and community-based support services.  Our goal is to provide a wide array of services to Ashland residents and to the greater Rogue Valley that will allow our clientele to live, work and recreate in their communities.  This includes a wide range of services from the care that is provided in our residential homes for people who need 24/7 supports, including specialized medical monitoring; to helping people navigate their community, to giving support to families by providing respite services.  Our next goal is to develop low-income, specialized housing within Ashland that will allow more people to live independently within their community, close to their families and support systems. 
Who are the residents of these special homes?
We promote independence and provide support to individuals with Intellectual and Developmental Disabilities (I/DD). Some individuals hold steady, long-term employment in the community, others volunteer or are now retired. All of the people in our residential homes require support 24/7 for activities of daily living and monitoring of medical needs. Some people have family nearby; some have no family nearby or involved.  Just like anyone, the people we support have a lot to offer their friends, family, employers and community.
Tell us about your staff.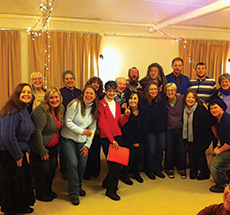 Our staff is made up of individuals who truly put the people we support first.  They work together not just as a team but as a family, creating a harmonious work environment that maintains dignity and respect for each other as well as for the people we help support.  The quality of our work environment has led to our making the list of the "100 Best Nonprofits to Work for in Oregon" for the past three years.  Compared to the statewide averages for agencies in this field we have a low turnover rate, which we attribute to the support we provide for our staff. This includes fully covered medical, dental, and vision insurance that includes naturopathic care, and paid sick and vacation leave.  We provide extensive training, then ensure that direct support professionals are placed in the position that is the best fit for them. Scout Monson is an example of our amazing staff – she has worked with ASH for over 25 years and sets an example of true dedication to all those she works with.  
What are the ASH residences like?  Are they regular homes?
We have three, five-bedroom residential homes.  Each is a single-family residential home that looks no different from the outside than any other home in the neighborhood.  We work hard to keep our homes well landscaped and as inviting on the outside as they are on the inside. Each home is setup for the residents to age in place with ramps, grab bars, and other modifications to help people maintain their mobility and independence.   We view our homes as homes for life, not as rooms to fill. Each person has their own bedroom in which they decorate to fit their personality.  Some people choose to bring a little of their own meaningful items and creativity to the common areas of the house as well, which are set up as the family living areas. 
How are placements made?  How do you know when a resident will be a good fit?
We rarely have openings – some of our residents have been with us since the agency was founded 33 years ago!  When we do have an opening, applicants first have to be determined to be eligible as required by State regulations.  We then look for individuals who are a good fit with the rest of the household, and for whom we can provide the supports that they require. It can be a long process, but the outcome we work for is a harmonious environment for all.
Sue, you mentioned that there has been a shift over the past (35+) years over the nature of this type of care.  Explain these changes for us and how they have impacted the ability for ASH to carry out this work.
ASH was founded in 1981, at a time when there was a shift from providing care in large institutions to a more humane, community-based care model.  The large institution that existed in Oregon at the time of our founding, Fairview Training Center, has been closed since 2002.  People with I/DD now remain as active participants in their communities.  Agencies like ours are crucial to providing the support needs for people who now live in their own housing or in more supported residential homes like ours and who work and recreate in their communities.  The type of services that are needed now are different.  Not only do people need comprehensive residential services, they also need help with maintaining independent housing, employment, and accessing community services.
Tell us more about the weekend respite home that ASH has recently opened.
Ashwood Inn is a B&B style respite home for adults with intellectual or developmental disabilities.  The first of its kind in Southern Oregon, it is designed to give people with I/DD a break from their caregivers and their caregivers a break from caregiving – a greatly needed resource for many families caring for loved ones.  Ashwood Inn is a safe, friendly, fun, and all-around enjoyable B & B style vacation destination.  Each week we plan a fun activity, trip or theme weekend for all the guests to enjoy.  During the 72-hour stay from 6pm on Thursday thru 6pm on Sunday, the primary caregivers of our guests have time to focus on themselves; with the security of knowing their loved one is safe and happy.  Although initially designed to provide respite, we have found that as people stay at Ashwood they achieve a sense of independance that leads to plans of living on their own.  We have also found that as people develop new friendships that these continue outside of ASH.  We are happy to provide tours to guests, families, caregivers and persons interested in the services we provide at Ashwood Inn.  Contact Brooks Eakett, Ashwood Inn Manager, at 541-488-9301.
I understand that your day support services are truly unique.  Tell us more about this.
ASH's Community Outreach program provides support services to people with I/DD living in the community.  Services are designed to help people maintain their independence and improve their quality of life.  Supports include community inclusion, skills training and help with activities of daily living.  We are currently accepting new referrals in the Ashland area.  Please contact Tabitha Wolfe, Development Coordinator for more information at 541-951-1969.
People-first language is an important foundation for your work.  Help us understand what this is and how readers can be more sensitive in their communication with people with intellectual and developmental disabilities.
A person with disabilities is not determined by their impairment.  We all need to remember that the way we speak to and about an individual shapes how people view themselves as a whole.  The way in which you refer to each person determines their own beliefs, self-esteem and goals they set for themselves.  Remember that the individuals we support are not victims of or suffering from their diagnosis.  Speak to each person in the manner and respect you want to receive. Look them in the eye, and speak to them as individuals, not about them as a label. Everyone has feelings, everyone is unique, and everyone wants to help determine their own path. People may not be able to use language to communicate, but everyone communicates and understands what is being said to and about them.
Ashland Supportive Housing is such an important organization in our community.  What kind of community support are you looking for at this time?
We receive state funding to provide basic shelter, food, and support for activities of daily living.  Things the general population takes for granted such as entertainment, vacations, and vehicles are a luxury for us at ASH, in which we rely on fundraising and private donations.  We write grants for major items like major upkeep and repairs to our residences. Financial contributions are always welcome.
For those who prefer to actively contribute their time and who would like to help determine an array of services within our community, consider becoming a board member.  Our board members help raise awareness in our community, participate in fundraising and event planning, and provide governance and direction for the agency.  Each board member contributes based on their own unique interest and skill set.  
For small businesses in Ashland, consider sponsoring an event, assisting in advertising, or donations of items for fundraising or general purposes.  All donations receive a receipt for tax credits.   
Tabitha, what kinds of opportunities would be available to residents if you had more consistent community support?
With donations and fundraising we are able to provide funds to support individuals to participate in outings and events within our community.  With the help and support of grants and private donations we are able to obtain and operate company vehicles that allow residents to explore their town and state. Watching the individuals we serve assert their independence by trying activities they never thought possible, such as learning proper American Sign Language skills, swimming in a pool, meeting new friends in the community, or even parasailing over the ocean is one of the most amazing parts of my job.  Being in the position to find ways to create financial gain or to support volunteers to inspire our residents is beyond rewarding.  Having volunteers within the community who would like to spend time with the individuals we support learning new trades, participating in arts and crafts or just reading from a book changes everyone's life.  
As we grow and develop as an agency, especially in regards to developing new, low-income adaptive housing, the support of our community is critical.  We will not only need new funding from a variety of sources, we will also need a wide range of skills to accomplish our goals.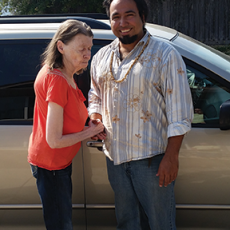 Tell us a little bit about some of the special relationships that have been possible because of ASH.
We have been extremely fortunate to see an amazing bond develop between Joanne, a woman whom we have supported since the 1980s, and Frankie Hernandez, a local musician.  Joanne first met Frankie 3 years ago at our ASHMinster Mutt Show.  Joanne was having some health issues at the time. Once she heard Frankie play his first song her eyes lit up and her overall state of mind appeared to change.  Joanne becomes so excited when she hears that Frankie is going to take time out of his busy life to come play a song for her birthday or have lunch with her, she beams with happiness.  Watching Joanne who does not have family or many friends in the community assert her independence to form a new friendship is truly what our work is about.  
How can readers get involved in supporting your work?  Do you have any events coming up?
Our next upcoming event is our 3rd annual AshMinster Mutt Show, held October 5th from 12pm to 3pm at Grizzly Peak Winery. The AshMinster Mutt Show is a dog show featuring 5 classes: Small, Medium, Large, Costume and Trick.  The registration fee is $10 per class for your dog and a suggested $5 donation for their human companions.  It is a great time for the entire family and you will be able to meet with some of the incredible individuals we support. All proceeds from this event will go to ASH.  If you are interested in volunteering with Ashland Supportive Housing and Community Outreach please contact Tabitha Wolfe, Development Coordination, at 541-951-1696.
Sue, is there anything else you would like us to know about your work?
The need for our agency and those like us will only continue, and continue to increase.  As reported on NBC Nightly News recently, the rate of autism in the United States is rising, and is currently at 1:68 births.  This rate has increased dramatically since the 1980s from 1:2000 births.  When we include the increases seen in other developmental disabilities, which include those resulting from maternal alcohol and drug use, we can see that in order to maintain a healthy community we have to ensure there are supports for all.
Learn More:
Ashland Supportive Housing
541-488-2870