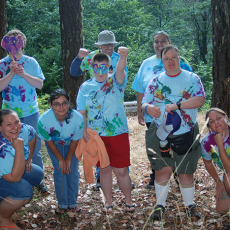 Ashland Supportive Housing and Community Outreach has provided housing and support services for adults with Intellectual and Developmental Disabilities (I/DD) for 34 years, since 1982.  Ten years ago Director Sue Crader began the process of moving residential services to three, single level homes structured to allow residents to age in place.  Faced with a decision to sell or repurpose one of the agency's former homes, she researched what the unmet needs persons with I/DD had in the Rogue Valley to learn more about how to meet the needs of people in a unique way.  Her search led to what is now known to tourists and local residents alike as Ashwood Inn. 
The mission of Ashwood Inn is to provide support to, sustain, and enrich the quality of life for adults with Developmental Disabilities (DD) and their families or caregivers.   The first of its kind in Southern Oregon and one of very few found in the nation, Ashwood Inn provides 24 hour respite/relief care for up to 5 guests at a time during a 72 hour weekend stay.  In a town where tourists flock year round to experience the theatre, wineries, excellent food and all the entertainment the Rogue Valley has to offer, Ashwood Inn expands vacation options for people with I/DD and their families.
We spoke with the Ashwood Inn Manager Brooks Eakett, Ashland Supportive Housing's Director Sue Crader and Development Coordinator Tabitha Wolfe recently to learn more about this unique Bed & Breakfast and all that it has to offer.
Thanks for talking with us today ladies.  How did Ashwood Inn come to be?
ASH moved out of a two building home in a residential neighborhood in 2005 that had served as a 10 bed residential home for many years.  We moved from this residence to two newer, five bedroom homes in order to provide a smaller, more intimate environment for our residents.  Fewer people in the environment means less chaos, and a more family-type atmosphere.  We now have three homes within walking distance of each other, perpetuating the sense of family that the agency works hard to develop. 
After moving out of the larger home, we put it on the market – right as real estate values crashed.  After several years, we knew we had to get creative and turn what was a liability into an asset.  With some research into what the unmet needs of adults with I/DD in the Rogue Valley were, we settled on the idea of creating a B&B style overnight respite facility, to give people a break from their caregivers, and their caregivers a break from caregiving. We found only one other program to model from, Quiet Waters, in the Portland area.
With the idea in mind, we then needed the means.  The facility was in an ideal setting; fenced, park like, quiet, and a real feel of privacy, yet still in town. The structure however needed a lot of work on both the interior and exterior.  We applied for and received a Community Development Block Grant from the City of Ashland in 2010 to help us achieve our dream.  With this help and additional funds from the Carpenter Foundation and other local groups and individuals, we turned an aging structure into a beautiful, restful, and completely updated space for rest, relaxation, and fun.  Because what is a vacation without the fun?
Ashwood Inn Bed & Breakfast has really expanded the options that people from all over have for traveling with adults with disabilities.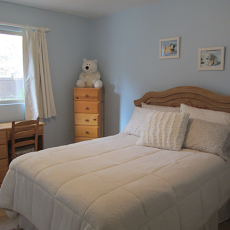 Ashwood Inn is uniquely situated as Ashland has many cultural and recreational opportunities in a beautiful setting and in a community that promotes diversity. Families are able to schedule parallel trips, one for themselves and one for their loved one that can be uniquely tailored to the person, their preferences, and their support needs. We find that many of our guests have never had their own vacation, and relish the opportunity. Having individualized vacations, yet being near enough for comfort allows families and their loved one with I/DD to thoroughly relax and enjoy themselves.

Currently we are developing partnerships with our fellow chamber members such as traditional B&Bs, hotels, the Oregon Shakespeare Festival, restaurants and many others to offer a discount to the family members or caregivers of our guests.  We hope that this will attract more people and a greater diversity of people to come experience all Ashland has to offer.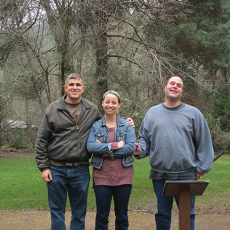 Wow. It sounds like Ashwood Inn provides a great deal more to guests than just a little getaway.
Our guests experience new social opportunities, which help develop relationships that persist outside of Ashwood Inn.  We have had guests who have built friendships leading to dinners, community activities and even staying at each other's homes.  Some people who may not be naturally outgoing gain the confidence to try new activities and adventures both at Ashwood Inn and outside in the community.  For some of our guests, this is their first time staying outside of the family home.  This has led to people becoming more comfortable with and moving toward independent living.
You work hard to provide a very customized experience at Ashwood Inn.  Tell us about that.
Absolutely!  In booking weekend stays, Brooks works diligently to have guests with common interests and abilities stay together.  We customize weekend activities according to preferences, such as: theater, music concerts and festivals, events sponsored by SOU and Ashland High Schools, hikes, and longer adventures to Wildlife Images and Sanctuary One.  In house activities include karaoke and pizza parties, guest birthday parties, game and movie nights, do-it-yourself arts and baking projects.  We ensure that all meals are tailored to our guest's likes, dislikes and any food allergies.  Some guests even enjoy participating in the meal preparation.  At Ashwood Inn, guests also have down time to relax. We encourage people to bring some of their favorite games or activities to share with all.
Guests tend to come back.  That speaks highly of the experience!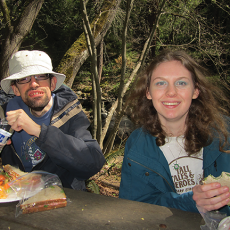 Over 95% of our guests return for repeat stays.  We have each guest complete a satisfaction survey including what they liked, disliked and what they would like to see happen in the future.  Not only do our guests enjoy the experience but their family members or caregivers get to have time to focus on themselves, knowing their loved one is in a safe and supported environment. 

One of our recent guests, who lives with his parents, came for his first overnight stay away from home.  This allowed his parents to be able to go on their first date night in over 30 years!
According to guest comments on satisfaction surveys: 
"Ashwood is good fun and a relaxing place to stay.  The staff is really friendly and fun to hang out with.  I would like to stay again."
"I had a great time, it was a great getaway and very relaxing." 
"Loved staying at Ashwood. The staff is nice and friendly.  The weekend Rocked!!!"
"I would like to stay again.  It was fun, the food was good and the staff was really nice."
Parent's testimonial:  "My daughter's time away is excellent for her.  It renews her attitude at home.  It is so wonderful for all of us."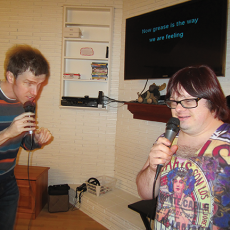 Is this type of respite experience found elsewhere?
We only know of one other establishment similar to ours in Oregon, Quiet Waters, located in the Portland area.  Quiet Waters served as mentors to help us develop this program for Southern Oregon.  We would like to once again give our thanks and appreciation for all their help in this process. 
You mentioned that Ashwood Inn encourages independence in the guests who come to stay.  How does this end up impacting them and their parents or caregivers?
This is the first time away from home for some of our guests.  Those who may be a little apprehensive, begin to see their abilities.  We encourage guests to give ideas for activities of the day, participate in meal preparation, keep their rooms tidy and clean up after themselves.  Reassuring our guests in their independence helps them in self-advocating, which boosts confidence and lessens anxieties.  We have watched two young women successfully move into their own apartments after staying several times at Ashwood Inn.  We have also seen parents and caregivers realize all of their loved ones' abilities and support them in becoming as independent as possible. 
Tell us about the unique staff you have found to oversee the Ashwood Inn respite/relief care experience.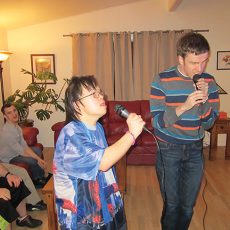 Brooks, the Ashwood Inn Manager, has been with ASH since 2007.  Her passion, eye for detail and hard work is what has made Ashwood Inn successful.  All of our Direct Support Professionals complete a minimum 6-week core competency training before working unattended.  Additionally, each Direct Support Professional must complete a background check; receive training in First Aid/CPR; OIS; and, personalized training for each of our guests. 

Our hiring process is unique in our field.  We typically do not hire directly into a shift but rather, after the training process has been completed we look for what position will be the best fit for the staff person.  ASH wants to ensure we are always making the best decision for our group home residents and Ashwood Inn guests. 
You also have a fun summer camping experience for the Residential Program and guests of Ashwood Inn.  Tell us more about that.
For over 25 years, we have been providing our residents a camping opportunity, first at Camp Low Echo and now at Camp Latgawa.  For the last three years, Ashwood Inn guests have been given the opportunity to attend camp.  It is in such high demand by our guests that they will make reservations for the next year the day after camp has ended. 

At Camp Latgawa, we have a wide variety of activities: archery, swimming, ping pong, basketball, hikes to a waterfall, arts and crafts, berry picking, sing-a-longs around the camp fire, and of course, s'mores.  The staff at Camp Latgawa goes out of their way to accommodate for each of our residents and guests.  They ensure at each meal that all dietary needs are met and have even built a temporary ramp so all residents and guests can safely maneuver throughout the camp.

Guests and residents receive all of their support by our trained Direct Support Professionals 24 hours a day during the camping experience.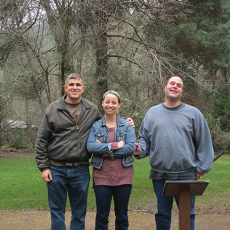 What process needs to happen in order to stay at Ashwood Inn?
Each potential guest and their parent/caregiver will complete an application packet and meet with our manager Brooks for a tour of Ashwood Inn.  This provides a great opportunity to get all questions answered as well as for us to gather all needed information on how to best support the person.  Also, the potential guest will have the opportunity to see Ashwood Inn before staying.  If you live out of the area other accommodations can be made to ensure that Ashwood Inn is able to provide all needed supports.  We want Ashwood Inn to be a safe and comfortable environment for both guests and staff.

If an individual qualifies, respite/relief care costs may be covered through support service brokerage funding.  However, we also accept private pay for those guests who do not receive funding through brokerage services.   
What else would you like readers to know?
ASH will be hosting the Ashland Chamber Greeters meeting on Friday, May 22nd at 1620 Clark Ave starting at 8:00am.   We will also be holding our Annual Community Celebration on Wednesday, June 10th at 1620 Clark Ave, additional details will be in our June LocalsGuide ad and on our Facebook page, Ashland Supportive Housing and Community Outreach.   This will give community members the opportunity to tour Ashwood Inn as well as meet residents, guests, Direct Support Professionals and management.  At the celebration we will have a BBQ, local musicians and a great time! And remember to look for our monthly LocalsGuide ad for upcoming Night Out fundraisers.  For additional information on any of these events please contact Tabitha Wolfe at 541-951-1696 or ashcodeveloment@gmail.com.

Ashland is the perfect location for Ashwood Inn due to the many cultural and outdoor opportunities.  Thank you to the City of Ashland, community members, local businesses, Ashwood Inn guests and families, and all who have helped make this respite option a possibility.
What can the community do to support your amazing program?
Any local businesses that would like to team up in our efforts to bring more diverse tourism to Ashland would be welcome.  We also encourage businesses to participate in our Night Out fundraisers.  Community members attending our fundraising events or donating time to volunteer with our organization are always welcome.  ASH is appreciative of any in-kind and cash donations.  For information please contact Tabitha Wolfe at 541-951-1696 or via email ashcodevelopment@gmail.com
To learn more about Ashwood Inn or to set up a tour contact:
Brooks Eakett
541-488-9301
ashwoodrespite@gmail.com