Introducing interior designer and Vastu consultant, Athena Lorenz. A local Ashlander, Athena has designed her business around the principles of good communication, understanding the needs of her clients, and delivering an end result that is beyond expectations. With over 12 years of experience in the industry, Athena offers specialization in Interior Design, Project Management, Green Design, and Vastu Consultation. Athena is organized, disciplined, and driven towards excellence. In today's interview, we talk about this.
Athena, hello and welcome to LocalsGuide.
Hello, thank you so much. I'm excited to have this opportunity to chat with you and to share with a broader audience what Athena Interiors is happy to be able to offer our community.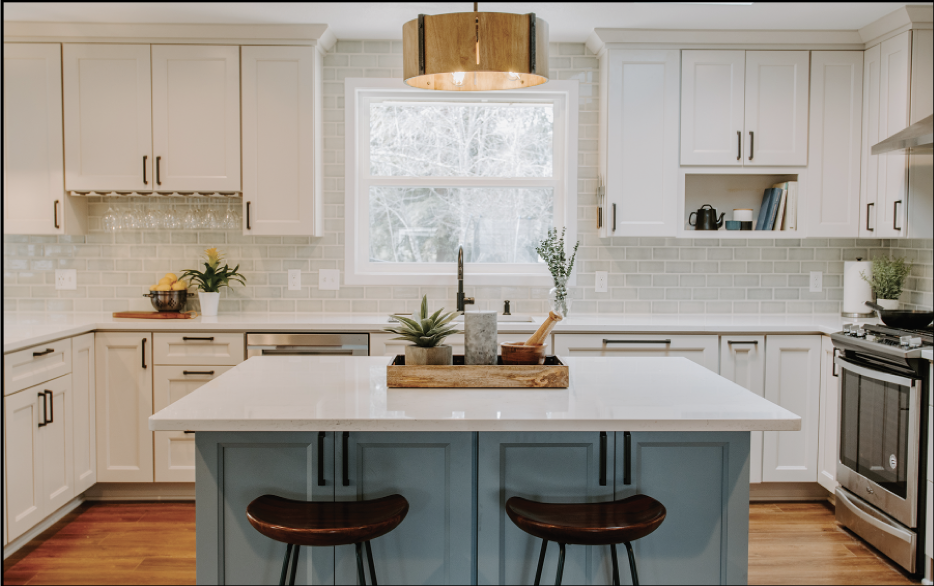 To begin with, will you please tell us a little bit about your training and background as an interior designer?
I have had a love of space and improving it since I was a child. I attended Marylhurst University in Portland and received a Bachelor's of Fine Arts in Commercial Interior Architecture with an emphasis on sustainability. I then went on to study Vastu Shastra, which simply put, is the art of building in harmony with Nature; Feng Shui was derived from this ancient science. I am certified in Vastu Residential and Landscape Design as well as Site Analysis, and for many years have studied Sthapatya Veda, the South Indian Architecture methodology. I have always been passionate about the environment and work to incorporate green design into what I do. I firmly believe that you can never stop learning or getting better at whatever it is you choose in life. I will continue to keep up on new design techniques and certifications throughout my career.
Athena, before launching your own business here in Southern Oregon, you spent many years working with industry professionals. Will you talk about these experiences?
In Portland and fresh out of college, I interned for a contractor who had been through the EcoNest training and then another contractor who worked for Greenhammer Construction. It was a great way to better understand how things are put together and what goes into the construction of the spaces I would be designing.
In Ashland, I decided to get my feet wet by freelancing under various other businesses that needed some design, drafting, or materials selection. I took on some of my own clients as well, so I actually started my own business in 2014. I have worked with ORW Architecture, Dorris Construction, Arkitek: Design & Architecture, Coleman Creek Construction, On Point Construction, Ashland Design Studio, Ben the Builder, Belbuilt LLC, Lowe's Home Improvement, and DEI Engineering, to name a few. I am so appreciative of the opportunities I have had working with these companies and the relationships we have built over the years. Brian Dunagan, owner of DEI Engineering, and I plan to share an office space again later this summer.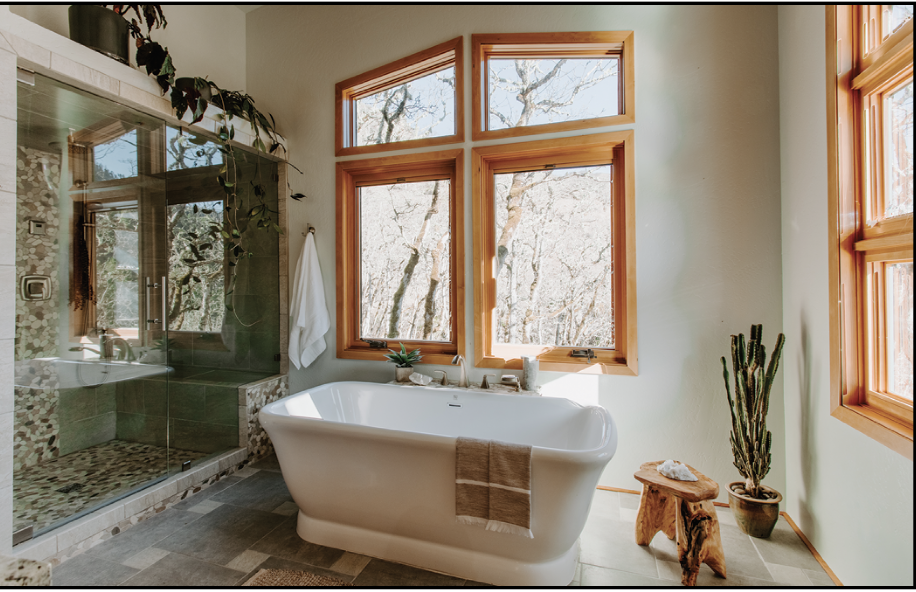 What have been some of the most important lessons and skills you have learned about running your business here in Southern Oregon?
Since rebranding and launching my new business name a year and a half ago, I have realized that we really do live "in a small town" and "word does travel fast," and that's exactly how Athena Interiors has kept so busy. By offering high-quality services to my clients and nurturing strong relationships with my vendors and contractors, I have been able to expand my business and keep a healthy workload. Being available for client communication, dependable for all the contractors' and subcontractors' questions and producing what you say you are going to produce in a timely manner have been important to the success of my business.
Athena, what differentiates Athena Interiors from other companies in the valley?
Athena Interiors is always willing to do what it takes to ensure the fulfillment of our clients' needs and I can honestly say, I have never had a client who hasn't been happy with the work I have delivered. The greatest joy that I get from my job is the development of a relationship with each client – I begin to understand them, know what they like and don't like, and it becomes easier and easier to suggest materials and design ideas that go with their personalities, as well as the desired outcome of the space we are working on together. I enjoy bringing to my designs the inspiration from the extensive traveling I have done throughout many countries. A recent trip to Puri, Orissha and Calcutta, India in 2016 opened me up to some interesting architectural ideas for my Vastu projects.
What specific skill sets do you have in your background that have made your company unique?
Athena Interiors is able to deliver our clients the full package when it comes to working on their construction projects. We are capable of offering minimal assistance or full project management of residential and commercial projects, new construction, Vastu remediation or design, as well as commissioning custom artwork, draperies, producing sub-contractors for electrical, tiling, landscaping, etc. We provide furniture and equipment selections, color consultations and so much more.
I have always dreamt of having a business where a client could come to me with twenty different needs and I am able to assist in meeting all of them and it feels amazing to be able to accomplish this. For example, I have a Medford client whose project I have been working on for the past 6 months and he's a busy guy who prefers to be mostly hands-off. I have been project managing the whole job, bringing in contractors, subs, engineers, wallpaper specialists, cabinet makers, handymen, landscapers, and the like. I am good with delegation and my team and I are timely with meeting important deadlines.
Tell us about your clients here in Southern Oregon. What are they looking for and how do you meet those needs?
My clients in this valley have ranged in age from early 20s to mid 80s, with a wide variety of design needs.
A lot of my local clients are looking for someone to design an addition, a remodel or outfit a new construction building with good design and finish materials selection. Many projects are smaller – where we design only one room, choose new furnishings, paint colors for an exterior, window coverings and custom draperies, or new flooring for an entryway. We have had some California residents who are transplanting to Oregon and want us to manage their entire home remodel, while they continue to live down south. An interesting upcoming project for a local Ashlander will be to design a Coastal Cottage guesthouse on her daughters' property on the coast of California.
My team and I meet with the client, ask the right questions, do the necessary legwork of understanding the project scope, budget and timeline, client needs, design style and desired outcomes, and then we get the job in our calendar.
You like to be very organized with your projects. Can you share some examples with us?
Depending on the level of organization a client or their contractor needs, we can adapt and give what is asked of us. My personal philosophy is there is no such thing as enough spreadsheet documents, plans, elevations, 3D renderings, etc. to convey the necessary design message. I need to be clear, concise and understood when it comes to construction — most budgets can't afford any mistakes.
I create a clear outline of the project using a Scope of Work document. Often we will create a job site binder with all the job information, including an inspiration collage, existing and proposed drawings, specification info on each appliance or plumbing fixture, tile layouts, electrical layouts if needed, etc. Some jobs are just simply choosing colors and finding some new furniture and we're done. These don't require nearly as much careful monitoring.
Athena, will you please introduce us to your team and each of their special skills?
Of course. So, Ali Mastain is our Associate Designer. She's ultra-organized, great at budgeting and loves art and design.
She has a BA in Art History and a Master's in Art, Style, and Design from Christie's Education in London. She is currently a student in the online certificate program at New York School of Interior Design and will graduate in May of this year, when she will go full-time at the company. Ali particularly enjoys collaboratively developing creative design concepts and color palettes, drafting, and finding the perfect materials for each client's unique project.
Donavan Murray is our Administrative Assistant at Athena Interiors. She is a self-starter, great with digital organization and is always creating new solutions to any flaws she notices in our systems. She loves interior design, as she has grown up in and around the business since her mom is a successful designer and her dad is a contractor. She works part-time during the school year and full-time during the summers and is currently a junior at Southern Oregon University. When working, she enjoys searching for furniture, making phone calls, scheduling meetings, organizing the office, and collaborating with the rest of the team.
I am beyond grateful to have these two women working by my side.
Can you give me an idea of the scope and range of the types of projects that you do?
If the client and I are the right fit for each other, I am always willing to adapt to the needs of the project and work outside of the "interiors only" box. I am happy to provide local or remote services to my clients. I especially appreciate the opportunity to work with clients that are organized, respectful of my team and our skills, and are open to cultural perspectives. Some people know exactly what they want which of course makes it easy and others are very unsure about anything and want more hand holding throughout the process, which we can also accommodate. We all have different personalities and sometimes I have to figure out who my client is before I can really give them their heart's desire.
I have a client on Guthrie St. where I designed her a fence, arbor, privacy screens, walking paths and a paved patio because that's what she needed — rather than interior help. Currently, we are working on several local residential homes, a commercial cannabis testing lab and a new construction Vastu home in California, to give you an idea of range.
Are there any projects in particular that you excel at or love?
I love working on projects that are related to a specific design period or have some interesting theme because it is more of a challenge to stick within those exact parameters and still have an amazing outcome. Anything different or new to me is always a lot of fun. We have one job in Central Point where we commissioned local artist Thayne Thoden to do a number of colorful vintage custom art pieces for our client's home.
We also recently commissioned Andrew Goulish, owner of Trace West, a custom furniture company, (and secretly also a great painter) to build a custom Ash transitional dining table for our clients in Rogue River, as well as to paint a gorgeous mountain range mural on a master bedroom wall for another job we are working on in Medford.
Athena, can you share some customer success stories or testimonials with us?
Absolutely. Here are a few testimonials from some of my clients:
"Athena did a wonderful job on the designs for remodeling my home. I am continually in the kitchen, either baking or cooking, and she designed the kitchen around everything I wanted, using her expertise and sense of style to make it more beautiful than I could have imagined. I absolutely love working in my new kitchen! She worked the same magic in my living room and the master bedroom and bath. I could not recommend her more highly!"
-Evann Aronoff, Shady Cove
"I worked with Athena when we did our kitchen remodel. I basically picked the cabinet color/style that I wanted and she helped me pull the look together, from appliances, paint, tile, flooring, and even hardware. Athena was always friendly, professional and so helpful. I couldn't always visualize the completed look, but she was great about pulling items and guiding me to the finish line. We started our project in November and saw completion in February. Athena was always available to answer questions and her input was invaluable. I would highly recommend her as a consultant."
-Marilyn Spencer, White City
"Athena was amazing. I hired her initially for a few hours just to review the rough design I had for a patio and fence. She listened to my needs, budget, and ideas and came back to me with a design that enhanced the project and tied my yard landscape into a theme for my whole house. Her ideas were artistic, practical, and original. When she offered to design my fence and I welcomed her expanded services. She was the best investment I made in my landscape project."
-Serena St. Clair, Ashland
"I am working for a second time with Athena Interiors for a bathroom and laundry room remodel. She had limited space for this redesign but created the perfect design to be implemented. She has a knack for listening, making suggestions that reflect her knowledge of what fits for you, your home, and your budget. She has an eye for quality fashionable products. Athena at Athena Interiors first worked with me on a furniture project for our living room. Again, working with her was enjoyable and resulted in a beautiful living room makeover with the perfect fabrics and color choices. The project gave me more than I had anticipated and was completed in a timely fashion and within the budget. I highly recommend Athena Interiors!"
-Chris Reed, Ashland
How is your company continuing to operate right now despite the current crisis?
With just three of us in the company, it hasn't been very complicated to readjust to social distancing practices. We are all working at home now and start our mornings with Zoom calls and detailed Task Lists. We are lucky that we are in an industry where a lot of what we do can be done online and shared that way with one another and our clients. We do careful materials drop offs and check ups on job progress once the construction crews have gone home for the day. We just recently signed a contract to do an interior design job entirely remotely with a new client in Wilsonville, Oregon. They are providing necessary dimensions, photos, existing paint colors, etc. to us and we are taking over from there. Facetime, email and scheduled phone calls have been working out great for this job so far!
What are the next steps for our readers if they are wanting to learn more about your services?
They can email or call us to schedule an initial consultation using the contact information provided below. I would be happy to answer any questions and talk through the process of getting started with them. They can also browse the website or my Houzz, Facebook, Pinterest, LinkedIn and Instagram pages.
I should also mention that I will be taking about a month off in May to be with my family for the birth of our second daughter. Ali and Donavan will continue to keep things running smoothly and fill me in on pertinent information and important questions that need to be addressed. We would be happy to schedule a phone call with me for new client intake information and get folks scheduled for initial consultations upon my return.
Thanks so much for taking the time to speak with us today.
Oh, absolutely. I'm thrilled to have gotten the chance to share my passions and my business with you. I hope to connect with more clients and new tradespeople on future projects, as I love to collaborate with others. Thank you for having me.
Learn More:
Athena Interiors LLC
908 Oak St, Ashland
www.athenainteriors.design
office@athenainteriors.design
541-708-6380