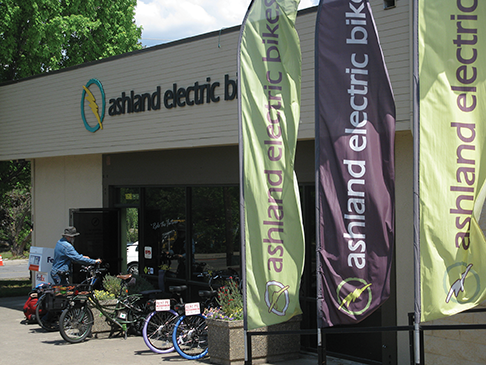 It's so exciting for us to see who's coming into the shop inquiring about electric bikes. Moms and dads, grandpas and grandmas, young professionals, college students, people with various degrees of disabilities; we see a wide range of folks interested in exploring the possibilities that electric bikes open up. You may wonder, is this something I should be looking into myself? I'll describe the common ground that our customers share and I bet you'll feel a kinship with the unfolding electric bike story.
My customers are, first and foremost, people who want to make a difference in the world. They want to do something healthy for the environment and for themselves. They recognize that the majority of their trips around town could be done without the car, however, they know that a regular bike is not going to work for them. The inevitability of aging, or some injury has impacted their ability to pedal a regular bike around Ashland.  Perhaps they live far above the boulevard and the last stretch home is just more than they can manage. Many of them have one or two standard bikes gathering dust in the garage, no longer being ridden because the days of huffing up the hills around Ashland are behind them. With the help of an electric motor, bicycling becomes a possibility again – one that's eco-friendly and fun at the same time.
Ask any e-bike owner, most will be happy to sing the praises of their new ride and describe the many ways it has improved the quality of their lives. Many have crunched the numbers and they see how economical an electric bike can be over time. Every time you choose to ride an e-bike instead of driving a car, you save money. An e-bike takes about five cents worth of electricity to travel 20-50 miles. Nobody's car can touch that! Factor in insurance and maintenance cost savings if you're swapping a bike for a car and the payback period for an e-bike becomes even shorter.
The other metric that's less scientific but just as important is the "smiles-per-mile quotient." Riders are transported back to a time when two-wheeled fun was a bigger part of their lives. Even the simplest trip to the grocery store becomes an adventure. How would you like to regain some of the fun you remember from your youth? Now there's a provocative offer! Electric bikes are opening the door to a wider range of people who want to incorporate more bicycling in their lives. If you're ready to join the quiet revolution and promote a cleaner, healthier, more human-scaled world maybe it's time you become someone who rides an electric bike.
Comments