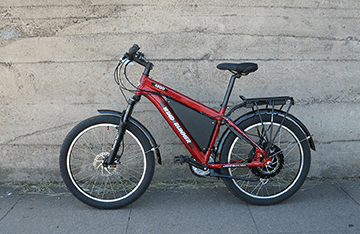 My favorite thing about owning this bike shop is hearing the happy stories of my customers, and couples bring me some of the best stories. 
I really enjoy stories from older couples who are getting out and enjoying a second childhood of sorts. Couples who used to ride together on their bikes over 30 years ago when they were dating. They married, had children, life took over and soon they weren't riding anymore. Now they're empty nesters and using their newfound freedom to bond on their e-bikes and enjoying dating each other all over again. 
Others have decided e-bikes might be a great way to stay active in retirement. They're using their bikes to run errands, but also to experience the place they've called home for decades from a new perspective. Some ride down streets and alleys, exploring paths they never took in their automobiles, finding hidden little treasures along the way.
Meanwhile other couples are making it a multi-generational experience as they are getting back into riding, after they thought their age took them out of the game. With the power of an e-bike they're back out on the trails with their adult children and now grandchildren. They remember the days, in the not-so-distant past, when they would go out for a ride and their kids would have to stop and wait for them. Now they're the ones who are stopping to wait on their kids.
My personal favorite is my couples that use their e-bikes to extend their date nights. Instead of date night starting once they get to the restaurant, riding to dinner is now part of the date.
One couple recently told me that they used to hop in the car and head to the same restaurant that they always go to for date night. One would drive, the other would be on their phone, and they would both be on their phones throughout the date. They decided to take their e-bikes out for date night this past summer, and they came home feeling like it had been the best date night in a while. They decided to take their e-bikes out again for the next couple and started to realize that they were interacting with each other more because they couldn't be on their phones when biking. They were asking each other about their day and would just have fun talking about the things they saw on their ride. They felt they were more connected than they had been in years.
When I bought this shop, I never thought this would be one of the perks, but I'm loving it and looking forward to all the stories to come.