Interviews
Blue Toba – A Cultural Culinary Experience – Leslie Caplan & Birong Hutabarat
The word is getting out and an unmistakable buzz is being generated by fans of Ashland's newest authentic Indonesian restaurant, Blue Toba.  Serving up traditional Indonesian fare, hand- crafted from leaves, pods and spices not found anywhere else in the world, its no wonder Leslie Caplan and Birong Hutabarat  are bustling and busy these days in their tiny, but immaculate, renovated kitchen in the former Happy Falafel location on the south end of town.
As the first authentic Indonesian restaurant in Ashland, the entire Rogue Valley and quite possibly the entire state of Oregon, Birong has been holding the vision for Blue Toba for years.  As a native from North Sumatra, Indonesia, a series of thousands of islands in the Indian Sea, Birong spent a few years in culinary school in his homeland while learning the ancient recipes and traditions passed down for generations. What he brings to us, right here at home in Ashland is a truly one of a kind experience, with, as Leslie so aptly puts it, "Layers of flavor revealing themselves in each and every bite."  One bite and you'll be convinced; Blue Toba is an experience not to be missed.
Thanks so much for talking with us today Leslie.  You and Birong have opened a restaurant like no other.  Why is authentic Indonesian food such a challenging venture?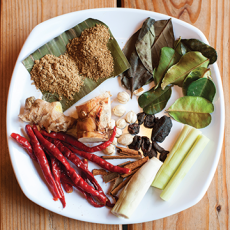 The food is unique because of the unusual spices and the way it is prepared. There are no commercial substitutes – even the cinnamon used is unique and specific to that region; Leaves, pods, sticks and spices that are so labor intensive to put together, others can't quite make it happen.  We have one dish that slow cooks for 4 hours that needs to be tended to every fifteen minutes.  You can't just leave it there and walk away.   The patience that goes into this food is palpable.  Each ingredient must come alive.  The process of Indonesian cooking requires an almost 'zen-like' mindset. It cannot be hurried.
You have said that Birong's masterful work in the kitchen, to you, is like the "unveiling of mystery!"  Tell us more about this.
He's an Alchemist in that kitchen.  He makes everything from scratch. He knows how to perfectly balance the complex combination of flavors. Nothing less will do for him – quality and staying true to his culture is what matters. He, and his food are a true blue representation of the most diverse, amazing country in the world.  Many customers who have eaten at Blue Toba and have traveled to Indonesia say that within one bite, they are instantly transported there.  People who have never been to Indonesia say it's the most delicious, unique food they've ever experienced.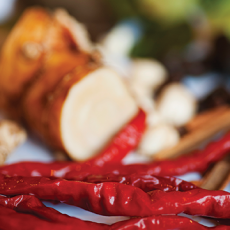 Leslie, you have an interesting connection with Indonesia yourself.  Tell us about how you originally came to love this unique place on the planet.
In 1991, approximately 14 years before I met Birong here in Ashland, I ventured off into the world and landed myself in Bali, Indonesia.  I had planned to stay only a few months and ended up living and immersing myself there for over seven years.  I married into a Balinese family and it was there my son was born.  Even though that marriage did not work out, I remain very close with my son's father and family.   They consider me to be 'one of them'.   My abiding love and connection for, and to, Indonesia runs through my veins.  It is no wonder that in some roundabout way, I'd come back to the States with my half Indonesian son and would meet one of just a few Indonesians around for a couple hundred miles.  I could speak his native tongue and understood the depth of his culture.  Also, that he had lived in Ashland for over 25 years, he was totally adapted to my culture.  He was blown away not long after we met to know that I could sing the Indonesians songs of his childhood. What are the odds, really?  A match made in heaven?  It would seem so!
How has Birong's own family history and tradition around food led him to this passion?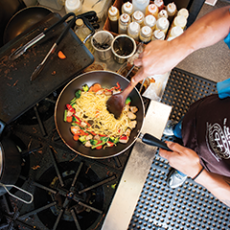 Birong loves to eat.  He is also an incredibly proud Indonesian.  He is from the Batak tribe of Lake Toba, Sumatra, the super volcanic, crater lake, I believe the largest, most active one in the world.   That's where we got the name Blue Toba.   After living in Ashland for so many years, he missed his native food.  He craved it.  So he began to cook it.  He wanted Indonesia to be represented in this town.  He knew how unique and delicious Indonesian food was so he set off on a mission for over 7 years to master it.  And he did just that. Indonesia is such a unique country in that there are hundreds of ethnic groups, each with their own language and culture and food tradition.  Birong's food represents a combination of many of these tribes. 
The spices and ingredients you refer to using are one of a kind.  Help us understand what goes into some of these authentic dishes on the menu.
A Dutch company colonized the Indonesian islands in 1600 because of the flavorful spices available there.  Indonesia was known as the 'Spice Islands.'  Many of the spices Birong uses are ones that can only be found in Indonesia.  Even if I were to mention some of them here, you would not know what they are!  Some of them don't even have English names for them.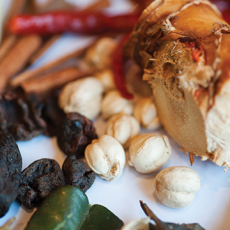 I understand that Birong travels back home to Indonesia to buy his ingredients.  That must be quite a trip!
Just before we opened on October 1st this year, Birong spent a month in Indonesia learning new dishes and buying spices for Blue Toba.  He even bought 60 lbs. of fresh, plump Indonesians chilies and dried them himself under the Indonesian sun to bring them back here.  He is so dedicated to providing the most authentic Indonesian Food you can get that nothing else will do.  Birong will not sacrifice quality and staying true to the food by finding a substitute to get by with.  He travels there to bring back what can only be found there.  That is what makes it so special and one of a kind.  If you're going to cook and offer the real deal, than only the real deal will suffice!
Here is the States we have become accustomed to cutting corners and some often even pride themselves on efficiency and affordability when it comes to food preparation.  Blue Toba takes a vastly different approach.
Birong is truly unique; not only does he hand pick the spices and brings them back from fresh markets in Indonesia, but we use hormone-free chicken, Painted Hills grass-fed beef, organic veggies, rice and sprouted tofu.  Even the oil we cook with is organic.  The way Birong cooks his food is no small feat.  The attention and diligence of balance, tradition and combination of ingredients makes it nearly impossible to teach at this point – he is the only chef in the kitchen.  That is why we are open only five days a week.  He knows the flavors intuitively and innately.  They are in his cells.  That alone makes it difficult to teach someone how to do what he does. There is no instant curry paste to spoon out of.  Each sauce begins with a plate of leaves, sticks, pods and hand-grated spices.  One thing I can say about Birong is watching him in the kitchen is like watching someone meditate.  No matter how slammed we get, it does not ruffle him.  He remains centered and has this inherent calm in every thing he does.  Chefs are somewhat notorious for being stressy.  Not Birong.  He is the most mellow, solid person in and out of the kitchen.  You can feel the patience in the food.
Is it really possible that Blue Toba is one of a kind…even in the entire state?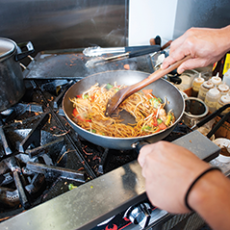 We have heard there is an Indonesian Food Truck in Portland, but since we have not tried it, we have no idea the quality or how close to tradition the food is.  Regardless of there being or not being another similar type of food from Indonesia in the state of Oregon, even living in Indonesia and eating Indonesian food for nearly 8 years, I can honestly say I have never tasted it the way Birong makes it.  He has a gift.  He embodies the pride, tradition and depth of that part of the world. It's in his blood.  All that love and innate culture translates into the food. I cannot tell you how many times a customer has come up to him in the kitchen rubbing their own belly saying, "Best food I've ever had and I can feel the love in your food, Chef!"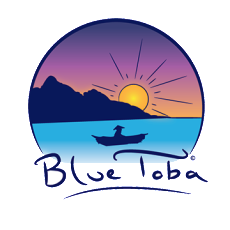 What do your customers have to say about the Blue Toba experience?
In just two months of being open, we have many regular customers already.  We have become their 'go-to' place.  One of our regulars calls from his cell right when he's getting off the highway and orders his favorite dish to have ready for him when he arrives.  I recognize his number now on the caller id.  That's how many times he's come.  A few days ago we had a large group of 12-15 people come to Blue Toba for dinner and when Birong walked out of the kitchen, they gave him a standing ovation.  That was beautiful to witness. You don't see that often. Brought tears to my eyes actually. There are many amazing reviews on Blue Toba's Facebook page.  We've gotten texts and private emails right after someone has taken the food home in a 'to-go' box saying how impacted they were by their meal.  One customer wrote us saying that not only was his meal a cultural culinary experience, but it was a spiritual experience as well!  What a compliment!
Anything else you'd like readers to know Leslie? 
Because we are a small place, we do tons of take-outs.  You can come in and get a menu to take home with you and call in your order for pick- up.  We may be small, but the space is sweet, cozy and comfortable.  Often people sit together, which we love to see. It's a very Indonesian thing to do – to eat family style.  We like to give a feeling of community and culture, which is perfect for Ashland.  We are a family-run business. Having my son here from Bali is amazing.  He came to help us get started.  Between the three of us, we represent different aspects in experiencing Indonesia as well as our own unique love of the diverse, astounding culture that it is. 
Learn More:
Blue Toba
1690 Ashland St. next to Printfast
541.708.6214
Open Tues-Fri 11:30am-7:30pm and Saturday 12-8pm