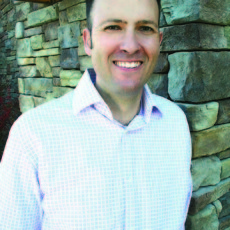 Now almost one year old, White Dental Studio takes a unique approach to dentistry here in Ashland by putting the focus on preserving our environment and incorporating "green" office standards. With a commitment to relationship building and creating an atmosphere of trust and respect, White Dental Studio boasts Gold Standard eco-dentistry practices not found in many offices and a fierce commitment to environmental sustainability both personally and professionally. We checked in with Dr. Brandon White recently to find out how the past year has gone and to hear about exciting new developments in this unique dental practice.
Thanks for talking with us today Brandon, how are things going now that you are approaching the end of your first year in business here in Ashland?
It's been a quick year and I can't believe how much our practice has grown! I am forever grateful for the many families, neighbors, and friends who have helped us grow by referring patients to our office. My team and I have truly enjoyed meeting every single person who has made the choice to seek care with us and we look forward to welcoming many more!
Any accomplishments or news to report at this time?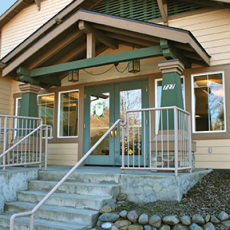 Opening up a dental practice, to me, is quite the accomplishment itself! Growing from zero patients to hundreds of patients has been incredibly rewarding, and our team is honored to be approaching our one year anniversary. This year we were also pleased to be mentioned as one of the "Best of Southern Oregon" by Southern Oregon Magazine!

Within the practice one of my primary goals was to establish a sustainable preventive care and recall program. We have accomplished that by empowering our patients with education and incorporating personalized home care programs. This has shown dramatic results and it's been really fun to watch our patients succeed!
Do you have any tips for readers about what they can do today at home to improve their dental health?
We can all do better at home, including yours truly, the dentist! Small, structured steps that you can customize with your dentist or hygienist are the key to success. For example, do you brush for two minutes, twice a day? Those four minutes are only 0.3% of your day! One way that I encourage patients, young and old, to get through that time is to hum. Need a song? "The Star Spangled Banner" is a good one, or for those looking for something a bit more groovy [insert British accent], try The Beatles' "Sgt. Pepper's Lonely Hearts Club Band."

I might also suggest checking out our blog http://mywhitedental.com/blog to catch up on some of our latest posts. Two of my favorites are "Dental Home Care Refresher Course for Adults" and "100% Natural Home Care Products." We are also active on Facebook http://www.facebook.com/mywhitedental and readers can find lots of good tips there!
You take pride in spending lots of extra time with patients in the beginning to understand their needs and best treatment options.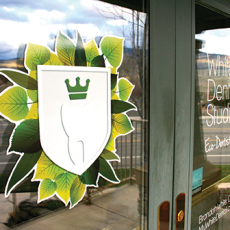 This is my favorite part of dentistry. We get to learn about our patients, hear their story, and build a relationship. Success and education is a two way street. We learn from patients, just as they learn from us and I pride myself on effective communication. Our entire team strives to take the time to properly coordinate treatment, discuss insurance, and make financial and schedule arrangements with each person. We do not rush and we do not pressure and we hope that by doing so, our patients feel confident in the care they receive. Especially in the beginning we want to take the time to get to know our patients' needs and expectations, and by spending that extra time we build a foundation for a lifelong relationship.
You have an excellent team working with you Brandon. Can you re-introduce them to readers and tell us a little about how they contribute to the practice.
I really do have a fantastic team! Between the four of us we have over 37 years of experience in dentistry. Tishena is our Lead Dental Assistant and is one of the hardest workers I know. She has incredible expertise and dedication to our practice and patients. We could not have had the success we had in our first year without Tishena's loyalty to White Dental Studio.

My wife, Lauren, is inspiring in so many ways. She works hard to maintain our web presence/marketing and keeps up our involvement with the Eco-Dentistry Association. She brings a fresh and creative edge to our practice.

Finally, I'd like to introduce Megan, our new office manager. Megan joined our team in January and brings 15+ years of dental experience, both chairside, as an assistant, and as a financial/insurance coordinator. We are excited to welcome her and look forward to what we can achieve together!

In 2015 we hope to grow our team further and continue to add outstanding employees who will help us achieve our goal of providing patients with exceptional dentistry that is environmentally friendly.
Tell us about some of your green business practices Brandon. You have worked hard to achieve the literal "Gold Standard" in your industry. How do you measure those achievements?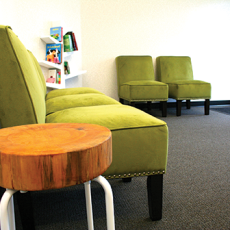 When we last spoke, we were just experiencing the beginnings of Green Dentistry. We've expanded our commitments to limiting our waste, incorporated materials that have proven biocompatibility, and followed recommendations from the EDA regarding best practices.

I have classmates as far away as Kansas asking me about the certification process and how it works. A close friend of mine recently relocated from Eugene back in to the Rogue Valley to practice and she has expressed interest in incorporating some of our procedures and materials into her practice. I have enjoyed sharing along the way some of the aspects of Green Dentistry that have led to "Ah Ha!" moments. My favorite, of course, is the profound impact a waterless vacuum system has on reducing water use.
Your consciousness around health and the wellbeing of our environment must stretch beyond your professional business. How do you see these values extending out into the rest of your life?
Lauren and I realize that, someday soon, our children and their children will live a life here. Not long ago, she and I were talking about the one life we get and how we would want to live and enjoy that one life. Choosing to look at our world, environment, and impact and working towards a better world affects everyone. We are really proud to be able to offer our community a green dental experience and allow people to make a conscious decision to join us in our effort.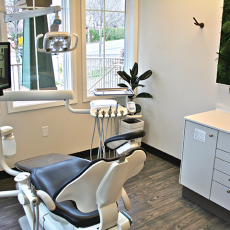 Do you have any tips for readers who may be looking for a new dentist?
Our intent is to provide exceptional dentistry in a unique, comfortable, and relaxing practice. If you are looking for a new dentist, or know someone who is, I would invite you to join us. We will work with you (and your insurance company on your behalf) to coordinate a treatment plan specifically for you. There are a multitude of plans available; we are happy to answer any questions you may have!

An analogy for dental care I like is the comparison to taking a trip. The first step isn't getting in the car, or on a bike, or even walking out the door. The first step is making the conscious decision to make the trip! You then plan the trip – it could be to get lunch or it could be an epic adventure to Vermont. Making the decision to go to the dentist is the first step. It's a very challenging first step for many of us to embrace. I enjoy working with patients to plan their course of treatment and maintenance once they make that choice. My staff and I will take the time to answer questions and explain procedures and processes along the way. We encourage questions and we hope our patients ask questions (of us or of the dentist they currently see).
Your business is a family affair. What do you all like to do when you're not working?
Well we have built an extra year of anticipation and excitement for our daughter, Bella, to start skiing on her own! She has been on the mountain with daddy before, but never on her own skis. Lauren and I can't wait to share the snowy mountains with Bella. We like to hike and fish, as well as visit family in Portland. Keeping up with two kids is always exciting. I recently accepted a position on the Board of Families for Community – a local non-profit, which advocates for and supports local families with children who experience disability.
Are there any offers for readers interested in making an appointment with White Dental Studio?
Yes, there is! I offer you a commitment to helping you achieve long-term dental health and wellness. I hope you'll choose us!
Recent Reviews:
"Dr. Brandon White and team have a certain ability to create an environment conducive to respect, consideration, and reassurance. Their "bedside manner" leaves you feeling that your comfort is their primary concern. So as to reduce anxiety and surprises, Dr. White and his competent hygienist provide explanations of all procedures before continuing, allowing you the opportunity to anticipate, understand, and prepare for the smallest sensation." – L.H.

"State of the art, personal attention, pain free-cleaning – what's not to like? I would highly recommend." – R.K.

"I'm back on track thanks to Brandon and his team. I've been apprehensive about going back to the dentist but it was easy at the White Dental Studio. Good health is the greatest wealth and I'm confident these folks are fixing me and will keep me tuned up…. I highly recommend these folks!" – E.H.

"Dr. White is the first and only dentist I have taken my 4 year to see and she loves going! He is gentle and kind and takes the time to explain everything to both of us. I just started seeing Dr. White myself and am admittedly terrified of the dentist due to pervious experiences. He and his hygienist were wonderful…. And, their office is beautiful, every detail consciously chosen to support their green values. Great addition to our community!!" – J.N.
Learn More:
Dr. Brandon White
White Dental Studio
727 N Main St. Ashland
(541) 708-6288
mywhitedental.com
office@mywhitedental.com
Facebook: www.facebook.com/mywhitedental
Twitter: www.twitter.com/mywhitedental