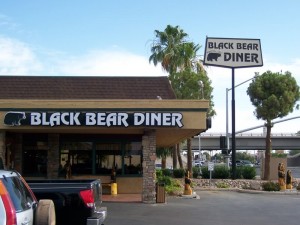 Our favorite meal at my house is breakfast which usually includes your basics: Eggs, bacon or sausage, hash browns and pancakes, biscuits and gravy or toast; depending, on our mood. You can bet that when we go out for breakfast we are pretty harsh critics. We have our few favorites as far as local restaurants go, but nothing that has really wowed us. That is until we visited the Black Bear Diner in Medford. We stopped in as a fluke we were on our way to an appointment when we got a call that we needed to reschedule. We decided to stop and grab a bite since we were already out. We had just passed the Black Bear and my husband and I decided we would give it a go.
As soon as we walked up to the front door, the owner's love of bears and the outdoors was apparent. The giant fountain surrounded by carved and lacquered bears next to the front door was fun and intricate, and fit the restaurant perfectly. We were promptly seated, but were slow to get to our booth because we were both looking around at all of the interesting decor; from the bear and moose wallpaper border to the myriad of different bear trinkets that decorated the place. The far wall had a beautiful mural of a woods scene at sunset painted on it, which was quite nice to look at while we waited for our food.
Our waitress was very nice, and brought our menus which were fashioned like a newspaper page and filled with delicious looking omelets, pancakes and skillets: And that was only the breakfast section. They also had a tremendous amount of lunch and dinner specials to choose from, along with dessert. A great thing to note is that the prices were comparable, if not modest, compared to similar restaurants in the Valley. We had already decided we would try the breakfast, since we had heard good things about it before from friends. The menu was full of interesting facts about how the restaurant began (Read the interesting history at www.blackbeardiner.com) as well as the food. It was nice to know a little history behind the establishment, and it gave us something to do while we waited.
My husband ordered the BIGFOOT chicken fried Steak & eggs while I ordered the sweet cream pancakes with eggs and hash browns. The BIGFOOT promised a ¾ lb of the best chicken fried steak which my husband scoffed at since his experience with restaurants and chicken fried steak had been poor to very poor until now. However, we were both amazed and surprised when our food came. My husband's plate no platter was HUGE and it truly did deliver the biggest chicken fried steak I had seen. My pancakes were the size of a regular salad plate, and my eggs were light and fluffy. The thing I was most amazed by was the fact that Black Bear makes fresh strip cut has browns: As opposed to the rehydrated ones that most places seem to be (too) fond of. My husband's chicken fried steak was delicious"I just had to have a bite"and was covered in REAL sausage gravy. Not packaged gravy, not homemade gravy that turned out to be nothing more than oily flour, but actual gravy: flavorful and delicious. My sweet cream pancakes were like nothing I have ever had. They reminded me of yellow cake, but without the sweetness. They are definitely a must have!
I have to say that both of us were impressed by the food and the service at Black Bear Diner. It is rare that you get a quality meal, especially a breakfast, that doesn't cost a lot; along with great service all in one place. We will definitely be heading back to try some of the other dishes at Black Bear soon.
Black Bear Diner is located at 1150 East Barnett Road in Medford. 773-4060 www.blackbeardiner.com