Locally-owned Case Coffee's mission is to seek and find the best coffee on the planet. After more than 14 years in the business, many in Ashland can testify that they do indeed fulfill this promise and more. Case then brings these coffees back to Ashland and roasts them in small batches, leaving all the sweet, complex flavors intact. In today's interview, I speak with Tim and Kati Case to learn more about their history here in Ashland. We also talk about the sourcing of great coffee, adventures in world travel, and more.
Hi Kati and Tim, thanks so much for speaking with me today and welcome back to LocalsGuide.
Thank you so much, Shields! We love the LocalsGuide and are so happy to chat with you!
To begin with, please take us back to how it all started. What was your original inspiration to create Case Coffee here in Ashland?
We were so young, only 21, when we opened the doors to the original location in 2006. Tim and I both had an entrepreneurial drive since we were young and our parents encouraged a strong work ethic. We had actually been saving up to start a business since we met at 16, working in the coffee industry as well as doing odd jobs. We knew we wanted to do something that had a positive impact on the community, and allowed us to stay in Ashland, since we both grew up here and love the area so much. I think we had the idea that most first-time entrepreneurs have, that once you open the doors, business will just flood in. It was actually much, much harder than we were expecting, and we had to learn many difficult lessons about the challenges of running a business. We worked so hard in those first few years, and looking back, I'm so thankful we didn't give up on our dream. We have always been passionate about serving incredible coffee, with kindness, in a place where people feel like they belong. Over the years, this idea expanded into a passion for sourcing and roasting coffee in a way that positively impacts the earth and coffee-growing communities. We love running our company here in Ashland; it's our favorite place on earth!
Reflecting back, Case Coffee was also one of the first contributors of editorial to LocalsGuide, writing a monthly adventure column. It seems like you both are as adventurous as ever.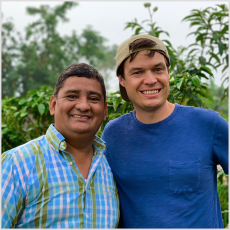 That's right! I remember having so much fun with that adventure guide column! We still love being active and exploring southern Oregon. We always try and find a way to get an adventure in weekly; either mountain biking, backcountry snowboarding, fly fishing, hiking, or surfing. Now that our son is 9, we get to enjoy a lot of these things as a family, which is such a joy!
I am totally impressed with how you two have traveled out into the world to find the best coffees and then bring them back to Ashland. What does your travel schedule look like for this year?
Thank you! As Tim always says, if you're going to do something, why not do it really well. Traveling to origin is our way of putting 110% into what we do. It's so important to us to not only find the best quality coffees, but also know for a fact that they are fully traceable and sustainably grown. Tim is gearing up for his yearly trips to Kenya, Ethiopia, Guatemala, Honduras and Colombia. I'll be joining him on some of the trips as well.
What are some of your favorite travel tips for getting connected with locals?
Be curious and kind, respect other cultures, and smile a ton.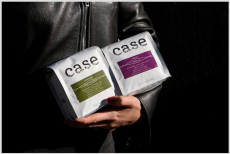 Tim and Kati, can you take us behind the scenes and tell us about the relationships you have established with coffee farmers. How do you make the connections, and what are the long-term benefits for everyone?
We believe it is our responsibility to pay producers a premium for the excellent coffees we purchase. We truly put our money where our mouth is when it comes to buying coffee and we offer full transparency in all our transactions. We're committed to paying far above Fair Trade certified prices, usually 2-3 times over. Fair Trade certified, while better than nothing, is honestly just a glorified minimum wage, and unfortunately is not typically a living wage for producers. Over the years we have established many long-term relationships with individual producers and visit their farms annually. Our mission is to see coffee-growing communities thriving, having a positive impact that lasts for generations. You can learn more about our relationships with specific producers by following our Instagram and checking out our website.
Tim and Kati, what are the qualities of flavor that you are looking for when choosing your coffees?
We seek out coffees that are of the highest quality, with no defects or flavor taints. These top-scoring coffees tend to be sweet, clean, and complex. We also look out for rich, chocolatey coffees that have beautiful, deep tones. We have a variety of beautiful flavors and roasts that will be sure to please the most discerning palate.
Once the coffee arrives here in Ashland, what is the process that you take it through?
Once the raw coffee arrives in Ashland, we roast it in small batches, with care, in a way that leaves the sweet, complex flavors of the coffee intact. Many of our single-origin offerings are on the lighter side, emphasizing sweetness, complexity, and clarity, while our blends are a bit more developed, focusing on more body and richness. Then, we taste, or "cup," through all of our offerings on almost a daily basis, making sure the roast profiles are dialed and the coffees are fully developed and tasting amazing.
Wow… that is a lot of attention from planting to harvest, delivery, and roasting that gets placed upon these beans.
Yes! This is a product that touches many hands, and impacts many lives. It has to be handled with care and the utmost attention to detail on every step of its global journey. We are obsessed with the process and are still blown away by all the things that have to go juuuust right to create the perfect cup of coffee.
This year you were awarded your third Good Food Award. Congratulations! Please say more.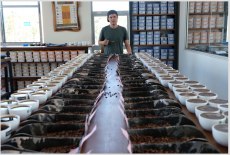 Thanks! We are so thankful and excited that our Ethiopia Dimtu won a 2020 Good Food Award! The Good Food Foundation recognizes food we all want to eat: food that's tasty, ethically produced, and sustainably grown. We took our management team down to San Francisco for the Awards Ceremony to celebrate together and we all had a blast!
Now with two coffee shops in Ashland, where will you go next?
We're thinking a third location by the high school, between Upper and Lower Case. Just kidding! We'll leave it to Starbucks to have over three locations in Ashland. The fastest-growing part of our business is actually wholesale and direct-to-consumer sales via our website casecoffeeroasters.com. Almost a third of our business is made up by sales that are actually spread across the country, so we are focusing on continuing to grow that, while maintaining our community-focused cafes.
You briefly closed your Roastery location (Upper Case) over the holidays for a remodel. What's new at that store?
We took that time to totally re-work the bar area. We have had that location for almost 14 years, and the work area needed a refresh. We put in a beautiful new bar (made by Nick at Built Environment) and work space and got a new, very pretty custom La Marzocco espresso machine. We also refinished the floors and tables, bringing a fresh, cozy feeling to the dining area. I love that location and it's so fun to see it freshened up. I love hanging out in that space while we roast on Mondays, Wednesdays, and Fridays. It's such a good vibe to be in there, sipping a cappuccino and smelling the freshly roasted beans.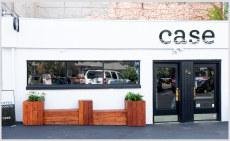 Many of your employees have worked with you guys for years.
We could not be where we are today without our amazing crew! Many of them have been with us for years, and we are so thankful for them. They create such a kind, professional coffee culture and really give it their all, every day.
Tim and Kati, thank you so very much for bringing great coffee to Ashland!
We are beyond stoked to serve coffee to the good folks of southern Oregon! We are so grateful for your support. Come by and see us at either location, every day from 7-5.
Learn More:
Case Coffee Roasters
1255 Siskiyou Blvd and 44 Lithia Way
www.casecoffeeroasters.com
kati@casecoffeeroasters.com