Now moving into their twentieth year of business here in the Rogue Valley, Coleman Creek Construction prides itself on fine craftsmanship matched with high technology systems and good old customer service that exceed goals and expectations. In today's interview, I speak with the owner and founder of Coleman Creek Construction, Michael Hodgin, about the secrets behind his success and the vision for Coleman Creek going forward.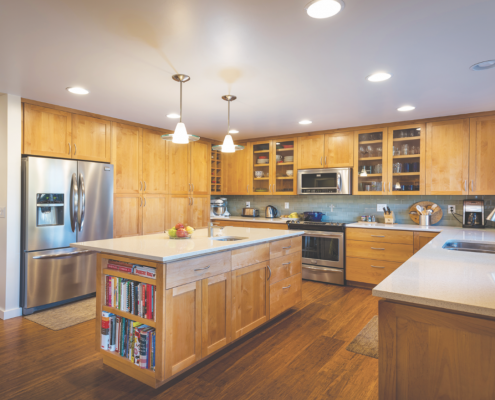 Michael, thanks so much for joining us today and congratulations on over twenty years of hard work and excellence here in our community! It's actually hard to believe since I helped you design the logo for your young business so many years ago!
Yes, it is hard to believe it will be 20 years this coming spring and that logo is still unchanged after all these years. I also remember purchasing my first computer and you helped me set it up even though I wasn't convinced a General Contractor actually needed a computer to be successful!
Michael, you've covered some serious mileage over the course of the past twenty years with your company here in Southern Oregon. What have been some of the highlights that you have enjoyed?
Reflecting back on how the company has grown and changed over the years I think my perception of what would be considered a highlight has shifted. When I first started as a single owner-operator contractor, the highlights were all about the projects that I brought to life. Standing back and looking at what I built and appreciating the craftsmanship that I was able to share kept me motivated to share more. But as the company grew to be able to serve more homeowners, the highlights have been more about the relationships I have created along the way. Working with employees, vendors, subcontractors, and homeowners over the years has been very rewarding. I drive around town and see the projects we've built, some of which we've won awards for, and there is definitely pride in what value Coleman Creek has brought to the community. But it's running into a client in the grocery store that still loves the kitchen we built 15 years ago that really stands out. Or the fact that past Coleman Creek employees who are now running their own companies will call me and ask me for business advice because they were taught how to care about serving their clients. Knowing Coleman Creek made a difference in their lives is the real highlight.
From your insider's point of view, how have you seen the market evolve and what's stayed the same? 
What has stayed the same is that we live in a beautiful place where our customers want their homes to be a reflection of the beauty we are surrounded by. I have always felt lucky to live in the Rogue Valley and to have clients that trust us to put the care and quality craftsmanship in their home. How it has evolved is that many factors have made the necessary investment required to build or renovate a limiting factor for many homeowners. We live in a valley that has an average home that is 40% higher than our nation's average with a pay scale for all professions that is 20% less on average. In Ashland, where we do a majority of our work, those numbers are even more out of balance. With our labor force moving to the marijuana industry that has boomed in the valley over the last 10 years, combined with a lack of vocational schools, we are forced to keep up with the ever-growing demand for building with a less developed set of skills which means higher prices to the consumer. In the summer of 2017, we saw soft lumber increase over 30% due to tariffs with Canada and now we are beginning to see the effects of tariffs imposed on products imported from China. All these factors are changing the industry and while we can't do anything about the rising cost of construction, Coleman Creek continues to strive to help our clients make the most of their investment.
What have been some of the tenants that have allowed you to grow your company into the success it is today? Where do you see yourself going as you move into the future?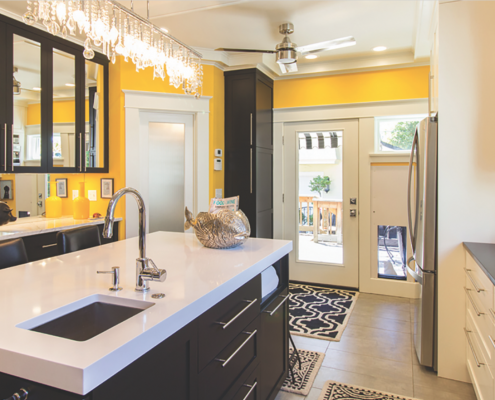 Well, it all started with pride in craftsmanship and caring enough to want to ally with our customers to bring their vision to life. As time went on though, I had some mentors who really helped me to understand that the process is just as important as the final result. Many contractors treat a client's home as a job site that happens to have someone living there. We treat our client's house as a home that happens to have a job site going. And we have focused on the processes that make it a success. Setting and meeting expectations, superior site protecting practices that respect our client's belongings, schedule outlooks, transparent billing, and communication make the process enjoyable and make the outcome that much sweeter.
You are frequently receiving positive feedback from your customers that you and your team play close attention to. What are they telling you?
"The most impressive aspect of our whole house remodel was the amount of communication from the onset through completion."

"We were struck by their professionalism and organization from the outset."

"Michael Hodgin and his crew are professional, skilled, detail-oriented, and respectful of their client's wishes."

"Words fall short in efforts to describe my satisfaction and pleasure with every aspect of working with Coleman Creek Construction. From my first meeting with Michael to the frequent, very positive communications with the construction team and answers to every question along the way, this has been an astonishingly easy and pleasant experience. The year-long and complex project could have been extremely difficult, but that hasn't been the case. It's no wonder that Coleman Creek Construction has the reputation of being the best in Southern Oregon!"
You and your team recently were awarded the Big50 Award. Please tell us more about this.
Each year since 1986, the REMODELING Big50 inducts 50 remodeling companies that have set exceptionally high standards for professionalism and integrity through exemplary business practices, craftsmanship, and impact in their community or the industry at large.

This year Coleman Creek was selected by the Remodeling Magazine to join the prestigious Big50, the only firm in Oregon to make the list. The team at Coleman Creek is proud and honored to receive the distinction and Brian King, my Production Manager, was able to travel with me to Orlando to the Summit Conference to receive the award and continue our education with the courses and seminars they put on.
Michael, can you please give us an overview of the service that Coleman Creek Construction is currently providing? What are the advantages customers gain when working with your company?
Coleman Creek is a Design Build Firm that works on residential projects and can do everything from remodel a bathroom to build a home from the ground up. All of our projects involve a Pre-Construction process where we identify what project scope can be pursued given the investment our clients feel comfortable making. This process we've been refining for almost 20 years is geared towards creating designs that get built because they meet the functional needs and ascetics desired while at the same time keeping our client's hopeful investment amount in mind. Each job and client is different and there are so many variables that before a design starts we can't possibly know what it will cost. However, we can use our years of compiling data and metrics to keep our clients informed how the decisions they are making are affecting their overall investment needs. Because we can do this work up front and have systems to communicate information as it is gathered, our clients are able to make decisions as a whole. Before work starts they can decide to modify the job scope or the investment, as they deem necessary. This model is designed to prevent the remodeling horror stories that come about by jumping into a project with both feet and crossing the point of no return before understanding what the project will cost.
As your company has grown you have made sure to stay as technologically advanced as possible. Please talk about your systems and the time and money it saves your clients. 
The construction industry has generally been slow to embrace technology. Because many of our clients have full lives or live outside of the valley, we have been able to take advantage of project management software so that our clients can be kept abreast of what is happening on the project wherever they are and at whatever time that works for their schedule. Additionally, we have been working with the same estimating software since 2011 and integrated a timekeeping app which allows us access to historic job costing data. This technology allows us to really keep a pulse on the cost of construction, which helps our clients as they decide how to invest in their home.
Michael, please talk about the time, care and respect that is exercised when your team is coming in to do a work project.
Whenever you invite a contractor into your home to do work on your house there is a tendency to wonder about who will actually be showing up to do the work. Because we self-perform more work than we subcontract, we are able to give our clients peace of mind that the workers that are part of the Coleman Creek family have been vetted and understand the values that we've built our name on for the last 20 years. The best compliment I receive from my clients, again and again, is their praise for how our team respects their space, engages with them with warmth and care, and how they are often sad to see them go when the project is complete.
You have made every effort to make provide more services to your clients, which includes a mini-split division. Please tell us more.  
Yes, over the years we have responded to the needs of our clients by adding more services. We are passionate about energy conservation and felt there was an opportunity to educate our clients about ductless mini-split heating and cooling systems. We felt there was a lack of focus on aesthetics and performance from the larger HVAC companies in town. Designing and installing these systems by a company that has expertise in understating a home, as a design builder, really adds value to the system and the process.
Michael, for those who do not know, can you please tell us about mini-splits? What are they? What advantages do they provide to your customers?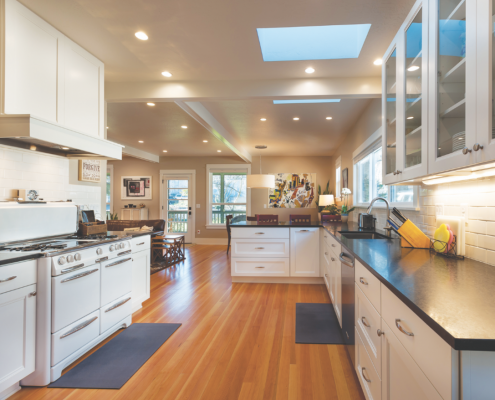 Ductless mini-split heating and cooling systems help reduce your carbon footprint while ensuring optimal comfort and saving you money year-round. Each unit works independently so you can heat and cool rooms as needed rather than wasting energy moderating the temperature throughout the whole house. Coleman Creek Construction is a Mitsubishi Diamond-Certified full service, one-stop installation, and maintenance company for mini-split systems in the Rogue Valley. Because we understand how a house is put together we are able to design systems and retrofit them into a house while also being able to do the work necessary to put the house back together seamlessly.
You've added a cabinet division as well. Please tell us about the cabinetry that you provide.
For most homeowners, designing a new kitchen is a once-in-a-lifetime endeavor and it involves one of the most important areas of your home. We recognize the magnitude of that decision and we have been working to bring as many options, along with our years of expertise, to our clients. Last year we partnered with Dura Supreme, a company that has been making cabinets for over 60 years. There have been a lot of changes over the years in cabinet making and Dura Supreme is heavily invested in state-of-the-art, computerized equipment, machinery, and finishing systems to provide the perfect balance of precision, quality, and value. And yet the true cabinetmaker's craft has a home with them as well – dovetail joinery, hand-turned posts, hand-applied finishes and unique, one-of-a-kind furniture pieces crafted by hand are available within a defined timeline. Working with Dura Supreme has allowed us to put together predictable schedules for our projects and our clients have loved the quality and process as well as all the modern and traditional finishes available.
Michael, please tell us about your team.
Over the years I have received and taken credit for the success of Coleman Creek. While I have brought the vision and determination to build this company, honestly, it is my team that makes everything happen and deserves the credit. They have trusted and supported my vision and have shown up in every way they have been asked. They have pushed me when I've needed to be pushed and they have reined me in when my ambition to raise the bar creates an unhealthy environment. In short, they are the heartbeat of this company and I will always be grateful for their loyalty to working with me.

CCC's team:

Rachelle Canady came on board in 2017 and is the one who manages the office and the operations. She's responsible for customer billing and making sure we all get paid and she also keeps Coleman Creek Construction running like a well-oiled machine, working behind the scenes to keep things running as smoothly as possible. Rachelle works closely with the Pre-Construction team to streamline the design process, ensuring an efficient transition from pre-construction to construction. She also is responsible for keeping me on track, a task for which she is grossly under-compensated.

Brian King is our production manager and is the one who makes sure every project meets Coleman Creek's high-standards for efficiency and quality. He joined the team in 2014 and prides himself on working to exceed client expectations whenever possible. He creates the project schedules and manages communication with homeowners, subcontractors, and employees on a daily basis. Brian is considered a very dedicated and reliable leader among the Coleman Creek family.

John Niemann has been with us since 2010 and brings a lot of positive energy to the group. He is a member of the pre-construction team working with architects, designers, and homeowners to determine the scope of a project and estimate costs. When the rubber meets the road, he's the one in the office with a scale ruler scrutinizing plans, bids, and financials. He likes to call it Estimation Nation. As if that wasn't enough, he also heads up the Mini-split division. He knows a lot about a lot and is always willing to take the time to work collaboratively to find solutions.

Stefanie DeKesel joined the CCC team early in 2018 to assist in the pre-construction process. Her job is to assist the estimator in putting together the numbers for the contracts. She also works closely with the owners to help them make their interior design selections. She loves the way the Coleman Creek crew feels like a family.

Justin Olsen (aka Jud) is relatively new to the Coleman Creek crew though he has collaborated as a subcontractor for years. Now, as an employee, he's already made a huge impact as a Lead Carpenter. His leadership and carpentry skills have added a ton of value to our production team and we're all delighted he's a part of it. His crew reports that they appreciate his dedication to precision and his depth of knowledge about the world of construction. Justin may be known for working a little too much, but he still finds time to spend with his family and train at Crossfit.

Pat McClure came to Coleman Creek after working as our sub for many years as well. He brings decades of experience to our team and has the skillset to perform just about any task in the remodeling industry, from framing to tile installation, to drywall, to finish. He often acts as a one-man-band on some of our smaller kitchen and bath projects where he can do every phase of the job.

Kevin Misener has been around the longest of everyone, and we're sure glad he's a part of the Coleman Creek crew. Kevin loves what he does and ever since he came on board in 2006, it shows. His job is literally to make sure that each and every client is satisfied. He takes care of every detail and ties up loose ends like a boss. And when he's not making the dreams of our clients come true, he's also the lead technician for our mini-split division.

Fidel Camargo is one of Coleman Creek's longest-term employees as he first came to work in 2003. While he has at times pursued other ventures out of the area, he has come back home to Coleman Creek and has been with us consistently for the last 5 years. He has honed his skills as a framing and siding specialist and sets the bar for work ethic and hustle teaching the younger guys not just carpentry skills but how to put in a solid day of work.

Bruce Miller came to Coleman Creek in 2015 and was new to the industry at the time. However, his decades of experience in managing crews in the service industry have made him a major asset to our team. We think of him as the "Director of First Impressions" because he is usually the first person on-site to set the job up. He's our site protection specialist and keeps our client's homes clean throughout the process.

If you work with us, Luke Lewis is the reason your home stays cool in the summer and warm in the winter. He came from Manchester, England and joined Coleman Creek in 2015. Luke is great example of the flexibility and diversity of our crew. He started out as a laborer, and over the years developed the skills needed to become an integral member of our Mini-Split installation team, and has recently completed his certifications to be promoted to our second lead installer.

Brandon Laverty came to Coleman Creek in 2017 as part of our production crew and has been invaluable since. He coordinates to pick up and delivery of supplies and helps ensure all job sites are organized and trash free with as little impact on the homeowners and neighborhood as possible.

Justin Hymas is one of Coleman Creek's newest employees and has shown quite a high aptitude for understating how a building goes together. He has aspirations of mentoring with our Production Manager to work towards being a lead carpenter. He comes to us with a great base skill set, the ability to run excavation equipment, and a quiet positive attitude.

Josiah's job with Coleman Creek is to tackle whatever projects are thrown at him, be it framing, painting, cabinetry, or finish work. After gaining carpentry skills for 2 years while apprenticing with his father, CCC Lead Carpenter Jud Olsen, Josiah has come to work with us while simultaneously pursuing a college degree. Using his knowledge of different types of construction, he says he plans on being a flexible and reliable worker with the ability to learn any skill required for a job to get done.
What is the process you take a customer through when first starting to work with you?
Really, it just starts with a phone call. From there we explore the possibility of working together. At this stage of the game, I consider myself a consultant and an ally to our potential client. I go in with an open mind using my two decades of experience to listen and educate rather than with the mindset to sell a construction project. While I am always hopeful the project will be viable and will be a good fit for our company, my intention is always to make sure the client is being served with what is best for their needs. It's not uncommon for me to talk a potential client into exploring a move rather than renovating or guiding them to a different company that could be a better fit for them. With this mindset, I ensure the clients that end up working with us that they are going to appreciate how our company is built, and the collaboration will be a win-win. If we can define a scope that meets both our client's needs, and their available investment amount, then we launch the Coleman Creek Pre-Construction process where we design and price the entire project making all the selections. The outcome of this is process is a fixed price contract complete with a binder that outlines and details all the work for the project. This project is onsite during the entire build out so everyone is clear what is supposed to happen and when the project is over the client has a binder with all the information they would need for repair and maintenance issues should that come up down the road.
Do you have any last comments for our readers?
The last time we spoke we briefly discussed The Splinter Group, an industry professional group I am part of. The mission of this group is to serve the Ashland building and design community through the education and support of local industry professionals and homeowners.  One of our objectives is to educate local students about the potential earnings and pros and cons of going into the trades. In addition to participating in the high school's career day, the Splinters have created a scholarship for an Ashland high graduate to support him or her getting into the trades. Last year we gave one scholarship and next June we plan on giving two. We encourage anyone who is interested to get involved and they are welcome to contact me directly to learn more.
Learn More:
Coleman Creek Construction LLC
695 Washington St Ashland OR 97520
ColemanCreek.com
541-482-2299