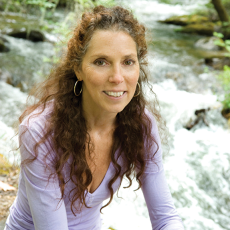 As a long term resident of Ashland and an experienced and skilled yoga teacher and massage therapist, Cynde Gragert has brought together the wellness practices that she has studied for decades to her integrative massage and wellness practice, Sanctuary Massage. She has been teaching yoga, mindfulness training and practicing massage for over 25 years and has helped countless people in our local community to find balance, health and relief from pain. I spoke with Cynde recently about the next stage of her professional path and her passionate belief that mindfulness in all things is the key to true wellness.
Cynde thank you for taking the time to speak with us today. Tell us a little bit about your journey as a practitioner.
Thank you for the opportunity to share this journey. I've been teaching and practicing both yoga and massage here in the Rogue Valley for about 28 years. Of course, over that length of time things change and evolve. I began practicing yoga at a time when it wasn't particularly popular. I soon realized I wanted to study this vast wisdom tradition in more depth and began to study other styles of yoga as well as the philosophy and sister science known as Ayurveda. I also discovered the benefits of meditation through Tibetan Buddhism and began to teach yoga in 1985. I was finishing a degree in art at SOU and later getting a teaching certificate to teach high school art. But I always knew that massage was a passionate interest and when the market for teachers proved difficult to find work I turned to the study of massage. Massage gave me a strong understanding of how the body works and in turn this helped me understand alignment principles in yoga, and furthered my love of both disciplines.

For many years I taught in private movement studios in Ashland until I opened my own studio, Yoga Sanctuary in 2001. This studio closed in 2008 and I now teach yoga at the Ashland YMCA and Rasa Yoga Center both in Ashland and Medford. I practice integrative massage out of my home office and am on-call at Ashland Holistic Health and Jackson Wellsprings. My newest vision or dream is to more actively take clients who may be interested in longer term solutions to health issues. Clients who would benefit from yoga therapy, nutritional counseling, mindfulness practices along with therapeutic massage. This synergy of skillful methods is a powerful means of actualizing healing and building a foundation of self-care. I have had much success with this already and want to continue to integrate these practices with the intention of augmenting and reinforcing the great healing effects of massage. I am dedicated to expanding my knowledge and practice of different massage techniques with workshops and classes. I now offer many modalities from subtle and gentle work like cranial sacral massage, to deep tissue, myofascial, trigger point release, structural integration, sports massage as well as Thai massage.
What brought you to this work?
Most people find themselves sooner or later looking for fulfillment and purpose at least partly if not mostly through their work. I was no different. I am enormously grateful that I found yoga in my early twenties along with Buddhist meditation. These practices, though ancient and mystic in scope, are also deeply grounding. They can directly bring us into alignment with our hearts, our health and our purpose. I wanted to do something that would benefit others as well as myself.

I was also faced with some of my own health challenges and as I sought answers I went deeper into yoga, Ayurvedic medicine and nutrition. Meditation and mindfulness training gave me a way to work with the limiting beliefs that surface over a lifetime. All these things together helped me focus on the healing arts and massage as a means of creating true health.
What makes you unique in your practice?
I've been working long enough in the healing arts to recognize that in order to truly heal we often have to approach from many different angles. We cannot heal a physical manifestation of stress or a chronic injury without also looking at our emotions, our beliefs, and our diets. My massage practice allows me to work skillfully with physical pain or discomfort, injury, neuromuscular imbalances and also offer long term support with yoga therapy, nutritional counseling, mindfulness, and breath work that is synergistic in focus. These healing modalities are specific to each person's needs and will support the healing effects of the massage work as well as create strength, flexibility, resiliency and balance. Massage and yoga are very complementary practices that enlarge the effectiveness of the other. There have been many studies on the medical benefits of both massage and yoga with long lasting relief for people who suffer from autoimmune disorders, back pain, migraines and more.

When a muscle is tight it is weak and unable to use all fibers. Then compensation increases and other restrictions can occur, even injury is more likely. Yoga practitioners often need massage to relieve deep constrictions from over exertion or injury. The practice of breath work, postures and meditation contribute to the calming of the nervous system, relieve stress, anxiety and boost neurotransmitters that can affect our mood and mental health. There is much evidence that massage, nutritional counseling, mindfulness and yoga postures can support the healing of conditions like adrenal fatigue, back pain, sciatica, and thyroid imbalance. I will work with the client to create a healing plan that might include yoga therapy, breath work, or mindfulness practices. Of course, some people have their own health care practitioners that they are working with and may just be interested in bodywork.
Who is your typical client?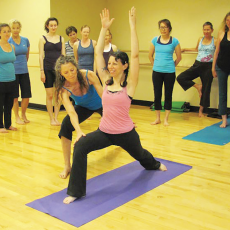 I tend to have a very diverse clientele, but one common characteristic seems to be that most are active people looking to take control of their own health. Many clients are also students of yoga and find that massage helps them take the practice of yoga deeper. It goes both ways. Yoga can also benefit our healing by giving us the tools to work with the body, mind, and emotions consciously. Most of my clients want serious results from the massage and are often interested in how they can maintain the beneficial effects of the bodywork.
What are your clients saying about your work?
Here are a couple of testimonials from clients:

"Cynde Gragert has an impressive understanding of the workings of the human body. She has not only soothed my routine aches and pains, but also uncovered the cause of serious nerve pain (which even x-rays had not revealed) and successfully healed it. Her thoughtful, holistic approach and her skilled hands make her an outstanding massage therapist."
– Diane R. Roome

"When I first met Cynde I had been experiencing painful bursitis in both hips and extremely tight iliotibial bands for over a year and a half. I had already undergone months of anti-inflammatories, physical and chiropractic therapy as well as injections in both hips. I relied on Advil to get me through both days and nights. From the moment I met Cynde, I was impressed with her deep, skillful massage and myofascial experience as well as her friendliness, kindness, professionalism and above all her compassion. Now, with continued myofascial and therapeutic massage I am once again enjoying short walks, able to sit and read without pain and I am sleeping! My whole experience with Cynde has been a very positive one. I would recommend her to anyone and have told my friends and family how wonderful she has treated me."
– Michele, Eagle Point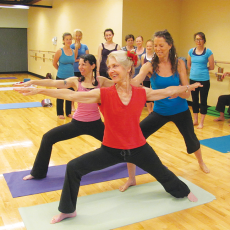 My understanding is that there are several different styles of yoga. Do you tend to focus on a particular method?
Over the years I have studied many different styles but my preference is to teach Vinyasa, a flow of postures connected by the breath. This is an active yang style practice with a focus on developing strength, flexibility, and balance in the muscles. My other favorite that complements this active form is called Yin yoga, and is a quieter, more contemplative practice that focuses on the connective tissue of the joints. Together these two styles bring a balance to the whole body. Yin/Yang yoga, comes from the Taoist tradition and characterizes the two qualities inherent in all things, all of nature including us.

We all know that we have to stimulate our muscles for them to grow strong, flexible and resilient, but many people don't realize that yin yoga provides the balance to an overstimulated world where we are often doing too much and sitting, driving or standing still too long. Yin is for everyone, but people with stiff joints or injuries to their hips, knees, and ankles are often the people most interested. It's been exciting to see people catch on to the valuable practice of Yin yoga and how deeply effective and healing it can be. When we think of professional athletes quitting their sport, it is usually not as a result of muscle weakness but more often it is due to joint or connective tissue injuries. Yin helps us nourish the joints and brings longevity to whatever sport or activity we love to do.
In the past you have taught classes and workshops. Is this a direction that you are continuing?
Yes, I will continue to offer classes with a holistic approach to health. Classes that offer a synergy of yoga, mindfulness meditation, Ayurvedic philosophy, nutritional counseling, maybe even art. This spring I offered a class called Tools and Inspiration for Conscious Living. This class included yoga postures and breath work that can help relieve stress, anxiety, depression as well as physical conditions like arthritis, diabetes, and insomnia. It also included some simple and valuable energy balancing practices from Donna Eden. The intention for all these workshops and classes is to support people in finding renewed vitality, joy and awareness. Yoga and mindfulness contain the promise of renewal, even transformation.
Talk to us about how you collaborate with other practitioners.
Healing injuries and pain is often a very complex process which is why I offer many modalities from the subtle and energetic like cranial sacral therapy to deeper work such as deep tissue or trigger point, myofascial and many more. It's important that I clearly assess a client's condition and am able to refer them to other professionals when needed. For that reason and if clients are looking for an acupuncturist I can refer them to Jen Collins and Julie Bibleheimer at Ashland Holistic Health. I've been working out of Ashland Holistic Health with these two wonderful practitioners for several years. They in turn often see clients that can benefit from massage.
You mentioned that meditation has taught you how to find peace and presence in an often chaotic world. How do you do this and how can you help others do the same?
Everyone experiences pain and suffering at some time in their life. The last five years or so have been the biggest challenge for me – experiencing grief, loss and really being knocked off balance. My world turned upside down. Yoga and meditation have been a life line for me. I am so grateful for all my teachers over the years of study, for the exquisite and powerful capacity that arises in the human spirit when faced with loss. It is never easy but if persistent, reaps great rewards. Our goal in meditation is not to escape difficulty or to make ourselves better people but simply to learn how to abide in the present moment with whatever is there – all the messiness of life along with the joy and beauty.

Pema Chodrun is a wonderful clear teacher in the Buddhist tradition and she often speaks about the importance of working with bodhichitta – the awakened heart/mind. We can learn to stay awake and present in the moment – the only place our lives can happen. Past is gone, future hasn't yet arrived. She also talks about the importance of kindness towards ourselves and others, of working with bravery and compassion. We all experience suffering and we all have the capacity for great love, joy and beauty. Along the way we can help each other remember our birthright of open hearted love, forgiveness and joy. These are qualities we can nurture through the practice of mindfulness and I hope to bring more of this to my classes and into my creative work as artist, massage therapist, yoga teacher.
You are also an artist. Would you tell us more about that part of your life?
I have loved to create art ever since I can remember. It is a deep part of me and yet there have been times when I am not as actively creative. I'm bringing this aspect back into my life and hopefully into some of the workshops and classes I plan for the future.

I studied printmaking, painting and drawing at SOU many years ago with a BFA degree in 1985. Since I no longer have access to a printing press I do more painting and mixed media but I want to join the Ashland Art center soon and start making prints again.

I am a fierce animal lover and activist and animals have a deep influence on my work. It will be interesting to see what comes through in my work now. There is always some tension beginning again when I have not been consistently working. Yoga has helped me even here in working to accept whatever feelings or uncomfortable sensations arise as I return to my art. It's been my experience that the best art arises in me when I am fully present. Time stops and the work happens. Of course that won't happen if I'm not in my studio and showing up for whatever energies want to come through. It's an adventure I look forward to.

Music is the other love of my life and I will continue to sing with the Rogue World Ensemble, a small spirited group of singers of traditional world music. It brings me great joy to be part of this evolving group of musicians and singers. Doing things you love magnetizes chi, prana, or life force into our lives. I have seen this force happen in my own life as I have healed.
Do you have anything planned in the near future that we should know about?
Just more yoga, massage, art, music, and hopefully attending and offering retreats here and abroad. I feel so fortunate to live in a valley where people appreciate the beauty of nature and work with each other to preserve and protect our resources. I am grateful to each and every client who has passed through my door and I will continue to support them in every way I can.
How can people find you Cynde? What is the best way to book a session with you?
I am working on building a website but right now the best way is to call my home office at 541-821-7683 or 541-482-8132 and I will set up an appointment. I am also listed under massage and yoga in the phone book and available for appointments through Ashland Holistic Health 541-482-1650.
Learn More:
Cynde Gragert, Sanctuary Massage
541-821-7683 or 541-482-8132
Ashland Holistic Health 541-482-1650