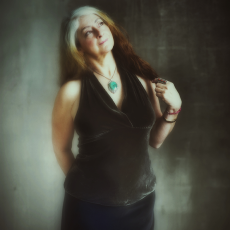 It's quite likely that you may already know Cynthia LoRe. She made Ashland her home five years ago, and works in the community as a yoga teacher at Bikram Yoga of Ashland, and as a Clinical Hypnotherapist and Reiki Master in private practice. In this interview we will be exploring the modality that Cynthia uses and refers to as Trance Energy Therapy and her recent creation of Shadowlight Ministry.
Cynthia began her career in the healing arts in 1996, as a massage therapist in Seattle, Washington. Through the years, numbers of clients shared personally with her their concerns in life and what became revealed was her innate ability to access deep wisdom, to offer a broader perspective, and distill this into practical every day inspiration which brought clarity to her clients and often, great relief. This led Cynthia to explore ways of working with clients outside of the scope of massage. She enrolled with The Hypnosis Motivation Institute of Southern California. She completed their 700-hour Clinical Hypnotherapy training and became nationally certified in 2003. She then went on to receive her master level Reiki Energy Healing certification and began studying Shamanism, which is a continued unfolding path for her.
Prior to arriving in Ashland, Cynthia maintained a healing arts practice in Southern California and has worked with a variety of clients during her international travels.
Thanks so much for talking with us today Cynthia. Can you tell us a bit about the specific work that you do?
Trance Energy Therapy addresses a multitude of issues. It is a blend of clinical hypnotherapy, Reiki healing energy and shamanic wisdom. It uses hypnotherapy but also has additional elements of hands-on or long-distance healing, and my intuitive ability to navigate between realms to support my client's needs. I am aware of energy and that all things have a particular frequency. This is also true of our thoughts, beliefs, and the unwanted patterns in our lives. Thoughts of lack and continued self-doubt diminish and contract our vital force while thoughts of abundance and deep trust of self, open and expand us to receive the bounty of beauty that life has to offer. So, I am actually working with a client's belief system energetically, and using Reiki energy to support the intention of the session. I guide my client into to a trance state that is deeply restful and restorative, a lot like the state you're in just before drifting off to sleep. In this place you are very receptive to suggestion. To guide the client into trance, I use the cadence of my words, the tone of my voice, emphasis on breath, guided imagery and Reiki energy.
One is guided to a place within themselves that is completely whole, pure and untouched by the circumstances of life. It is the client's divine blueprint, and it holds insightful wisdom and the frequency of love and beauty. By resting within this vibrational frequency their body and mind begins to entrain with the vibration of love, compassion, beauty and abundance, which acts as a recalibration for their central nervous system. It is this sacred place within them that actually informs us of the work to be done. I guide this work with my knowledge and experience of hypnosis and of how powerful the subconscious mind is. I offer verbal suggestions that are positive and reinforcing to bring the subconscious into alignment with the client's conscious desires, so that limiting thoughts and patterns are released and new awareness is activated within their cellular structure. A person's receptivity for change comes from their ability to surrender into deep relaxation, entering in to a place of allowing. I hold space during our time together for the session to unfold, as it needs to, and for the client to begin to embody their wholeness within.

Tools are given to assist clients with staying present to their new awareness after and between sessions. And depending on what it is that the client is seeing me for, I may recommend anywhere from four to six sessions. Each person is different. Some issues are deeply ingrained patterns played out over a lifetime, so it may take longer to unravel the old and reinforce the new awareness, and some people receive the benefits they need within one or two sessions.

Trance Energy Therapy is done in a beautiful, healing setting in Ashland. Clients remain fully clothed while relaxing comfortably on a massage table. I offer free thirty minute phone consultations to make sure that I am confident that I can help any potential client and that we have a good rapport, which is essential. I also offer long-distance sessions via Skype.
Tell us more about the difference between your unique type of work and the clinical model of hypnosis.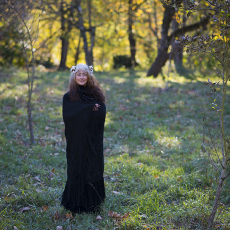 Hypnotherapy is powerful and amazing and I'm grateful for my years of experience with it. It works with the subconscious mind, and I also understand the mind to be a portal to a deeper place with unlimited potential.

As a therapist, teacher and guide, I hold the awareness that everyone is whole and I take him or her to that place to taste it for themselves. I work with frequency/energy instead of only thoughts and ideas. There is no script that I work from. I am guided by connecting my wisdom with the client's wisdom, energetically. And there is the added element of Reiki, which does not take place in a typical hypnosis session.
Who do you typically love to work with?
I work equally well with men and women of all ages. My desire is to work with anyone who is open to personal growth and the change that naturally comes with it, those ready to walk an empowered path of self-awareness and stand in their full sovereign Truth.
What type of results do you see are possible for people in working with you?
The incredible shifts that I have witnessed in my clients are: Release from chronic pain, fears and phobias, the release of blocks to creativity and abundance, improved physical health, reduction of body weight, and smoking cessation. I've supported people to become confident in public speaking, to explore past life regression, and by doing so, healing relationships and ill-health.

I have witnessed my clients relieve great stress, become inspired to create a business, reconnect body systems for improved health, gain self love, self trust and self confidence, stop nail biting and skin picking, I've supported people in manifesting a home, in getting clarity on where they wish to relocate, to gain the courage to quit a job that wasn't good for them, to increase self-esteem and confidence, to land a job they really want, and more.
You describe a level of mindfulness or awakening that you have developed in your own life. Can you tell us more about how that relates to the work that you do?
The wisdom that comes during a session flows through me not from me. I empty myself from any expectation or busyness of mind in order for this happen. This "empty presence" is an awareness that I have learned through ancient Priestess practices and I teach this to my clients. Again, this is energetic. If the container is empty there is space for receiving. If the container if filled to the brim with doubt, distractions, limited perceptions and so on, there is no room for the guidance, which is available to all of us, to come. Empty presence allows for clarity and possibility, which is a nice place to move forward from in life. I live in the awareness that we are connected, that our thoughts create our experience, that the ability to feel, even if it is perceived to not "feel" good, is a gift, that this third dimension which has a root base of fear, is only one aspect of where we exist simultaneously, that the smallest heart-felt gesture can change a life, that love heals all wounds, that self-love is essential to move forward in life, that most of what we perceive as issues are meaningless, that what you give your energy unto has power over you. I could go on and on.

I consider myself a bridge for expanded consciousness. As such, I am able to connect others with a higher or more refined sense of themselves to experience and know. I continually and intentionally activate myself with the truth of who I know myself to be. I do this through many ways: Time in nature, yoga and breath practice, receiving healing sessions from others, witnessing my thoughts, words and actions at all times, by receiving the reflection of myself from those around me, by embracing change and allowing my truth to continually unfold and inform me through empty presence.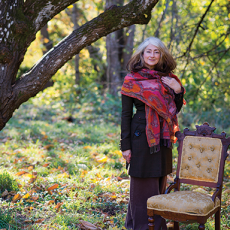 That sounds fascinating Cynthia. Can you give readers some examples of how to begin this process of coming into presence?
Allow the witness of your thoughts to inform you as to whether you are thinking something about the past or something about the future, at any given moment. For starters, this will show you whether or not you are living NOW. It will help you to discover how much of your life is lived on automatic and not in presence. From that place you can honestly ask yourself if your thoughts, words and actions are in accordance with your Truth. From that place you're at choice to make conscious change.
What kinds of profound changes have these practices brought in your own life?
My inner life and outer life are one in the same. I'm not like this over here and another way over there. I'm authentic wherever I am and I'm comfortable in my skin. I love who I am as a woman as a guide and a leader, and I surround myself with courageous people who are also committed to personal growth and expansion.
Tell us about the Shadowlight Ministry.
Shadowlight Ministry is where my passion for personal growth, creating beauty, and inspiring others is interwoven with my purpose to guide others to greater presence and a deeper sense of self. My ministry offers:

•Trance Energy Sessions
• Reiki Sessions, Classes & Attunements
• Monthly Healing Circle
• Personal Mentorship
• Sacred Interiors: design for home and office • Altar Creations
• Marrying couples and assisting with the crafting of wedding vows
• Conscious Conflict Resolution/Mediation
• Land, Home & Business Blessings
• Sacred Retreats
Tell us about the "shadow" aspect of the name you chose.
Shadowlight came to me early last year as I was witnessing a theme occurring within conscious communities, and that is, the understanding that our shadow(s) hold the gateway to our greatest strength and potential and that through illuminating these dark aspects with love, compassion and the intention of wholeness, those parts of ourselves feel acknowledged, witnessed and regarded and can then release their charge and limiting hold over us, fully integrating within us, as an ally of strength instead of causing a sense of fragmentation that holds us back. Most people's shadows are only scary because there is a heavily identified story that has been created around them. Releasing that story is pure empowerment.
Is there anything else you'd like readers to know?
I offer on-going Reiki Healing Energy classes and attunements for all three levels. Soon a level I class will be starting and I've not yet chosen a date. In a few months current students will be ready for level II. I'm happy to create a class with 4 – 8 people if anyone wishes to enhance their life with Reiki and know of others that wish to join a class.
What's the best way for readers to find out more about your work?
People can reach me by phone or through my website in order to set up a free thirty minute phone consultation.
Testimonial:
I had wanted to work with a hypnotherapist for many years. I simply couldn't find someone with whom I resonated with and trusted wholeheartedly. After one thorough session with Cynthia I knew our time together would be powerfully productive. Unlike traditional psychotherapies, Cynthia also draws upon her years of training and experience in energy healing and shamanic studies to uncover a rich tapestry of information while she delivers subconscious suggestion and clues to a more awakened awareness, as blockages are being released. In my time with her, I have uncovered unhealthy belief systems, unconscious emotional blocks and unwanted angers and pains in order to clear all of the debris that was preventing me from living an empowered life. I decided to work with Cynthia in earnest and my life is rapidly changing. Be it nicotine habits, weight loss manifesting a desired vacation, a change in career, better communication with family or really, any topic that you can think of… Cynthia's blend of trance and energy healing is powerful medicine!
Learn More:
Shadowlight Ministries
541-821-2594