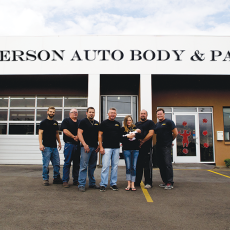 When we last heard from Dave Anderson, we learned the details behind his amazing history, growing up in Romania under an oppressive communist regime, taking a chance at the young age of 22 and coming to the U.S. to carve out a life for himself as a business man, then tirelessly working for years to ensure the same paths would be open for his relatives. Now in its 19th year of business, Anderson Auto Body is a business that people from all over Southern Oregon have come to rely on for their automotive needs. With an emphasis on, but not limited to paint, auto body repair and ight maintenance services, Anderson Auto Body has gained a reputation for reliable, affordable service in Ashland. Customers are drawn from the Rogue Valley and beyond, with some loyal patrons travelling from as far as Shady Cove, Klamath Falls and even Yreka, due to Dave's commitment to treat every customer who walks through his door just like a part of the family.
I spoke with Dave recently to hear about the latest and to understand a bit more about the success he and his team are creating right here in Ashland.
Thanks for catching up with us again Dave. It sounds like Anderson Auto Body continues to thrive. What's new?
Things are very, very good for us these days. As you may remember, I have two of my three children working with me in the business. My daughter Galina, who runs the office just gave birth to a baby girl, my third grandchild! We are missing Galina in the office these days, but are so happy for her and for our newest addition to the family.
I've noticed a number of improvements at the shop recently. Tell us about what you've been up to over there.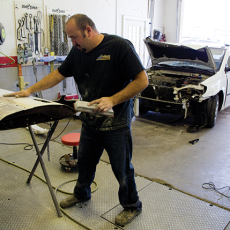 I'm sure most people have noticed our new electronic sign out front. We're having fun changing things up with that sign and are really excited about the new façade. It is really giving us a whole new look out front. We also have installed new technology in the office and have recently had our plans approved for a 4,000 sq. ft. expansion. We will be ready to build very soon.
4,000 square feet? Wow! That's huge.
Yes, the expansion will allow for quite an increase in our workload. We've been consistently busy for quite a while now, so the larger space will allow us to hire more technicians and to serve even more happy customers!
How has your business been able to stay so successful Dave?
Honestly, I believe we have been able to do what we do because of the reputation we have earned for excellent service and honesty. We truly treat everyone who walks through our door like family. People keep coming back because they trust us. Some customers have been with us since the beginning when we opened in Medford back in 1995. They know we will give consistently good service and we guarantee everything that we do. If something doesn't go right the first time, we make it right. That's our job. We take this promise very seriously.
So you offer more than just paint and body work. Is that right? Tell us about the services offered at your shop.
Of course the body work and paint make up the bulk of what we do. But people are not aware that we also offer a variety of light mechanical services as well such as windshield repair and replacement as well as detailing. We're very pleased to also note that there is no appointment necessary when coming in for an estimate. We are open from 8am – 5pm Monday through Friday.

All estimates are free of charge and take just a few minutes. We offer free loaner cars for those who do not have rental car coverage. We've also recently begun to offer rental car pick up as well to save a trip to Medford. Of course we also offer free shuttle service if you need a pick up or a lift home while we're working on your car. We offer towing services as well……you could say we do it all…almost!
Dave it seems like you take good care of your customers.
We certainly do. We know that having an accident or an unexpected car repair can be incredibly stressful and we work hard to make things go smoothly once a customer chooses to work with us. We always tell our customers, "We're sorry to be meeting like this, but we hope you'll be back; maybe even just for a cup of our free organic coffee or a pastry in our waiting room!" We want people to come in to visit even when things are just fine with their cars.
I have a feeling last winter's early ice storm kept you guys busy.
As a matter of fact, it did. We made a lot of new friends in Ashland as a result of that storm.
How does Anderson Auto Body support the community?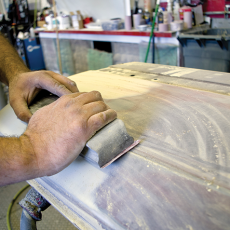 We sponsor sports teams such as Ashland Little League. We've also helped out the SOU football team by loaning out our tow truck for events. We are also very proud of our current canned food drive for the Ashland Food Bank. Our customers can save $2 off their services at Anderson Auto Body for each can of food donated through the end of the year. We will have quite the delivery to the food bank at the end of the year at the rate we are going! Our customers are so generous!
What keeps you busy when you are not at the shop?
I have been working on a rental property in Medford which fills a lot of my time. I am also fortunate to own property in Costa Rica which keeps me busy, and happy. I'm always up for the next adventure. I love to work on improvements. Even when I am not at the shop, I am constantly thinking about how I can improve the business. How can I make things better? It really is a passion of mine. I am also very blessed to have both my son and daughter working in the business with me which keeps us growing and improving constantly. They are amazing.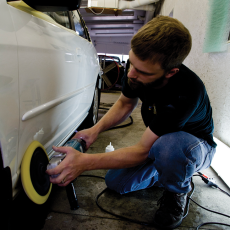 Anything else you'd like our readers to know Dave?
I would like to thank all of our customers for making this American Dream possible. We would not be where we are today without your loyalty. I also want to remind people that our work has a warranty – if a problem comes up, we make it better. We go the extra mile – this is the reason for our success. I'd also like to mention that the LocalsGuide has been a great asset to our business as well. More than anything we appreciate the local, family-owned business model.
Learn More:
Anderson Auto Body
1383 Hwy 99 N. Ashland
(541) 488-3635
http://www.andersonautobody.com/