Interviews
Dr. J.C. Morris, DC – Chiropractic Care at the Blue Giraffe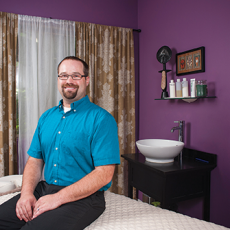 After practicing in Bend for over 7 years, Dr. J.C. Morris moved his family to Ashland to join the wellness team last year at the Blue Giraffe Day Spa.  Located in the heart of downtown Ashland, the Blue Giraffe has attracted a team of alternative health care professionals who work together to provide a suite of complementary care services such as chiropractic care, acupuncture, and nutrition counseling to locals and tourists alike in a relaxing Medi-Spa setting.  After years of working in private practice, Dr. Morris was drawn to the community and support available to him at the Blue Giraffe and appreciates the wide variety of wellness services available to clients in one convenient location.
A former college athlete, avid recreational fisherman, husband and father of three young boys, Dr. Morris brings a firm belief in the power of the body to heal itself as well as a specific expertise in chiropractic extremity adjusting not often found in our area.  I spoke with Dr. J.C. recently to learn more about his practice and why he is so happy to be living and working in Ashland.
J.C., thanks for talking with us today.  You left a successful practice, as well as a long history in Central Oregon.  Was it a difficult decision to come to the Blue Giraffe and Ashland?
It was difficult in a way… leaving family and friends I have known all my life, but we have been in love with Southern Oregon for some time and when the opportunity came up at the Blue Giraffe we jumped at it. I have lived and traveled to many places in this country and I truly believe Ashland is the best place to live as well as raise a family. The combination of weather, outdoor activities, schools, and amazing people was just too great for us not to make the move.
It seems like this Medi-Spa model is working quite well at the Blue Giraffe.
The Medi-Spa model is growing in the United States mainly because of the convenience factor it provides to the clients. People are also becoming much more educated to the fact that relaxation and taking care of your body go hand and hand. The idea that you can get a massage, chiropractic adjustment, steam shower, whirlpool soak, manicure, facial, etc. all in one setting and possibly all in one day is tremendously enticing. It saves the client time and money to not have to go to multiple locations for these services. The greatest challenge is the misperception that a spa is only for vacations or special occasions; but that is steadily changing. People are beginning to understand that self-care is essential in today's hectic world, and complete care is at the core of the services we provide.
At the Blue Giraffe I have also brought oversight and supervision to our medical massage team. Most massage clinics do not have a supervising physician to oversee the medical aspect of soft tissue rehabilitation. We can now offer auto accident care, workmen's compensation rehabilitation, and general insurance client services that are supervised by a licensed physician and therefore are covered by insurance.
What makes your practice unique?
I can best sum up my practice style as "individualized."  This in itself is very unique in my field. I have been to many chiropractors over the years as a patient and I have noticed that most chiropractors treat you based on their "technique," and seldom customize it to you as an individual. We are all truly unique in what works and doesn't work for our body's physiology, body mechanics, and particular conditions. Some people need a more vigorous type of adjustment, while others need a very soft approach with no "cracking."  Our first exam lasts at least 60 min and we try to get a good overall feeling for what will work best for you and your specific condition. We then take the time to listen to you at each follow up appointment and tailor the treatment for what is working best. I have taken the time to establish a good feel for how aggressive the treatments need to be. With some people we do little more than some range of motion exercises, or activator techniques, and with others we use a more traditional, manual technique that has been used for more than 100 years. It all depends on the patient's input and my clinical knowledge of what will work best for the person's individual condition. One size does not fit all, and should not fit all when it comes to treatment.
I have also been trained in a few specialized techniques that you rarely see utilized. One of the newer things we have started at the Blue Giraffe is a postural analysis protocol. We have a postural assessment grid that we use to take pictures of the way people stand. We can really see the subtle ways our biomechanics have adapted to poor posture with a picture and then have a way to track the changes over time. There are some very simple ways to change the poor posture we often find ourselves in, but unless you know what you are doing it is very difficult to make any real or lasting changes. I find that most people are unaware of their poor posture until it is pointed out.
I also look at the way the extremities work in relation to what is going on with the person. I have been practicing extremity adjusting for several years and will often adjust feet, ankles, toes, and wrists that may have associated problems. I have a great track record of being able to keep people out of carpel tunnel surgery, for example. It is often just a dysfunction of one, or several of the 8 wrist bones and associated musculature. I had a lady come in several weeks ago on a Monday who was scheduled with her orthopedic surgeon for carpel tunnel surgery that same Friday. She was coming in for a neck complaint, but after talking to her about the biomechanics of the wrist she agreed to see if we could help her out. I adjusted the wrist, did some light soft tissue massage, and used some kenesio tape to help open up the passageway of the median nerve. She returned two days later and all her symptoms had resolved. Needless to say she canceled her surgery and was extremely happy with the results.
Who are your typical clients?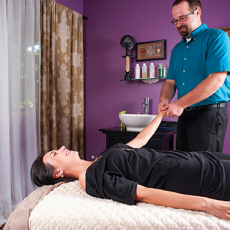 I do not really have a "typical" client. I have found that my clientele is uniquely diverse both here in Ashland and in my former practice in Bend. I have treated the average office worker that suffers from the strain of sitting and working on a computer all day, and I have treated Olympic level athletes. The great thing about my approach is that it can be tailored to the person. The office worker may need to be adjusted and given some postural advice that will make them feel better on a daily basis. The Olympic athlete may not actually have any pain, but wants every part of their body to work in the most optimal way. Every bone in your body is meant to be in a specific place and have a certain amount of motion, if either of those things are not correct you will not function at an optimal level. I always like to point out that all but one NFL team has a chiropractor on staff, and in the last few Olympics the chiropractors nearly outnumber the medical doctors on staff.
What do your clients have to say about your work?
"From the moment I walked in I was treated like a king, wonderful staff that is friendly, very caring, thoughtful and healing. Dr. J.C. is an amazingly wise and skillful chiropractor. I received a 30 minute massage, a soak in a beautiful private hot tub prepared personally for me and then my adjustment. This was the greatest chiropractic adjustment I have ever received."
-Monte Davis
"Dr. JC is a terrific chiropractor who not only is very skilled in many techniques but takes more time with his patients than any doctor I have visited."
-Beverly McKechnie
"I saw Dr. Morris when I was training for the winter triathlon world championships in Russia. He did a test on my feet and found that I had some bones in my foot that had never recovered from a severe ankle sprain I had the year before. I never told him about the ankle issue, but his exam was very thorough and he told me which ankle I had sprained! I had no idea chiropractors did that kind of thing. He adjusted my neck and back as well as my foot. I immediately noticed a huge difference and I ended up taking 3rd in the world championships and beat an all-time personal record by over 3 minutes! This chiropractic stuff is AWSOME!"
-Jeff Seale
Talk to us about posture.
Posture is a major issue in our country right now. Most kids grow up having no idea what good posture is and for that matter most adults are in the same boat. We're all susceptible to the effects of poor posture. Why? Because our body spends its entire life fighting the force of gravity, which over a lifetime naturally results in bone and joint breakdown and degeneration. When we are young we can typically get away with poor posture and have little to no problems or pain. However, I can almost always predict what your future problems will be by the way you sit and stand today. That is where the posture program is so important to both children as they grow and adults as we spend our lives sitting or standing for long hours at a time. Most people get motivated to change the postural habits once pain is involved. At that point is usually takes much longer to re-establish good habits and reduce the forces gravity puts on our bodies. I strongly encourage you to get your posture looked at before you start to have problems, but it is never too late to start a posture program. This is where the posture pictures play an important role. We take a picture in the beginning of care and establish a program that will greatly improve your posture. We then repeat the pictures at certain intervals to see the improvement and keep track of progression.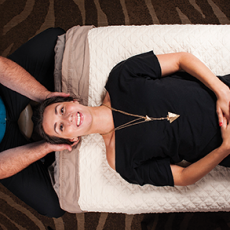 You have an interesting philosophy about chiropractic care.  Can you tell us more about this?
I am a strong believer in the power of the human body to heal itself. I do not believe chiropractic, or any other type of care for that matter, actually "heals" people.  Some approaches to treating simply cover up the symptoms so people "feel" better. That is the main problem with the medical approach to treating people in pain. We often miss the reason for the pain in trying to cover up the symptoms of the problem.
I believe first and foremost that most pain is preventable. Unfortunately people are motivated by the pain to finally seek care. If people would think about their bodies like they think about their cars we would be much better off. We know that our cars need things like tune ups, and oil changes in order to prevent issues and keep the car running longer. We don't wait until the car is out of oil and fill up the reservoir. If we did that the damage would already be done and make it very difficult to fix the engine. Unfortunately we look at our own bodies in a far different light. We often wait until the engine has already failed and then we want it fixed. That said, luckily the human body is far superior to a vehicle. The human body was gifted with an ability to heal itself if given the right tools. When it comes to the bones and joints it can be fairly straight forward. If alignment and motion is restored we can often get over the pain and live a life free of the constant barrage of symptom-based health care. Sometimes these alignment and motion issues can be treated effectively in a single treatment, while others may take longer to get over, but I can assure most people that they will improve regardless of the amount of time you have been in pain. It is never too late!
You have some strong beliefs about the power of chiropractic care as an alternative to surgery or medication in many cases.  Tell us about the results you have seen.
Medication and surgery absolutely have a place in many cases, but overall they are used too often and far too soon in a patient's care. As I stated earlier, the human body has a remarkable ability to heal itself, but sometimes we do not give it enough time or try any alternatives to medication and surgery. I base my opinion on simple statistics. The last report put out by the center of disease control (CDC) on Jan. 2nd, 2013 stated that "In 2008, more than 36,000 people died from drug overdoses, and most of these deaths were caused by prescription drugs." The same report later goes on to say, "The unprecedented rise in overdose deaths in the U.S. parallels a 300% increase since 1999 in the sale of painkillers. These drugs were involved in 14,800 overdose deaths in 2008, more than cocaine and heroin combined." I believe that most people feel pain medication is safe and unfortunately that is just not the case. These drugs are typically the treatment of choice for most people seeking relief from pain, but the risk far outweighs the benefit in most cases. My goal is to relieve pain in a non-drug and non-surgical way and treat the actual cause of the problem. Pain is a symptom of a problem, but unless the problem is fixed it makes very little sense to treat only the symptom.
"I was in an auto accident last year when I was rear ended on I-5 by a truck going 70mph while I was at a complete stop. I was diagnosed with whiplash and my M.D. discovered I had three herniated disks. I went through 6 months of being on pain medication and was on the brink of surgery when I was recommended to go see Dr. Morris.  He started me off very gently and with a combination of chiropractic, massage, traction, and exercise. I was able to avoid having surgery. I also was able to get completely off the pain medication and back to a normal life. Thank you Dr. Morris!"
-Dan Manuell
How did you find this professional path?  Was there an incident or event that led you to chiropractic school?
Yes. I was a thrower in track and field in college and my freshman year I started to have low back pain while throwing the hammer. It got so bad over a few weeks that I scheduled an appointment with my family M.D. to figure out what was going on. I had been seeing this physician for most of my life and I trusted his opinion. He recommended that I quit track which in turn meant I had to give up the scholarship I was on. He made this determination after about 10 minutes of face to face time and could have impacted the rest of my life with his opinion. Luckily for me, my wife's uncle was a practicing chiropractor for over 30 years and was willing to recommend chiropractic care for me. I was treated by a chiropractor in Salem, Oregon whose opinion was very different from that of my family doctor. He believed it was just something out of place in my low back that was causing the pain. Reluctantly, I allowed him to adjust my back and after a single treatment the pain was gone and has never returned. I went on to be an All-American hammer thrower and placed 3rd in the country just two years later. After that experience I knew exactly what I wanted to do with my life and career.
In addition to your busy practice, you have a busy life at home with three young boys.  I'll bet it's fun….and tiring!
Yes… It is both very fun and tiring! I have to give all the credit to my wife, though. I am very lucky to have met my wife at a very young age. We have been together since we were 15 years old when we met in gym class at Redmond High School. We will be married for 13 years in July and I am fortunate to have her as a stay-at-home mom. She is with the kids all day and I'm sure she has a much harder job then what I have. I get to be at work and help people with their health problems, while she referees wrestling matches all day with three boys that are ages 5, 3, and 2. On top of that she is a billing specialist for the spa and I am always amazed at how she can possibly find time to accomplish all the things she has on her plate. We are very much an outdoor family and spend most of our free time camping, fishing, hiking, and playing softball. It is one of my greatest pleasures to be able to play co-ed softball with my wife on a weekly basis.
Who do you believe needs chiropractic care?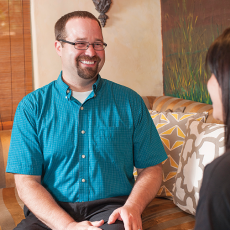 I could make the argument that nearly everyone can benefit from chiropractic care. There are normally two categories of people. The first category is what I term the "preventative" patients. They are normally people who are looking to stay in good shape and have problems dealt with before they actually become major issues. Athletes often fall into this category and are not being treated for a specific condition, but rather to perform at an optimal level. The second category is what I term "reactive" patients. They are typically being treated as a reaction to pain they have. They have current pain and dysfunction and are looking to get rid of that condition. Most people I see fall into the "reactive" category and we are looking to not only get them out of pain, but find life long ways of keeping the pain away once it is resolved. Most of the time there treatment will consist of in office treatments as well as a home rehabilitation and stretching program.
Do you accept insurance?
Yes we do. We accept nearly all major medical insurance including; Blue Cross, Pacific Source, Aetna, Cigna, Providence, Health Net, and many more. We also accept auto insurance claims, workmen's compensation insurance as well as Medicare, and some Medicaid. We also have made a serious attempt to make it affordable for those who do not have insurance or chiropractic coverage. If you pay at the time of service we offer a new patient exam and treatment for $60, and follow up treatments are just $30.  For those interested in a package deal with chiropractic and massage together they can check out our website for pricing. I would also strongly encourage people to consider adding chiropractic to their yearly insurance plans if they don't currently have coverage.
What's the best way for a new patient to get an appointment with you?
The best way to schedule an appointment is by calling the Blue Giraffe and talking to one of our amazing receptionists. They can book your appointment and help you with any questions you may have about pricing, treatment options, or insurance coverage. For anyone not sure if chiropractic is right for them we offer a 100% free consultation with me that will last about 15 minutes and we will discuss treatment options and if chiropractic care will fit into their health goals.
Learn More:
Dr. J.C. Morris, D.C.
The Blue Giraffe Medi-Spa
541-488-3335
www.bluegiraffespa.com/chiropractic