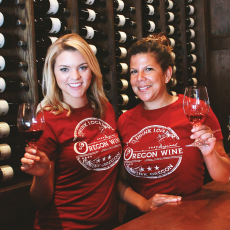 Summertime is the perfect time to get out and enjoy all that our town has to offer. A walk in the park, the OSF Green Show each evening, First Friday Artwalk each month. When Medford's EdenVale Winery opened up Enoteca (wine library in Italian), their downtown wine shop five years ago on the Plaza in Ashland, owner Anne Root intended to provide visitors and locals alike with a cozy, inviting place to gather to appreciate the fine wines and points of interest this valley has to offer. However, to call Enoteca simply a tasting room would be a vast understatement.
In my recent conversation with Anne, Misty & Kaycee, I learned that Enoteca Wine Bar & Bistro is so much more. From a wide variety of concierge services, to live music, game nights and private parties, Enoteca is the perfect place to relax and unwind with a glass of one of EdenVale's 20 different wines. With award winning Tempranillos and Rhone varietals, like Syrah and Grenache, their passionate and experienced staff is ready to introduce you to the artistry found in every bottle.
Thanks for taking the time to speak with us today ladies. Enoteca is really more than just a conveniently located tasting room. Tell us more about what Enoteca has to offer.
We really want to celebrate everything Southern Oregon has to offer by providing a welcoming and comfortable space to enjoy fine wines and learn about the region. We believe it is important to support our local industries and Enoteca provides a place to access Southern Oregon's great local products and find more information about them. At Enoteca, guests not only get to taste EdenVale's award-winning wines but they also have access to other products produced in our region, whether wine, beer, or food.

We provide a cozy atmosphere in a beautiful and comfortable setting where our friendly staff can provide guests with a great experience. We are able to share our local knowledge with visitors and deliver a concierge service to offer information and point people towards wineries to visit, art galleries, restaurants and other must-see attractions in the area.
And I remember from the last interview that a traditional enoteca was just that, a wine library or resource for the community. How are you achieving that here in Ashland?
A traditional Italian enoteca is located in city centers throughout the country where visitors and locals can sample regional wines and learn about the wines and vineyards of that area. If a guest finds a wine he enjoys, he is directed to that specific winery where he can purchase larger quantities of his favorite wine directly from the producer. At EdenVale's Enoteca in Ashland we are able to accomplish the same goals of a traditional enoteca. Guests are welcomed to taste EdenVale wines and learn about other wines produced in Southern Oregon. If someone is looking for a specific varietal or wine style, we can direct them to a local winery that produces the wine they are looking for. What's great about Ashland's Enoteca is that you do not need to leave town to experience outstanding Rogue Valley wines. If you are looking for the country winery experience and have limited time, we can help point you directly to a winery that will fit your needs.

EdenVale Winery is located at the historic Eden Valley Orchards, which has a long agricultural history in the Rogue Valley. EdenVale Winery was a logical next step when Anne Root took the helm and began producing wine in 2001. How has this influenced the fine wines produced at EdenVale today?

In 2003, EdenVale released its inaugural 2001 vintage. We are honored and excited to participate in the fast-growing Oregon wine industry. As Southern Oregon becomes more renowned for its flavorful and robust wines, our goal is to do our part in achieving greater recognition by creating top quality, enjoyable wines. The EdenVale Winery facility is located on property widely recognized as the birthplace of the Oregon's commercial pear industry at Eden Valley Orchards in Medford. Amidst this significant historic setting surrounded by pear orchards, EdenVale Winery now concentrates on making the finest wines in Southern Oregon, specializing in Syrah, Viognier, Malbec, Cab Franc, Tempranillo, Grenache, Merlot and Chardonnay with the same passion and great care that has always been an important tradition. We also support the agriculture heritage, modern-day farms and artisan businesses that express the region's bounty and diversity.
And in that short period of time, EdenVale has garnered quite a bit of international praise. Tell us more about the awards that your wines have won recently.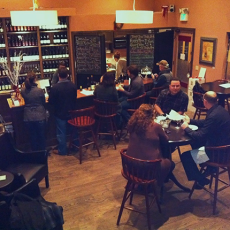 We are very proud of the recognition that EdenVale has received for our excellence in winemaking here in the Rogue Valley. Our winemaker, Ashley Campanella, has done an outstanding job producing exquisite wines that are receiving awards year after year. Most of the wine competitions where we prefer to compete are international and generally attract thousands of applicants and varietals from around the world. Most recently EdenVale was awarded a Double Gold medal with a 99-point rating for our 2007 Reserve Merlot from the 2014 San Francisco International Wine Competition. And our 2007 Reserve Cabernet Sauvignon received a Silver medal at the 2014 Sunset Magazine Wine Competition.
You have done an excellent job making the whole wine tasting experience accessible to the community. Tell us more about that experience.
Our goal is to provide not only an enjoyable but very approachable wine experience here at Entoeca. Guests are welcomed into the wine bar with the opportunity to sit with our staff members as we walk you through a wine tasting flight and describe each wine to you. We do not intimidate you with complicated wine terms but create a friendly conversation about the wine as it travels from grape to glass for your enjoyment. Everyone who works at Enoteca is passionate about the local industry and shares that passion with everyone who walks through our door.

Beyond the wine tasting, we have an upstairs lounge where guests can enjoy a glass of wine or a bottle with friends in the comfortable chairs with views overlooking the plaza. Our bistro menu of light fare makes for the perfect snack with your wine. Enoteca is the best spot to enjoy a glass of wine before a play or relax after a day at work.

I've noticed that your monthly articles in the LocalsGuide are very informative. You must have a very experienced and highly trained staff.

We are very fortunate and proud to have staff members that are not only passionate about wine but have also received some sort of formal training in the industry as well.

Kaycee took classes through the UC Davis Viticulture and Enology program while getting her Bachelor's degree in California. She has been with EdenVale for almost 2 years and has worked in the wine industry for 5 years.

Kaycee writes our monthly articles in the LocalsGuide and uses her experience serving wine and education to make them as informative and approachable as possible. Misty has worked with us, both at Enoteca and EdenVale for over 5 years. While receiving her degree in Business Administration at SOU, she fell in love with the wine industry when she took the Wine Appreciation class with Lorne Razzano, a wine educator and founder of Ashland Wine Cellar. After working with several local wineries, Misty found her home with EdenVale where she oversees wine sales for the winery. Misty appreciates the artistry that goes into making wine and sharing her joy with everyone who gets to try EdenVale wines.
You mentioned the importance of the aging process in producing excellent wine. Can you help us understand more about this key principle?
EdenVale Winery is unique in that we are embracing the old-world winemaking tradition of providing barrel and bottle aged wines. Our Reserve red wines are aged in oak barrels for at least 2 years before they are bottled and aged another 4-6 years before they are released. Oak barrel aging allows for water to evaporate out of the wine to produce concentrated fruit flavors from the grapes and you will taste subtle toasted or smoky flavors in the wine from the oak. Bottle aging allows tannins to soften and the resulting wines taste incredibly smooth. The current vintage releases for Reserve red wines from EdenVale are 2005-2007. It takes a lot of patience and care to hold onto our bottles that long before letting guests sample and buy them but we've found that it is well worth the wait and makes our wines stand out.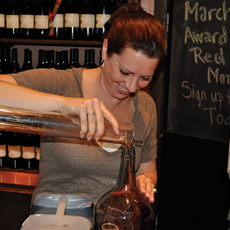 Tell us about your summertime Sangria Growler fills. I thought growlers were just for beer!
We are so excited about the success of the wine growler program at EdenVale! In the spring of 2013, Oregon passed a law allowing wineries to sell wine by the ounce in re-sealable containers, called growlers, for customers to take to-go. In the past, only breweries were allowed to sell beer in this form. This new legislation allows wineries to provide wine at a more affordable price for the customer since the winery is not paying for the cost of labor and materials to bottle and label their product. EdenVale welcomed the wine growler program by providing Sangria on tap for growler fills. Our winemaker Ashley makes EdenVale's Sangria by blending a fruity red wine with blueberries, blackberries, oranges and peaches. It is a delicious red wine cocktail that has been well received for the past few years. Guests can get their growler filled with Sangria for just 50 cents an ounce at Enoteca. We sell growlers of various sizes but guests are welcome to bring in any re-sealable container for fills like a Hydro-Flask, Nalgene water bottle, or mason jar; even a growler you've purchased from another winery or brewery.
You've got a full calendar of great events at Enoteca. What's on the schedule this month?
Beyond daily wine tasting and bottle sales, Enoteca offers weekly events to cater to a variety of entertainment preferences. We host a Spaghetti Game Night every Wednesday that includes complimentary pasta with any wine purchase and board games provided by Ashland's FunAgain Games! It's the perfect way to spend a friendly night of competition with friends and family with dinner and drinks taken care of! Ladies' Night is every Thursday, where we feature a select glass of EdenVale wine for just $5 a glass and give out a complimentary appetizer to accompany the wine. We have live music every Friday from 7-9pm and offer special food and wine pairings on the weekends.

One of our favorite regular events is the Ashland First Friday Art Walk. As proud members of the Ashland Gallery Association we participate in this monthly event hosted throughout Ashland every first Friday of the month from 5-8pm. At Enoteca we invite one of our local artisans to sample their products for the event and we provide a free wine pairing to match the food samples. We also have live music and a meet and greet with our featured artist. It is a lively event that all of Ashland takes part in and we look forward to it every month!
Your space feels like such an escape from the busy-ness of daily life. What other opportunities do you have for use of the beautiful space?
We welcome guests to consider Enoteca for their special events. The beautiful space is perfect for any type of celebration. We love hosting birthday parties, networking events, corporate meetings, and all types of celebrations here. You can reserve the whole venue or just the upstairs lounge for your event and we can provide formal dining or a cocktail reception with wine, food and live music.

We are lucky to be located right next to a couple of great restaurants like Loft and Granite Taphouse who have provided the catering for a number of events at Enoteca.
Learn More:
Enoteca Bistro & Wine Bar
17 N. Main St. Ashland
www.edenvalleyorchards.com
541-482-3377