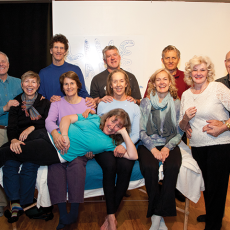 After 19 years as a massage therapist and educator specializing in pregnancy and infant massage, JoAnn Lewis felt that our community could benefit from the home use of the healing power of touch. She believes that we can all strengthen our relationships, health, and general well being through the basic skills of massage. With this goal in mind, she created the Family Massage Education Center, now in its 4th year of business providing education in positive, nurturing touch to improve health and wellness by learning massage for good communication and care. JoAnn has a firm belief that massage is truly for everyone and is an essential part of a healthy lifestyle. I spoke with JoAnn recently to learn more about this unique resource available to our community and the important role massage can play in wellness for all.
Thanks for talking with us today JoAnn. Your career as a massage therapist and educator led you straight to the creation of this one-of-a-kind resource center. What need do you see that is being filled?
When I was training with the International Association of Infant Massage in 1997, I quickly discovered that parent/baby massage is common in other countries and that we have lost this valuable tradition in many western countries. And I noticed that many families who learn it discover the important communication skill that develops in this practice of understanding their child and themselves. They also comment routinely on how much easier it is to know what their baby needs and how to respond quickly and easily, how much calmer and confident they are and so is baby!

Many parents tell me that they wish they had been massaged as babies or that they wished they had learned it sooner for older children in the family even though they can utilize it at any age. And so I thought every age should have the same chance to learn massage for their loved ones.
What are your personal specialties?
The oldest traditional massage I have been able to find and learn is from Tibet. Tibetan massage is easy, effortless and yet skillfully done. Massage exists in all ancient cultures from Shiatsu to Swedish. Craniosacral and Hot Stone, as well as QiGong and other types of bodywork, I enjoy sharing all the techniques the world has to give for all conditions and ages. I find that young and elders alike need and enjoy massage. It is an ageless wonder and necessary for prenatal and postnatal health for women, babies and men. It is truly for everyone. And it is always a privilege and honor to give someone his or her first therapeutic massage and to hear them say, "Why did I wait so long?" or "I wish I had done this a long time ago!"

What have you found as you have experienced massage in cultures around the world?

Even though there are different types of massage for different lifestyles, baby massage is essentially the same around the world. The International Association of Infant Massage (www.iaim.net) has chapters and/or contacts in over 40 countries around the world and yet there are countries such as India and some Asian and African cultures where massage is part of traditional daily care like eating, sleeping or bathing in traditional ways. I believe positive touch with massage as humans is on more of an instinctual level. We all know it to some extent, whether it is just to shake hands in greeting or to give a hug or to touch with respect and permission, care and love. We know this is essential to community and to loving and caring for one another. Touch is the first form of communication, the first sense to develop, the last to leave us, and the most essential bonding process in society. It is not only to grow strong, healthy bodies, but a strong healthy society who will compassionately help and support each other.
Talk to us about touch. Why is it so important?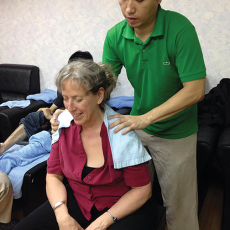 The Touch Research Center at the University of Miami and many experts such as Doctors Brazelton, Klaus and Field have been showing us in research about massage that the benefits are many to all systems of the body, both physical and emotional. The stimulation of immunity, muscular strength, balance, coordination and circulation is endless.

But you know, even Hypocrites, often called the Father of Modern Medicine said, "The expert physician will assuredly be adept at rubbing, for rubbing will bind a joint that is too loose and loosen a joint that is too rigid." There is no machine that will substitute or come close to the work of the human hands for us and for repair and relief for the human body. Massage is a cumulative, progressive form of exercise that moves the body in multiple directions that no other form of exercise can do.
Tell us more about the importance of bonding and attachment through massage.
We can literally live longer without food than without human touch. This is so amazing as we realize that babies who are not touched, carried, held (loved) and massaged, especially in the first year simply don't do as well in socialization, health scales and in life as those who do get massaged. And further, babies who are left to cry when physical or emotional needs are not met, do not learn to trust others or themselves and often develop physical ailments later in life as a result. The fundamentals of bonding and trust in our world and all elements of the senses are developed through massage for infants.
What do people find when they come to your classes?
Whether it is the Singles Massage Class, Couples Class, Pregnant Partners or Parent-Baby, all of our classes are relaxed, comfortable and easy to learn. We create a safe, casual atmosphere with people coming in layers of clothing to stretch such as shorts and t-shirts, to use our massage tables with sheets and blankets in comfort. We take turns to demonstrate and practice the basic strokes, balance body mechanics and develop touch-respect for each other. I have couples like Susan and Michael who came to class each week for 3 months as their "date night" and became very good at it. And there was Brigid and Eliot who took what they learned home to their 6 year old and now they all enjoy an easier bedtime routine and longer, deeper sleep! There are so many benefits; it's a lot to list!!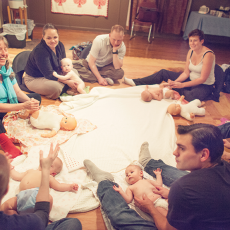 Who do you typically attract to the FMEC?
Massage classes help people tune in to body awareness and the need to utilize massage therapists on a regular basis for their health as the most important part of their health budget. I think that making this a priority is so wise, as I have done the same for myself and have certainly known the benefits of staying healthy. This crosses all socio-economic backgrounds. We do support sliding scale and scholarship work exchange so finances can be supported for any and all to be able to take this learning and "rub" with it!
You have mentioned the usefulness of massage as an important part of preventative or complementary health care. What do you see as the possibilities for this resource in our community?
Honestly, I've always known since my mother's first loving strokes and many great backrubs that massage is preventative or simply wellness care. I see it clearly as traditional, first response, daily care and so much more than "complementary." Complementary to what? Drugs, I suppose which are secondary at best…come on! Positive touch is a basic human need. So let's call it what it is: "Massage is Traditional Healthcare." Simple and true; and as simple as a hug can tell us. We benefit from learning the techniques, the body systems that benefit both the giver and receiver. Few other things save eating, sleeping and other important good habits, can do the same.
I would imagine that you've gathered some talented professionals to assist you. Would you please introduce us to your team?
It is a long list and at present, you will find Kim Wolforth and Willow Humphrey, both knowledgeable in massage, at the office to answer class questions and take your registration. Karen Scheer, LMT, Anna Humphreys, Doula, Nancy Vanderford, Educator, Luca Moschini, QiGong Instuctor and several other instructors who teach specialty classes for lay people and professionals are available at FMEC, the Family Massage Education Center.
I can see the way that classes would work well for an adult couple or parent and child, how does this work for a single person who might be intimidated by showing up for a class alone?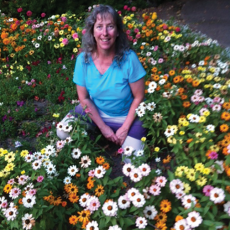 Singles will feel more at ease with choices in fully clothed massage, partner switching, a smaller class size, and a safe, comforting atmosphere at FMEC. We really check in and make sure people are comfortable with every class. Most people come to learn and also they may wish to help someone who can't come to class or lives away.  There are any number of reasons that make it important to them to attend alone.
Is this really for everyone? Doesn't massage therapy require strength and skill?
I do want to be clear that we teach a basic massage routine for home health, which is different from therapy. Massage Therapy requires extensive medical training to be a Massage Therapist with licensure in Oregon, which is way beyond what we are teaching. However, most people will say that they learn enough to know better when they need to go to their Massage Therapist and make more regular healthcare with them, which is why I really enjoy referrals from Massage Therapists because I know they will have more educated clients/patients who will use them with more frequency. And I have seen many Massage Therapists in my classes with their loved ones to enjoy a refresher as a loved one and no pressure as a therapist. They get to leave their "hat" at the door!
What do you have coming up at the FMEC? How can readers find out more?
Visiting our website at www.HelloFMEC.com will show all our current classes under the Class Schedules tab. In a Google calendar, press on a class for a pop-up description, details and costs. Or just call us, as we love to hear actual voices and real-time dialogues. There are all the regular classes PLUS a NEW Drop-In Friday night class for Couples or Singles on select Fridays (check the calendar schedule) for those who want a quick overview or a refresher for past students. We also have a Reflexology Class on select Sundays monthly called "Happy Hands and Feet" which includes an awesome footsoak! Coming up soon are Pre-to-Post Natal Certification for LMTs, RNs, and any medical professionals too, as we do have some pro continuing education specialty courses. If you want our monthly NEWSletter with tips and discounts, please LIKE our page and follow us on Facebook, Twitter, Linked-in, or anywhere you like. Let us know what works for you!!!
Learn More:
FMEC, Family Massage Education Center
541-482-3567
www.HelloFMEC.com
www.facebook.com/FamilyMassageEducationCenter