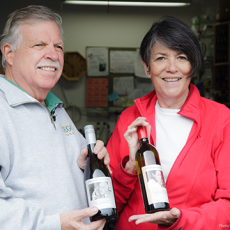 It doesn't take long in talking with Gill Anderson to understand why people love his wine. The high quality and unique flavors in Platt Anderson Cellars' superior product is second only to the depth and strength of the community connections Gill Anderson and his wife Shelby Platt have established in a very short period of time here in Ashland. 
Settling into their golden years here in Southern Oregon, Gill and Shelby are opting for a more active and productive version of retirement.   In opening Ashland's first urban winery in 2013 and their astounding generosity to local non-profit organizations serving children and the arts, they have paved the way for great things for the Rogue Valley community.  Although it wasn't easy to pin down this mover and shaker, we had the good fortune to chat with Gill between dog training sessions and Volunteer Police Department shifts to hear about how Shelby, Gill, and Platt Anderson Cellars are making Ashland their home.
Thanks so much for taking the time to speak with us today Gill.  You are one busy man!
Thank you. Yes we are busy, but it is an enjoyable type of busy. These range from working in the winery, to community service and volunteering for our causes that we support. Shelby has a passion for children and the theatre. She is busy with being a cuddler in the NICU at Rogue Regional Medical Center to volunteering at The Boys and Girls Club in Talent.
It impossible not to notice the incredible connections you have made here in the community in a very short period of time. 
Having come from a big city, Seattle, it is difficult to become very involved with such a large community. But, here in Ashland it is completely different; there is something magical about the people and this city. Ashland reaches out to you and wants you to become part of her family. Just look around the city and you can see so many people doing things out of the goodness of their hearts.
And the organizations that you support are quite meaningful to you and Shelby.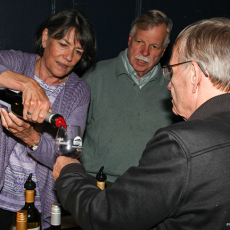 The organizations that we support deal with children, the arts including theatre and the entertainment sector. Shelby comes from a family of show people, as she prefers to say. So therefore we are very involved with OSF, Camelot Theatre, Thanks for the Memories Theatre, ANFP, Live@The Armory, SOFAM and KSKQ where I have a radio show about wine. By belonging to the Elks and Ashland Rotary of Lithia Springs I can become involved in education by way of mentoring and scholarship. Both organizations are deeply involved in charitable contributions that directly help out our youth through vocational, theatrical and higher education.
You are a big supporter of the arts.  Has this always been true?
Living in Seattle we certainly enjoyed the arts, but not to the extent that we do here in Ashland. As I mentioned earlier, Shelby came from a family of entertainers and it is still very important in her family. Having a winery has opened doors to us in supporting the arts through donations, contributions and fundraisers. We are very proud of the fact that we are the Wine Sponsors for all of the musicals at Camelot Theatre for 2015. I even designed labels for them and each show our support. It is very personal to us to be so involved in this facet of Ashland.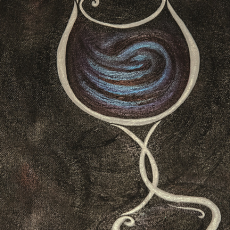 Relationships are important to you.  Tell us about this philosophy.
Relationships are important to us from the professional and personal standpoint. Being a winemaker does make it somewhat easier to develop these relationships. The wine community is a very wonderful group of people that are always there to help, from giving guidance, loaning of equipment and working to improve the quality of wine in Southern Oregon. After all, we all benefit from the spirit of working together. My philosophy is, "Live each day as your last because one day it will be, all the while having fun."
You really love what you do Gill.
Retirement has allowed me to do things I never have dreamed when I was working full time in medicine as an OB/GYN. It has let me go to Wine School, stay on as an instructor, work in many different sized wineries and start my own little family winery. Platt Anderson Cellars is a family run winery that produces about 300 cases of wine. I enjoy seeing the response that people have when they taste my wines at events and First Friday Art Walk. I get great satisfaction from the delight that people and organizations derive from our support.
Establishing the city's first urban winery was no small feat.  What was that experience like for you?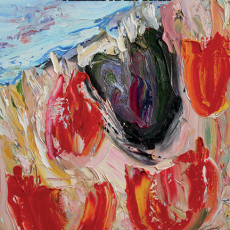 Being the first urban or city winery in Ashland took a lot work and support. The city agencies were all supportive, but wanted to be sure that I was following the rules. However, exceptions were made because we are small and a "garage" winery. In some aspects they did not know what to do with me. I had a huge amount of support from the wine community here in Southern Oregon from Roseburg to Ashland. I must say that the OLCC was very helpful in guiding through the maze of legal paperwork that the State of Oregon and the OLCC requires.
And you've even got Southern Oregon's first wine-related radio show on KSKQ.
Yes, the people at KSKQ 89.5 FM have helped me have the first wine related show in the Valley. We play music; talk about what is happening during each growing season and what is happening in the winery. The support has been amazing from local wine makers; vineyard owners, to Greg Jones from SOU, the culinary and retail wine trade. We also try to tell listeners about what events and theatre plays are occurring, including Galleries and First Friday. I have to publicly thank Holly Adams who is my co-host and mentor at KSKQ. I don't know if you are aware that the entire staff is made up of volunteers.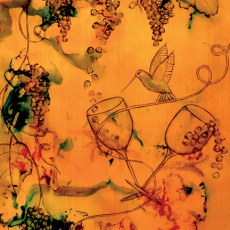 Did you know that going back to school to study winemaking would be how you spent your retirement?
In visiting many wineries and tasting rooms over the years I felt there was some form of magic happening. I wanted to explore it, and enrolling in Wine School allowed to follow that passion. This path to Southern Oregon and the wine community has made my choice after retirement an enjoyable and rewarding experience.
Platt Anderson Cellars is literally a family affair.
Yes! Platt Anderson Cellars is a family affair with Shelby, my brother-in-law, Jeff Platt and many close friends. I have several friends that routinely help me with wine tastings, First Fridays and Events in the Rogue Valley. I do not have a tasting room, at this time, and therefore rely heavily on exposure by doing as many events as possible. We are always looking for people to come and help us and become exposed to this field. Bottling is one of the most fun events at our house, we get as many volunteers as we can, bottle the wine and have fun, much like a graduation of the wine from bulk status to bottle. Always lots of food and of course, wine that we are bottling.
Where can your wines be found?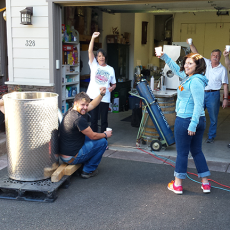 Our wines can be found in retail stores that are local in nature (not the big national chains) and the wine stewards are familiar with our wines. We have expanded into the Bed and Breakfasts located in Ashland as well as the theatre donations to help out the small theatres in the Valley. My wines can also be purchased online at www.ashlandwine.net or readers can simply call or email.
What are some of your favorite varietals?
Our house is a mixed wine family with Shelby preferring Red wines and myself White wines. Her favorite varietals are Malbec, Tempranillo, Cabernet Sauvignon and Merlot. My favorite varietals are Albarino, Sauvignon Blanc, Chardonnay and Chenin Blanc. But, really you should drink what you like, and we switch at times.
I hear you actually deliver to local customers who buy online….on your bicycle!
One of the benefits of living in a small town is the ability to commute on other modes of transportation than a car or truck. To local Ashland customers I deliver on my electric assist bicycle or my scooter. In the hilly areas of Ashland I need to use my truck. I feel that by delivering our wines to our customers we are providing a personal touch and friendliness you don't get at the grocery store, wine shop or tasting room. Delivering gives me the opportunity to know our customers and spend time talking to them.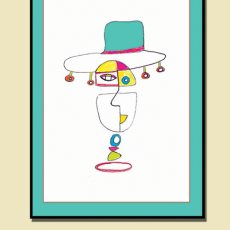 What advice do you have for new winemakers looking to break into the business?
New winemakers wanting to start a winery need to get to know not only the wine community, but also the local community. They need to establish relationships in the area because people need to get behind you before they can support your product. The best way to do this is to get involved in your local community, establish relationships and be honest with yourself and those around you. If you are passionate about what you are doing, then they will become part of what you are doing. Take a good look at what is going on in the wine industry, look at your local region and also open your mind and see what is not happening. That way you can make it happen.
Anything else you'd like readers to know?
I would love to have the readers know Shelby and me and what values we possess. Wine making and having a winery have been a vehicle for us to become a part of the community of Ashland. We love living in the Valley and want to see Ashland expand beyond its boundaries by becoming a destination area for recreation, culinary and wine exposure, and of course the theatre that abounds in this Valley. I would love to see tasting rooms in Ashland prosper and this would encourage tourism and the local economy.
Learn More:
Platt Anderson Cellars