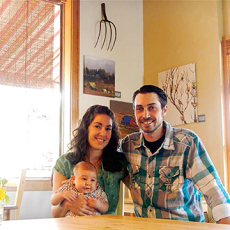 With an emphasis on elegant simplicity Harvest Restaurant opened June of 2014 in Talent and has been attracting Rogue Valley diners who appreciate a farm to table experience. When owners John and Ruby Biles moved to Southern Oregon from Wyoming six years ago seeking a better quality of life, they were drawn to the excitement and potential that comes from a unique combination of rich farmland, fine wines and natural beauty that so many appreciate in the Rogue Valley. The simple yet sophisticated menu changes frequently at Harvest as new crops become available. John collaborates with local farmers and food producers to create delicious dishes inspired by the seasons. If you haven't stopped in yet, you will want to soon. Read on to learn more about Talent's Harvest Restaurant.
What inspired you to create Harvest?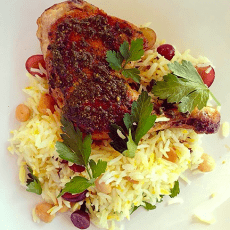 My wife and I have been working in the food industry for several years in various venues across the country. Our experiences instilled an appreciation of the simple things in life, which we continue to nurture. We have learned though our time spent homesteading and cultivating the land to embrace its bounty and to do more with less. Harvest was created from this love of quality food and heirloom technique. We wanted to build a community restaurant with an emphasis on the originality of American culture; international flavors with rustic, country elegance.
What makes dining at Harvest unique?
Harvest is classy yet casual. An old gas station was converted into this small restaurant in downtown Talent and it really embodies the feelings experienced while dining at an American craft kitchen. The dining room, although small, is adorned with vintage agricultural tools and natural photography. Wooden tables and chairs compliment the glassware shelving I built from old peach boxes used for years here in Talent. The décor softens the exhibition-style kitchen where diners can watch, smell and hear their food being prepared. The atmosphere is enhanced by an eclectic blend of music, sometimes performed live.
Our storage is very limited, which forces us to constantly bring in fresh food, of which we make almost everything from scratch including our pasta, falafel, breads, fermented foods, cured meats, and even some cheeses. Most of our produce is delivered direct from local organic farmers, or acquired at the grower's market. We have a very intimate relationship with the food and are constantly pushing ourselves to try new methods and prepare things in a traditional way many would consider to be "challenging" simply because we feel it's well worth the effort.
Can you tell us about some of your signature creations?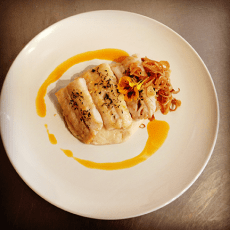 Our seasonal pastas are uniquely wholesome dishes that we have a lot of fun coming up with. We made our own ramen noodles not long ago and that was a first for me: definitely difficult, but delicious. Our baby-back ribs are a customer favorite but, personally, my favorite dish is our falafel served on flatbread grilled to order. It's hard to find good falafel around here and I am glad we have kept this on the menu since we opened. Ruby makes our desserts (among everything else she does) and they are an exquisite final impression.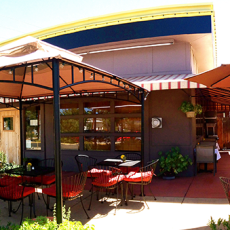 You put a great deal of effort into creating your menu.
Some might see the creative processes in creating a seasonal menu as daunting, yet for me it makes much more sense. Food is best when in season and few things grow year-round in the Rogue Valley. It really takes a lot of conversation with our favorite farmers to plan out the next change. Wandering Roots, Barking Moon, Chickadee, Abbie Lane and Blue Fox are just a few of our local producers we have this kind of relationship with. Typically a dish is inspired by the produce first, what sounds appetizing this time of the year, then we factor in how we can make it all without having to purchase something processed. Many of our concepts don't end up working out at the first try, but collaborative efforts from an experienced staff bring the final vision to fruition.
What vision do you have for Harvest in the future?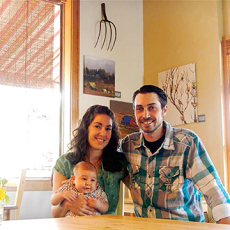 Despite our present efforts, I would like to further the working relationship with our local farmers. Having specific farms planting obscure or esoteric produce for our use in the upcoming seasons is something I was able to cultivate in Southern California and will definitely acquire here soon. I would also like to be able to do more foraging for our foods here. Unfortunately, my extra time is very limited. It would be an immense benefit for everyone in the valley if we had a local meat processing facility again. There is so much wonderful livestock being raised here but it is difficult to provide a fair price-point for meat that has to travel so far north for inspection.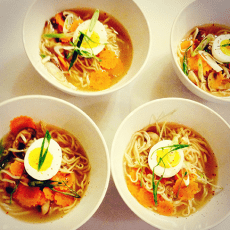 What can readers look forward to this summer at Harvest?
This summer will definitely be a lot of fun with comfortable al-fresco dining on the patio. We will be bringing in some new musicians this year to entertain our guests. The Camelot Theatre right across the street is a great way to make the evening complete. We are already seeing an increase in business from last year and since our seating is so limited we definitely recommend making reservations for dinner.
Testimonials:
While traveling south, we dined here. It is an intimate venue with original, fine tasting foods. This is one of the top dining experiences I have had. We sampled several menu items and all were fresh, local and exquisitely prepared. The staff was relaxed, friendly and competent. All in all: perfect. Treat yourself to a meal at The Harvest. – Janine B.
We live in Talent and we couldn't be happier to have this neighborhood eatery so close. The young owners are obviously passionate about food (and very warm people, they have come to the table to chat a couple different times) and they deliver an exceptional dining experience… they serve up the best food in the valley, in our opinion. At our last visit my husband savored his house-made ravioli, while our daughter and I loved the roasted cauliflower with dates and almonds. I look forward to visiting when the menu changes again. The baby back ribs we had last summer were divine! – Jenica F.
I can't even describe how perfect this meal was for my boyfriend and me. We are both, admittedly, spoiled, picky, nuanced eaters that live in LA and SF, respectively. We stayed a night in Talent while driving back to SF on the last night of our Pacific NW road trip.
We had a lot of amazing food. But this place! To our almost jaded palates, this meal stands out. We only ordered two dishes (had been eating a lot on the trip!): a salad with roasted squash and homemade fettuccine pasta. Both were incredible: fresh, flavorful, inventive, warm, light but filling. The quality of the dishes undoubtedly comes from ingredients lovingly grown and lovingly cooked.
Plus, the place seems to be owned by young people who are passionate about food. Perfect! The chef came out and served us himself. Our waitress was very sweet. AND, what a value!
Come support this amazing local restaurant. I wish we lived closer! – Elaine L.  
Learn More:
Harvest Restaurant
102 Talent Ave
www.harvestrestaurantoregon.com
541-778-6962
Tuesday- Saturday
11:30am-2:30pm & 5:00pm-9:00pm