If you love complex, super-healthy smoothies and are keen about living a healthy lifestyle, stop by HeartSong Nutrition. Located in the Gateway Shopping Center next to Market of Choice, HeartSong Nutrition is locally owned by Jim, Anyas, and their son, Sunji Spencer. Now celebrating their sixth year in business, the team has worked hard to bring Ashland a wide variety of health care products, healthy, no-added-sugar smoothies, and current product information. Health industry veterans, both Jim and Anyas have owned 6 health food stores in Alaska, and have spent more than twenty years researching and educating clients on the benefits of natural products and healthy living.
 Hi Jim, thanks so much for taking the time today to catch up with us. Please tell us what is new at HeartSong Nutrition.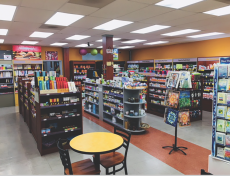 We are increasing the size of our raw juice production area. We now produce raw carrot, beet, apple, cucumber, tumeric, and ginger juices. We serve them in an Eco Cup and Eco Straw. All of our raw juices are organic and pressed to order using our centrifugal juicer. We went this way over the cold pressed method because we wanted to keep the fiber in the juices.
Jim, you have a huge passion for studying and learning about health and nutrition. What have some of your recent studies been focused on?
We had 6 GNC stores in Alaska over the last 20 years. GNC was a good nutritional and supplement teacher for us. We stay current on supplement research and knowledge. Life Extension is one of our favorite companies because they have top flight scientists and share the latest nutrition information. Product selection is important because there are hundreds of manufacturers out there. Raw material sourcing, organic, and GMP production are important considerations, along with preservation methods for product efficacy and potency. There is so much natural health information out there. It requires constant study to learn and stay on top of the nutrition field.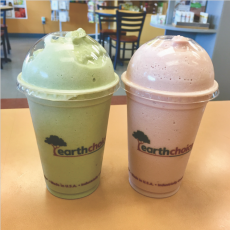 Jim, HeartSong has been organized and created in a very organized way. Will you please give us an overview and tour of how you have the stored laid out?
We lay out the store according to health categories. Because the product lines are so daunting, we select products that are multi-use when possible and carry only the most effective lines. In our "Oil" section, we source Cold Pressed plant oils where possible and manage their freshness.
HeartSong has a Smoothie Bar, right?
Yes, we do smoothies and some raw juices. Raw juices are good for rapid energy and cleanses. But smoothies are great for being nutrient dense. We have a lot of supplement add-ins for our smoothies. The idea is to be low sugar, high fiber, with a variety of nutrients that makes the smoothies taste delicious, yet supply the daily nutritional requirements for protein, healthy fat, fiber, vitamins, and minerals.

Our smoothies are low sugar, no GMO's, no Corn Syrup, and organic where possible. We use filtered water and organic nut and seed (non-dairy) milks so that we can be vegan and dairy free. They taste great and we have a strong core base of customers.
What are some of your top selling and personal favorite smoothies you like to recommend?
The Green Balance is our top selling green drink. The Chocolate Elvis is our top Peanut Butter-High Protein smoothie. The Surge is great. It has your choice of fruit, protein, a banana, and your choice of milk. I like the Mango Surge and Kid's like the Strawberry Surge.  All of our smoothies come in 20oz. and Kid's size of 14oz., and everyone can get a Kid's size.
What is your healthiest smoothie? 
That would be our Super Green Monster. There are Blackberries, Blueberries, Strawberries, Acai Berries, Protein, Vitamineral Green and Vitamineral Earth, 10 Medicinal Mushrooms, Kale, Spinach, and Avocado Powder, our best plant-based Multi-Vitamin, Hemp Oil and Flax Seed Oil, in a base of Coconut or Almond Milk. This one will keep you going all day and is a super energy drink.
Jim and Anyas, HeartSong is driven by a special mission to serve our community will you please say more.
HeartSong has its own Homeless Program. We serve occasional transient citizens with a nutritious smoothie and a kind word. Our customers donate to the fund, which is used 100% to pass along their generosity. We have a Meditation and Prayer Room that is open to the public at no charge for non-profits to use or for people that just need a moment of inner peace. Several groups hold meetings in the room.
Stress management is a huge issue for our culture what are some suggestions you have to make relating to this issue?
In our modern, industrial environment, with higher levels of population density, the stress reaction to living goes up. This places pressure on our Adrenal Glands and often disturbs our natural body rhythms, resulting in insomnia, nervousness, and depression. Mental stress can be more debilitating that physical stress because it becomes chronic and therefore can cause more physical harm to bodily systems. Chronic stress can harm all of your body systems. Methods to calm the mind are important, such as meditation, and supplements that promote calming neurotransmitters.
Jim you are continually having the opportunity to speak with customers. What are some of the frequent topics you are helping individuals with?
The common problem that 70% of the population is faced with is a compromised metabolism. The Standard American Diet (SAD) is high in carbohydrates (sugar) and low in healthy fats. Our foods are laden with chemicals and preservatives, which can lead to disease states. Weight control is the result and is the major topic. But most people don't understand how to fix it and are addicted to carbohydrates and have autoimmune disorders. But the solution is easy and doesn't involve diets, only food choices.
Where do you see HeartSong excelling in fulfilling a need within our community?
At HeartSong, we have an environment that encourages Mind, Body, and Spirit nurturing through meditation and proper nutrition by making good food choices and food supplements.
How about your team?
We are a family business. We all manage, make sales, and make smoothies. Jim specializes in general supplement sales. Anyas specializes in Women's Special Products and Sunji specializes in Sports Nutrition Products.
HeartSong offers a great collection of books and educational resources. Please tell us more.
We have a small new and used book section covering health and spiritual subject matter.
Are there any last thoughts or comments you would like to share with our readers?
We love Ashland because it represents a small community with people searching for higher value living. Ashland can be a leader in the progress of  societies to embrace the community of humans living together on a small planet out in the Milky Way Galaxy. Growing together, we can increase our light of love and compassion.
Learn More:
HeartSong Nutrition
1461 Siskiyou Blvd
Tel: 708-0745