Interviews
Home State BBQ – Christian & Rachelle Canady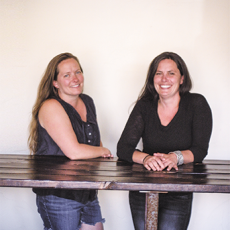 With just under six months under its belt, Home State BBQ it holding its own as Ashland's hottest new restaurant appealing to families and foodies alike. With a menu full of melt-in-your-mouth BBQ favorites and an impressive list of accompanying sides and salads made with the highest quality ingredients and made from scratch daily, Home State BBQ is sure to satisfy.
Sisters and co-owners Rachelle and Christian Canady set out to create a place that, "We would want to hang out ourselves." And they seem to have accomplished that goal readily. Rachelle and Christian have created a warm and funky atmosphere, and are proud to host live music several nights a week as well as an impressive list of local beer and wines. Haven't been? Go.
Thanks for talking with us today ladies. How are things going now that Home State BBQ has been open a few months?
Owning a restaurant is challenging for sure, but we are very happy with the way things are shaping up. We have a great staff, the location is perfect and now that we are headed into the winter months, we have some time to work on new recipes, plan events and get to know our customers!
Have you done anything like this before?
This is our first restaurant and our first major business endeavor together. We are fortunate to have some very complimentary skills and to share some skills as well. Rachelle has been managing a restaurant for the last six years and I have been working with restaurant owners in Portland as part of my consulting business. We both have over ten years of bookkeeping experience and have worked with many small businesses in Portland & Ashland. Obviously we are close friends, and while working with family presents its challenges, we work great together and consider our connection a major asset!
Why here? Why now?
We have been playing with the idea of starting a restaurant over the last couple of years, but we knew the location would be extremely important. When the location on E. Main presented itself, we jumped on it. By that point we had already decided that Ashland needed more comfort food and a place with a real local, down-to-earth feel. BBQ fills that need. While we have been in Oregon most of our adult lives, we have never really lost our love for Colorado and still feel it is our Home State, so we wanted a place that reflected that!
Tell us more about that BBQ culture.
BBQ culture is built around community, tradition and just great tasting meat. It is pretty distinctly American, and state by state, you will find BBQ morphs to represent the community it inhabits. It is really fun to smoke meat, serve fat saucy ribs and rich brisket! People love the smell, the simplicity and the flavor of BBQ, and we are super happy to fill this niche.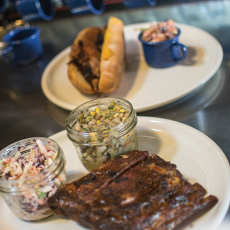 And the food is amazing! Tell us about your BBQ process.
The food has been a truly collaborative process. Meat is mostly Sam Butcher's area, our amazing pit boss, but he has been so gracious to let us weigh in and work with him. We use a special house rub for the pork and brisket. Brisket is smoked for 12 hours which ensures that it melts on the tongue. Our ribs are St. Louis style and we run them through a detailed process of smoke, steam and grill to make them work. Salads are really Rachelle's passion, so the Boss salad changes up regularly as she attempts to outdo herself (hard to do!) Meat is all natural, antibiotic/hormone free and, as much as possible, the produce is organic! We are currently working on bringing in a great cornbread and some house-made pickles!
Tell us about your staff. Is your head chef really named Butcher?
Yes, our pit boss' name is Sam Butcher – and in another great coincidence, he also comes from Colorado! Right now we work with some great "kids" that we really appreciate for their tenacity and patience while we work things out and learn the ropes. We are super proud of our people and look forward to building a solid, happy staff!
Tell us about your Home State.
Colorado is amazing! Beautiful and inspiring in every way. We grew up spending weekends running around the backcountry with mom and dad and 3 younger siblings. All that high altitude air and those snowy winters really made us adventurous and a little nuts – obviously: We opened a restaurant!!
What's your favorite item currently on the menu?
Generally the brisket, though sometimes you just gotta have some ribs!
Your desserts come in jars! What are you offering up this month?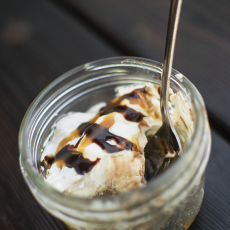 Pumpkin pie will be coming on this weekend! The pecan pie is going to be a staple item on the menu as lots of folks come in just for that. Whiskey chocolate cake, banana pudding, crisps, cobblers – it is AMAZING what you can bake in a mason jar!
Anything for readers to look forward to this winter at Home State BBQ?
We are working on enclosing the deck, but it might be a bit. Specials during the Bronco's games, a crafts & craft beer night for anyone who wants to hang out, drink beer and knit or felt or whatever. All Ages Open Mic! Delivery?!? Calendar will be out by Thanksgiving!
You have mentioned that you are both really interested in supporting the community. Tell us about that.
We love being a place where locals feel welcome. Local teams come hang out after games (traveling teams too sometimes!) and that is definitely our kind of "scene." While Colorado will always be our Home State, clearly Southern Oregon is home! We have already and look forward to giving back by donating food and sales percentages to local organizations like KS Wild, the Public Schools, the Daedalus Project, etc.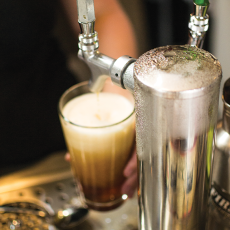 Are you partnering with any local businesses to bring local products to your customers?
Mix's bakery has done a great job with our brioche and Sammy rolls. We are so grateful for their hard work and dedication to quality. We also have a close relationship to Swing Tree Brewing as we share a love for craft beer and are excited to support them as they grow and get to a point where they can supply Ashland with quality FRESH beer! They are in the middle of Kickstarter project to raise cash in order to expand their brewery! Check it out and support local beer!
What are your customers saying about Home State BBQ?
Man – we have had some great reviews and feedback. So cool! Ian Hand gave us a great review in the Mail Tribune and our customers regularly stop to thank us on their way out (that's the best!) One customer stopped Sam, the pit boss, to give him a hug after downing a plate of ribs. Highest compliment ever!
Anything else you'd like our readers to know?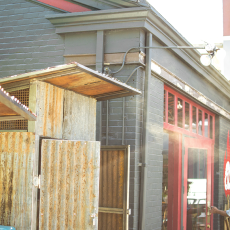 We are super thankful for all the support and look forward to getting to know our local customers over the winter. We hope that SOU students find their way down the road to us more and more so we can stoke the students. We offer a 15% discount to any SOU staff or student (bring ID) and an OSF discount. Happy hour every weekday from 3 to 5 and ongoing specials. Our goal is to be full of well worn seats, laughter and appreciation for great beer and BBQ!
Learn More:
Home State BBQ
376 E. Main St., Ashland
541-690-7621