Interviews
Illume Aesthetics Southern Oregons Premier – Facial Aesthetics and Intimate Wellness Clinic
Illume Aesthetics offers Medspa services including laser treatments, botox and fillers, advanced aesthetics for facial and body treatments, intimate wellness treatments and much more to Ashland and surrounding areas. Illume Aesthetics takes pride in going above and beyond to work with all their clients which have put them in the top 5% of med spas nationally for 2020 and 2021. In today's interview, I spoke with local owners Jen Bullock, FNP and Ben Chew. 
Hi Jen, thanks so much for taking the time to speak with us today!
Thank you, I am excited about the opportunity to connect with our audience and your readers. 
Jen, I´d like to congratulate you and your husband Ben for the great work and accomplishment you have done with Illume. As I understand it correctly you are now in the top 5% of all med spas who sell Botox and Juvederm fillers?
Thank you! Yes, the past two year have been incredible. When Covid initially shut us down in March of 2020, it was scary and I wasn't sure if we would ever open back up. During the 8-week closure instead of just sitting and waiting, we went to work. We created a telehealth portal, became very active in Amspa, which is one of the largest med spa owners groups, and dialed in our offerings. We connected with our community online and when we opened back up we were met with incredible support. 
Jen, you and your team have worked hard to accomplish the success you are currently experiencing. Please take us behind the scenes to how this all works.
I have been blessed to attract a phenomenal team to help me build Illume. Every member brings something unique and special to the practice. It is rare to find people who have as much passion for serving our members as I do but we have that in every team member. We are committed to excellence in everything we do. We train with the best trainers, we all continuously grow and study, and we choose the best products and technology. Even more than that, we have built really beautiful relationships and provide exceptional results that keep our patients coming back. 
I am impressed and I can see how you go above and beyond to meet the needs of your customers. Please speak more about the customer experience you seek to create. 
Every relationship counts. We treasure our patients, they are the reason we exist and without them there would be no Illume Aesthetics. We strive to make sure that every experience a patient has with us exceeds their expectations. It's really important to us to overdeliver. 
Jen, can you please tell us about your services and specifically your non-surgical facelift procedure?
Yes! We specialize in facial aesthetics and women's intimate wellness. 
That encompasses a wide range of services from facials, to laser hair removal, vaginal rejuvenation, injectables like Botox and dermal fillers, and more advanced procedures such as skin resurfacing and non-surgical facelifts. We purchased a laser called Profound that is the only non-surgical skin tightening device that has been proven to increase collagen, elastin and hyaluronic acid in 100% of patients treated. It is about 30-40% as effective as a surgical procedure. I have developed a special technique that allows me to layer this treatment with CO2 skin resurfacing. With these treatment combinations we see tightening of the skin on the face and neck, chiseling of the jawline, reduction in fine lines and wrinkles, smoothing of the pores, and the removal of brown spots. This technique is so revolutionary that I was invited by the laser manufacturer to lecture on it at one of the Candela conferences this past year. This year we have been invited to be Key Opinion Leaders for the company as well. 
Jen, an amazing aspect of your business is that your customers travel from all around the country to work with you. Even clientele who have moved away from Ashland return to work with you. Please say more. 
It often surprises me when I hear how far some people come to see me. We do a pretty good job with our social media accounts and I have a Youtube channel that I use to educate. Some people find us through those avenues. Additionally, I have always been an early adopter of new technology and treatments. I train multiple times a year with celebrity injectors to learn the latest and greatest in anti-aging medicine and we offer some treatments that are unique and hard to find. Some patients find me when searching for a specific treatment and some people connect with us when they come to Ashand for a season. Once the relationship is established they come back 2-4 times a year for services.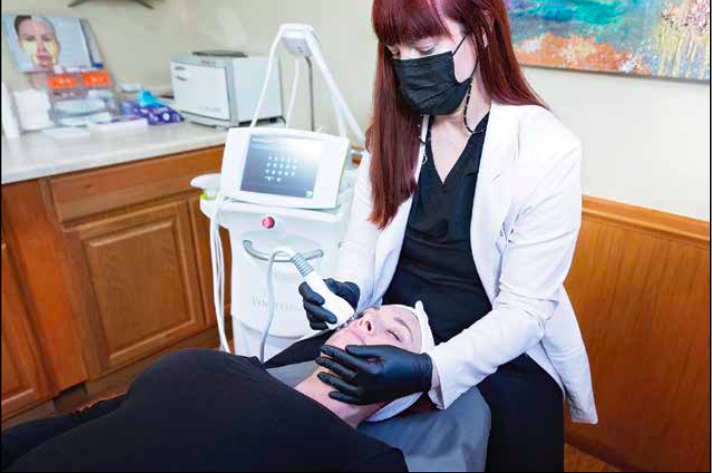 I´d love for you to tell us about the mission of your business.
Our mission is to impact the lives of as many women as possible who want to take an active role in how and when they age.
By making the Illume Method a part of their everyday lives with comprehensive long-term treatment plans, treating them with the most effective advanced procedures, and nourishing and maintaining their results with the highest-end aesthetician and skincare regimens.
We are changing the way aging affects women; making age truly just a number.
We will know we are successful when women everywhere believe that the old aging process is optional and that they can be in control with the Illume Method. 
You talk about the Illume Method and lifestyle. Please tell us more. 
It is a method I have developed over the years. I found that patients would come to me to ask about Botox or a skin treatment but that it wasn't really just about the Botox. It was bigger than that. Everyone who arrives at my door is experiencing the overall signs and symptoms of aging. Changes in skin texture and tone, fine lines and wrinkles, sagging yellowed skin and hollowing or dark circles and bags under the eyes. One off treatments aren't going to "solve" the problem. The aging process doesn't just stop once we try Botox or do a laser session. While the visual changes often bring people in, anti-aging isn't just about how we look. We all want to feel beautiful and feel good physically too. The Illume method combines education as the foundation along with laser treatments, injectables, medical grade skincare, prevention, and access to things like nutritional support, bioidentical hormone replacement therapy and nutritional IV infusions. 
You offer a nearly irresistible offer for your clientele to start working with you. Please tell us more and also please talk about your requirements for successful results with your patients. 
We are primarily membership-based. We know that patients who follow our recommendations have better results and are happier with their long-term outcomes. The membership provides our patients with access to some of the best prices in the industry while still seeing skilled providers. The coming year our focus will be on expanding our membership options. We currently have about 2000 patients but our goal is to shift so we have about 500 members that we serve exclusively. 
Tell us more about the Illume Membership.
Our entry-level membership offer is Access to our Botox club. New members get $100 of free Botox just for signing up. They get their units that bank up every month for $10 a unit and save on every other product and service we offer. They get first access to all manufacturer coupons and rebates, get a free gift every time they come in, and are given a free mini facial with skin care recommendations once a year. We hold monthly giveaways and when we host a training our members get first access to model opportunities which essentially gives them free or sharply discounted treatments that can have a value of up to $6000. 
Jen, what do your clients love about the Illume Experience? 
I make a point to know all of my patients. I meet with each person who comes through the practice and work with them to develop a long-term treatment plan. I love the building of relationships and especially with our members we really get to know them. They are part of our Illume family. 
We are consistently working to improve the experience with the goal to provide a white glove experience from the moment they call to the time they are seen. If we miss the mark, we use those experiences to improve. 
We have built a solid reputation around quality and service and we continue to get consistent referrals from our own clients as well as other physicians and aesthetic providers. 
Your company offers complimentary touch-ups for botox. Please say more.
There is no such thing as a guarantee in aesthetics. There are just too many variables that we can't control when a patient leaves. That said, I have always liked the idea of having all-inclusive offerings to help improve the overall experience and satisfaction. One way we do that is to offer complimentary touch ups for many of our injectables within 2-3 weeks of the initial injections. Most offices will charge an additional fee for that but we include it as part of our white glove experience. 
Talk about the investments you make in your business and the training you provide for your staff.
We believe that to be the best, you have to continually be becoming the person who can be the best. So we invest in education and host several advanced training sessions a year for our staff. We are always training because it's a key part of our mission that all our patients get the most advanced and best care and results. 
What are frequent comments you hear from your customers?
People often comment about how friendly the staff are. It's amazing how many people will just comment on the fact that we consistently answer our phone. It is funny that could be a thing but lots of places are hard to get a hold of. We make a goal to never miss a call when we are in the office. If we do, we will call you back. People comment on how cozy the office is and that they feel at home. We really do try to anticipate what our patients might want or need and provide that. We have a drink and snack station. We keep the bathroom stocked with all the things a person might need. I hear people comment on how great it is that we will reach out if we haven't seen someone and they are due for a treatment.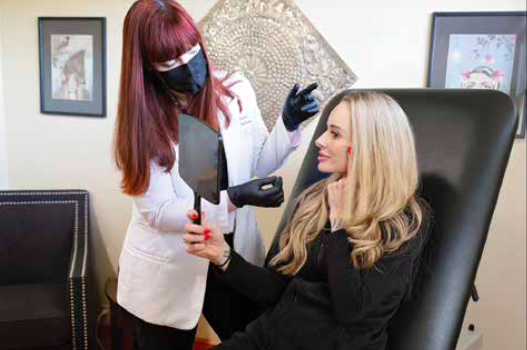 Finally, you allow your customers to securely and privately make reservations anytime. How is this done?
We have an encrypted secure text system that allows us to interact with clients at any time. We are all busy and it can be hard to get away to make a call. Through our system patients can make a request for an appointment, ask questions, send photos or just check in. 
Jen, thanks again for doing this interview with me. Are there any last comments you would like to share with our readers today?
I am really excited for the coming year. We are growing into a larger office which I am really excited about. The new space has allowed us to hire a couple new, gifted providers to join our practice. We purchased another new laser and we are set to start a training program. 
If any of your readers are curious about making the Illume Method™ a part of their lifestyle, I recommend they call my office and schedule a consultation. 
Learn More: 
Illume Aesthetics
993 Siskiyou Blvd, Suite 1, Ashland
www.illumeaesthetics.com
541-631-8387