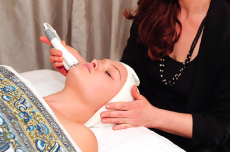 Illume Aesthetics is offering the latest technologies in advanced laser and medical aesthetics. Illume offers a wide range of services to enhance and compliment your natural radiance. Illume's friendly staff is highly trained holding both advanced medical and laser certifications. Medical director and owner Jennifer Bullock, FNP works within the spa and leads a team of expert certified nurses and advanced aestheticians to provide you the latest technologies available in non-invasive and minimally-invasive laser and medical aesthetics. Illume is located at 850 Siskiyou Boulevard at the corner of Beach and Siskiyou.
In today's interview I speak with Jennifer Bullock, FNP to learn more about her vision for Illume.
Jennifer, thank you very much for speaking with us today and congratulations on the creation of Illume.
Thank you…. I am excited and honored to be here. I am looking forward to sharing all that we have to offer with the community. To give you a little bit of background I am a family nurse practitioner with advanced training in Laser Aesthetics, advanced certification in injectables including botox and dermal fillers, and advanced training in plasma rich protein therapies including hair restoration, facial rejuvenation, joint injections, and feminine rejuvenation.

When I first had the idea to create Illume I wanted to create the ultimate client experience. The people that come to see me are trusting me with their most valuable resource, themselves. They are seeking my expertise to help them address their concerns and are looking to find the very best service and treatments available on the market. Elective cosmetic treatments are a luxury investment and it is my goal to provide a luxury experience for each of my clients.

Most everyone who walks through my door has something about themselves that they are seeking to improve upon. Some people come with the desire to highlight or enhance an area of natural beauty.

Some are seeking to turn back the clock and regain fading youthful appearance. Others are seeking to improve an attribute that they find undesirable like loose skin from weight loss or poor skin tone or texture. It's my mission to listen to those desires and provide a variety options of how we can address them all in an environment that feels really good.

I am entrusted to work with people on an incredibly intimate level, and because of that I believe that customer satisfaction and experience should be the driving force behind everything that I do. I wanted to create an intimate and relaxing environment where my clients can come and unwind.  It is my goal to provide a professional atmosphere with confident and skilled practitioners. Our practice can handle a large array of services from laser hair removal and body contouring, to facials and body bronzing.
It must be very exciting to have worked so hard and now get to see everything coming together.
Absolutely… The response so far has been amazing. I have worked in the medical field for about 18 years so I know a lot of people in the community. A majority of my clients at first were people I knew personally and then as we have grown we have received referrals from them, which feels so good.

Everyday I am touched by the kind comments we receive from our clients. It's amazing to be able to play a key role in changing how someone feels about themselves. One client told me she hasn't worn short sleeves for years but since doing the body contouring on her arms she feels confident and proud to bare her arms. Almost daily I hear often how many of my clients get compliments of looking refreshed or rested. A lot of the treatments we do are over the course of several weeks to months and the changes occur subtly. Friends and loved ones often don't know quite what's different but definitely know something's different!

Mostly, many of clients talk about the key tenants like excellent customer service, knowledgeable staff, and the relaxing environment here at Illume.
Jennifer can you please give us a brief overview of the services you provide at Illume?
Sure. We are offering a wide variety of services for both women and men. All services are provided in house by myself or by one of my team. We offer a variety of non-invasive and minimally-invasive procedures to best serve all your aesthetic needs.

Laser services include:

Intense Pulsed Light Therapies for the face and body to treat sun damage, vascular lesions, and age spots, and rosacea
Radiofrequency Body Contouring and Cellulite Treatments
Radiofrequency Skin Tightening and Wrinkle Reduction for the face and body
Radiofrequency Skin Resurfacing

Scar Therapy

Laser Hair Removal
Acne Blue Light Therapy
None-laser procedures include:
PRP Hair Restoration for both men and women
PRP for Vaginal Rejuvenation and Stress Incontinence, also called the O-shot
PRP Therapy for Erectile Dysfunction, Also called the P-shot
Stem Cell and PRP facials
PRP Facelifts- also known as the vampire facelift or the liquid facelift
Microneedling/Collagen Induction Therapy
Botox, Xeomin and full suite of Dermal Fillers
Dry Brushing and Body Bronzing

A full suite of advanced aesthetics and facials including Microdermabrasion, Peels, and Microcurrent
Wow… this is extensive. Please tell a little bit about the training and tools that go into supporting these services.
We offer a wide variety of services which require more than just a general knowledge of aesthetic training. I have had over 11 years of medical education and hold an advanced practice license.  When I decided to pursue medical aesthetics, I obtained specialized certification in each modality such as laser aesthetics and injections. Proper medical training is essential to gain mastery of all these services. The expert training is then paired with state-of-the-art technology. My nurse and my advanced aesthetician also have years of experience along with multiple certifications.

We are using one of the most advanced laser technologies available on the market with really exciting results.  The Venus Versa laser is truly one of a kind. It allows us to do a variety of therapies with one simple workstation. We can even pair multiple treatments together in one session which gives us a ton of flexibility and allows us to create and fine tune each person's treatment plan. In addition to the Venus Versa, we are also using stem cell therapies and plasma rich protein (PRP) therapies. Combining the stem cell treatments and PRP treatments with laser therapies, microneedling, and other injectables has been a game changer and is providing my clients with phenomenal results. The services we are offering right now are cutting edge. They are the future of medical aesthetics and we are one of the few providers offering them in this area right now.
Jennifer something you have intentionally built into the Illume experience has been amazing personalized care paired with excellence in customer services. Please say more.
There are so many different reasons that people are coming to work with us here at Illume. It is my top priority that every single client I work with knows that they have my full and undivided attention. Being able to listen to and understand my clients is key in not only creating successful results but also building long-term relationships.

I created Illume with the dream to be able to work for myself doing something I love while helping people feel better about themselves. Can you say dream job?!  I feel like I understand a lot of my clients because I have been one of them. I think a lot of people generally have an idea of what their goals are or have an idea about how much they are ready to invest. They may not know how to arrive at the end goal but are looking for the perfect blend of all their objectives. My job isn't to try and convince a person about what they need, but to help them arrive at an ideal path to get to their own goals.

Everything is transparent here. You can go online and see the services we offer and peruse pricing before you ever come in for a consultation.  We provide incentives for the clients purchasing packages up front. We also offer membership packages for clients who want "everything". The membership options offer access to all our laser services over a set period of time for one flat rate. We even run specials from time to time to allow folks with more fixed incomes to get access to services they may not otherwise be able to. Currently we are doing "Injection Sundays" which is a day we do nothing but botox and fillers. On these Sundays you can get either Botox or Xeomin for $9 a unit and save $100 off every vial of filler. I love doing the injections so it is super fun for me and a great way for clients to save a few dollars.
Jennifer can you please speak to some of the reasons your clients are coming to work with you?
To begin with I feel that everyone has right to feel good about themselves. Life is short and doesn't need to be wasted worrying about a receding hairline or aging skin.

Most people come to see me because they want to improve upon something that troubles them. Some are looking for something as simple as the freedom from shaving or waxing. Some are looking to freshen up an aging face by getting rid of age spots, sun damage, or erase vascular lesions. Some are wanting to tighten up skin and erase wrinkles. Other people have a feature they would like to augment like a small upper lip or hollow cheekbones. Medical aesthetics is like human artistry. It's my job to be able to see hidden potential and then build on that and create a very natural and pleasing result. We have the technology, tools and techniques that can address all these things, so why not use them?
Please talk more about the confidentiality and privacy that goes into the work you provide for your clients.
This is a medical practice and not a traditional spa. We are not only bound by the healthcare HIPPA privacy act but I am very clear about honoring all my clients' privacy. We live in a small community and I understand how personal this type of work is. My clients' privacy is of the utmost importance. No matter what the procedure is, it is never shared or discussed outside the appointment.
Jennifer the transformations that your clients undergo can be life changing. Will you please share some recent case studies with us?
I have one client who lost a stunning 107lbs. He is in incredible shape now but has a lot of loose skin. We just completed his abdominal contouring sessions and the results have been amazing. When we started the treatments he had an area of skin on his belly that sagged down several inches. He had a lot of stretch marks and really loose skin. We ended up doing 9 treatments of the contouring and tightening on him. His stretch marks have shrunk to about half the size. The skin is so much tighter and doesn't sag down at all any more. It's remarkable. He tells me how happy he is with the results and as a result he is one of my biggest word-of-mouth clients.

I have another set of clients that come in together. They are the most adorable couple.  They are inseparable and so we do their treatments back to back.

They are each doing different things. One is doing a series of IPL treatments to address vascular lesions on the face and the other is getting the Viva Resurfacing treatments with Stem Cell Infusion to address poor skin texture, fine lines and tightening of the jowls. They both have had phenomenal results. They just told me they were at their favorite restaurant and ran into an old friend who wanted to know their secret because they were both apparently getting younger and younger while everyone else was aging.

Last week I had a client tell me that she had been off work for six weeks and went back to be told she looked 20 years younger!

On her we had done a series of IPL treatments to remove some pretty invasive brown spots that had covered most of her forehead and cheeks.  We had also done some Viva Skin Resurfacing treatments with stem cell infusions that tightened the wrinkles on her neck, tightened up the jowls and improved the overall texture of the skin. It was awesome to hear how much of a difference those two treatments had made.
What would you say are some of the key considerations that go into working with you in your practice?
Most importantly my clients need to be physically healthy. This type of laser aesthetics is a medical intervention and some therapies might not be safe for a person on blood thinners, light sensitive medication, or who has certain autoimmune, heart conditions, or seizure disorders. The consultation is designed to help us ensure a patient can safely do the desired treatments.

Also, it is important to have realistic expectations. If we start talking and ultimately I think someone would be better suited for another modality or for nothing at all, I will be up front and if necessary refer them out.

Finally it is important that a person has the resources to cover the investment of an elective cosmetic procedure. It is elective and it is a financial investment. If it's a hardship, you probably should hold off until it isn't.
Jennifer, as a practitioner what would you say makes you unique?
I like to think I am a fairly down-to-earth. Growing up I was never that "pretty girl". I was a tomboy and over the years have had to be very intentional in the pursuit of my feminine energy. I sometimes think it's a bit interesting I ended up working in aesthetics! I have always been drawn to self-care that is easy. I am not one of those people with naturally perfect skin so these treatments have provided me with an easy avenue to beautiful skin. One of the things I love about the treatments I provide is that it's a subtle process that over time creates amazing results. If you are the girl that puts her face on every day we can help improve the texture and tone of your skin for flawless application. If you are the girl looking for an out from the make-up routine, we can help there too.

I am also a very direct individual.  I provide very real and candid feedback. I listen to my clients and I am supportive, but ethically I am not going to be okay indulging or taking advantage of someone. Recently, I had a beautiful little lady in her mid 80's come in to inquire about services. She asked me several questions about what services we offer for a variety of concerns and then asked me what I would suggest for her if she were my grandma.  I looked at her for a moment thinking of my own grandmother. I have always thought my grandmother was so beautiful though she never saw herself as anything but plain. My response was that if she were my grandma, I would tell her she was beautiful and didn't need to "fix" a thing. She was physically taken aback by my reply. She thanked me and told me she would have to go home and rethink her self-assessment. We talked for a few more minutes and she left. I haven't seen her back and truthfully I hope I don't. She really was radiant and although there are almost always things we can do, it doesn't always mean we need to.
I'm glad you mentioned making a realistic plan. Please talk more about how you support your clients in meeting their goals and feeling good about the decisions they have made.
To begin with I will not do any procedure until we are both 100% on board. Education is number one. I want my clients to understand what we are doing, why we are doing it, and how long it will take until we see results.  Having a clear and realistic plan is important to maintaining long-term outcomes and that's why working with a skilled practitioner is so important.

Goal planning can be as simple as coming in every 4-6 months for botox to prevent frown lines, or more complex plans like a skin tightening and wrinkle reduction protocol that might require multiple appointments.

As part of the consultation we talk about goals and decide together on a treatment plan.  Then we go over how the process will work and answer any questions.  A lot of our contouring and laser treatment regimens are accomplished over 1-6 months, depending on the services, so it's important to make sure a person is ready to make the commitment.

There are times I have had to turn away clients. Working in aesthetics there are certainly clients that come in with a plethora of emotionally driven desires. If someone arrives with unrealistic expectations or body dysmorphic issues that ethically I would feel uncomfortable treating, I don't. In those situations, I have to be frank and just say, "Hey, I hear what your saying and I understand that when you look in the mirror, you see x, but I just don't see it and I'm not comfortable trying to treat that." Additionally if someone is in the midst of an emotional crisis, I like them to wait until things have calmed down before making big commitments about their appearance.
Often times you are helping people get prepared for important events.
Yes. I am honored to be selected to help people look their best for all kinds of special occasions. I get brides and mothers of the bride, men and women with an upcoming high school reunion, or big events like anniversaries. When there is a special upcoming event, people have an inherent desire to look great. Being able to play a role in helping someone feel amazing and put there best face forward is one of my most rewarding experiences.

Most recently I have had the pleasure of doing a full face and neck skin tightening and wrinkle treatment on really neat woman who is getting ready for her son's wedding. She is the oldest in a group of wildly competitive sisters and her goal is to look like the youngest sister! It has been so much fun to get to work on her and see the progressive change as the wedding date approaches. It will be exciting to see the side-by-side photo of the sisters, and see just how amazing she looks.
Jennifer what would you say differentiates Illume from other practices that might offer similar services?
Our laser technology is the one of the most advanced, one of the safest, and one of the most comfortable options available in the industry. Additionally, we are leading the way with non-invasive and minimally-invasive treatments that incorporate the use of stem cells and plasma rich protein to rejuvenate skin and reverse the signs of aging.

We are not a traditional aesthetic spa, but rather a medical establishment. You can still get a facial or have your nails done, but that's just an extra bonus we offer.  All procedures are done by highly trained professionals with exceptional experience and advanced training. If a client has an unexpected question or concern, I am personally available to help.

The services I provide are different in the sense that when someone is working with Illume they are getting direct medical supervision, which is invaluable. I see every one of my clients for their initial consultation and am involved at some level in every treatment provided in the office. Every client has immediate access to me by email, text or phone if they have questions or concerns during treatment. I often get text photos with exclamations of excitement or a question about expected results. I think there is something really comforting knowing your provider is available to say, "yes that's normal" or if concerning, "meet me down at the office and let's take care of that".
Please introduce us to your amazing staff.
Danielle LaClare is an advanced aesthetician with over 22 years of experience in the industry. She is my right hand gal and the spa manager at Illume! She is available for all advanced laser procedures, provides collagen induction/microneedling, and all advanced aesthetics and facials.

Samantha Smith is my nurse on staff. She is available to personally assist me in some of the more invasive procedures, can provide injections including botox and fillers, and see's laser clients. She has been an awesome addition to the team!

Eric Jenson is my medical assistant and surgical technician. In addition to holding those certifications, he holds advanced training in laser aesthetics and takes care of a majority of our male clients. It has been amazing to have a skilled male provider on staff for the gentlemen that would prefer to work with someone who understands first hand men's aesthetics.
Will you please share some recent comments with us?
"I have worked with Jen and Danielle and they are a wonderful team. Even before I started my treatments I felt cared for, comfortable, and in a safe place. I did some treatments on my face with Jen and then some tightening of the arms and some amazing facials with Danielle. Prior to the treatments they talked to me and explained the process, what to expect, and answered all of my questions as we went along. They are both super listeners! I have been really pleased with my results and would highly recommend checking out their facility and seeing what a difference their care and treatments can do for you". Juliann, Ashland

"For years I have struggled with blotchy patches of redness on my face caused by Rosacea. If I wanted to cover it I had to use thick correcting creams to make the redness go away. I started a series of IPL treatments with Jen and have been amazed with the results. The redness has subsided so much that now a quick touch of mineral foundation is all I need for an even balanced skin tone. I feel so much more confident without make-up now! Jen took great care of me and eased my nerves! If you have ever struggled with uneven skin tone, age spots, redness, etc. come see Jen so she can transform you! You won't regret it!" Angelica, Medford

"I have been coming to see Jen for body contouring and some facial treatments. I drive 3 hours to come to Illume and work with this team. First of all my results have been amazing. The staff are really friendly and accommodating. They have even come in early for me since I drive so far.  As we have gone through the treatments we have all really connected and gotten to know one another. I love these ladies so much, I miss seeing them when I am not coming in." Pam, Cresent City

"I have been coming to Illume for laser hair removal on my back, shoulders, and neckline. As a guy coming in to a medical spa I felt a little weird at first, but I was pleasantly surprised. I heard about Illume from a friend and decided to check it out. The staff are great and make you feel really comfortable. I am a pretty hairy guy and would either shave during the summer or wax (ahhh!!!). After talking with Jen, laser hair removal seemed like a no brainer.

I am halfway through my regiment and the results have been really good. Last month after wondering about botox for a while, I tried it for the first time and I am sold! I would highly recommend the crew at Illume!" Selectively Hairless in Ashland
Will you please tell us about your intake process?
First, all new clients come in and meet with me for a consultation. We explore goals, answer questions, and address concerns. Once we decide on a plan, clients can either think about things or go ahead and schedule the first appointment. It's at that time we can decide which provider you would prefer to work with. During the first treatment appointment we discuss the treatment plan again, ensure nothing has changed, sign the consents for the treatments and then get started.
What are the next steps and how can our readers begin taking the first step in working with you?
You can either call us directly or schedule online. We see clients by appointment to ensure there is dedicated staff available for you to answer any of your questions. I am looking forward to meeting you!
Learn More:
541-631-8387
Illumeaesthetics.com