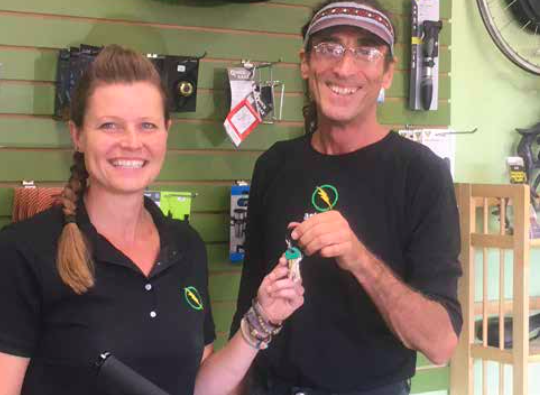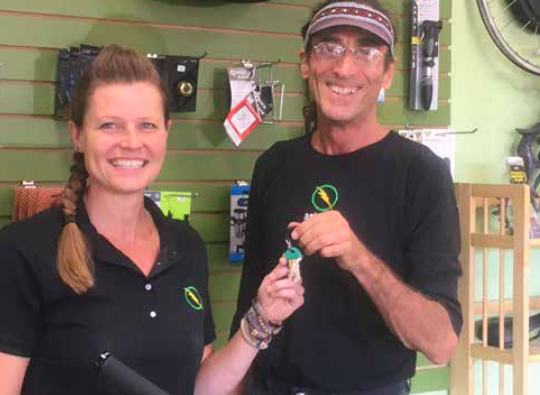 After 14 years of offering top-of-the-line electric bikes to customers in Ashland and around southern Oregon, Jerry Solomon has sold the store to Samantha Smith. In today's interview, I speak with Samantha about her passion for life and vision for taking Ashland Electric Bikes into the future. We discuss work and play, and sustainability here in southern Oregon. Samantha has had a long history of going after and living her dreams. She is a hard worker and embodies strength and spirit, which makes her a perfect fit for Ashland.
Hi, Samantha and Jerry. Congratulations on the passing of the torch at Ashland Electric Bikes.
Thanks Shields! I think I can say for both Jerry and I that this is an exciting time. I'm ready to take on the new challenges that running the bike shop will present to me, and of course, Jerry is excited about a well-deserved and long-awaited retirement.
Samantha, what an amazing opportunity. To begin with, what are you most excited about in moving forward with Ashland Electric Bikes?
I'm most excited about combining my passions and purpose with my new career. My passions are healthy living and sustainability. My purpose is helping others, so I feel like Ashland Electric Bikes brings all three of those things together perfectly. I get to help folks pick out e-bikes as they make the conscious decision to be more sustainable and become a single car household, using e-bikes as their main source for daily commutes. I get to help people who are battling weight issues, previous injuries, or other health challenges to get back on a bike and make bike riding part of their daily routine. 
Jerry, what has excited you the most in passing Ashland Electric Bikes on to Samantha?
I'm thrilled on so many levels to be passing the AEB torch over to Samantha. First and foremost, I was inspired by her excitement and enthusiasm on the first day we met. She is committed to sustainable living, alternative transportation, and general healthy living. She understands the importance of stellar customer service and is sincere in her desire to help create a better world for us all. These are the hallmarks of what the shop has always been about. What a gift it is to have our paths cross.
Additionally, she brings a level of business expertise that I certainly didn't have when I jumped into this fourteen years ago. I expect to visit the shop and be wowed by the infrastructure/procedural changes she will undoubtedly make over time. It's high time for AEB to be graced by the wisdom of the divine feminine. Stepping away from this vibrant creation is made so much sweeter for me knowing that it's all in very good hands going forward.
Samantha, will you tell us a little bit about your background and what has captured your interest in becoming the new owner of Ashland Electric Bikes?
I'm originally from the Midwest, I grew up in farm country just outside of a very small town (roughly 1500 people) in Michigan. I was a nerdy tomboy who liked to read, do jigsaw puzzles and play in nature. I went to college at Kettering University, which is a well-known engineering school in the Midwest. That led to 17 years in manufacturing. Becoming a Business Unit Manager for Amy's Kitchen is what brought me to the Rogue Valley.
In 2019 I stopped working in the corporate world, and decided to build my tiny house. The plan was to start a zero-waste shop. As we're all painfully aware, Covid turned life upside down for many small businesses and it also halted me in my tracks. Ashland Electric Bikes answered a question I was asking myself: "what is next for me?"
In my opinion, I think this is an even better fit than the zero-waste shop. I'm still more than happy to discuss zero-waste living with anyone, but I'm still a tomboy at heart. So now along with passion and purpose, when things are slower at the shop, I'll get to wrench on bikes with the guys and hopefully someday some ladies too!
Samantha, where do you see electric bikes evolving as we continue moving into the future?
I think the biggest opportunity in e-bike evolution is at the governmental level. This past year, representatives Panetta of California and Blumenauer of Oregon introduced the E-bike Act. Under their proposal the federal government would provide a tax credit of 30% off (up to $1,500) on new electric bikes priced at under $8,000. If this passes it could encourage a lot of people to try e-bikes for the first time and make them more accessible to lower income families. With more e-bike usage will come the demand for more cycle friendly infrastructure. With more cycle friendly infrastructure we'll see more people on e-bikes. The downtown streets of Ashland could one day look like those in the Netherlands. Once you get a critical mass to adopt them, then the subsequent impacts are endless.
Plain and simple, electric bikes are just fun to ride. Samantha, can you run us through the additional benefits of becoming an electric bike owner?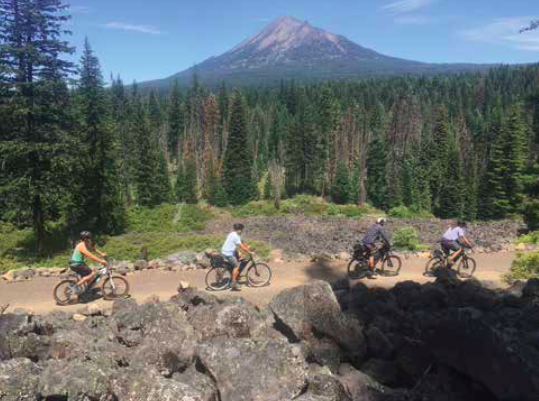 Beyond the health and civic benefits they're also great for your pockets. I know this might sound a little less intuitive to some because e-bikes come with a larger price tag than a regular bike. But if you use your e-bike as your main mode of commuting locally, think of all the money you'll save on gas. Most people I know have monthly gas budgets in the hundreds of dollars. Plus, there are oil changes and heftier price tags when your car requires maintenance and repairs. So, depending on the e-bike you purchase and how much you use it, it could pay for itself in less than a year and you'll be more fit and healthy to boot.
Samantha, what are the key factors to consider when choosing an electric bike?
When we help our customers pick the right bike, we are going to consider what type of riding they are looking to do, the weight of the rider and or cargo load, how fast they're looking to go, how far they want to ride, and perhaps the most important to many, budget. E-bikes are an investment, for sure. These factors will help us determine the right size motor, battery, and other relevant components required for each customer.
Samantha, you have always been very active and interested in building community. What are some of your ideas for getting more people on electric bikes here in Ashland?
There are so many ideas I have but I think the biggest two that come to mind are traffic design and community events. It's clear to any one that has spent any time in Ashland that we are a biking community. Ashland has a lot going for its bike riders but there's more we could do. It's not an easy issue to tackle but there are plenty of models all over the world. This is definitely an avenue that I want to explore. Now that I live in and work in Ashland, I'll be attending some of the meetings to see what's being discussed and where I can lend a voice to advocate for the biking community.
The other area I will explore is community events. Did you know Ashland has its own bike polo team?They're always looking for new people to come out and play with them on Monday nights. I think it would also be great to organize some meet-ups to get folks out riding together. Half of the joy of riding is going out with people and having fun. Just last week I got on my bike with some of the team from the shop and we headed over to Talent for some amazing food and beverages. Riding through town and down the Greenway with the team brought up feelings of nostalgia. It felt like all the bike scenes in the movies I enjoyed when I was younger, like "The Sandlot," "Now and Then," and "The Goonies." I think with so many bikers here we could do more to create that shared sense of belonging.
Samantha, Ashland Electric Bikes has always been supported by a great team. Will you please introduce them to us?
Can I first just say how blessed I feel to have stumbled into this crew? Really, they're a tremendous group of humans, beyond being good mechanics they're genuine, supportive caring humans and I feel lucky to be continuing this journey with them.
Nikolas is a fellow midwesterner who came to Ashland to attend UBI (United Bicycle Institute) in 2014. He quickly found a job with Jerry at the shop on Hersey Street. While Nikolas might not be quite as famous as Jerry is with the locals, he is definitely known in the biking community for his adept and quick ability to troubleshoot and fix all e-bike issues both mechanical and electrical. I have heard others refer to him as a renaissance man, and in my time with Nikolas I definitely agree with that assessment. He is very knowledgeable and proficient in a wide array of topics and is one of those people who, if they don't already have the know-how, will figure out a way.
Marty rounds out the midwestern transplants here at the shop. Marty hails from Pennsylvania, and came to us via his wonderful wife who was living in California when they met. Once they started discussing retirement and where they wanted to relocate to, they found their way to our beautiful community. As a career engineer with a bike habit, Marty talked Jerry into hiring him almost two years ago now, and has been a part of the team ever since. Marty is a solid guy all around. He's great with customers, and is wonderful at helping us find shop system efficiencies as well as being a great mechanic. My first week at the shop I was already hearing customers say, "My friend told me about you, and the really great job you did on his bike last month." You know you've got a great team member when people are recommending them by name.
Our newest two members are both locals, Merlin and Alex. Merlin has been at the shop for about four months now. He also attended UBI where he added to his already extensive knowledge of bikes. 
Merlin has a technical eye for precision and all aspects of machining. He really likes to share his knowledge about bikes with people and Merlin's love of bikes extends to all bikes, not just e-bikes.
Alex joined our family at the end of June and is still rolling acoustic bike style. He has a solid base in general bike mechanics and now we're working to get him trained up on all things e-bike related. Just today we had a customer come in with a clinking sound in her motor. Alex started troubleshooting the issue and traced it to a cracked planetary gear. We had a spare motor in-house, so he swapped it out and got her back to riding this afternoon instead of having to wait for a new motor to come in. His enthusiasm for customer service and desire to be a great team player has been a great addition to the talented team we have.
Jerry: In addition to this, I'd like to convey my highest regards to the current team here at the shop. They're the sharpest, most competent group of guys ever, and the explosive success of the past couple years was possible due, in no small part, to their dedication to the cause. You guys rock!
Samantha, what are some of your favorite life lessons that have made you more powerful and happy at what you do?
First is that, "obstacle" is just another word for "life lesson" if you have the right mindset about it. One vivid memory I have is of my dad making me help re-roof our two story house when I was seven years old. I was petrified of heights and I would often freeze two-thirds of the way up the ladder on the verge of tears, afraid to take one more step up. My dad made me climb on anyway. I think this and so many other things my dad had me do gave me a healthy perspective for assessing perceived vs. real risk and being able to stare my fears in the face and move forward anyway. I canyoneer, heights still scare me. However, when I'm hanging off the side of a rock face, staring down a beautiful canyon, the fear melts into the background and I move forward truly living my life.
Additionally, I believe in listening to yourself and following your dreams. Throughout my whole life the people who love me have been telling me not to do the things I've wanted to do. "Don't jump out of that perfectly good airplane. Don't hike alone; you could get mauled by a bear. Don't move to the West Coast, you'll never be able to afford to live out there. Don't quit working to build a tiny house." In my brain it often felt like they were telling me "Don't live." I feel like I only get one crazy ride on this spinning orb and I'm trying to make use of my time here.
Samantha, tell us about your dog, Andre.
Andre is the new shop dog, and he turns eight in August. He loves the outdoors, snow is his favorite, and he has a lot of accomplishments under his collar, including climbing Mt. McLoughlin with me. He is a sweet and gentle dog and often our customers have no idea he is even here until he gets up for a stretch and strolls up to say hello. Which is impressive because he's 160lbs. – not a little guy at all.
I love that I get to bring him to work with me but since he's so big and heavy there aren't any ready made bike trailers for him. So, I'm working on making a custom trailer to make my daily commute more sustainable.
Do you have any last thoughts or comments you would like to share with our readers?
I just want people to think about all the endless possibilities for e-bikes as we look to reduce our carbon footprints and create deeper community relationships – local deliveries, landscaping services, material deliveries around the farm or large properties, search and rescue operations, etc. Perhaps rickshaw rides around Ashland?
Lastly I want to thank Jerry for trusting me to take over the helm, and wish him all the best in his retirement!
Learn More: 
Ashland Electric Bikes
1678 Ashland St., Ashland
www.ashlandelectricbikes.com
541-951-3034