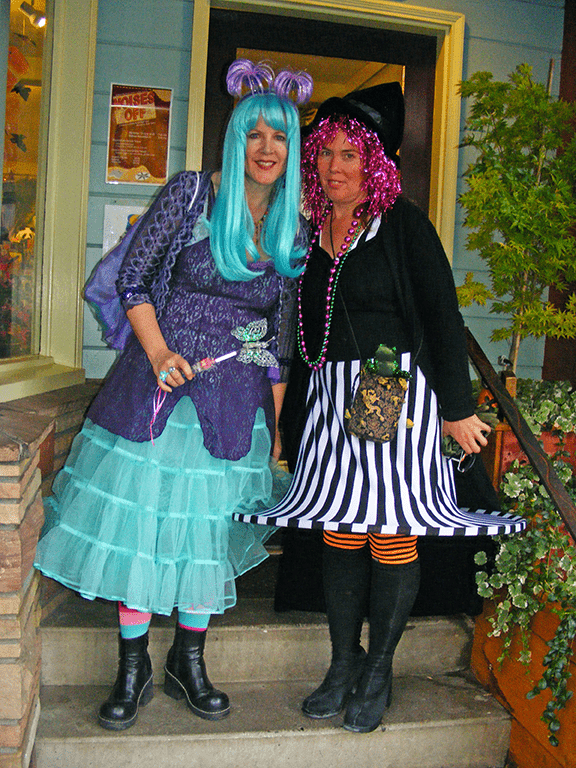 Interviews
Jane Almquist & Cynthia Salbato aka Owl and Raven from TreeHouse Secret Book Club Helping our community find the magic of story in everyday life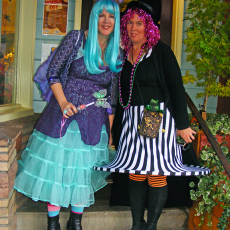 Locals and loyal travelers alike know that TreeHouse Books is so much more than a quaint bookshop for children. From children's literacy projects and magic portals throughout our fair town, storywriting Game Gear and First Friday parties involving Modern Faeries and Wizards — TreeHouse Books brings magic, curiosity, and creativity to the lives of children and adults alike.
I had the opportunity to speak with Jane Almquist and Cynthia Salbato to uncover the magic behind the store and all that TreeHouse Books has to offer our community.  I was impressed by the scope of their newest Secret Book Club project: Family Dance Parties at the Historic Armory and excited to learn more about the creative energy these two dynamic women (also known widely as Owl and Raven) are infusing into our community for the betterment of all.
Thanks to you both for taking the time to talk with LocalsGuide today!  TreeHouse is so much more than a bookstore.  Help us understand how your work has come to encompass so much more.
We love books, and we love families who love books. Observing the passion for which children consume the books on our shelves, we got excited about the possibility of providing more interaction between the store and our readers by taking a more active role in our community. For small independent bookstores to stay relevant to their community they must provide a real touchstone into the world of books and reading, one that can be lacking in the online world. And yet we also see how powerful technology can be to assist with literacy and capturing the attention of reluctant readers and drawing out our more introspective children. We decided we want to find the intersection of real world and the invisible world of imagination.  We want to bring books to life.
Jane, why should people choose TreeHouse Books?  What sets it apart from other bookshops?
We love our little store and put our hearts into all that we do here.  We see ourselves as the current stewards of a treasured Ashland gem, as TreeHouse has been in business for 36 years in this same location, made possible by our loyal customers.  Every day someone expresses his or her gratitude for the real world experience of our bookstore.  They take ownership for TreeHouse's continued existence by choosing to purchase from us versus buying online.  Now their support is helping make it possible to launch The Secret Book Club, our children's literacy project.

We also love this amazing Rogue Valley community that we are a part of and really enjoy creating fun and meaningful experiences to share with people of all ages.  We host monthly First Friday Artwalk parties, family themed events with other downtown businesses, quarterly seasonal celebrations, Secret Book Club meetings, in-store school fundraisers, themed camps and author events.

This fall we will be hosting celebration dance parties for kids and families at the Historic Ashland Armory in honor of each story theme. September's party will celebrate Action Adventure and Super Heroes.
Tell us about the Secret Book Club.
The idea for the book club started when some of our young customers asked for books for "real wizards".  This was after the announcement that JK Rowling would write no more installments of Harry Potter.  Two ideas presented themselves to us.  The first is that children often want the experiences inside their books to become part of real life. Secondly, we realized that perhaps the best way to ensure that the books become real is to have the children write them, using our town as the location.  Writing the stories and creating the StoryGames has become a fun way to introduce real life skills and to empower kids to create more meaning in their lives.

The Secret Book Club now includes weekly club meetings in The Vault at TreeHouse during the school year.  We have developed an online StoryWorld writing software program and a storywriting gameboard that is played along with the writing games based at Ashland Springs Hotel, ScienceWorks, Oregon Shakespeare Festival, YMCA and other local landmarks.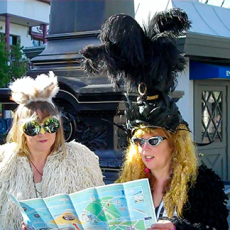 Tell us about your alter-egos – most kids know you both as Ravenwich and Lady Jane.
The first story in our Secret Book Club StoryWorld introduces the characters of Owl and Raven: Lady Jane Modern Faery and Cynthia Ravenwich respectively. Owl is a kind, wise, inhabitant of the moon, while Raven is a mischievous trickster, residing in the sun. (Her collection of sparkly things is why it shines so bright). Both desire to share the secrets of the unseen world with children to help them on their journeys. These are our magical identities inside the Secret World. Everyone has at least one magical identify, if not many.  Anyone can become a featured character in the Secret Book Club. Just write yourself in. If your story is chosen for the official story line you may become a Character Trading Card making it easier for other authors to write you into their stories as well.  We are currently designing the first round of trading cards and it's a lot of fun!
You were "gifted" a non-profit element for your business. Tell us about how that came to be and how you are using that to move this project forward.
We are carrying forward the legacy of Art Now, a collective founded by some incredibly creative OSF artisans. Our vision for Secret Book Club includes collaborating with our schools.  We'd love for every student and classroom to have access to our StoryWorld software and Story Game Gear. The for-purpose (non-profit) aspect of Secret Book Club allows us to raise money and to gift game gear to the schools.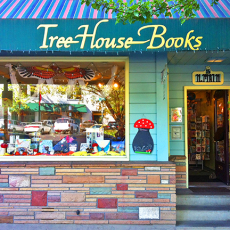 Cynthia, you have studied the "hero's journey" extensively.  How has that played into the creation of these events?
A case can be made that every story ever written is based on the Hero's Journey. We believe that this template for story can be a tool for creating meaning in our lives. Obstacles can be reframed as dragons that will share their treasure with us when we meet the challenges they bring. Magical helpers are everywhere if we recognize them. We just need to remember that every day is an adventure and that we get to choose how our story unfolds by casting ourselves as the hero in our life story.
Cynthia, you believe that kids can help adults bring magic and enchantment to our daily lives.  Tell us more about your thoughts on this.
When we are young our imaginations are very flexible and it is very easy to imagine dinosaurs escaping into Ashland from a time travel portal at the Ashland Springs Hotel. As adults we want to believe but we often need a little assistance. Our children can give us permission to see through Eyes that recognize that anything is possible.

Our big idea is that children will lead the way for us all to become happier, healthier human beings by creating community 'games' of happiness, fitness, creativity and more. And that is the 'secret' of the Secret Book Club; there are social skills embedded in each theme. When we write our own action adventure superhero stories or fairy tales, we learn the steps of being the hero of our own life – of creating our own happily ever after.
Sounds like a real community project!  How can people get involved?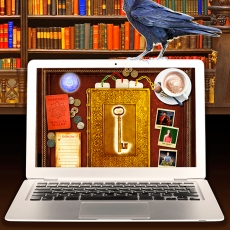 We welcome both volunteers and financial support to help us realize the rich resources of each story theme: sci-fi/fantasy, mystery, action adventure, fairy tale, thrillers, poetry and more. We need help with our monthly story genre parties and curating genre literature. We also welcome writing mentors and readers of the children's stories. Volunteers can sign up at TreeHouse Books where donations are also gladly accepted.

Our big goal is to get the StoryWorld software and Story Game Gear to our local schools and beyond. We are also looking to partner with schools and children's organizations for our monthly events.  If you are a PTA/PTO member of a Rogue Valley school, organized Homeschool Group, or other kid-centric organization, please contact us for some fun collaboration!
How did you each come to see the need for this project?
Cynthia: Creating in a supportive inspiring environment can help us share our gifts with the world.

The process of writing is the process of inventing something that doesn't yet exist. Most importantly, if we don't share what's inside of us the world won't have it.  Just imagine if JK Rowling hadn't written Harry Potter! Still, it can be daunting to do this creating alone.

We've found in our groups that some of the most innovative ideas come from children who are more reflective and introverted.  One of the great joys of this project is watching children blossom and stand in their personal identity and – even better – share their gifts with our community.  This is the final act of the hero's journey. The journey isn't complete until we bring back all that we have learned and share it. It's the ultimate community service through self-realization. And this is the gift every writer gives us with the stories they share.

Jane:  We're doing this for business reasons as well.  Another goal of this project is to create an income stream to insure that TreeHouse Books can thrive for years to come in the uncertain future economy of hard-copy book sales. We are creating an online subscription club for kids around the world who love books, reading and writing.  The main feature of the club will be a monthly writing contest where kids have the chance to win prizes and be a published author if we choose their version of the serial story of The Secret Book Club.  We want to share the magic of TreeHouse with others outside of our valley, especially with homeschoolers and other children who may be a bit isolated from other "Booklins" (the name I give to those of us who are crazy about books!).
What else is going on at TreeHouse Books?
We are inventing and curating our lines of enchanted objects and game gear with our Secret Book Club kids; time-traveler clocks and maps, power pets, art & inspiration kits, jewelry, journals; everything you need to live a magical story life.  Watch for some fun transformations within the store this Fall!

We are also currently developing some more interesting technology (in addition to our writing software). We are lucky to work with SOU's Emerging Media department and senior student David Daniels, an accomplished augmented reality developer. We are his capstone project. Soon locals and visitors can take a walking tour of the many Secret Book Club portals and stories and artwork our kids create; time travel at Ashland Springs Hotel to choose the future; ScienceWorks to choose your thoughts; find your Happily Ever After at Oregon Shakespeare Festival; activate your Super Powers at the Ashland Y.

Ultimately we are writing the story of our town. It's our chance to name the magical places and celebrate what they mean to us. Ashland Springs Hotel, Oregon Shakespeare Festival, ScienceWorks — these are special places that make our town unique. TreeHouse is in the business of curating meaning and magic. We feel very blessed and invite you all to share your stories with us.
Learn More:
TreeHouse Books
15 North Main St on the Plaza in Ashland
Mon. 10am – 5pm
Tues. – Sat. 10am – 6pm
Sun. 11am – 5pm