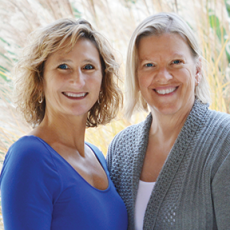 Dr. Jani Rollins and her team at Rollins Family Health have been providing health care services to families in Ashland since 1999.  This year Jani welcomes Family Nurse Practitioner Patrice Frires to her staff.  Patti brings a wealth of experience and enthusiasm to Jani's excellent team.  We met with Jani and Patti recently to learn more about their successful practice and their new partnership.
Thanks for taking the time to chat with us today.  Jani, how are things going now that Patti has joined the team?
Patti has been an amazing addition to our team!  We are very fortunate to have a kind and experienced practitioner joining us.  We are often busy; especially during cold and flu season and having another provider makes a big difference.
You have a long history serving families here in Ashland, Jani.  Will patients experience anything new or different with Patti as a new addition?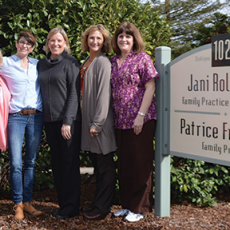 Patti and I are very similar in our approach to patients and medical issues so I don't expect there to be many changes for our patients, with the exception of better availability.  She has also been in our community for years and is familiar with the type of care we offer to our patients.
Patti, tell us a little bit about your background and how you came to join Rollins Family Health.
I started my career as an RN working in Acute Care at hospitals in the Rogue Valley. I became interested in furthering my education while working alongside a Family Nurse Practitioner in a Public Health clinic. I completed my Family Nurse Practitioner degree at Oregon Health Sciences University in 1999. My first position as an FNP was in an Endocrinology office.  I then broadened my scope of practice to include Family Medicine. I was thrilled to be offered a position by Dr. Jani Rollins.   Jani's practice has a great reputation in the Rogue Valley and the office is comfortable for staff and patients.
For readers who may be seeking a new family doctor, what does Rollins Family Health have to offer that might be different or unique compared to other offices in the Valley?
Jani: I believe our office is unique in several ways.  A lot of our patients tell us that they like how efficient we are.  It is rare to have to spend time in the waiting room and we are small enough that we usually do get prescription refills in the same day they are requested.  We also don't have a long phone tree to get though to speak to a person.    We care about each patient we see and hope that we convey a sense of comfort and friendliness in visits and phone calls. 

Patti: Rollins Family Health is unique in its environment. The staff is very patient centered and cares deeply about health and wellness. The office environment is relaxed, yet professional. Patients comment that they appreciate the care that they receive.
Your office tends to specialize in family health.  Do you serve patients of all ages?
Jani:  Yes, we see patients from before they are born until the end of life.  That is one of the special things about family practice for me.  It brings into care the truly holistic impact of the entire family.  I have been fortunate to care for many four-generation families during my twenty years as a family practice doctor. 
Have you established any new policies or procedures with the implementation of the Affordable Care Act?
We haven't had many changes from the Affordable Care Act other than better coverage for contraceptive and preventive care services, which is great for our patients!
Jani, you had a significant experience with the birth of your daughter at Ashland Hospital in 2003.  How did that experience affect the way that you offer care to your patients?
We started the Waterbirth program with the birth of Mia in 2003 at the Ashland Hospital and it has been going strong ever since.  I remember going to a store in Medford and sitting in a jacuzzi tub imagining how it would be to labor in that tub and then turned around and paid for it with my credit card and had it shipped to the hospital.  Now, we have another waterbirth tub that is similar to the one they use at OHSU as well.  We hope to expand our program with more tubs and family friendly rooms!  The response from Southern Oregon and elsewhere has been amazing.
Have either of you found any particular mentors or philosophies to be particularly meaningful in the development of your practice?
Jani: Over the years, as I have matured, my ability to care for my patients has improved. (I think)  Life experiences can only enhance a person's background and I spend a lot of time learning from my patients also.  It is a very close relationship with give and take involved. I don't see my role as a doctor to be directive but as a place to offer information and help people make decisions about their health and well being that they are comfortable with.

Patti: I have been influenced by a number of terrific medical practitioners over my career. In addition, I am interested in a holistic approach to better health.
The beginning of the New Year is always a good time for people to focus on their health.  Do either of you have any tips to offer readers interested in improving their overall health in 2015?
Jani:  My recommendations on good health have basically been similar year after year.  Eat well, exercise, create meaningful personal relationships and have fun in life.  It goes by too fast, as anyone can tell you.

Patti:  Yes, exercise more and eat less!!  Seriously, exercise is critical in maintaining good mental and physical health. However we do need to begin a new program gradually In addition, a good diet will have a dramatic effect on health. There are many good resources available on diet and exercise programs and talking to your health care provider about your personal needs can be a first step. Lastly, managing stress is very important. We live in a stressful society and good stress management techniques can add a lot to overall health.
Have either of you made any significant changes to your own health recently?
Jani:  In general, I am continuously learning in life in and this carries over to how I practice medicine.  Whether I learn those lessons from my own children, friends, patients or other peers or classes doesn't matter to me.  I think the main thing is to be open to new opinions and education.  Anyone who has been around medicine long enough will tell you how the pendulum swings every ten years or so and we learn more than we knew in the past, including that we are not always right.

Personally, my challenge at this time in my life is centered-around balance.  It can be hard to figure out how to provide care to my patients, spend quality time with my family and continue to maintain a personal level of health and wellness.  I am always looking for more ways to pack it all in!

Patti:  Personally, I started working with a personal trainer concentrating on strength training. In addition, I changed my job to a position in a medical office that offers quality of care and an environment that is conducive to a healthy life style. That benefits my health greatly.
What are your patients saying about their experience working with Rollins Family Health?
Jani: I suppose I can say that the support I have felt from my patients if I have ever been in need speaks for itself.  A few years ago I suffered a terrible mountain bike accident and couldn't work for two months.  The outpouring of love, support, meals, childcare, etc. was something I will never forget.
I have a number of wonderful thank you cards above my desk and here is a sample: 
Jani,
This card isn't big enough to tell you how much we love and appreciate everything you have done for our family.  I can never tell you how loved and happy I feel every time we come to your office.  You and the ladies have a gift!  Since Porter is our last baby I really wanted everything to be a memorable experience.  Thank you for sticking by me and always making me feel amazing.   We all look forward to growing with you and the office ladies!
Dear Jani,
I am in awe of the beautiful way you gracefully transition women into motherhood.  You have helped me feel empowered and gain confidence in my body's ability to birth with beauty and respect.
What's the best way for readers to find out if your office is right for them?  What's the first step?
Our website RollinsFamilyHealth.com has basic information and new patient paperwork that can be downloaded.  Or just call us at 541-488-0873!
Learn More:
Rollins Family Health
Dr. Jani Rollins, MD
Patrice Frires, FNP
1025 Siskiyou Blvd, Ashland
541-488-0873