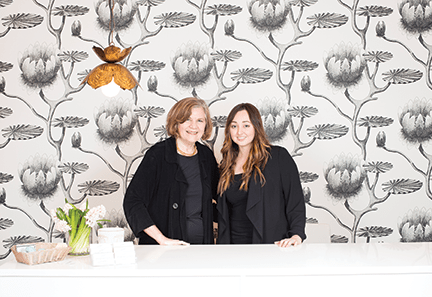 Interviews
Jeanne Walcher and Alicia Croft – Posh Organics – Passionate About Health & Beauty
Jeanne Walcher and her daughter Alicia Croft are passionate about health and beauty.  Posh Organics (formerly known as Pure Alchemy) a retail store and organic skin care spa located on Main Street in downtown Ashland has a reputation amongst locals and visitors alike for its excellent line of natural and organic skin care products and luxurious services. After a longtime career as a Physical Therapist in California, Jeanne brings an appreciation for wellness and high-quality, natural ingredients as well as a commitment to excellent customer service to her new venture.  As co-owners, Jeanne and her daughter Alicia are enthusiastic about offering only the best to those seeking vital radiance through natural skin care.
Thanks so much for talking with us today Jeanne and congratulations on your recent Grand Opening!  How did you decide to purchase Posh Organics, formerly known as Pure Alchemy?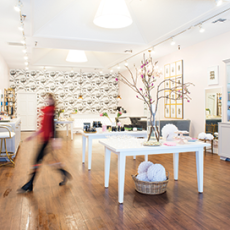 My daughter and I were looking for a business in Ashland that encompasses retail and organic products with a love for total beauty.  When the opportunity opened up, we thought it was a great fit.  We are expanding our make-up lines, as we felt Ashland was missing organic cosmetics.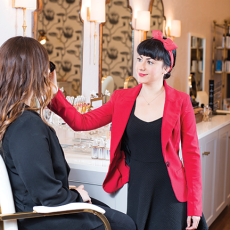 Tell us about the team you have assembled to run the business.
We have a very talented staff with extensive knowledge and training in our Éminence skin care products, as well as our herbs.  They also have backgrounds in retail and customer service.  Our aestheticians each have over 10 years of experience and expertise in skin care, makeup, and waxing.
And there is an impressive amount of training that your staff undergoes to stay up to date on the latest trends and education.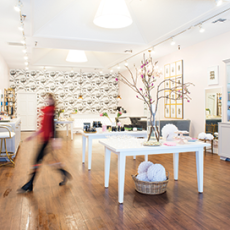 Diana, one of our aestheticians, is certified in Éminence skin care and all of our staff receives regular training from Éminence on their products and protocols.  Erika, our other aesthetician, is also a Makeup Artist.  Both she and Diana stay current with the trends and understand the different beauty needs for different age groups and skin types.  They both have received nominations for best aestheticians in Ashland.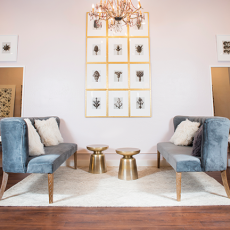 You pride yourself on the personal attention each customer receives at Posh Organics.  Tell us more about that.
Our staff is trained to help each customer choose the products that are specific for their skin type and beauty needs.  Our new beauty bar with improved lighting allows customers to experiment with makeup and receive expert advice.  We are now also offering appointments for makeovers.  And with our new store layout, it will be easier for customers to quickly identify the products.
I understand that Posh Organics caters to "women of a certain age."  Who specifically might enjoy visiting the store?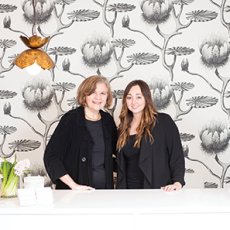 Our products are for women and men of all ages.  Beautiful skin starts with proper care when we're young and becomes increasingly important as we age.  Our makeup lines cater to both young and mature women, and anyone interested in makeup.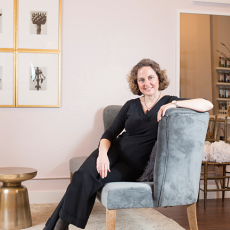 Do you have men who come in for products and facials as well?
Yes, we do have male clientele, as well as couples who come in together for treatments and products.  Men are becoming more savvy about the importance of caring for their skin, and we are seeing an increasing number of men enjoying the benefits of facials.  Our aestheticians are wonderful—an experience that keeps our clients—male and female—coming back.  Male movie stars such as Hugh Jackman, Channing Tatum, and Harry Connick Jr. are all Éminence clients. 
What product lines do you carry?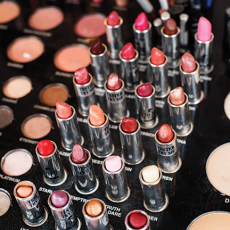 Of course we have Éminence skin care, and we are continuing to carry John Masters Organics, and La Bella Donna and Zuzu makeup lines.  In addition, we are introducing Gabriel and Zuii Organics makeup.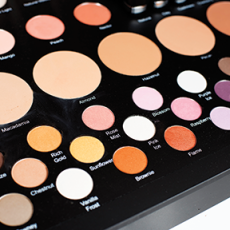 Posh Organics is a premiere Éminence product line carrier that brings a fair amount of non-local traffic to the store as well.
Yes, absolutely!  We have many customers who come specifically for our products from the Bay Area, Mt. Shasta, Seattle and Portland, because of our extensive selection.

Éminence is a natural, chemical-free, organic skin care system from Hungary that's been recognized as the "best of the best" in the beauty industry.  Beauty Magazine named it the 2014 Beauty Choice Award Winner, for its botanicals, fruits and vegetable extracts "to keep skin feeling good and looking its best."  It has been voted the #1 favorite skin care line by spa professionals for 6 years in a row.  Éminence is used by models and movie stars such as Cameron Diaz, Goldie Hawn, Madonna, Jessica Biel, Jenny Garth and many others too numerous to name. 
You work hard to accommodate the needs of local customers.  Tell us more about that.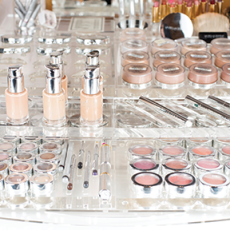 We offer great customer service and we listen to the needs of our clientele.  For the benefit of the community, we're continuing to carry the most popular bulk herbs, tinctures and essential oils, plus we plan to bring in new and exciting things to our boutique.
What are some of your favorite products currently on the shelves?
Éminence products:  Artic Berry Radiance Cream, Bamboo Firming Fluid, Monoi Age Corrective Cleanser, Strawberry Rhubarb Dermafoliant, and Neroli Eye Serum.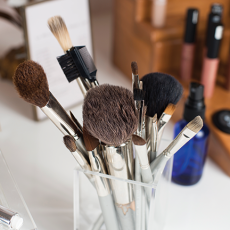 The store recently went through a major makeover, so to speak.  Tell us about some of the changes you implemented for your Valentine's Day grand opening.
We have so many exciting changes!  We have totally revamped the space and improved the overall quality with new paint, lighting, décor and furniture.  Plus we added an additional aesthetician room, and a beauty bar.  We used Jennifer Bright and Laurel Walter from Twist as our decorators and not only did they do a fabulous job, but they were so much fun to work with.  The store is stunning!  Come and experience the changes!
We're often told to be aware of the number of chemicals present in the foods we eat.  What role does this type of information play in the products we put on our skin?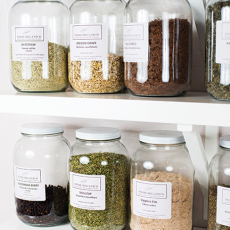 We all have become more educated about the potential negative effects of the chemicals we ingest through food.  I think people are becoming more aware of those same negative effects absorbed through our skin (70-80%) in the products we use.  That's why it's so important to use organic, paraben-free, chemical-free products derived from natural alternatives that are good for our skin.  If it's not pure enough to put in our bodies, we shouldn't put it on our bodies.  It really does make a difference, not only in our health, but also in our skin's beauty.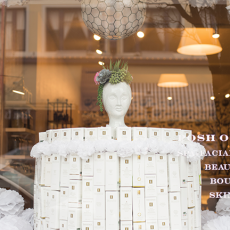 The previous owner went through a "Green Spa" certification process for the store.  Tell us about that unique designation.
The Spa underwent an extensive inspection process with Éminence to certify that it is eco-friendly.  We are excelling in maintaining environmentally friendly practices and upholding the organic standards.
Impressive! Tell us more about the Buy a Product, Plant a Tree campaign.
For every product purchased, Éminence plants a tree.  To date they have planted over 3 million trees in 19 developing countries throughout the world, of which 5,000 are attributable to purchases made in our Ashland store!  We are so proud to be a partner with this green initiative.
Jeanne, are there any events or specials coming up that readers can look forward to at Posh Organics?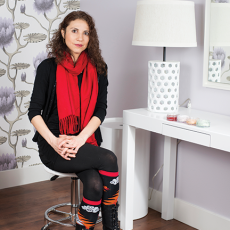 We will be having our official ribbon cutting ceremony with the Chamber of Commerce on March 6th.  At that time we hope to have all the final touches in the shop.  Make sure to join our email list to stay informed on our fantastic monthly events, parties and specials. 
Learn More:
Posh Organics
253 E. Main St., Ashland
541-488-4418