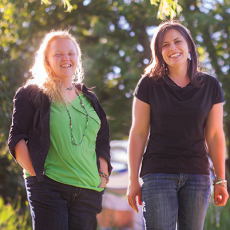 As you read this interview Jenn Head and Rachelle Canady of Oak Grove Midwifery are likely bringing babies into the world.  With nearly 20 years of collective experience supporting parents through the births of their babies at home, these women bring international experience to their work as midwives here in the Rogue Valley.  Numerous international aid trips and education in places such as the Philippines and Uganda have led to invaluable experience (and a little timeless wisdom) for Rachelle and Jenn and the families they serve. As busy as they are, we were happy to catch up with the dynamic duo recently to learn more about their wide-ranging global experience and how it translates to excellent, professional and compassionate care for mothers and babies here in Southern Oregon.
Thanks so much for taking the time to speak with us Jenn.  You're a very busy woman!
It is my pleasure to talk with you. We have had a busy winter, after a bit of a break from last year's trip to the Philippines.  We are getting back into the swing of things.
I understand you have a very interesting family history in regards to midwifery.  Is this what brought you to the profession?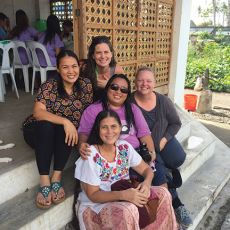 I learned, after my Mamaw passed away, that she was a midwife in rural Kentucky during the early/mid 1900s. I don't have much information about her practice, just what my aunts have told me here and there.  People coming to the farm house in the holler at all times of night to get her for a birth, or catching the baby of a teenage girl while her father was at work in the coal mines.  I like to imagine that she carried a tackle box to carry her supplies, like I do.  She loved to fish! Papaw was the first of 21 children born at home to my great-grandmother Mamaw Raine. Birth was a part of every day life.  Now in Kentucky, home birth is illegal, and the cesarean rate is 37%. Well beyond the World Health Organization recommended rate of 10% -15%.
What actually brought me to midwifery were my own birth experiences and being a doula in Seattle.  I realized after supporting women in labor through birth and postpartum, I could only make so much of a difference in outcome.  I believe in the doula's power to help women reduce cesarean rates, experience less traumatic births, and lower the use of medical intervention. But for me, after so many years, I came to the realization that as a primary caregiver, as a midwife, I could reduce the use of unnecessary interventions first hand and make a greater difference.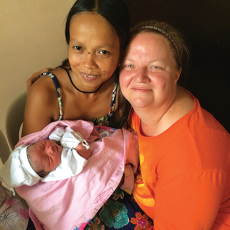 The two of you have a very unique experience with Global Midwifery.  Tell us more about what these trips have done for you as midwifes.
I think the biggest thing that it has done is teach us how fortunate we are to live and work in a place that has what we need when we need it. Birth supplies in Uganda were limited and access to emergency services in the Philippines and Uganda were complicated and difficult at best. Our birth kit in Uganda consisted of hemostats, 2 towels, cotton wool, a deLee suction device and scissors.  When we come home and work stateside we are plush with needed equipment, medications, and medical services. Women are undernourished in the developing world and here, our mothers are healthy and have access to fresh food and food programs even if they can't afford it.
A sense of gratitude here at home is real. Another thing that we come home with is more confidence in our skills. The volume is greater overseas, but the women we work with are at a higher risk than ones we work with here. We can assume that women who do not have access to iron, and nutrient rich foods in Uganda, for example, are probably anemic. We can only alter their diets so much and offer supplements as they become available from donations or herbs grown locally. Regardless of what their iron level is at birth, we have to deal with the outcome and do the work with limited resources. When we come home, we can place our clients on awesome iron supplements, monitor and alter their diets, and check their iron levels regularly, so that by the time they birth, we know what to expect and how to proactively manage the situation. It seems simple, but it is a luxury and makes practicing in the States much simpler.
Some of your original training as an intern began in a population of underserved, marginalized people in Texas on the border of Mexico and in the impoverished population of the southern part of the Philippines.  How have those experiences informed your work so far?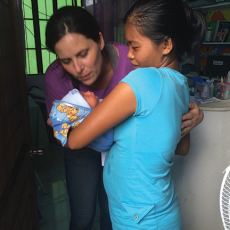 Because of my father's career as a civil engineer, I grew up on and around Native American reservations that were poor and low on community services where he made a difference in bettering living conditions. As an adult, before I entered midwifery, I served as the board president of Open Arms Perinatal Services in Seattle, which offered no-cost doula care to Medicaid-qualified women. I have always been led to work with the underserved.
During my time in Texas, I interned in a high-volume birth center that served mostly women that were crossing the border to have safe, affordable, respectful births. We worked with women as young as 15 and as old as 45 while I was there. Had these women gone into the medical system they would have been treated as just another number and I really felt like we were making a difference by offering holistic midwifery care to the families birthing there.
In the Philippines, the families were coming from the indigent populations where their homes had dirt floors and see-through walls. The hospitals there are a pay-as-you-go system. You must pay your bill before you leave.  If you could not pay for your birth, you could not leave.  Women coming to birth at the clinic I interned at paid a nominal fee that was not mandatory. It is revolutionary to offer healthcare for free because healthcare is a human right and not something that is earned. Rachelle has worked in this clinic on two different occasions, once as an intern and once as a visiting midwife.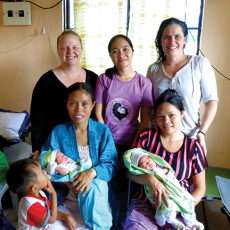 I believe that all people deserve appropriate and quality healthcare regardless of their ability to pay. I have to pay my bills and I have to raise my kids, so getting paid is important to me, but for the very poor, subsidies are a must. Each life saved or disaster averted feels good. Doing this work is definitely a bit addicting. The adrenaline rush of being in precarious situations or personally dangerous scenarios can be enthralling. When I was given the opportunity to work in Atiak, Uganda with Mother Health International, I jumped on it. The birth center there is free to the birthing families and is entirely subsidized by donations. When I was there, they were still building their current birth center and the infrastructure was minimal.  We had no running water or electricity. Our ambulance only worked for a few days and we only had anti-hemorrhagic medications in house for two days of the five weeks I was there. We worked alongside the local midwives (Lucolo). I was able to work with the Lucolo daily doing prenatals and postpartums. I was honored to catch twins and a footling breech baby and to attend an HIV positive mama giving birth. Among the women who we served and served with daily were women who had suffered the effects of polio, war, abuse, malnourishment, and abandonment among many other things.
The most recent trip Rachelle and I went on fell into our laps. Michael Franti's non-profit organization One Big Love put out a call for midwives from around the globe to come help relieve the local midwives recovering from the super typhoon from November 2013 in Dulag, Philippines. They were offering grants for midwives to come. Rachelle and I put our applications in right away, and asked to be scheduled for October of 2014, so we could finish out our current client load. I'm not sure how many midwives applied from around the world, but there were only 20 grants awarded and Rachelle and I each got one. Not bad from our little Ashland town.
Wow!  That is amazing.  Your international work is quite unique and must have led you to some amazing places.
As far as I know, we are currently the only midwives still practicing in the valley that travels internationally to work as volunteer midwives. Without a doubt, we learn as much from the traveling and local midwives we meet and work with as we offer when we go. As a part of my role as a Senior Staff Midwife in Uganda, I helped train upcoming and practicing midwives in better practices. However, some of my favorite times were really learning from them.
There was a mama who had been on bed rest in our birth center for a week with twins. I needed an assist for the birth, so I called in the Lucolo Magdelena. She lived just two huts down and had birthed two sets of twins herself. She was the essence of calm and trust in the birth room when I needed it. I looked to her for peace and faith in a time of the unknown. I could teach her all about neonatal resuscitation, or taking a blood pressure, but she taught me about trust and surrender to what will be. Those two babies are 5 now. The first time I went to the Philippines, I spoke with a traditional Filipino midwife (Hilot) and asked her what she did for excessive bleeding or morning sickness or other pregnancy discomforts and she said, "massage." Massage is the healing answer to all ailments. It is within the culture as THE method of healing. This last time we were in the Philippines, we learned about an herb that the midwives use postpartum at every birth to help the placenta to come quickly. It was fantastic. It worked so well, we have integrated it into our practice here at home and had great success every time.
I have been to the top of volcanoes, ridden on the back of a motorcycle with four other people on it on rocky roads, stared down the barrel of an AK-47 as I was arguing with a guard trying to get a woman on a bus to the hospital, held the lacerated arm of a dying man squatting in the back of an ambulance on a bumpy road while Rachelle regulated the oxygen and tried to stimulate his breathing. We have been stung by jellyfish, sung karaoke at the top of our lungs, marched in parades, comforted women who have lost their babies in labor, fed the hungry, played with babies, and made lifelong friends. We could write a book about what we have seen and we don't have time here to do it. Let's have tea, and we could tell you more!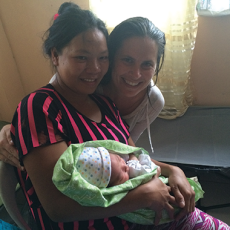 Here at home, there are lots of midwives to choose from when choosing to birth at home.  What should prospective parents consider when choosing a midwifery team?
Without a doubt, we are truly blessed to live in a community that is rich in competent and excellent midwives. I think we are all very different in our personalities and approach. We believe there is a midwife for everyone. Women get to choose us. When we get to interview a prospective client, we are honored to be a part of their process. I have heard it said that it is one of the first parenting choices a woman makes in the life of her child. We take no offense when we are not chosen. It is most important to consider whom you are comfortable with. Who do you click with? Are your questions being answered? We believe that birth is a natural process to be supported rather than something to be executed, and we look forward to working with people who feel the same.
What do the parents you work with have to say about your services?
"We had an amazing birthing experience with Oak Grove Midwifery. Rachelle and Jenn are professional and personable. They really listened to what I wanted and my baby and I received excellent care. They were great with papa and our older son as well and they both have terrific laughs! Highly recommended for a home birth in the Rogue Valley!"

– Katie
"As a repeat client, I am beyond blessed to have been able to use Oak Grove Midwifery for both of my boys. The care and support I have received from them was incredible, I didn't ever feel like "just another patient." They got to know my family and me and really supported all of us. My prenatal, birth and post-partum care was fantastic. These amazing women encourage, educate, and care for you in the deepest sense. They create a trusting bond, which is so vital for a healthy birthing environment. I also love how grounded and rooted in reality they are. These are real women, mamas themselves with experience, who are passionate about what they do. I couldn't recommend them enough." 

– Emily
Homebirth and midwifery are relatively common around the world.  Is that correct?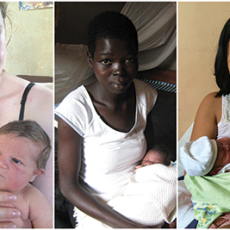 In the last 10 years, homebirths have doubled in the United States. How fantastic is that? However, we are still only at less than 1% nationally. In Oregon, we have a nearly 2% homebirth rate. We are nowhere near our European counterparts in Holland who have a 30% homebirth rate. We have a lot of work to do in order to make midwifery the expected route of care for a healthy, pregnant woman. According to the World Health Organization, "Midwifery encompasses care of women during pregnancy, labour, and the postpartum period, as well as care of the newborn. It includes measures aimed at preventing health problems in pregnancy, the detection of abnormal conditions, the procurement of medical assistance when necessary, and the execution of emergency measures in the absence of medical help."  
Most importantly, the WHO website also reports, "In 2010 approximately 287,000 women died while pregnant or giving birth and 3.1 million newborns die in the neonatal period. The highest incidence of maternal and perinatal mortality occurs around the time of birth with the majority of deaths occurring within the first 24 hours after birth. This is why WHO advocates for "skilled care at every birth." Ensuring quality maternity care services can save the lives of women and newborns. These services require "an accredited health professional – such as a midwife, doctor or nurse – who has been educated and trained to proficiency in the skills needed to manage normal (uncomplicated) pregnancies, childbirth and the immediate postnatal period, and in the identification, management and referral of complications in women and newborns.
In addition to the appropriate skills, these health professionals should be motivated and located in the right place at the right time, They need to be supported by appropriate policies, essential supplies including medicines and operating under appropriate regulatory frameworks."   Access to skilled birth attendants in the developing world is difficult which is why we travel and is the reason why we teach and why we need more midwives in this world willing to do the work.
Talk to us about transport and how you are able to collaborate with doctors and hospitals when the need arises. 
I serve as the local state representative for the Oregon Midwifery Council and as a group we are actively working towards better transports for our clients. It is our goal as a midwifery community that we collaborate with our hospital counterparts in creating the smoothest and safest transitions from out of hospital (home birth) to the hospital as needed. Ideally, we could have doctors that we can call when we have questions or concerns intrapartum that will then consult with us and make our transport to the hospital easier for everyone.
I truly believe that all parties want what is best for mother and baby, and through ongoing consultation and trainings with hospitals and first responders, we hope to continue the process of improvement.
And how does the state of Oregon rate when it comes to supporting midwives and families choosing to birth at home?
We are a very special state. In volume, we rank second highest in the nation for home birth, second only to Montana. Our regulations are generous and respectful of the art and science of midwifery.  As of January 1 of this year, through the diligence of the Oregon Midwifery Council advocacy, and lobbyists, the OHP Open Card is now available to almost all Medicaid-qualifying birthing moms from the beginning of pregnancy, and not just for the third trimester. This makes it so that the Oregon Health Plan can pay licensed midwives like Rachelle and I at Oak Grove.
What do you love about your job?
There is so much! I think seeing new people come into this world is pretty special. Mostly, by the end of our time together, we have become a part of the family. Our final visit feels both sad and joyful. I think about each baby and family every so often and wonder how they are doing. One of the reasons I like Facebook so much is because I get to see the little ones growing up and riding bikes and going to school and starting high school, and soon enough graduate high school or have a baby themselves.  I love being an extended family member in so many people's lives.
You must have some great stories.  Tell us a birth story.
Lola Robin Lim, CNN Hero Award Winner and longtime midwife humanitarian, had just been to visit, and was really hoping to be present for the 700th birth at the birth center in Dulag.  She was there for 699 and kept thinking that 700 would walk in at any moment. We took her to the airport, and when we returned, there was a woman in labor. It was not her first baby and she was accompanied by her niece. Her husband was outside the birth room, and the niece was sitting on the edge of the other bed. The birth rooms were small and hot.  If more than a couple of people were in them at one time, it felt like a sauna.  Rachelle and I had become very good friends with the Clinical site director Tet, and when she heard that the 700th baby was on its way, she asked if Rachelle and I would work as a team to care for this woman and this birth.  All of the midwives and Tet were interested in how we worked together, and how we handled the little details here and there.
So, off we went.  We checked in with mama.  We began to get to know her.  We found out that she had 3 sons and lived in a little Baranguay just a few kilometers behind the birth center. She was standing and rocking on her feet next to the bed, heart tones sounded great. She was smiling and moving with each surge. As some time went by, we realized that the little back room that held medications and extra supplies had become occupied by Tet. She was there to document the birth for the center. Documentation is very important!
Then, moments later one of the local midwives, Jill, came into the room and began singing.  She has an amazing voice.  It was a hymn sung in church in Waray-Waray. Finally Joanna, the other midwife arrived, to lend another helping hand. In the end, there was also a praying mantis sitting on the baby scale awaiting the arrival of this new little being. The room was lit by a small solar light, and thick with humidity.  The mom was able to get in lots of positions while pushing, the baby stayed strong and active.  When the mom found a position that felt just right and was making good progress with pushing, Rachelle sat at the foot of the bed, and I squatted by the bedside with a receiving blanket and stethoscope over my shoulder awaiting baby's arrival.
Moments later, Little Jilly, her first daughter, came peacefully and aware fully into the world into Rachelle's arms and lifted to her mother's breasts. I took the clean receiving blanket and wiped her down and dried her off. A midwife began singing again to welcome this new little girl.  "Alleluia, Alleluia speak wise one and we will listen to your words Alleluia, Alleluia." For a moment, that moment was all that mattered. For this family and for this moment, the super typhoon from the year before was not present, and neither was the lack of money, or the lack of regular food. The only thing that mattered was Jilly's sweet cheeks and mama's beautiful glow.
As with all the mamas, we made sure she had food to eat, and clean water to drink. The rest of us went and celebrated the 700th baby.  Rachelle and I were honored to be a part of it all.  The next day, we took Jilly and her mama home to a family excited to welcome home a brand new beautiful baby girl.
Is there anything else Oak Grove Midwifery offers that you would like readers to know about?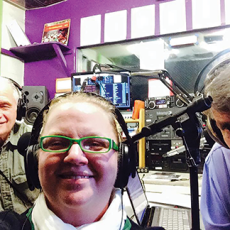 We have free consultations/interviews to help see if home birth is the right choice for you and your family, just give us a call.  We bill all insurances, and take OHP open card.  We walk women through the process of getting on the Open Card from the very beginning and hopefully take the stress off of the bureaucratic hoop jumping. We offer monthly classes that are open to the public for a nominal fee and free to all of our clients. March 8th is the Breastfeeding class.  May is our Childbirth series; June is a class on the Babymoon and Postpartum recovery and preparation.
To find out more information about the organizations we work with and to make donations or find out ways of supporting them, please look them up:
Uganda: Mother Health International – Motherhealth.org
Philippines:  Bumi Wadah Foundation – wadahfoundation.or.id
We are so excited to get to know more of our community members and to share our learned knowledge from around the world with more families.  We are hoping to have an evening of sharing about our journeys in the near future. Stay tuned!
Learn More:
Oak Grove Midwifery
541-690-6591