Interviews
Jenny Spears – Roots Massage – Healing from the Roots Up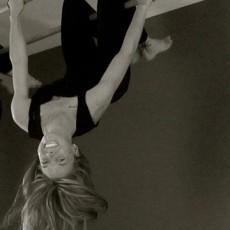 Ashland has a way of drawing people back and Jenny Spears is one of them. After spending her adult life in places such as Bend and Portland, Jenny Spears has been called back to her childhood home, this time with the opening of her massage practice, Roots Massage. Now literally putting her roots down as a bodyworker here in Ashland, Jenny is happy to be settling down in a community she knows so well.
Jenny's practice in Bend helped her cultivate a specialty working with athletes, as well as those suffering from chronic pain including migraines. Jenny brings her gentle intuition and passion for the human body to her practice here in Ashland. We caught up with Jenny to learn more about her growing business and what it is about being a massage therapist that truly fills her soul.
You've had quite an interesting journey. How did you find your path to becoming a massage therapist?
Massage therapy was not the first profession I pursued. I discovered massage unexpectedly while I was taking some time away from teaching elementary school and traveling in Costa Rica. I was asked to give massages in exchange for partial room and board at the remote yoga retreat center I visited at the beginning of my travels. I had imagined gardening as my work exchange; instead I found myself on a path to a new career. Although I gave massages for an entire month there, it only took two massages to realize that this was a passion. I decided to cut my travel plans short and I attended the Ashland Institute of Massage soon after.
Was there something specific about that second massage that helped you to know massage therapy was a fit for you?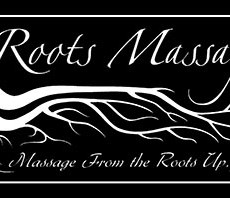 Yes. It wasn't just that the setting was a dream massage setting. (I used coconut oil harvested from nearby trees, the smell from ylang ylang flowers wafted over the massage table, and the sounds were of ocean, rainforest birds and the occasional howler monkey.) And it wasn't that client feedback was favorable. I knew massage therapy was, without a doubt, a direction I had to go, because during that second massage, I achieved a state of meditation unlike ever before, where all unrelated thoughts were absent and I was completely present in that moment. I felt so grounded and wanted to feel that more.
What is it like to work as a massage therapist in your hometown?
It feels like I have come full circle. My new massage studio is in the same business complex as my massage school. I love that Ashland has seen me through so many phases of my life: age five to high school graduation; when I returned to get my Masters in Teaching at SOU and became a teacher and coach in the Ashland School District; and now, as I reconnect with Ashland once again, this time as a massage therapist and business owner. I love that many of my clients here in Ashland are people that watched me grow up as I played beside their children, people I knew when I was teaching, people I used to see one court over at the tennis club, and old friends.
Your business name Roots Massage is unique. Tell us more about this.
I strive to give massages "from the roots up." What I mean by this is that I aim to find the root cause of an injury or the root source of pain. To do this, I look at the body holistically. I look for connections between muscles and other soft tissues, and even links to other body systems.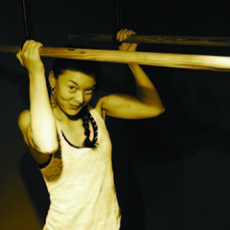 You often use a unique massage therapy technique called Ashiatsu Oriental Bar Therapy. Can you describe this technique as well as its benefits?
Ashiatsu, literally meaning "foot pressure," is a deep-tissue barefoot massage technique. To do Ashiatsu, I support my weight by holding on to parallel bars above my head. This allows me to control the pressure as I dance across my clients' backs and legs. One of my clients calls me Jenny Backwalker, while another says it's like I am windsurfing on her back, but I like to think of it as dancing. Ashiatsu allows me to apply deeper, broader pressure, longer strokes, and traction that I cannot achieve using my hands, forearms and elbows. When I received my training in this technique, it immediately felt incredibly natural, as if I'd been doing it for years. I am constantly amazed that my sensitivity with my feet is nearly as proficient as it is with my hands. One of my goals during my massages is to be able to switch back and forth between using my hands and my feet without the client knowing which is which. I have completed all levels of Ashiatsu training, including Ashi-Thai.
What other specialties do you have?
Along with Ashiatsu, my other primary specialties include Myofascial Release, and a neuromuscular therapy technique called Strain-Counter-Strain. I am also certified in Pregnancy Massage. Through releasing tension in the soft tissues, I hope to break muscles of their compensating patterns and bring them back into balance with opposing muscles, realign the structure and improve posture, increase circulation, the flow of lymph and depth of breath, and relax the nervous system. In every session, I blend together a variety of techniques to meet the needs of each unique client on each unique day.
Do you have a typical client? Why do people generally come to see you?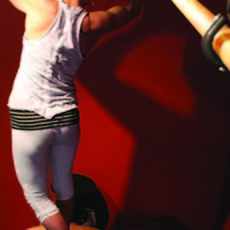 My clients range from 9 years old to 80 and come from all different backgrounds. People generally come see me because they just want to feel better. Many suffer from chronic pain, migraines or specific injuries. Some want to make massage part of their plan to lose weight. Some seek stress-relief. Many just want to improve their overall well-being.
You have found some interesting similarities between teaching elementary school and your work as a massage therapist. What are they?
Even though I can no longer say I work as a teacher, teaching is still very much a part of my work. I use my experience with lesson planning to structure my massages, and I always have to be willing to "modify and adjust," depending on what the client's body and my intuition tell me. I love teaching clients how to become more aware of their bodies, their breath, and their patterns of tension. I enjoy teaching clients simple exercises and techniques they can use to better take care of themselves between sessions. When clients follow my suggestions, it really shows and I get to be proud of them in the same way I used to be proud of my students.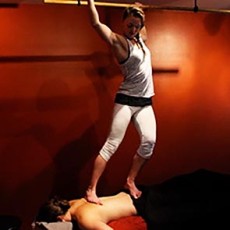 What do your clients have to say about your work?
Here are some testimonials:
"A massage from Jenny Spears is an experience to change the way you look at massage. I have been to many massage therapists and Jenny's work is some of the most intricate, thorough, and beneficial I've ever received. The way she trades off between using her hands and feet is something you have to feel for yourself, and when you feel the benefits you will be hooked."
~Heather H.

"Jen is amazing! She knows how to read the body like no other practitioner I've known!"

~Nancie G.

"Jenny is truly gifted. She works with my body in ways that release physical restrictions that go to the soul – the roots— and she works with such compassion. I am grateful."

~Judith C.
Do you have any mentors that have impacted your work?
David Fredrickson, a local bodywork practitioner and instructor, has probably influenced my work more than anyone. When I was in massage school, he saw that I was "like a sponge" (his words), ready to soak up any knowledge I could about the human body. He shared his vast knowledge with me, taught me clinical assessment techniques, and inspired me to pursue a path in therapeutic, treatment-oriented massage work.
What's it like to be a business owner?
I love owning my own business. I value hard work and I like the challenge of growing my business and always trying to find ways to improve. I like being able to make that first impression with clients when they initially get in touch to schedule. I enjoy being the one who can fix and solve problems right away when they arise. To me, being a business owner is very satisfying.
Jenny, what do you like to do when you are not working?
Pretty much anything active, even though I probably should be exhausted after giving massages. Yoga, running, tennis, rock climbing, paddle boarding, dancing (especially my favorite dance, West Coast Swing), hiking with my dog…
Do you have any specials or great deals that readers can take advantage of? How can people best schedule an appointment with you?
To schedule, I can be reached via phone, email or text. I'm offering a special to new clients who mention this Locals Guide interview: $10 off your first massage, through March 31st.
Learn More:
Roots Massage
541.531.1766
jen@rootsmassageashland.com
www.rootsmassageashland.com