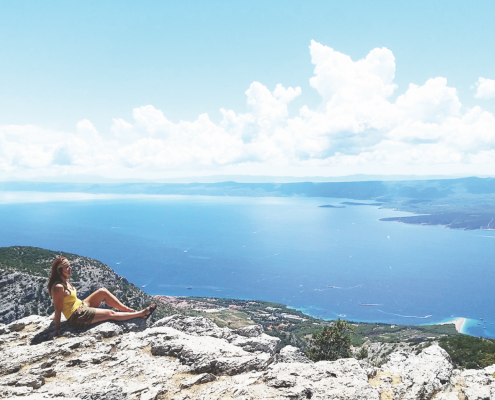 Three years ago, Jessica Vineyard sold everything she owned and left the Rogue Valley to travel the world. She stepped into the complete unknown, traveling to more than 20 different countries. Jessica had lived in Ashland and Talent for 22 years, actively participating in the community as a business owner, astronomer, friend, and neighbor. This interview is part of my ongoing series to inspire people in our community get out and explore the world. I caught up with Jessica via Google Voice to learn about her adventures as a digital nomad and world traveler!
Jessica, wow! So great to hear your voice and talk with you. Thank you for taking the time to speak with me today at the LocalsGuide. Where are you currently?
I'm currently visiting family in California for a few months. It's definitely strange to be back in the States for so long.
Three years ago, you sold everything you owned and embarked on your world travels. What inspired you to take this adventure?
Like thousands of others, I lost everything to bankruptcy in 2010 as a result of the economic crash in 2008: my business, my building, my job, my status, my boyfriend, my dignity, and my pride. I was 53 and had to completely start over. It took me a few years to dig out of that horrible pit of despair, and I built a small but successful freelance book editing business.

By 2014, I had built a safe little box around myself, but that is so not who I am! I really needed to bust out of that box and reclaim myself, and I needed to do something dramatic and radical to do so. I woke up one morning and realized that my editing business had been stable for a solid year. It was time to move to Ecuador! My very next thought was, "Or I could travel around the world for a year first!" In that moment, I committed to leaving one year from that day and head out on a year-long trip around the world. One year and three weeks later, I was on a plane to Bali.
What were your biggest fears or concerns before embarking on your trip?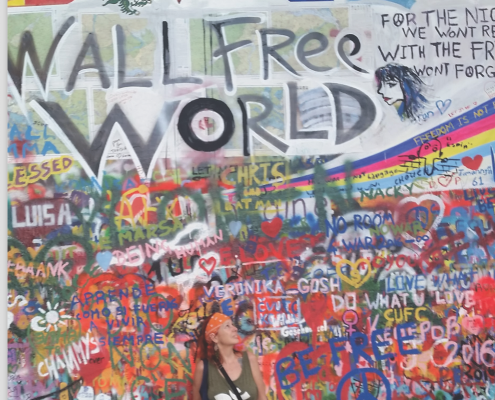 In the early days of my year of preparation, I honestly didn't have many fears. My excitement overwhelmed all other thoughts. Of course, the reality of leaving was still a long way off. My income was stable, so I wouldn't have to worry much about money.

As the time drew nearer, I started realizing the enormity of what I was giving up: my possessions, my home, my friends, and my community. But I was so ready for a dramatic change that my excitement overpowered my fear every time.

I regularly practiced visualizing myself on my travels in order to create new neural pathways, which helped make the unknown more comfortable and familiar. I would envision myself on an island jungle sitting by a waterfall, eating something off a banana leaf or gliding down a muddy river in a rickety little wooden boat, waving a fan to stave off the heat. This rewiring of my brain allowed me to relax into the possibilities.

I also talked right into my eyes in the mirror, consciously transmuting fear into excitement. I'd look into the mirror and say out loud, "I AM TERRIFIED! AND THIS IS GOING TO BE SO CRAZY EXCITING!!!" over and over. Worked every time.
You then sold everything you owned and jumped ship. Failure was not an option for you.
I was ready to leave the Rogue Valley for good, and I didn't want to leave a safety net behind. I didn't want an out; I was committed. I was really clear I was letting everything go. It was terrifying at times, for sure. After all, I wasn't young—but I was healthy, motivated, and hungry for new adventure.

During my year of preparation, I underwent a big transformation. I was letting go of my status, my attachment to being part of a community, and the entire identity I had created in Ashland over the previous 22 years. It was a huge psychological shift.

I had many moments of thinking I had gone crazy. "What am I thinking? This is ridiculous!" I was making the most bizarre decision of my life—but I never thought I would fail. How do you fail at adventure, anyway? I literally reprogrammed my brain to accept the great unknown and got rid of the option for failure.
The first year you traveled around the world, where did you go?
I headed west and started in Southeast Asia. I spent the first six months in Indonesia, Malaysia, Thailand, Cambodia, and Vietnam. From there, weather started to dictate where I went next. For example, it was too hot to go to Sri Lanka, my next destination, so I ended up in Greece and spent the rest of the summer in Eastern Europe. I flew from Spain to South America and finally ended up in Ecuador, sticking with my plan to live there at the end of the travel year.

I got a house share and settled in. Two months later, I realized I wasn't done traveling, so I threw my grand plan out the window and headed back to Thailand.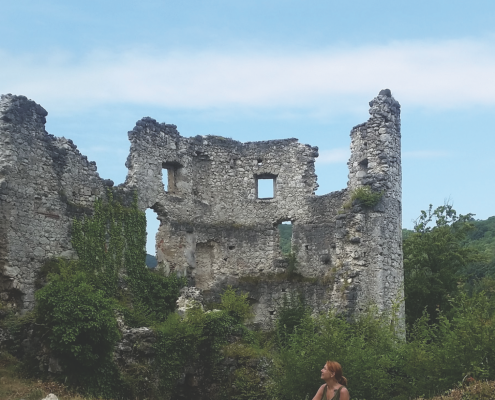 How did it all turn out?
This journey has been beyond my wildest dreams. I have been places and seen things and had experiences that were once only far-off dreams. I love the richness of different cultures, and deeply immerse myself. I love the low-level way I travel: feet on the ground. I have lived close to the bone in a lot of places, where comforts are few and luxuries are nonexistent. I see how the poorest of people can be happy and welcoming because they are so far removed from a culture of consumerism and politics. Part of the richness is that nothing is familiar. Literally everything is outside my comfortable zone, not in a scary or painful way, just different.

I learned that I need very little to live on. I live out of one carry-on bag and a small daypack, and I have everything I need. I am completely free and unencumbered.
What surprised you the most about yourself when embarking on this adventure?
This wasn't a journey about "finding myself," it was about the adventure. But of course, I learned far more about myself than I had anticipated. I found that I had been looking for approval from others my whole life. But I undertook this journey for myself, so I wasn't looking for approval from anyone but me. I was completely free of other people's opinions about me. I found this to be a fundamental freedom; I was totally free. Other people just didn't factor into who I was anymore. All that need for approval just went away. I was free from the whole issue of needing to be accepted, and I found my genuine self.

I had only myself to count on, and I had to trust myself. I had to believe in myself. It was a huge eye-opener when I realized all of this. I just expected to have fun, but I found this whole new me, secure, sure of herself and her worthiness, and it has changed my life.
Jessica, you are continually meeting travelers from around the world. Please talk about the friendships and connections you have made.
One of the most wonderful surprises was that I never feel alone as a solo traveler. I often live in hostels, which offer a built-in community of young and fascinating travelers. Meeting other solo travelers from all around the world means that we have only these weird, compressed periods of time to get to know each other. You go really deep, really fast.

I've stayed in touch with many of the people I've met. The richness and the texture of these encounters are more valuable than the travel itself.
What specific message would you share with young people to encourage them to travel?
If you are looking to expand your worldview, there is nothing like travel. And you will never be alone. You will meet other travelers and change your plans and travel together a week or two or three at a time. You will learn to budget your money and certainly learn to ride a scooter. You will learn to depend on yourself, and everything else in life will be easier because you will know you can survive anything anywhere. If you get lost, you'll find your way. Nothing can teach you to depend on your wits, people skills, money management, creativity, and life hacks like travel can.
What advice would you give to parents in supporting young people in their travels and exploration?
Many people see Europe as the default destination, but most of Europe is literally ten times more expensive than Southeast Asia. There are thousand of young travelers in SE Asia and more exotic and unusual things to see and experience. It is easier to get around, to eat, to sightsee, and the dollar goes much, much further. Your kids will develop all the skills they will need to get by in the world. And it's so much safer than most people think. Give me SE Asia over the US any day in terms of safety.
Jessica, can you share one or two special travel stories with us that encapsulate the wonder you have been experiencing?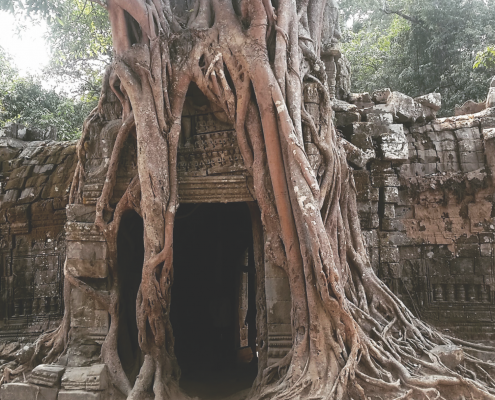 One of the most amazing experiences of all started on a six-hour bus ride in Vietnam. I sat next to a tiny Buddhist nun, a woman in her mid-thirties who spoke no English. We used Google Translate (there's wifi on the buses there!) to talk and laugh for the whole ride. Through her I met another nun, who invited me to visit her private orphanage outside Saigon. That turned into a month-long stay. The nuns made me three custom Buddhist outfits to wear, and I worked with the children at the orphanage. It was the most remarkable experience of my life.

In the small Eastern European country of Montenegro, I met Andrija, a charming and delightful nine-year-old boy, and we became fast friends over the ten days we hung out in Kotor. We went swimming and watched the stars, and I got to be there when he saw his very first meteor, which just happened to be a bolide, a large, exploding meteor that streaked green across half the sky! We are still in touch, and he just had his 11th birthday.
Let's talk about the real cost of travel. Is it as expensive as one might think?
Americans have a general perception of how travel works: Save thousands of dollars, then go to an expensive resort or tour for two weeks. Spend all the money as you move about in a little American bubble and barely experience the culture. Then go home and look at your photos. I used to travel this way, too. Now I generally go to countries where the US dollar goes a long way, and I travel totally differently.

For example, just this past July I rented a darling little fully furnished house overlooking the Gulf of Thailand on the stunningly beautiful island of Koh Phangan. I splurged and paid $500 for the month. I rented a scooter (spendy at $5 a day; I usually pay $3) to get to town for food shopping. It was heaven.

Of course, the best experiences are free.
Jessica, please talk more about your work as an editor and the reality of being a digital nomad.
When I chose to become a book editor, it was with the conscious idea that I wanted to eventually move out of the country. It's fantastic to be able to carry my office in a little pack on my back and have the freedom to work from anywhere in the world. Unlike many digital nomads who need wifi to do their work, I need wifi only to transmit documents and check email. That said, wifi is everywhere in the world.

Digital nomads work a wide variety of jobs. I have met people who develop apps and websites, work in banking, do graphic arts, and maintain blogs. There are digital nomad hubs all over the world for people who like to gather with other nomads in a co-workspace.
What do you see as your end game?
I have fallen in love with Thailand in general and the island of Koh Lanta in particular. I have made many friends there, both expats and locals, I know my way around, and it's one of the most gorgeous and serene places I have ever been. I see myself living there for six months and somewhere else for six months, perhaps Mexico or somewhere in South America.
What are some of your favorite places you have traveled to date?
I love Thailand, as I mentioned, and I was just in the Philippines, which is incredible. I loved Montenegro, Croatia, and a little town called Cesky Krumlov in Czech Republic. Morocco was an incredible experience. I'd go back to Vietnam in a heartbeat.
Talk about the name you have for yourself Vagabond Queen. What does this mean to you?
Haha! I was a Firecracker Queen in the 4th of July parade in 2014, the year of my travel preparation. We all named ourselves, and Vagabond Queen seemed natural. I still carry my beauty queen sash with me on my travels. I'm on Instagram as Vagabond Queen Travels.
Travel has completely changed who you are, and in turn, you are creating a new business because of this. Please say more.
I have developed a life coaching business as a direct result of the personal transformation I have experienced. I have always been able to set and meet goals, and I found myself coaching many of the travelers I met. I am deeply inspired to help others reach their dream goals or to transition out of their humdrum lives and into the life they want. I am working with clients and seeing results, and it's incredibly rewarding.

I only work with people who are ready for change, so for those ready to launch into their dream life, we can have a conversation to see if we'd be a good fit. I'm living my dream life after suffering devastating loss, but people don't have to wait to start experiencing their best life!
Jessica, I know that I say this on behalf of so many people who know and love you – You Go Girl!
Oh, gosh, thank you, Shields. I'm honored that you asked to chat. And you're living your dream life, too!
Where do we find you next?
I'm heading for a sailing trip in Baja California in January, then either going deeper into Mexico or heading to India for six months. The world is wide open!
Learn More:
Jessica Vineyard
628-333-4978
www.redletterediting.com
www.vagabondqueentravels.com