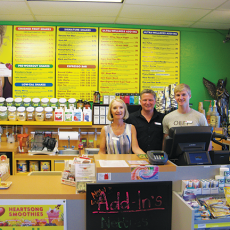 When the Spencer family moved to Ashland from Alaska in 2012 and opened Heartsong Nutrition located in the Market of Choice shopping center on Ashland Street, they were not unfamiliar with operating a retail business dedicated to keeping people well. Jim and his wife Anyas had already started six nutrition stores in Alaska. Jim knew that Ashland needed a retail store that could support healthy lifestyles. With The Diabesity epidemic rampant throughout the nation, because of the typical American diet, there was a need for a store such as Heartsong Nutrition that could offer product solutions with complex food supplements, current product information, and of course, delicious and healthy Crushed Fruit Smoothies. I spoke with Jim recently to find out more about his passion for good health and how Heartsong Nutrition is doing and is being accepted in health-conscious Ashland.
Thanks for taking the time to speak with us today. I want to hear more about those fabulous smoothies. What makes them so special, aside from the fact that they taste great?
What makes them so special are the types of ingredients which we select to satisfy our customers' requirements; potent healing foods high in purity, with high nutritional standards for active living, and—-a great taste. We wanted to make our smoothies as organic as possible, high in fiber, without GMOs, added sugar, or artificial ingredients. We found a supplier for organic whole crushed fruits and vegetables, preserved through flash pasteurization, in order to maintain sanitation and preparation of the fruits and vegetables in a quality controlled environment.
We have a dozen different fruit and vegetable bases with over 60 boosters to choose from! We use fresh bananas and stinging nettles when in season, as well as a vast array of exotic low temperature, sun-dried and freeze dried super foods. You can add a multi-vitamin, bee pollen, maca, mushrooms, adaptogenic tonics and herbs, protein, creatine, and raw organic superfoods, to name a few.
Did you know that one ounce of Tart Cherry juice contains anti-inflammatory agents that work the same way as Ibuprofen, plus Melatonin, which is a neuro-protector and helps you sleep? Did you know Green Papaya powder in a drink delivers a complete digestive enzyme package? Our 20 years experience in the Vitamin Supplement Industry allows us to concoct complex balanced smoothies that supply your body with phyto-nutrients and are completely natural—coming from herbs, nuts, seeds, fruits and vegetables. We offer multiple dairy free, gluten free, and all vegan options. You can get 40 grams of protein in a drink and a full day's supply of multi-vitamins. Everyone has different needs and at Heartsong, you can completely customize your smoothies just the way you want them – "Have it your way smoothies." We strive to provide a large variety of natural ingredients, combined with our nutritional knowledge, in a relaxed and friendly atmosphere.
What does Heartsong have to offer besides the fabulous smoothie bar?
We try to stay on top of the vast array of nutritional supplements coming on to the market. Supplement science is progressing rapidly and it takes a lot of study to know which products to stock and what benefits they provide. Many plants contain groups of supplements that work synergistically. Some companies package using this understanding. For example, we favor some of the liquid vitamin products because they contain a wide variety of beneficial natural ingredients and are better absorbed by the body. Just taking one ounce a day can provide many benefits. And if a customer has specific health goals, our job is to direct them to the product information so they can make the best informed decisions. We help the customers put the control of their health in their own hands, which is where it should be.
Tell us about the role of Heartsong Nutrition in the local community.
At Heartsong, with our 'Pure Heart, Clean Mind, Healthy Body, and Healthy Relationships' philosophy, we try to be mindful of the value of our customers' total well-being. Each person is a reflection of the Creator, and we do everything we can to help them have a positive and uplifting experience when they visit our store. We are mindful of community higher purposes and offer our meditation/prayer/meeting room to non-profit groups free of charge. You just have to call to schedule. We have a few groups that regularly meet, including The Urantia Book and the Course of Miracles study groups, a Women's Soul Circle, Healing Support Group, All Things Spiritual, etc.
How did you get here Jim?
Our whole family comes from a background in athletics, and has been involved in the nutrition industry for about 20 years. Anyas and I were foreign missionaries for another 13 years in Europe, the Middle East, and Southeast Asia. Having been engaged in volunteer work and in the health food industry for many years, the evolution of Heartsong Nutrition was a natural outgrowth. I have suffered personal health issues as well, and my journey to regain my health made me very aware of what our modern culture is facing. I believe that good health is derived from consuming the right foods, having good water, supplementing where necessary, detoxifying regularly, using techniques to calm the mind, having good social experiences, and performing some sort of service to others.
You have a firm belief that diets do not work. Tell me why.
The human body has a strong survival instinct and protects itself, even against rational outcomes. When you issue a challenge to your body while being addicted to sugar carbohydrates, your body will almost always win the war. The key to weight loss is to give your body the things it is seeking nutritionally while also satisfying your taste buds' desires. One of our customers lost 35 pounds by drinking our smoothies every day.
What kind of customer do you attract?
Ashland is a diverse community, from the meat-eater to the 100% vegan. We try to support all lifestyles.
What else does Heartsong have to offer?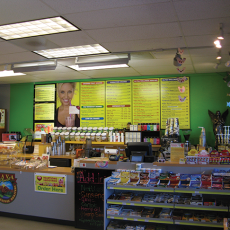 In addition to the Smoothie Bar, we sell Organic Java Planet Espresso drinks and Metolius Organic Teas crafted in Bend, OR – they are delicious. We carry exceptional supplement formulas for men and women and we have a strong line of sports supplements. We also carry greeting cards, new and used wellness books, and gifts such as candles, incenses, whimsical clocks, and body care products.
Tell us more about your supplements. How do you differentiate between them?
Supplements can be mass produced in order to keep pricing low. There are hundreds of brands, and not all of them are manufactured to the highest standards. We look for products which have the best array of ingredients, best absorption and standardized potencies. Supplements start out as natural raw materials, grasses, grains, seeds, herbs and plants – How they are grown, gathered, processed, and packaged is very important. A cheap bottle of a supplement on a shelf somewhere may not provide the potency of the active ingredient that you are seeking. We researched different companies and matched quality, complexity and price to come up with the best product offering.
How are you finding the business community here in Ashland?
Ashland is what we would call a health educated community. A lot of the people that live here do their own research. They just want to know if we carry certain products and it is our job to show them the different options that are available. Our customers often educate us on products that we do not carry or do not even know about. If we do not have a certain product, we will try to special order it. We really like Ashland, especially after living in the Alaska icebox for a quarter of a century. This place feels like paradise.
Who do you have on your team at Heartsong?
Anyas is our French and German speaking component. She manages the inventory and has some special knowledge on women's products. She also hosts a women's group called The Soul Circle which meets every week for meditation and sharing. Our son Sunji manages the store. He is a business graduate from SOU, spent ten years in the Alaska Air National Guard and is an exceptional athlete. He moved here from Alaska and decided to make Ashland his home. As sales associates, we have Kellie, who just graduated from SOU with a degree in nutrition, and Noah.
Do you have anything new coming up in the future at Heartsong?
We are continuing to add more complexity to our smoothie formulas and more choices. And we are continuing to enhance our supplement categories to be able to offer more complete selections. It is an evolutionary process.
Learn More:
Heartsong Nutrition
1461 Siskiyou Blvd.
541-708-0745
heartsongnutrition@hotmail.com