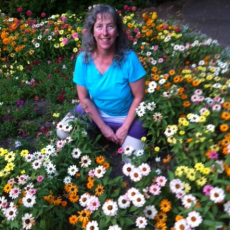 Now in its fifth year of serving Ashland, the Family Massage Education Center is truly one of a kind.  Specializing in the instruction of basic massage for anyone to use at home, JoAnn Lewis, LMT and her experienced team of massage therapists are bringing back simple, respectful touch communication as the true first healing art for everyone at home.
As infant massage for new parents gained popularity in the world of mainstream post natal care over the past 30 years of the International Association of Infant Massage, JoAnn travels the globe as an IAIM-USA Trainer teaching therapists, doctors, nurses, teachers and anyone over age 18 how to teach infant massage to parents and to become Infant Massage Educators. She saw an opportunity to take massage at home to the next level.  "Massage is widely regarded as the most ancient, essential form of natural medicine all over the world," reports JoAnn.  "Recent generations have forgotten what our ancestors knew so well for hundreds of years, perhaps thousands."  Providing education in positive, nurturing touch to improve health and wellness, Family Massage Education Center offers classes on a one time or weekly basis ongoing each month to bring this powerful healing home for everyone.  We sat down with JoAnn Lewis recently to hear about how things are going in their new location on the North end of town in Ashland.
Thanks so much for talking with us today JoAnn.  You've moved recently.  Tell us about your wonderful new space!
At 77 Manzanita, to the side and behind Briscoe School, it is one of the oldest houses in Ashland with easy entry, beautiful green space and just says, "Massage at home!"
The Family Massage Education Center is truly one of a kind.  Did you have a model for FMEC when you began five years ago?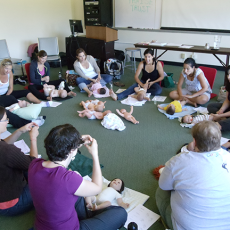 The idea naturally flowed out of my teacher training and realizing many parents had not been massaged as babies, so how are they going to know this very well? Giving opportunities for people to bring this fundamental practice into their homes seemed important for the knowledge of ancient touch methods to be passed on for generations to come.  With all the medical uses, physical stimulation with massage is often as much or more than any other exercise to methodically change and improve the body and mind.
Does this mean there is no need for seeking out professional massage therapy?
Well, the more you do massage at home, the more you know what you need from a professional and when you need therapeutic massage. I have found that actually people who take our classes usually get more consistent massage professionally with our LMTs. This is after all, the first and oldest form of healthcare in our own hands.  Nothing, no machine certainly can substitute as well.  It is a pleasure for me as a Massage Therapist to work with patients who are educated about massage and know more about what they need and want for their health.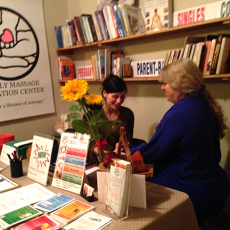 You've expresses that touching is a fundamental sense, the first language essentially.  Tell us more about this concept.
60% of how we communicate is non-verbal, touch and body language, so it makes sense that we need to know this language well to do well in our world. Ask any animal of other species that are constantly massaging and caring in this way for their health and each other.  Our dogs and cats are the first to ask to be petted, rubbed and massaged!!  So I ask you, who is really smarter when it comes to their health?
What kind of results do you see from your participants?
I love to tell testimonies from people who learn massage with us as the power is in their hands and their stories. For example we had a lovely couple continue to take the 4-week series of the Couples Massage course for 3 months in a row!   They made it their date night and boy, did they get good at it and I noticed they got closer and told me how much they understood each other.
"More than we thought possible, the massage classes improved our way to communicate and care for each other."
– Michael and Susan H. 
Massage offers a number of health benefits.  Tell us about some of the most significant.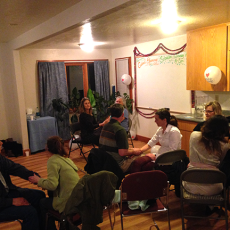 The Touch Research Institute website catalogues all the major research on massage and many studies show significant improvements in physical stability, health, injury recovery (usually in half the normal time), better digestion and immunity, sleep patterns and less depression for old and young alike and certainly higher IQ and physical development for babies.  The list of benefits is very long now with links to heart health and anti-cancer.
You believe that these classes have the power to strengthen relationships for couples as well as parents and children.
You know babies come with their parents and may not want massage in the moment, so we ask permission and the parents ask permission and follow baby's cues, so they can understand what their baby needs and build trust in life together. This is a fundamental concept of modeling respect so that a child learns to respect others if there is some touch they do not want, they have the right to say "no" and to have their needs met.  This builds trust and adequate bonding and attachment for a healthy emotional, and psychological well-being which also many studies show as very important to growing up in society and doing well in life. This happens the same for big people too as we ask, listen and build trust and appreciation for our loved ones and friends in couples and singles massage classes.  It's absolutely beautiful to see this happen for people!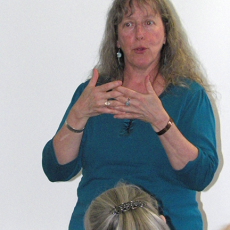 Talking about massage at home is one thing, but you believe that it has to be experienced to be believed.
Doing and modeling proper touch and body mechanics with massage is a basic skill for a healthy life.
What classes and services are offered currently at FMEC?
We have Couples, Singles, Pregnant Partners and Parent-Baby massage class series, most of which can be taken as one or a series of classes and some advanced continuing education for LMTs in Tibetan, Prenatal and teaching these classes. We have weekly drop-in Tai Chi and BodyHeartFlow Yoga classes, too. We have Massage Therapists, Reflexology, nutrition counseling, and hydrotherapy with colonics available as well.
What are some of the most common circumstances that bring people to your classes?
Most people want to learn how to take care of each other. Simply put, they want to understand how massage works and why and be able to help themselves.  Many couples come to improve loving relationships and empower each other in more intimate knowledge of what each other likes and dislikes about touch and to become more sensitive to each other's desires and needs.  Also, to lose weight and get healthy!!
How do people usually use these skills in their routines once they become experienced enough to bring them home?
Though some people will invest in a massage table, many will use tables, beds and the floor at home to give consistent care that can lead to better health quickly with even 10 minutes to an hour a day or per week.  It is amazing how many stories I hear of recovery from old injuries people thought they had to live with for the rest of their lives!!
I understand that you also travel extensively to train instructors. 
I am one of 12 USA Infant Massage Trainers teaching educators who will teach the parents to massage their baby and I train mostly in the PAC NW area, in schools and centers in Portland, Seattle, Ashland, and the SF Bay Area each year for the past 9 years.  With the International Association of Infant Massage (www.infantmassageusa.org  and IAIM.net), I teach internationally; in Haiti last year we trained 59 doctors, nurses and midwives for their country at their request and I teach in Europe and Taiwan, meeting each year with the 60 some IAIM Trainers who teach in over 50 countries today.  It is my pleasure, my life and my privilege to serve in this way.
Anything else you'd like readers to know JoAnn?
Massage classes for the public are playful and fun once you get the hang of it and know how truly easy it can be to do well. We have a "Happy Hand and Feet" massage class every third Sunday with a great foot soak included and a Beginner's Massage overview class each Friday.  Registration is required in advance as space is limited and preference given to our patients of massage. We like to make it fun, and the most relaxing, learning experience you may ever have for your health!
Learn More:
Family Massage Education Center
77 Manzanita St., Ashland
541-482-3567