Interviews
Karin Kiteley, Massage Therapist Dropping in to Infinity ~ Infinity Healing Arts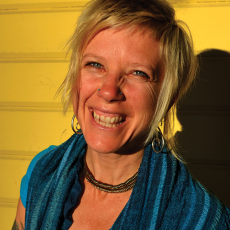 Karin Kiteley might be one of the happiest massage therapists in Ashland. It could be the successful practice that she is enjoying, Infinity Healing Arts, or perhaps it is the peaceful retreat/temple atmosphere of her home studio. It certainly has much to do with the rigorous spiritual practices she commits to daily which ground her on her path of understanding the universal truths. She supports all that she does with her on-going studies of qigong, don Miguel Ruiz's Four and Fifth Agreements, and the teachings of Breema, a form of bodywork and self-understanding. Karin has created a unique sanctuary in close proximity to downtown Ashland, providing a serene, sacred space that allows her clients to truly "drop into infinity." I spoke with Karin recently to catch up and find out why her clients report that she is, "The best of the best!"
When we last spoke, you were working in a clinic setting. What's new since your last interview more than two years ago?
I am now working solely out of my home studio, and business is thriving. In focusing on my own sole proprietorship, I find that my energy and practice is supported greatly by the calmness of my pace, not driving to another location is huge, and allowing my children to be at home while I work in the adjacent cottage helps my heart to know they are nearby.
What makes your practice unique?  What do you have to offer that other massage therapists do not?
My URL is "dropintoinfinity.com" (or more accurately, dropintoinfinity.CALM ~ha!) because it has been seen over my years of practicing bodywork that my clients find themselves able to literally 'drop into that infinite space' that I feel is so essential for full nervous system relaxation and rejuvenation. When the body can let go to this degree, it supports all basic functions that support a vital, healthy life. I work with a focus on being in silence during sessions, to really allow the recipient to release into the now-ness of the experience, which consequently gives space to their meridian/energy lines and musculo-skeletal systems to re-align, inviting the whole body system to come to balance. Breema is at the core of my modality offerings, which is based on principles that are so incredibly supportive to simple, healthful existence, such as Body Comfortable, No Judgment, Mutual Support and Single Moment/Single Activity, to name a few. When a session is based on witnessing Existence in each moment with the aid of these principles, the experience for the recipient is profound, often leaving my clients speechless as to how or why they feel so held during their time in my healing space.
And you work with your feet!  I had no idea that was even possible. Tell us more about that.
The modalities I practice that include the use of my feet are Breema, Barefoot Shiatsu and Ashiatsu. The work of Breema is a very cozy, whole body practice, often times described as having 'yoga done for you,' with lots of stretching of limbs and torso, and using my feet to apply acupressure to parts of the body. Shiatsu/Barefoot Shiatsu can be done either on the floor or table and is a form of Japanese Acupressure. Ashiatsu is done on the table with oils on skin, applying long gliding strokes with my bare feet. Currently, though, I am working on a design for Ashiatsu bars to be installed in my healing space, so it is not on the menu.
Although you are a healing practitioner, you have a firm belief that people are essentially well and do not need to be fixed, per se.  Can you tell us more about this?
Every person is essentially VITAL. This is how I approach a session. Ultimately as a 'healer,' I embody my role as a reminder to every client that within themselves they have the power to heal and feel whole. Much of the western medical society picks people apart, saying this is 'wrong' or that is 'broken/diseased.' This attitude, to me, encourages the mind to possibly MANIFEST illness and dis-ease, focusing on a 'problem' and not embracing the whole being as a vibrant entity of Light. It is disempowering to the spirit and invites the mind to focus on symptoms of pain or discomfort. My approach is to EMPOWER people to help them indulge in their good health and wellness of being by shedding light on their overall presence of vitality. Breema has served to teach me these concepts most of all in the course of my studies through the years. When we engage in the understanding that 'existence exists' moment by moment (as Breema is subtitled, "The Art of Being Present") there is spaciousness in the meditative awareness of non-judgment. Yes, there may be discomfort in some form or another, and that is why they've initially made their way to receiving a session, but clients leave my studio generally feeling a bodily flow of energy that they may not have been aware of earlier because I work in such a way that incorporates the whole body system, a general WELLness of BEing. And with that sense, clients can move forward into SEEing themselves as 'well,' rather than 'sick.' The simple universal truth, Mind Creates Reality, can have profound effects on health and lifestyle. There is a book that I often refer clients to by Gregg Braden, called "The Spontaneous Healing of Belief."  The title says it all.
Who are your clients, Karin? What attracts them to you?
I see people from all different parts of the community. Many of the people who come to me do so through word of mouth. My LocalsGuide ad is also a BIG promo for my business! In the ad, I have a photo, and so consequently I've had people reflect to me that it's my smile in that ad that attracts them. I am generally a positive person, so in our small community, people see me around town, in the co-op or other public places, and they're drawn to me, because I smile. I know that I am a high profile professional, and I take it very genuinely that when I go out, I am presenting my business to the public with who I am. I am pretty bold in promoting myself by handing out cards and telling people that I have had wonderful responses from clients post-session. Many first time clients have come away from a massage with me exclaiming that it was "the best massage" they've ever had. I have a Testimonials page on my website that offers people an opportunity to know about my work from clients' experiences.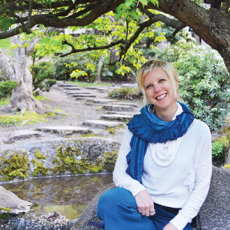 How do you spend your time when you are not working?
I am dedicated to several regular spiritual practices: qigong, chanting, and meditation. I support my children in their sports and school activities, and spend relaxing time with them, being snuggly when possible in our full lives. I love spending time outdoors. Being from Colorado, hiking feeds me tremendously to rejuvenate my body, mind, and spirit. My focus on transforming myself, leading by example to the best of my potential, is what feeds my soul. I am in constant amazement at the beauty of this life and wish to keep learning and growing and BEing present to see it and share it with others. In doing so, it is my prayer that I am helping those around me also to enjoy the joy. It is because of my focus on the Now-ness, being aware of my breath and my body's place on the planet, moment by moment, that I can be a clear channel for this divine work that is my deep service to the transformation/evolution of humanity. I do believe my clients benefit from this inner work/practice greatly with every session.
Did you always know that you would do this work?
Initially I was exploring the path of healing through herbal studies. Then, when I moved to San Francisco, I received a Shiatsu session from my dear friend, and I was hooked! My first certification program was at the Shiatsu Institute in San Francisco in 1995. It coincided with discovering Breema and the first Breema course I took was actually called "Breema~Shiatsu." Between the two, my foundation was set and it's been solid ever since, and I then embellished those practices by obtaining my licensure (LMT) in Bellevue, WA in '97. The general knowledge of meridian therapy and acupressure have carried through to studies such as my Acutonics (tuning forks used on points of the body) course and Reflexology. My overall view of health and wellness is deeply rooted in Traditional Chinese Medicine, and in the art of being present with Breema and other spiritual studies, like the lessons of The Four Agreements.
"Every human is part of the infinite, and so is every object we perceive. There is no difference between any of us, or between us and any        object. We are only one because everything is made of light."
~don Miguel Ruiz
The amalgam of my studies over the years comes together to be Infinity Healing Arts.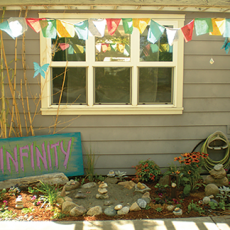 You have mentioned several times how grateful you are for having such a unique space in which to live and work.  Can you tell us more about this?
The property on which I live and where IHA is housed is truly a magical spot, a sanctuary for all who enter, whether it is my client for a session, a group of friends and community for a house concert/dance party or my children, able to be at home while I am working. It is a close walk to downtown and an oasis of the natural beauty, with the creek flowing by and sweet gardens…and chickens! I am so grateful to be here.
What do your clients have to say about your work?
Repeatedly over the years, I have had striking reviews of my work from my clientele.  "I rarely fall asleep during massage, but with you I went on a journey into dreamland," and "I've had a lot of massages over the past 30 years and that was by far the best I've received." It gives me the confidence to hand my cards out, look people in the eye, and tell them I'm one of the best. It is such an honor to be a conduit for healing. I feel so grateful for all of my wonderful clients. There is a testimonial page on my website if people wish to read what others have experienced. Here is one example:
"My monthly sessions with Karin are without doubt the most valuable investment I make in my overall health plan. I live with a number of autoimmune issues that have unfortunately as yet not found cures in the medical sciences, and the meds commonly prescribed for my conditions come with side effects that are problematic at best. Some days the fatigue, inflammation and pain are so debilitating I can barely get out of bed, and Karin's treatments are the only thing I've found to offer relief. The moment I sit up from the table I can feel how much stress has drained from my body, and I feel lighter for days afterward. If I could manage I'd schedule treatments more often. We have zillions of massage therapists here in Ashland, and I've tried my fair share of them. Karin Kiteley is simply the best and I would recommend her to anyone looking for serious bodywork."
~Resident, Ashland, OR
What is the best way for readers to get in touch with you to make an appointment?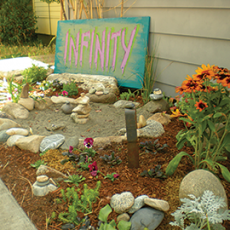 My website, dropintoinfinity.com is a great way to connect. I have online booking and purchasing with PayPal, or via email or phone.
Anything else you'd like us to know, Karin?
Thank you for your fantastic venue for advertising! It is such a successful way to reach our community monthly. Starting this month, I offer my Summer Series Package, 5 sessions for the price of 4, available for purchase through August and redeemable through 2014.
Learn More:
Karin Kiteley, LMT, Lic. #9377
Infinity Healing Arts
www.dropintoinfinity.com