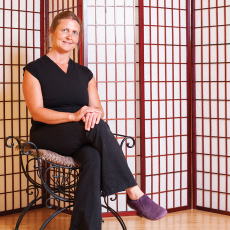 Keira Harrison is no stranger to running a business. She started out on her own years ago making hemp bags while she was home with her young sons and found the flexibility and independence of self-employment to be just right. Now, nearly twenty years later, Keira has jumped in with both feet as she nurtures Inner Synergy, a yoga, qi gong and massage studio here in Ashland to its highest potential. As a seasoned practitioner with a gift for bringing together a range of wellness practices for her clients, Keira is enthusiastic about Inner Synergy becoming a true hub for healing here in Ashland. I spoke with Keira recently to learn more about her work and all that Inner Synergy has to offer our community.
Keira, thanks for talking with us today. You've had quite a rich journey. How did you get here?
I began my yoga and meditation journey as a small child along side my mother. Yoga has always been an integral part of my life. Self-employment has also become an integral venture for me. I began to sew hemp bags out of my home as a young mother to provide for my family while being available for my sons and keeping my schedule flexible. I was offered the opportunity to become a yoga teacher through an apprenticeship with my yoga teacher in Williams in 2005.

After I started teaching, I put my sewing business on the back burner and focused fully on furthering my education and developing my healing arts skills. I traveled to multiple advanced yoga trainings and in 2007, I became a licensed massage therapist, and began offering house-call massage. In 2008, I moved my family to Ashland to take advantage of the great schools. At first, I continued practicing in Williams, teaching twice weekly and offering house-call massage.

In 2010, through intensive study, I added Qigong to my repertoire, simultaneously renewing my yoga teacher training. I was challenged with my busy home life to find a place to fit into the full schedules of the Ashland yoga studios, and with a new yoga teacher in Williams was not feeling needed in that community. In 2011, I had the opportunity to partner with Ethan Felcher in opening a healing arts center, and Inner Synergy was born. We opened in Grants Pass in 2011, and finally, after huge renovations to transform a rundown residence into an inviting healing space, in Ashland in February 2013.
What services are offered at Inner Synergy?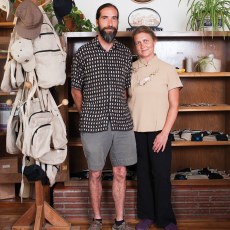 We offer healing massage therapy services, yoga and qigong instruction, rotating movement arts classes and workshops, and sustainable, local, and inspirational gifts. We also partner with Southern Oregon Alternative Medicine to help patients obtain medical marijuana documentation.
You are a teacher and have lots of experience to share. Tell us more about your approach to health and wellness.
I believe every individual has an innate knowledge of how to achieve optimal wellness. My job is to help my clients find the tools to be in touch with that inner knowledge. Through experiential learning, individuals have the opportunity to take charge of their own health. I teach therapeutic alignment based yoga and meditative relaxing qigong. At the heart of both of these practices and ultimate human health is the awareness of and expansion of the breath. Learning to fully nourish yourself with the breath and also expanding your awareness of the other things you take into your body is I believe the foundation of optimal health. The other key to wellness is to get moving and keep moving, whether yoga or qigong is your cup of tea or you prefer hiking or biking or dance… do what makes your heart sing and your body happy and keep doing it! Perhaps it is time to try something new or get back to your favorite practice with a new class to get yourself out of a rut.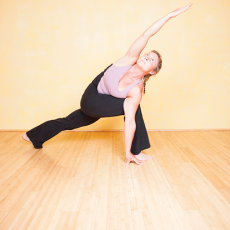 What makes Inner Synergy unique?
The vision of Inner Synergy is to bring many modalities under one roof, giving our community the opportunity to find what works for them. Each individual is different. At Inner Synergy we take the time to get to know the individual needs of the client and offer the client the opportunity to choose which modalities to use. I am always looking for more healing arts and movement arts practitioners to expand this vision fully. I also support local artists and artisans and bring in educational tools and inspirational gifts to support the full spectrum healing journey. I am also reviving my hemp business and have a lovely display of packs and bags. Twice a month we host medical marijuana clinics, and our staff is very knowledgeable and can answer any questions you have about the program.

Inner Synergy's location at 545 Lit Way is quite unique in and of itself. It carries a high vibration of love and care as Ethan and I transformed it from a rundown house into a healing center including medicinal herb and edible landscaping surrounding our outdoor community space and message board, an inviting massage room and office space, a spacious rest room, a cheerful and intimate classroom, and a welcoming reception area/ gift shop.
Are any other practitioners using the space at this time?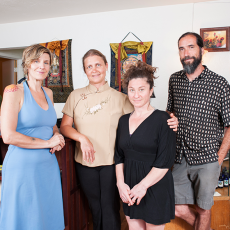 Mira Brockelman is offering her special healing touch as a massage therapist. She works deeply and thoroughly to offer immediate and lasting results. Karin Pederson offers her Dance of the Deep Feminine class for women on Monday evenings at 6:00 pm. Other teachers are offering special series and workshops regularly. Southern Oregon Alternative Medicine brings their doctor for clinics twice monthly. We are also showcasing many local artists and artisans, including Sallie Ehrman's switch plate covers, Analisa's Bamboo Shoots photography, Heather's Positive Spirit Aromatherapy Sprays, Stephanie's Good Medicine natural body products, and Delta McConnell's quilt journals.
What is the relationship between Inner Synergy and Southern Oregon Alternative Medicine?
Inner Synergy hosts SOAM for medical marijuana clinics twice monthly. This means that a medical doctor comes to consult with patients and sign the paperwork necessary to apply to the OMMP program for a medical marijuana card. There is no medicine provided, as neither Inner Synergy nor SOAM is a dispensary. Our staff is very knowledgeable and available to answer any questions as well as schedule appointments Monday – Friday, 10 am – 4 pm.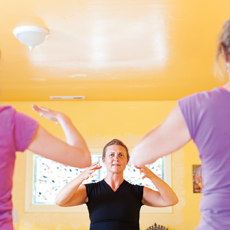 Who is your ideal client? What kind of people do you serve?
My ideal client is ready and willing to take charge of their own health and wellbeing, but may not have the tools yet. The services I offer work best in conjunction with beneficial lifestyle choices. I am here to offer my clients the tools for better self-care and keep them motivated to practice at home. If someone is reading this and would like to discover greater freedom of movement and comfort in the physical body through developing a home wellness practice, therapeutic movement, expanding the breath and the awareness, and tapping into innate body/mind/spirit connection please call and schedule a free consultation and sample lesson to see if you would like to work privately with me.
What is your vision for Inner Synergy? Are you looking for other practitioners currently?
My vision is to see Inner Synergy take on a life of its own. I am always looking for more qualified practitioners to fill the schedule and utilize the space. I would love to have more teachers and artisans and other health care practitioners. We are especially looking for a chiropractor that would be interested in working alongside our massage therapists and in conjunction with the SOAM doctors. I am always looking for more community members to come and energize and activate the space. My goal is to create a hub of healing for the community and watch my vision unfold into something greater than I could ever create on my own.
Give us an idea of some of the classes and workshops that are coming up at Inner Synergy.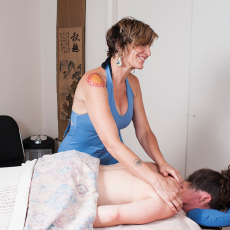 I am starting new weekly classes in Yoga and Qigong as well as a special children's series. I am also instituting alternating yoga and qigong monthly workshops! My yoga classes focus on postural alignment, strengthening and lengthening muscles, expanding the breath and the awareness. We focus on a heart-centered theme as we move playfully and mindfully through a variety of yoga poses. Qigong classes are standing forms with meditative breath and gentle movements designed to gather life force energy from all around and focus it with your intention. Karin Pederson is also offering a special Transformational Movement series for women in addition to her regular Dance of the Deep Feminine class.
You have four boys and must be very busy! Do you find the balance of work and family challenging?
Yes, very! As I mentioned earlier, it was never an option for me to go find a job and be tied to someone else's schedule. At the same time, being self- employed means you are always working, so I have had to find ways to intertwine work and family life. I feel that I have set an example to my boys by persevering in my dream, and I also include them in it as much as they would like to be included. They have helped in both the sewing shop and the office when it fit into their schedules. Right now I am reviving my sewing business and adding hemp paper to the menu! This will be an opportunity for one or more of my grown boys to step in and shine. At this point, 3 of my 4 boys have graduated high school, and my baby is 12, so I am seeing new and greater horizons opening up ahead of me!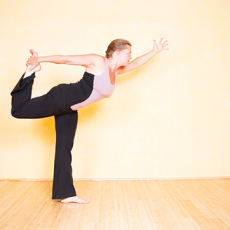 Did you always know that you would be self-employed?
No, but it became evident early on when I found myself the mother of three sons at the young age of 23. Suddenly, I needed something to do that didn't include long hours of schooling or time away from home. I have always been crafty and resourceful, so I found working from home and vending at festivals a good fit. What I did always know is that I was going to do something that I enjoy and that I can do anything I put my mind to! The hard part is choosing from all of the amazing things that can be done!!
I understand that you moved to Ashland from Williams a few years ago. What was that transition like for you?
Well, it was very interesting to live and work rurally only to move to town and commute back to the country for work. I found the hour commute to teach in Williams to be an amazing opportunity for meditation. I think my classes were always extra inspired by that time to myself. It taught me to look for the opportunity to practice in the strangest places and really infused me with the ability to see the meditation in any moment. I would love to share that feeling with the community of being present in each moment. I appeal to the reader to remember, there is no time but now, so if you have been thinking you should take better care of yourself, do it! It's not so much about the huge transitions as it is about each step in each moment moving us towards optimal health.
What are your clients saying about your work?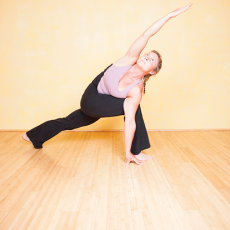 Although I have had wonderful feedback overall from my massage clients and students, I rarely get it in writing! My Grants Pass Manager and sometimes yoga and qigong student, Jesse Hart, had this to say:

"Keira is a phenomenal yoga teacher whom I have the pleasure of learning from. She has extensive experience, knowledge and care for her students and overall has been the most proficient yoga instructor that I have had. I simply tell her what I want and need to work on and she gives custom catering to provide my body, mind and spirit with what it needs. She is especially good with helping on alignment. My hat is off as I diligently work-play to reach the higher example that she illustrates."
Is there anything special coming up at Inner Synergy?
I am so excited to be offering more in depth teachings at Inner Synergy this summer and fall! There are special offerings coming up for every level of practitioner. There will be a first time beginner series, and I am putting together a Yoga Immersion for students that would like to delve more deeply into the practice. This is an opportunity for tremendous transformation throughout all aspects of your life as we move from the inside out, integrate into the core, expand the breath and the awareness, and take the time to learn in detail alignment principles and yoga philosophy. There will be a special Core Alignment Yoga Intensive July 19 and 20. There will be four segments over the course of the weekend. Two of these will be accessible to all levels of student even brand new beginners. Two will be designed for intermediate and advanced students. Beginners who would like to try the more advanced sessions may apply in person by attending the first class.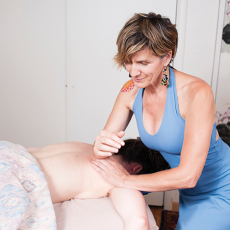 A children's class, called Wuji for Kids, combining Qigong, Yoga, and Meditation into a fun class for kids of all ages will run weekly from July 14 – August 18 every Monday 2:00 – 3:00 pm. Please pre-register to reserve a space even if your child can attend only some of the sessions.
In August, there will be a Qigong Breathing workshop, including Breath Empowerment, Nine Breath Method, and a Healing Prayer circle. Karin Pederson is offering a special Transformational Movement series for women Tuesdays in July.
How can readers best find out more about accessing the wide variety of services available at Inner Synergy?
Come in and browse our gift selection and visit with our friendly staff at 545 Lit Way (at the corner of Ashland Street, by Print Fast and the Cheerful Vet) or call 541-488-5812 Monday through Friday, 10:00 am – 4:00 pm. Be sure to check out my website and keep visiting as it evolves. I am creating instructional videos focusing on alignment tips for individual poses. Expect a new one monthly, with other updates and tidbits regularly as well. For the most prompt updates of new events, like us on Facebook.
Learn More:
545 Lit Way Ashland, OR 97520
541-488-5812
Fax: 541-482-8386
inner-synergy.com