Interviews
Kelly Brainard – Ashland Greenhouses: Locally-grown, region-specific plants since 1906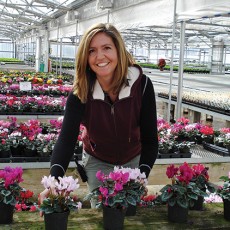 When Kelly Brainard purchased Ashland Greenhouses from Greg & Valri Williams in 2007 and subsequently moved the business to her home a few miles across the highway, she was warned that she might regret living where she worked.  Growing up on a grass seed farm in Madras, OR Kelly knew better.  Farmers live where they work for a reason; tending to hundreds of thousands of tender plants and protecting them against the forces of nature requires round the clock diligence and care, which Kelly and her staff are happy to provide.  As it is, her daily commute consists of a few dozen steps out the back door and nothing brings her more joy than seeing happy customers browsing through the greenhouse rows each day.  When we spoke recently, Kelly was anticipating the arrival of 14,000 geranium cuttings and managing a solid staff of experts, some of which have been with Ashland Greenhouses for decades.
Thanks for talking with us today, Kelly.  You've got quite an enterprise here with Ashland Greenhouses.  How did you get into the business?
While growing up in Madras my parents wanted me to get some experience away from the farm so I worked after school and during the summers of my high school years for a nearby nursery.  It was there that I discovered my love of horticulture.  After completing my degree in agriculture and horticulture from Washington State University I taught high school horticulture for eight years.  While teaching at Eagle Point High School I developed a partnership with our school horticulture program and Ashland Greenhouses which eventually led to me purchasing the business.
Have you run into any specific challenges in moving from education to business ownership?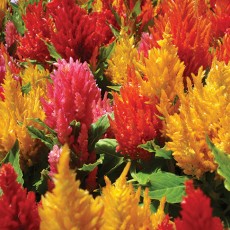 The biggest learning curve was understanding the ins and outs of running a business.  I was very excited to learn more about plant production on a large scale and it continues to be the favorite part of my job. However, running a business and understanding the financial aspect of it was never something I anticipated I would do.  I was very fortunate in that Greg and Valri Williams offered to stay on with the business for two years and help with the transition and training process.  The working environment at a nursery is very rewarding and uplifting.  Our customers are always happy and we get to have our work amongst constant changes of colorful flowers throughout the seasons.
Ashland Greenhouses has been around for quite a number of years. With such a long history here in Ashland, I would imagine the staff is quite knowledgeable.  Can you tell us a little about them?
Ashland Greenhouses began in 1906.  Over the years it has changed quite a bit from being only a wholesale cut flower producer to producing bedding plants, perennials, hanging baskets and poinsettias for both wholesale and retail customers.  Our full time staff is an amazing group of people that are incredibly supportive and knowledgeable.  They can easily run this place without me and I feel very fortunate to have such a responsible team of people.  Gary Slack our production manager has been with us for over 40 years, Jennifer Loizeaux our growing assistant has been with us for over 20 years, Marv English our wholesale manager has also been with us for over 20 years, and Sarah Valdivia our office manager has been with us for almost 10 years.  I never could have made the transition into a business owner without them; they truly make my job easy.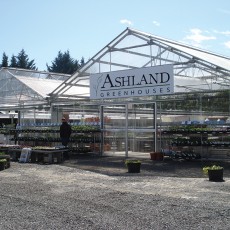 You offer a number of classes and events throughout the year and I understand they have become quite popular.
We try to offer classes that are season appropriate and ultimately help our customers with success in their gardens.  We also have fun events such as our Open House, Ladies Night, and Poinsettia Festival. These give us a chance to spend time with and learn about our customers, as well as provide specials and treats to say "Thank You."  Our website now lists all of our classes and events for the year.  Our upcoming events for March include:  Perennials and Cool Season Annuals (March 8th 10am-11am) and our Open House and New Varieties Showcase (March 29th 9am-4pm).  Most classes and events are free. We encourage people to visit our website for specifics including dates and times and to call if they have questions or wish to sign up for a class.
Are you open for retail sales all year long?  Where can customers find your plants?
We are open all year with the exception of a few weeks around the Christmas and New Year holidays.  Since we are both wholesale and retail it is very easy for our customers to buy our plants.  We sell to almost every local independent garden center in the Rogue Valley and Northern California.  I like knowing that our customers are able to go to their nearby garden center and choose items that were produced right here in Ashland.  Our website lists our current availability of plants and is updated every Friday.  Customers can use it to know what we have available and ready for sale.  Our selection of plants is huge and includes thousands of varieties, and larger quantities.  It can sometimes be a bit overwhelming for our customers when they first walk into the greenhouses, especially in spring.  We don't sell trees or woody shrubs, so when customers come to shop we are wall to wall of color.
Besides supporting a locally owned business, why should we seek out your plants at local retailers?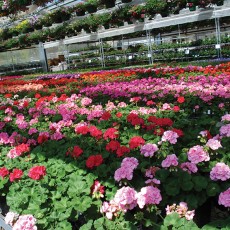 We grow 100% of the plants we sell right here in Ashland.  This enables us to grow varieties that perform best in our climate.  Since we don't have the humidity like the Eastern states or the warm winters like the Southern states it is important that we focus on plants that do well in our region.  We are always looking for varieties that can tolerate our hot, dry summers.  There are many plants out there that say they can take "full sun" but that is usually meant for full sun in the Eastern states that have a lot more humidity than us.  Since we are more arid it is important that we grow plants that are best suited for that.  Not only are our plants region specific, but they are also finished in cold frames which allows them to be exposed to the outdoor environment including temperature fluctuations and wind.  This acclimation process hardens them off or "toughens them up" so that they are less likely to suffer any effects of transplant shock after purchase.  Like many of the businesses here in Ashland, it is very important to us that we do what we can to "keep it local" and support our community as much as possible.
Have you found any local organizations to be particularly supportive of you as a business owner?
We have great community organizations in Ashland and the Rogue Valley.  Coming from a small community growing up I really value the importance of the personal connections made with everyone at the Ashland Chamber of Commerce, Thrive(The Rogue Initiative for a Vital Economy), and Rotary.  In spring of 2012 I was incredibly fortunate to participate in a Rotary Group Study Exchange to Italy.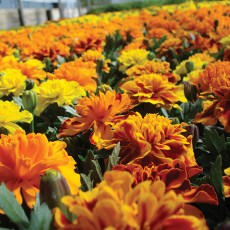 That is amazing!  I thought Rotary only offered exchanges to students.  Tell us more about your experience!
Myself and a team of three other business professionals, along with our group leader spent an entire month in Italy living with families and touring our area of expertise throughout the Lombardia region.  I frantically studied Italian for 8 months because I assumed traveling to the more rural agricultural areas of the region would require me to communicate with the business owners in their native tongue.  I'm very glad I did because the experience I had and the relationships I gained during our stay were much more rewarding.   The most shocking thing to me about the nursery industry in Lombardia wasn't the many differing types of plants that I thought I would find, but the incredible amount of similarities we shared down to the exact varieties of plants grown and cultural practices of growing.

One of the places we visited was a horticultural school in Como, Italy.  I have since stayed in contact with the school and during June of 2013 we had a student, Raffaello, live with my husband Ben and me for an internship.  This spring we have two more students coming.  Lorenzo and Enrico will arrive March 17th and will stay with us until late May.  We are very excited for their arrival and I feel that their internship here will be very fulfilling. They will be experiencing our peak season and meet many of our retail and wholesale customers.  I encourage those of you in the community to make sure and tell them hello if you are out at the greenhouses.  For both boys this will be their first trip to the United States and they are very excited to meet new people.
The dry winter we have been having in southern Oregon is sure to have effects on gardening and landscaping this year.  Do you have any tips for those of us who would like to keep our gardens happy while conserving water?
No matter how dry or wet our winter may be I think it is increasingly important for us to consider water conservation.  Some of the best advice I can give is to convert as many of your landscape areas to drip systems as possible.  This will greatly reduce your water consumption.  I also encourage everyone to water wisely.  By that I mean to water only when the plants need it.  Plants need to dry out, otherwise roots remain wet and are more prone to develop disease and only develop shallow, unhealthy root systems.  If you water your plants only when they truly need it you force the plants to develop deep, healthy root systems.  This is because the plants are no longer relying on you to take care of and nurture them but instead live on their own and are better prepared to handle the extreme heat of summer.  I also firmly believe it is always best to water in the mornings and avoid watering during the middle of the day or evenings.  Plants that have wet roots at night are more prone to developing disease.
Ashland Greenhouses boasts a Poinsettia Festival during the holidays.  If you are growing all of those poinsettias yourselves, you must have to begin early.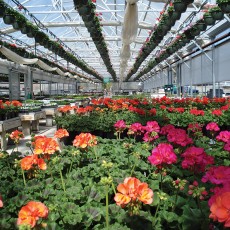 Like most of our crops our planning begins 6-12 months prior.  We begin growing our poinsettias in July so unlike our customers who associate poinsettias with Christmas and snow we associate poinsettias with sweaty, hot days.  The bulk of the work that goes into growing poinsettias happens July through September.
I would imagine that even though you utilize greenhouses, the weather is a big consideration in your planning.  Any horror stories to share?
Our worst horror stories usually involve Mother Nature.  We chose our new location primarily because of the ample sun exposure.  What we didn't plan on was the 50-60 mph winds we can get on this side of Ashland.  While many people in town may be feeling a slight breeze during the day we can often be slammed with 30-40 mph winds and even stronger gusts.  There have been more times than I would like to remember seeing a greenhouse top rip off while you stand by unable to do anything.  But like my Dad says, "That's farming, you never know what Mother Nature will throw at you and you can only stress about the things you can control and not worry about those things you can't."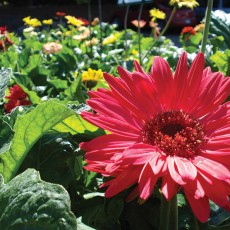 Learn More:
Ashland Greenhouses
650 E. Ashland Lane, Ashland
541-482-2866
www.AshlandGreenhouses.com
or find us on Facebook!