Interviews
Kristen Sofia Valentina – Transformational Life Coach Radical Results and Healing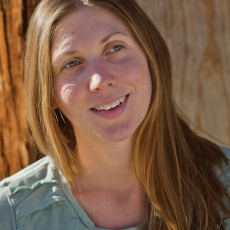 With an abundance of health and wellness practitioners in Southern Oregon, Kristen Sofia Valentina is carving out a niche for herself with a very interesting skill set.  Kristen knew that her unique combination of Reiki energy work and life coaching would be well received when she moved to Ashland.  
She discovered her gift of intuitive listening early in life and has been practicing Reiki healing for the past 7 years.  After incorporating life coaching, she has fine tuned her ability to transform the lives of her clients by balancing their energy field through Reiki while asking powerful questions to help clients find the answers within themselves using her intuitive life coaching skills.
A busy mother to three young boys, there is rarely a dull moment in Kristen's life these days.  I caught up with her recently to learn more about the distinct reputation she is creating for herself.
Thanks so much for talking with me today, Kristen.  Please introduce us to your practice.
The work that I do is subtle, yet profound insomuch that the Reiki energy healing is very gentle but when combined with intuitive life coaching the shifts that are made within my clients are very powerful.  Clients are benefited in a variety of ways from releasing years of old patterns to suddenly embarking on a completely unexpected new career path.  It is really amazing!
Coupling Reiki energy work with life coaching seems quite unusual.  Tell us more about how you are able to bring the two together.
Reiki by itself is very healing but when I became trained as a life coach, I was able to take my practice to a whole other level.  I realized that I was downloading information for my clients during Reiki sessions that I could use to help them heal and grow but I wasn't sure how to use the information that I was getting.  I found that my clients didn't like being told what I thought they should do but I knew that I had a gift to offer to the world.  Life coaching allows me to take the information that I am garnering intuitively and ask clarifying questions so that my clients are able to come to an awareness of their own answers within.  The end result for my clients is the very empowering feeling of clarity around their life purpose, release of trauma and old patterns, stress relief and an overall feeling of peace.  Speaking with the mind while balancing the flow of energy in the body and holding space for my client to connect with their highest self, I find that my clients are able to guide themselves to their highest potential.
How did you learn these skills?  Did you have any mentors or special training?
I've always understood the world from a spiritual perspective and understood that the world and everything in it is energy.  I spent a lot of time with my grandmother who was very superstitious and she believed in a spirit realm.  I had an insatiable interest in the unseen after reading Lois Duncan's book called A Gift of Magic about a girl with psychic abilities.  At age 10 I began reading about auras and back then I never would have dreamed that I would eventually be able to see auras.  I began searching for a religion and never did find one that suited me but my world opened up to new spiritual ideas when I met Kim Possible on a vacation in Florida.  She exposed me to mystical ideas and saw that I had a unique gift at a very young age.  I then learned to believe in my abilities of intuition and gained confidence in my ability to be guided by my intuition.  During my first Reiki attunement, I saw auras of people for the very first time.  What I saw that day rocked my world and I decided to step into my role as a healer.  I received my Master Reiki attunement with deep gratitude and after completing the series of life coaching courses last year as part of the course work for a Diploma in Holistic Wellness from Southwest Institute of Healing Arts.  I then delved straight into my successful healing arts practice.
I've heard you refer to your use of intuition in your work.  Can you tell us more about that?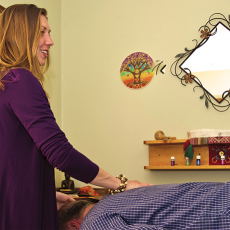 I have been attuned as a Reiki Practitioner for 8 years and I have had the chance to hone in on my intuition.  I can describe it as knowing without knowing how I know.  I have always felt very connected to a higher energy source even as a child.  I always am reminded how connected I am to everything around me and one time in particular, I was at the zoo looking at the condors.  The largest and oldest condor was sitting with its back facing me and I felt so connected to it that I spoke to it in my mind and said, "It would be really cool to see how big your wings span is."  Within seconds, this condor slowly stretched out its right wing and then slowly stretched out its left wing and held them there long enough for my husband to snap a picture.  My heart exploded with gratitude and my eyes welled up as the people around me swarmed to look at this amazing bird and snap photos.  There is no doubt in my mind that he spread his wings for me that day.  It is truly remarkable to have that connection and I am so grateful.
Do you find that there is a common trait amongst your clients?  Any patterns or similarities in those you work with who find success?
There are a few common traits.  First, is a belief in something greater than what can be seen and having a spiritual background.  The second is a willingness and readiness to change.  The people that come to me are either willing to start or are on the process of self discovery.  I work with people who want to connect with their inner passion and discover his or her authentic self.  I help my clients see the good in life and to take conscious steps towards bringing more of that goodness into his or her life.  Life is about living out our higher purpose and I believe that this is what everyone is striving for.  Due to this common thread, I have worked with all ages and life stages as well as our furry and feathered friends. I've even used Reiki to bring a nearly dead chicken back to life.  Life's energy is a constant flow and the success of my clients is due to their willingness to shift and change as well as have faith that anything is possible.
What do you hear from your clients about the impact of their work with you?
I've heard many good things about the drastic changes that occur from working with me.  Clients will say things like, "I'm not sure what you did, but good things are happening," or, "This is amazing."  Many times I am told how great my clients feel or how life is just flowing so smoothly after just one session.  Clarity, confidence and remembering that they have tools are all a part of this work.  I help my clients see that they have a unique gift within themselves which is what I have done for myself as well.  The greatest part is that my clients are coming up with the answers themselves and I don't need to tell them how to put their puzzle together.  The work I do guides people naturally and all the answers within arise spontaneously.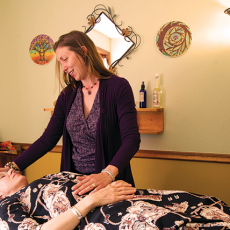 Are there any notable success stories which demonstrate the power of this work?
One client started coming to me and had been dealing with lupus, anxiety and lack of confidence for many years.  After 3 or 4 sessions, she realized that she was not her disease and as a result this client was a completely different person.  I have seen multiple clients catapulted into a new career path, uncovering gifts that had been kept back for years. My clients all become conscious creators of their world and they leave my office with plenty of tools to manage the stress of daily life and find new ways to take the next step in their evolution.  People are blown away by what transpires during a session because I am able to extract emotions and feelings from their hearts and help them put it into words.  It's like sorting out your closets and finding jewels and gems.  It's profound because we are speaking past the mind and directly to the soul.  The 'a-ha' moments that happen give my clients plenty of deep introspection and there is usually a rapid processing of new life changing information.
Are you ever surprised at the results of your work?
I am continually amazed at the results that I see in clients and I am sometimes taken back at the power of this work.  I sometimes have to remind myself that what I do is very unique and that it is a gift I shouldn't take for granted or take lightly.  I am humbled with gratitude for having discovered this gift so early in life.
What can people expect when working with you?
The sessions are 75 minutes long, give or take.  At first I will get a baseline where we determine what the intentions for the session will be and what my client would like to work on.  Next, my clients lie down, if able, on a massage table and I lay my hands on the body starting at the head and finishing at the feet.  The purpose of lying on hands is to search out energy within the body that doesn't feel harmonious. This energy re-patterning can be much more effective when it is coupled with bringing this disharmony to light through conversation.  Clients can expect to experience deep self awareness, hypnotherapy and visualization, and conscious re-patterning of thoughts and actions.  Lasting wellness comes from healthy changes and what I offer facilitates growth and change within my clients.  Some tools that I suggest to encourage this change are things like powerful affirmations, adding a spiritual practice, bringing in their favorite physical activity, adding a nutritional supplement, or simply becoming aware of certain thoughts and behaviors.
So this really isn't therapy, per say.  What is your specific role in a session?
The beauty of transformational life coaching is that it is not therapy in the traditional sense.  We focus on the present and how to make life yummy right now.  Situations from the past can and do come up but it is not my role to analyze the past but to bring that situation to the present for clarity around how it is affecting my client today.  I have no agenda and I am not trying to change my client's beliefs or perceptions but rather bringing them to the surface to let my client decide if those beliefs and perceptions are serving them.  My role is to listen.  I am such a good listener that I don't just listen with my ears, but also my heart and my hands.  I can hear beyond what is being said, knowing what to ask to bring the root of an issue to the surface.  My clients just need someone who they can trust to help them work through their issues without judgment yet simultaneously hold them in the highest light.  This is what I do.
I would imagine that it is important to walk your talk, so to speak. What do you each day to live a healthy and successful life?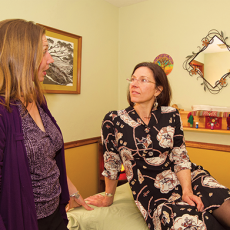 If I don't do a daily practice, it isn't good.  My world starts to feel like it is falling apart and I become very irritable.  The wonderful thing about what I help my clients do, I have already done.  I have done a lot of self healing and even though I am busy with family and business, I still find time to be still and breathe-even if it is only minutes here and there. And if I don't practice sometimes, that is okay too.  Being nice to me took years to accomplish but it is one of the healthiest and important things you can do.   I walk daily, do yoga weekly, eat food that is pure and as close to its natural state as possible, and most importantly I smile.  Sometimes, it is the smallest things like reading a positive affirmation on my refrigerator, other times it is saying I love you to myself in the mirror and I can drastically change my world just by changing what is going on inside.  I like to help my clients with practical steps and easy goals even if it as simple as being aware of a habit that you would like to change.  I think this is what anchors in my client's intuition about what is right for them and helps them to discover their own unique gifts.  It's what I have done and it works!
How can our readers learn more about you and your practice?
You can go to my website www.ashlandhealing.com, or you can come to my upcoming free group meetings where we will be consciously creating our lives together.  I am calling it Conscious Creators Club.  It will be a 4 week series held in my office on Sundays May 18th, 25th, June 1st, and 8th from 7-8:30 p.m.  Space is limited to 8 participants.  Kindly RSVP to treeofwellbeing@gmail.com or 541-631-8262.
Learn More:
Tree of Wellbeing
850 Siskiyou Blvd. Suite 8
541-631-8262
www.ashlandhealing.com